Ah, Halloween. A sleuth of events will soon take over the country with some of the biggest names in dance music. In Southern California, you'll have plenty to choose from. However, if you're looking for an escape from the masses and looking for something a bit more underground in flavor, Minimal Effort in Downtown LA at the infamous Belasco Theater should be in on your list. Here are 3 reasons why:
The Lineup
The lineup for Minimal Effort is hand-picked for the ultimate house and techno aficionado. This year's lineup features Boyz Noise, Audiofly, Christian Marin and more. So if you're looking to get your house and techno fix (let's be real, you can never have too much of either of the two), this is the perfect place for it. You can peep the full lineup down below.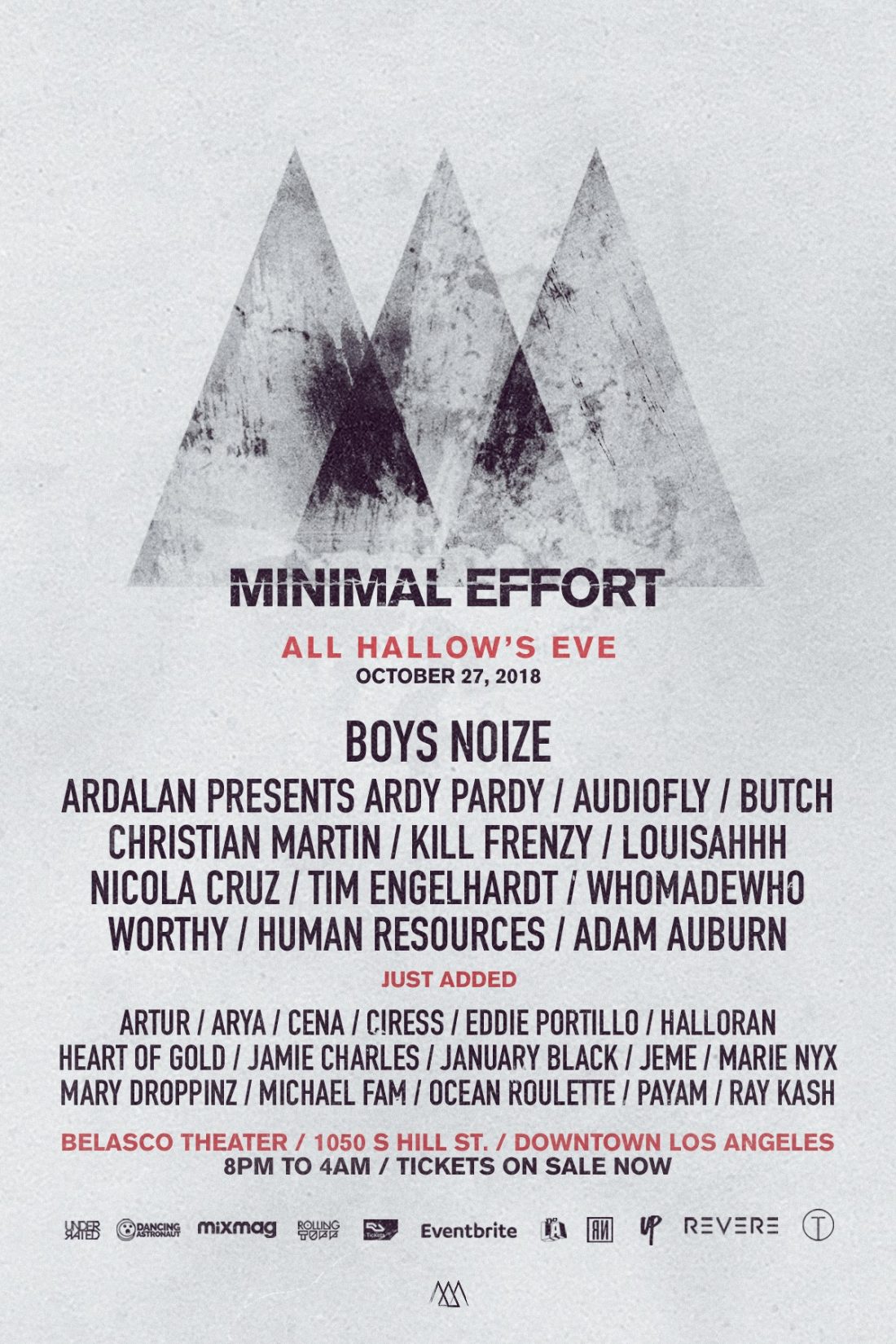 The Vibes 
There's no doubt that Minimal Effort continuously brings a fire music lineup, but their events also bring some of the best vibes around. If you've ever been to Minimal Effort, you'll know this is definitely the case. Keep your ego's at home and bring your funny party hats and dancing shoes, because at these parties, all are welcome. Expect to dance the night away and meet some incredible people throughout your night (which by the way, features 8 hours of Funktion One music). There's nothing but good, spooky vibes that will take your Halloween festivities to the next level.
It's Time For Something Different
Around Halloween time there's always so much to chose from. But the truth is, you've probably done it all. Whether it's the massive events in San Bernardino, or some crapped nightclub in Downtown Los Angeles, it's all been done before. Why not spend Halloween with your closest friends checking out a new type of vibe and party? It's time you try something new, and Halloween is the best time to get freakishly weird, find your groove and dance to a new kind of beat.
Minimal Effort Halloween has got you covered all night long in Downtown LA for a unique experience you won't want to miss.
Tickets for Minimal Effort Halloween are on sale now

here

! You can grab tickets here. Don't miss when Downtown LA becomes home to house and techno this Halloween at The Belasco Theater on October 27th!