For as long has music has existed there have been environments designed to accommodate it. The first christian hymns were sung in churches, and before long concert halls were being built by rich europeans for rich europeans to listen to the symphony. From there we have everything from giant stadiums to tiny rooms, each of which attracts a certain type of music and clientele.
However, if you really think about it, the idea of music being required to be paired with any kind of visual aspect is a little counterintuitive. In the modern era these venues and stages exist to amplify music in a way that is not easily attainable, but when it comes to actually enjoying music, nothing visual is necessary. There are street performers in every major city in the world singing their hearts out to pedestrians, and it's completely possible for someone to enjoy the music in that setting just as much as if the artists was on a professionally lit stage.
Going beyond that, with technology being what it is, music can be with you 100 percent of the time. People are enjoying music constantly these days outside of any specialized environment and without any visual aspects whatsoever. The reason these venues still remain so important to music is because of the environment they curate, and how it compliments the music. That's why there's people who buy season tickets to the Hollywood Bowl every year even before the shows are announced. If the environment compliments music properly, then the kind of music playing doesn't matter nearly as much.
This idea presents a interesting point of view on dance music stages however. For any other kind of music, the venue for the most part is meant to create a spectacle out of the performer. Bright lights. LED Screens. Fire. CO2. All of these flashy special effects are placed around the people on stage to add that extra bit of entertainment to the artist. However, for dance music, the focus needs to be on the crowd as much as (or even more than) the DJ.
No other type of live music requires the same kind of interaction and intimacy with the people around you. The DJ has to be able to constantly read the room, feel for vibes, and translate the overall mood into music. This was much easier back in the day before DJs were planted 30 feet above the crowd and were usually a part of the crowd themselves, but that isn't to say there aren't stages out there in the world that still curate a unique environment while allowing the DJ to do his/her job properly. If you have a chance throughout your festival travels, these 3 stages are worth at least a one-day ticket to festivals they call home regardless of whoever might be playing there.
1. The Woogie
As much as you've probably been hearing about Lightning in a Bottle, it isn't all that special or different compared to other mindfulness festivals throughout California. It has a higher budget (and ticket prices) and thus is receiving more attention with names like Chet Faker and Jamie XX topping the bill, but there has always been one aspect of LIB that has set it apart from the rest….The Woogie. Not The Woogie stage. Just The Woogie. Having been LIB's home for house and techno music since it's inception, the absence of the word "stage" from its title is an accurate and necessary omission. The other two main music areas (cleverly titled thunder and lightning) are indeed stages, and are titled as such, but the Woogie isn't just a stage, it's a state of mind. First and most importantly, the Woogie does not discriminate when it comes to house and techno. This year you'll hear the ever-growing funk of Justin Jay alongside the tribal techno of &Me before Four Tet comes on to break down any kind of barriers that could possibly exist in a house set.
The music being played at the Woogie isn't what makes it special though. Having almost no production whatsoever, the DJ is standing inside of a tree, surrounded by minimal yet effective lighting. By placing the DJ in such a position Do Lab is reminding everyone that everything, including music, comes from (and is connected to) the Earth. When you get close enough to the slappin' Funktion Ones, you become connected to everything and everyone around you. Every person there is your friend by default including the DJ who is existing with you as he/she observes and delivers the exact sound you're looking for. The reason they're able to do with this with such artistry is because everyone is sharing the Woogie state of mind. You're not just hearing the music, you're a part of it. You're not just attending a festival, you are the festival.
2. Yuma Tent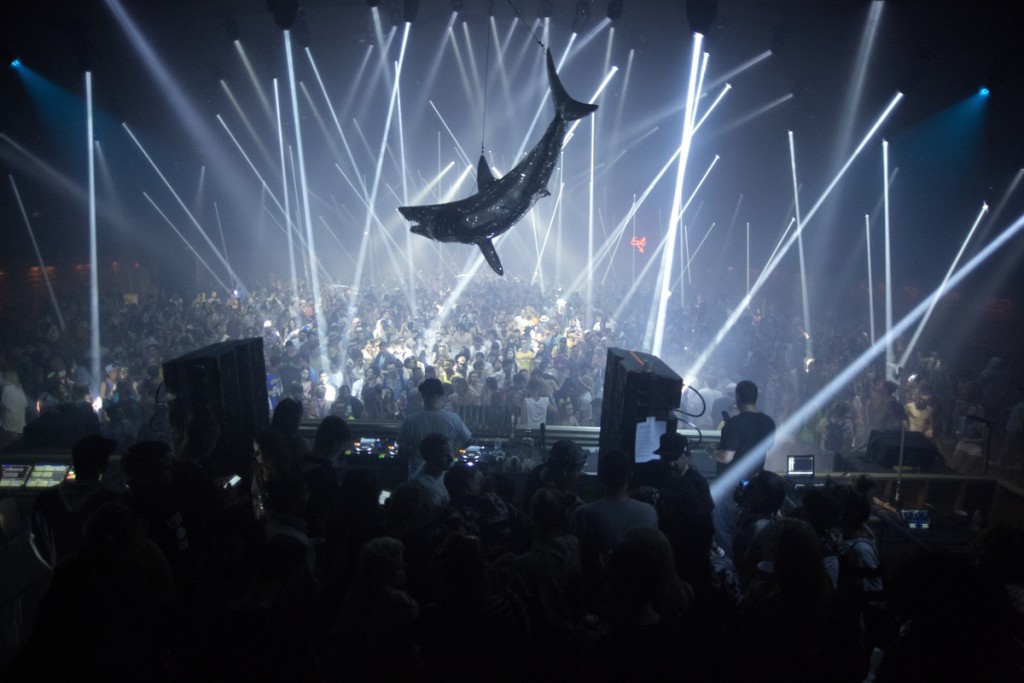 As a festival that is constantly changing, many of the differences from year to year at Coachella are often over looked. I have been for the past three years and every year there are a few significant changes that alter the festival. Sometimes they don't go over well. A lot of people were disappointed when the Do Lab was moved from the center of the festival to the back corner. Sometimes they're generally unnoticed. The real bathrooms that were installed were a life saver, but the lines for them were still significantly shorter than the port-a-potties adjacent to the tents. There are some changes though that take an already great festival and push it to the next level. One of those changes was the Yuma Tent. Starting out in 2013 as a small yurt placed awkwardly throughout the grounds, the Yuma tent has become one of the most anticipated aspects of the festival. Now nearly double it's original size, the Yuma tent is placed right next to the main festival entrance, but all these logistical conveniences don't compare to how it maximizes the music heard within. Coachella has always been about highlighting music of all genres.
If a certain genre is hugely popular throughout the year, you can bet the Coachella lineup will reflect that. Well the Yuma Tent is Coachella's response to the increasing popularity of underground dance music, and they made sure the Yuma tent was the proper environment in which to hear such music. Upon entering the Yuma tent, the first thing one feels is the endless amounts of AC that stays around 68 degrees throughout the entire festival. Immediately after, any kind of sun that you saw before is drowned out as you round a corner into a dark dance floor decorated with disco balls, colored lights, and thick layer of fog. Soon you forget that it was nearing 100 outside and there are dozens of bands and DJs performing a few hundred yards away just before your feet take over. You're now inside a dance club that is only open for two weekends out of the year where some of the best techno DJs on Earth will be spinning. While other festivals who sponsor their stages would place such techno artists right along side huge house music, Coachella understands that such an environment is not the place for that kind of music. Underground dance music belongs in an underground dance club, so Coachella built one. If you've never been in there make sure you go this year, and thank me later.
3. Kinetic Field
I know I've been mostly discussing the smaller, intimate side of dance music, so I'm sure some of you reading this think I have the typical underground snobbiness when it comes to the big and tall genres of dance music. While I will admit the darker side of dance music is more to my liking, the important part about curating a great dance music stage isn't defined by the music heard there. It's defined the environment created, and how the DJ is able to read off the crowd. Well one of the reasons EDC Vegas; is EDC Vegas is because Pasquale somehow found a way to make a stage that can accommodate tens of thousands of people as communal as a room of 15. Of all the names the EDC stages have maintained throughout the years, "Kinetic Field" is by far the most accurate. In the same manner as the Woogie, when one steps under the banner and the MainStage speakers become audible, the world around you fades away and kinetic energy takes over. This doesn't mean you're dancing until you're feet fall off necessarily, but with the help of the utterly epic design of MainStage every year, the air becomes electric and its impossible to stay still. Whether you're dancing, talking to new friends, or your heart rate is increased out of pure joy, some part of you is moving in a way it wasn't before you stepped into MainStage. It's that constant energy that allows the DJ to connect with thousands of people at once.
Intimacy is a wonderful feeling at a DJ set, but nobody who's going to Kinetic Field is looking for intimacy, they're there to be completely surrounded by EDC, and the most important part of EDC is, of course, YOU. The headliner. If you've ever had doubts about what Pasquale says about these events being truly magical, take a trip to the Kinetic Field and EDC Las Vegas. That magic he's talking about is the kinetic energy, and that energy is created by you, not the music.