As a new year approaches, the EDM community looks back on a wild year. In 2022, the madness of the pandemic appeared to fade into collective amnesia as hedonism-starved crowds burst out of the 2021 post-pandemic hangover straight into a full-blown rebound.
The boom generated lots of exciting changes like new festivals, a genre renaissance, and never before seen acts– all while growing pains also introduced some important lessons. These highlights show the top ways the EDM scene changed in 2022.
1. (Re)Emerging Genres
To the old-school rave lovers' rejoice, some of the scene's oldest and most iconic sounds made their way back into the mainstream in 2022. Techno leads this resurgence.
While it's true that the scene raged on in the US in cities like New York and Chicago, the scene remained largely underground elsewhere for the better part of the last two decades.
In more recent years, late iconic techno and tech-house producer i_0 put techno back on the radar as he grew in popularity, resulting in a legacy that endures after his untimely death in 2020. 
As the industry re-emerged from the pandemic, other techno and tech-house producers like Charlotte De Witte and I Hate Models grew a notable following in the US as a renewed interest in techno gained momentum.
This turned into a full-on boom in 2022. Today, it's possible to see artists from all different styles dipping their toes into the genre. Take for example liquid bass genre staple Champagne Drip, who debuted a stomp-worthy single called "Acid Underground" on his latest EP Time Warp.
2. New Festivals And Novel Acts
2022 also saw the debut of several new festivals and novel events. Event promoter giant  Insomniac and its affiliate brands stepped into a new market in the Pacific Northwest, bringing HARD PNW and Beyond Wonderland at the Gorge to the region.
Insomniac and its east-coast-based subsidiary Club Glow also introduced Project Glow to the festival roster, while Insomniac's house and techno affiliate, Secret Project, staked a claim in  Portugal at Praha da Rocha. 
After the pandemic shook their careers, many artists also took the community by surprise as they re-emerged into the limelight with novel acts and new directions.
Speaking of the techno revolution, American producer Charlotte De Witte made history by becoming the first female-identifying artist and the first techno producer to ever close out Tomorrowland.
Dance music legends Kaskade and deadmau5 teamed up to create the never-before-seen collaborative project Kx5, and big-room house staple Hardwell re-emerged with a new style.
Gareth Emery debuted his visually stunning LSR/City V2 tour featuring cutting-edge novel technology and mind-bending laser displays, and i_o continued to wow fans with his album Warehouse Summer, which was released posthumously.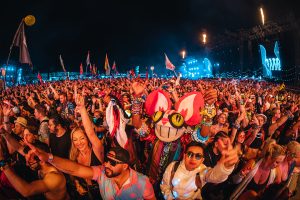 3. Crowd Control
Explosive growth often comes with cracks and growing pains, and the festival industry is no exception. Oversold shows, packed venues, surging prices, and phone thefts became the norm at many of the year's most popular events, and a sense of frustration is building in the community.
It's understandable that financial interest likely underpins the year's oversold shows as the industry tries to recover from the pandemic. However, many people are left wondering where to draw the line, especially as overcrowding can create real safety issues. 
Electronic music festivals attracted a wave of newcomers in 2022, and on one hand,  it's great to see so much fresh enthusiasm in the community. Even so, many established ravers report noticing a culture clash with the newer crowds.
This perception is of course broad- stroking and subjective, and it's helpful to remember that cultures are always evolving. It's also likely that the influx of newcomers arrived as a wave in 2022 rather than a steady stream because of the pandemic, which means that newer ravers may not have gotten as much exposure to the existing community and its culture before integrating. 
In any case, crowd behavior became a top conversation over the course of the year, and that will likely continue.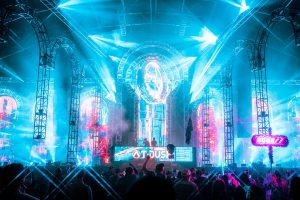 4. Harm Reduction
On a positive note, the EDM community made strides in embracing harm reduction this year. Insomniac introduced a novel partnership with End Overdose, which is an organization that provides education and supplies to combat opioid-related deaths and hospitalizations.
This is significant as the Fentanyl epidemic spreads across the United States and beyond. More venues and promoters also started providing alcohol testing strips, DUI self-checking kits, and other harm reduction tools at events and clubs to further protect the community. 
There's more work to do when it comes to event security. This is made evident by the phone theft problem as well as the controversy around gun control at festivals after a frightening incident took place at Bass Canyon where a man was arrested for bringing a gun to the Gorge Amphitheater campgrounds this summer.
With that said, the events of 2022 opened important conversations about well-being and safety in the community that are likely to bring about more changes.