Las Vegas native Erik Hammamoto, (better known as HAMi), first started his musical career on the decks of a skateboard, instead of a controller. HAMi became a professional skateboarder during the 2000s but was not able to continue due to a devastating and career-ending motorcycle accident that left him in recovery for over 5 months. Instead of accepting defeat, HAMi translated his emotions into a brand new passion, music production. More specifically, bass music production.
HAMi's music production abilities allowed him to showcase his music on some of the most listened to bass labels in the industry. HAMi has released tracks on Firepower Records, Buygore, and Never Say Die. HAMi is known for his strong stage presence during his sets and has collaborated with fellow 40oz Cult members, Dack Janiels, and Gawm. Releasing tracks on some of dubstep's most predominant labels was not enough for HAMi, as he was determined to start his own label. So, HAMi teamed up with Dack Janiels and Wenzday to form Los Angeles-based label, 40oz Cult.
40oz Cult is primarily a bass-oriented label and features some of bass music's most predominant rising stars as well as established artists within the industry. Yakz, Figure, and Dubloadz are just a few of the artists who are featured on the Los Angeles-based label. We were able to sit down with HAMi before his 40oz Cult label takeover set on Insomniac TV to discuss 40oz Cult, skating his career, and much more.
Make sure to tune into HAMi's set Thursday, February 25 on Insomniac TV starting at 10 PM  PST.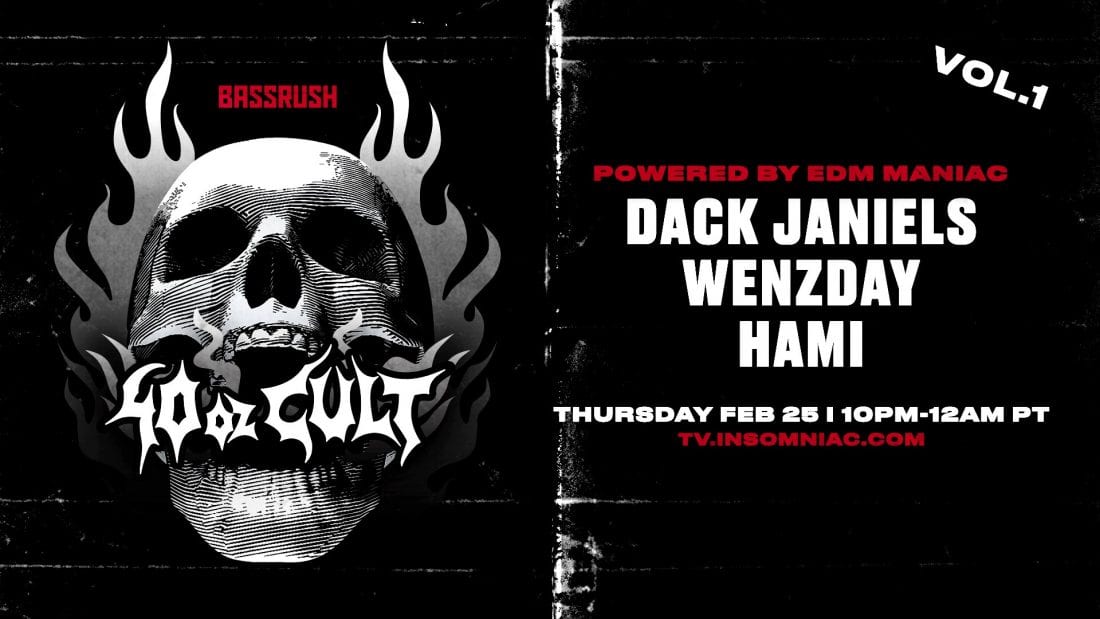 EDM Maniac: What was the timeline of sort of you three (Dack Janiels, Wenzday, Hami) getting together, launching the label, and making this legit?
HAMi: The timeline well, I mean, I knew Taylor for a long time, we were in the same scene, Hollywood, you know, during my skate years and through all that, you know, she was already kind of doing her DJ thing and Tanner's her younger brother and so, you know, he started coming around, but we both clicked in him, clicked because of the skating. So, you know, the timeline was… I don't know, I would say six years ago was when we first kind of came up with the idea and started pulling all the pieces together. Yeah. 
EDM MANIAC: What's been the reaction from your fans? Were you thinking that it would grow to where you are today or you were just messing around having an opportunity to party with your friends?
HAMi: Well, honestly it turned into… we, when it first came to LA, I never thought it would be where it's at not more… it was more of a kitschy funny thing that we were doing, like obviously 40 ounce cold, you know, when you first hear it, you're like, but honestly we just wanted our own platform and something to do our own thing with, you know, cause we were, you know, always I've had multiple releases with other labels, same with Tanner, but for us to have our own platform and our own like be able to drive our own creative ideas. I think that was the reason why we wanted to do it.
EDM MANIAC: Living through 2020 was kind of unique obviously. Did that inspire you guys to create any new habits with fans or talk to your fans in a different way, make audible the fact that you couldn't perform live?
HAMi: Well, honestly for us like, yes, because we've also always been very close with our fans because you know, once we started collecting our coal, we… you know, we just keep it really humble and make sure we make everyone feel like they're a part of something. And so yeah, when it came to, you know, 2020 and all that stuff, we really just hit it hard because we knew it was going to make it even playing field. And we knew if we hit this hard come through 2021, 2022, we're going to prevail. 
EDM MANIAC: Absolutely. What do you have in store for 2021 and 2022 as of right now?
HAMi: Right now planning a bunch of stuff, you know, in the hopes that everything goes back to relatively normal. Yeah. So we're just kind of, you know, planning for that. I've been working on putting together a tour for when that time is right. Just doing all the planning early, you know, all of our merged launches we do early, you know, a full season ahead, you know, so we try to make sure we are always ready for the next step.
EDM MANIAC: Is the merchandise extension of the music or is the merch its own thing entirely? Not really related?
HAMi: I mean, in my opinion, I think it's completely separate. Obviously we drive the merch through the music, but I think it's its own entity and we've always kind of used it as its own vessel and yeah, I think they all connect at one point but for us it's a clothing line and a record of seven copies. Love it.
EDM MANIAC: You're also a pro skater, What is the similarities with skate culture and 40-oz cult?
HAMi: It's yeah, it's symbiotic, you know, it's to me, I see a lot of it you know, it's very similar. So that being said, it's like the music scene is very connected and you know, a lot of these people are only in it for the music and the skating is the same way. It was always just a very tight niche fam. So that's the way I see it.
EDM Maniac: And when you were discovering music for the first time, how did you sort of find this genre and why do you make the music that you make?
HAMi: I mean, I think that go back to the skating, you know, there's stuff like heavy hardcore, like just thrash and go crazy, you know? And that's why I was drawn to the heavier side of the music personally.
Make sure to catch HAMi's set Thursday, February 25 on Insomniac TV starting at 10 PM  PST.
Feature Photo – HAMi