It's almost time for the magical world of Wonderland to inhabit Central Washington. Taking place at the Gorge Amphitheater, Beyond Wonderland PNW is a gathering of colorful performers,  interactive art installations, fun activities, and exciting performances by producers of various electronic genres.
As the excitement quickly approaches, using some spare time to build a thorough packing list is a great way to ensure optimal enjoyment and minimal stress during the festival weekend.
 As camping venues go, the Gorge Amphitheater is among the most scenic and awe-inspiring in the country, but that also means attendees should come ready to handle mother nature's tricks and surprises. 
There are also features and perks you won't want to miss, and even Gorge regulars have opportunities to experience familiar things in new ways. Here are five tips to live up the magic.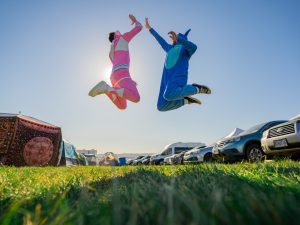 1. Embrace Wacky Weather-Friendly Fits
The Gorge Amphitheater is nestled in a canyon surrounded by desert plains. Temperatures can fluctuate as much as 20 to 30 degrees between day and night, and winds and rainy weather often make surprise appearances in the area during early summer days. It's best to come prepared with warm and cool weather outfit alternatives.  
Bringing some extra pairs of socks and investing in some rain boots and an impermeable jacket is well worth the while instead of shivering in wet clothes if the weather does turn. Keeping a beanie or hoodie on hand is also helpful for staying comfortable in cool temps, especially if the wind kicks up. 
Onesies, harem pants, fluffy coats and colorful outerwear additionally make for fun cool temp-friendly layering options for those wanting a more creative way to bundle up.
2. Pack Practical Kicks
There's one piece of festival advice that is repeated time and time again, and it most certainly applies here:  Wear. Comfortable. Shoes.
The walk between GA camping and the festival grounds can get lengthy (up to a 40 minute walk) and the terrain all throughout the venue can get steep and gravely.
Platform lovers, save those kicks for another show–or opt to keep them on site only for photos.  Don't miss out on a weekend of dancing on the hill because of a rolled ankle!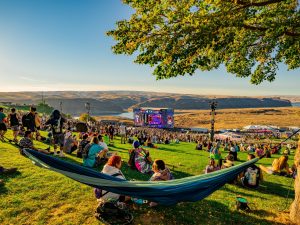 3. Be Comfy at Camp
Once again, preparing for the elements is key when packing for camp. Bring extra blankets and pillows for the tent, and if using an air mattress, placing a thermal blanket under your body at night will help keep you better insulated.
Dawn breaks pretty early in the morning during the PNW summer, so packing an eye mask can also make for getting better-shut eye
Unlike some other events at the Gorge, Beyond Wonderland PNW policy does not permit the use of fire pits or open flames on site, but setting up a small portable propane heater can still turn camp into a cozy gathering space to warm up. Propane camp heaters are typically available at most camping stores. 
Alternatively, setting up shading is important for staying cool during the day. Canopies and tarps are best for providing cover from the sun as well as rain, and securing a tarp under your tent will help keep out moisture and bugs. 
As a bonus perk, the festival offers shade structures,  misters and free filtered water refills inside the campgrounds, which means there are more options for staying cool and replenishing on site this year.
4. Food, food, food!
It's easy to get pulled away from eating amidst all the activity and excitement, but getting in some good nutrition makes for a better overall experience.
The Gorge often does due diligence at offering tasty food options inside the venue ( keep an eye out for the stir-fry noodles, barbecue handhelds and 1-pound curly fry bricks).
That said, it's still a good idea to bring a private food supply to camp for extra convenience. Canned food, fruit, nuts and protein bars make great easy to prepare meals and munchie items, and bringing extra water is always a bonus.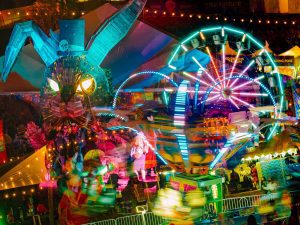 5. Gather 'round!
Last but not least,  it's a great idea to pack some gear for the many activities and community bonding opportunities you'll want to take advantage of at the festival.
Some of the activities offered at camp include yard games, guided painting classes, a shuffling lesson, guided yoga, terrarium garden-making, and even a camp decorating contest. Bring along some light-weight activewear and a couple spare T-shirts you won't mind getting dirty if you plan to take part in the action. 
One of the best perks of camping is also meeting new people and getting to make new friendships with fellow festy lovers. Over  just a couple days, the campsites themselves turn into full communities where it's possible to feel at home away from home. Make the most of the experience by bringing along some games and crafts of your own to indulge in with neighbors, or even share some breakfast together to make a great gathering space for all to enjoy.
Photos courtesy of Beyond Wonderland PNW