In a little over a week, the world-famous Time Warp festival will once again land stateside for a weekend full of incredible Techno. In partnership with NYC event producers Teksupport, the event will feature two stages in two industrial buildings right alongside the Brooklyn Waterfront. For those not familiar, Time Warp USA is known around the world for some of the best sound and lighting production. Time Warp first made landfall in the USA in 2014, and in 2019 fans celebrated 25 years of the revered event in Bronx, New York.
The lineup this year is quite impressive as it spans across the Techno spectrum.  Here are just some of the artists you should check out when the Time Warp USA 2021 makes its explosive return to Brooklyn New York on November 19-20.
Consisting of Adrian Shala and Adrian Schweize, these two produce mostly house and Techno. They bring melodic, visceral vibes that take you on a journey. Having seen them around the world, we recommend checking them out if you're looking for a set that will hit you in your feels and help transcend you to another level. Check out one of their sets below.
Nina is an incredible female force from Serbia that can not be stopped. Her sets reach the highest of BPM's and feature tons of heavy hitters and massive warehouse energy. Nina started her own record label in 2014, named трип (English: Trip) and has been touring a lot of the massive Techno festivals around the world and the USA. She is well-known for her fusion of different kinds of Techno in her sets and if you like Acid Techno, you can expect to hear tons of it when she takes the stage.
This will be one set that you don't want to miss. Ben Klock has played some of the biggest clubs in the world including a residency at the famed Berghain nightclub in Berlin, Germany. He is the label head for his widely popular Klockworks records and is one of the most in-demand Techno DJs in the world. He also produces a lot of his own music. Together Ben will perform a special b2b set with Marcel Dettman who is also a heavy hitter in the Techno world. Dettmann is another resident at Berghain, so that should say enough in itself. These two will come together for a sensational set that CAN NOT be missed. Pure Berlin Techno will take the stage in New York for a very special performance.
Another female titan in the techno realm, Paula is going to deliver a heavy set that will leave you quite literally speechless. She delivers untamed live sets and her sets feature her own remixes, self-produced tracks, and edits. This British powerhouse has also played at some of the world's most revered festivals and also some of the best warehouse events you can imagine. Here's how she describes her festival sets in a recent interview with Grammy.com:
"I like to have surprise and emotion. Festivals love breakdowns—that's fine, but to do it in an unusual way, I love down tracks like that. And, they give you something, but they give you something more on top of that that you didn't expect. So like, okay, this is the obvious thing that happened. And then, "Ooh, that just happened out of the blue."
Richie is a legend that you can't miss. He's one of the most innovative producers of our time and has the legacy to prove it. This British-Candian DJ and producer got his start in the Detroit techno scene in the 1990s and is known for being involved with the start of minimal techno. He has his own record label and his own ENTER. parties that showcase experimental sounds. He's has residencies around the world and even created music for the XXth Olympic Winter Games Opening Ceremony in Torino, Italy. He's someone you can't miss at TimeWarp NYC 2021.
Renier is a Dutch phenomenon who plays only epic, high-energy live sets. Despite being only 30 years old, his powerful live sets are something you can't miss out on. He has been classically trained on several instruments but in 2015, he decided to focus all of his attention on producing techno using live synthesizers. It's this combination of talent and originality that has been supported by some of the biggest names in the genre, including the king himself, Carl Cox. In 2017 he founded his own label, 'Fifth on Acid' which should give you an idea of the kind of energy that he brings to his sets.
These are just some of the DJs that will be leading the third annual Time Warp USA festival on November 19-20. Tickets are still available and you can check out the complete lineup for the festival below. We will see you there!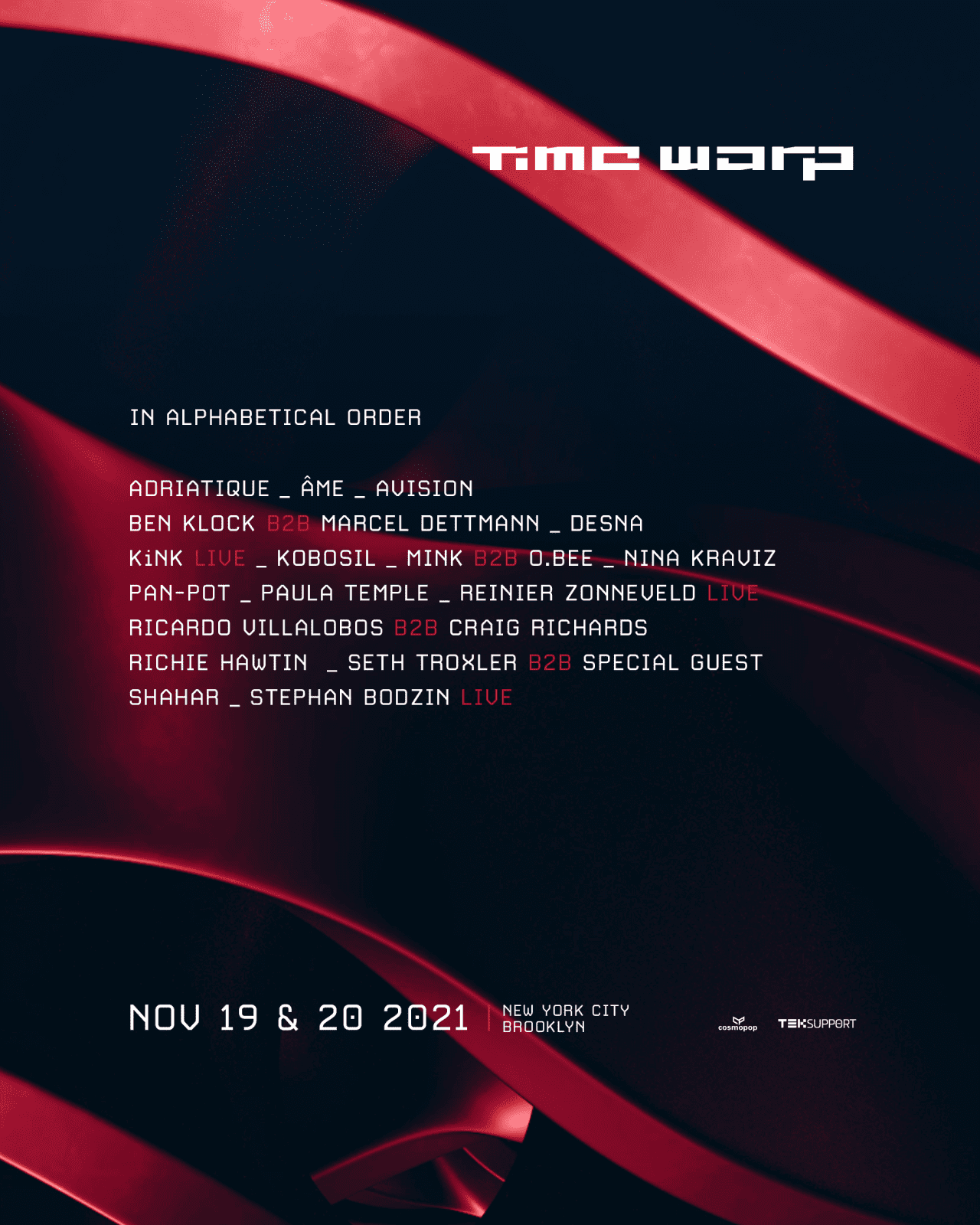 Featured Photo: Tyler Allix