Abracadabra just released their three-day New Years' Eve lineup and it is filled with some huge names. Aloe Blacc John Legend, Kaskade, and Major Lazer are just some of the names that have been announced for Abracadabra's three-day live-streamed event. The event will take place from December 30 to January 1 on Abracadabra's Twitch account. There is also a trailer for the festival that you can watch here.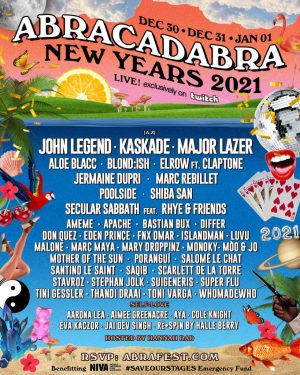 Abracadabra has been organized by producer, BLOND:ISH and is centralized around self-care and reflection. The live-streamed event will have mental health stations as well as mass meditations to help people who may be struggling as 2020 has been quite the year. All donations from the festival will benefit #SaveOurStages which is an Emergency Relief Fund by the National Independent Venue Association. Fans also have the opportunity to win various prizes through Abracadabra's partnering with Fandiem.
For more information about the New Years' Eve live-streamed event, visit Abracadabra's website.