Last weekend, Detroit techno collective group called Underground Resistance, expressed on Facebook their concern with Armin van Buuren's new party residency called "U R". They accused him for plagiarizing their name and logo.
"Is there no shame? What happened to electronic creativity? What the fuck is it all about the money?" posted the collective to Facebook. "To "those who know" MOVE TO CONDITION RED!! To those who steal culture. You have been warned" the collection continued.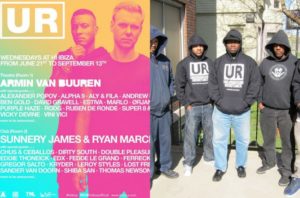 Armin van Buuren released his statement regarding the issue this morning.
Read the entire statement below:
"I would like to start off by saying how unfortunate and unpleasant this situation is for everyone involved. My team, the team of Hï/Ushuaïa and myself were not aware of the similarities between our logo and the logo of Underground Resistance. Originally, UR – the name of the new event through which I'll perform in Ibiza every week – is derived from Universal Religion, an older but nonetheless known Armin van Buuren concept. The logo, which consists of a custom-made font and frame, was designed to conform with the Armin van Buuren brand. After careful deliberation, my team, the team of Hï/Ushuaïa and myself have decided to keep the name UR as it is and to adjust the symbol. I trust that media, fans and Underground Resistance will be able to understand this decision."
Source: EDM Sauce