Michigan-Based Artist Interview Series
This interview with Benji Robot is the first installment of interviews highlighting bass producers based in Michigan. Electronic artists have also frequently noted venues in Michigan to be some of their favorites to play at. Venues like The Intersection/ Elevation in Grand Rapids, Elektricity in Pontiac, The Majestic Theater in Detroit, and Papa Pete's in Kalamazoo. This state is also the home of many top-tier artists, like GRiZ and Peekaboo just to name a couple, and who knows… One of these interviews might be with your new favorite producer!
Benji Robot is a mysterious glitch producer based out of Michigan. He has been hard at work for the last two years releasing his debut album "Sedona" and his most recent EP "Cherry Blossom". Benji Robot has a very unique style of music and it is hard to pin his music to one genre, but once you hear the tunes he makes you will never forget him. He is recognized for his releases on Mean Mug Music, The Untz, a feature on "Happy Hour" (a Mean Mug Music podcast), and his performance at Tipper & Friends in New Orleans. I was lucky enough to get the chance to interview Benji Robot to discuss his music, creative process, inspirations, and working with Tipper. So without further adieu, here is my interview with Benji Robot, the bot that cannot be stopped.
EDM Maniac: You recently released an EP "Cherry Blossom", take me on a bit of a deep dive describing the three tracks on this EP and the inspiration behind it?
Benji Robot: Track 1, "Cherry Blossom", sort of blossomed out of a desire to do some sort of fusion between Glitch-hop, Psytrance, and Dub. With all of the sounds coming together, it gave me um… I was playing a lot of CyberPunk at the time, I get a lot of inspiration from video games. The whole EP was really inspired by futuristic design and postmodernism.
But I got the name "Cherry Blossom" from a lot of the instruments used in the song; traditional Japanese strings. And in my head, when I heard the song, that is what I pictured, that really pretty tree.
"Psychoespionage" was more of an experimentation with drum and bass. I like to do that a lot. I wanted to create a spy-thriller for the mind. And everything else came off of the melody, which really drives that whole song.
And the last one, "Lika Da Kaboom", is a nod to my older brother. When he was three years old, at a fourth of July celebration and when there were fireworks he kept saying "I no lika da kaboom". Well, I like kabooms in some ways, so that song is kind of about explosions.
EDM Maniac: I believe your music is something special. There are not a lot of people out there who can make the music you do. Who would you say are your biggest inspirations in the electronic music world? Who are your biggest influences outside of the electronic genre?
Benji Robot: I'd be shooting myself in the foot if  I didn't get a "hats off" to Dave Tipper. He is the first one who changed how I hear things. But there are a lot in the electronic world. Like James Blake is a big one. Before he started his solo singing career he was making a lot of minimalists, post-dubstep type of stuff. People like Four Tet, Tom Yorke, Squarepusher, Mr. Bill, Aphex Twin, Boards of Canada, all of those people who pushed the envelope in the engineering side of things and the emotional storytelling side.
[Outside of the electronic world] There are a lot. I listen to a majority of non-electronic music, so that is a hard question. But if I had to narrow it down it would be Pink Floyd, Grateful Dead… I am a huge deadhead. Shpongle, and Sound Tribe (STS9), both are electronic but also work as a hybrid. Another band that influences me emotionally is The Strokes.
EDM Maniac: Every artist has their own method to the madness. What does your creative process look like when you're in the studio?
Benji Robot: To be honest, I kind of blackout when I am making music seriously. I let instinct take over and I'm not really thinking about things. But when I'm not dissociating when I make music, because that's what I think is happening, I'll start with a melody of some kind, shape synths around that, and try to figure out some percussive patterns to make it feel like it needs to be in my head. Then I just fill in the rest, but the whole time I am mixing it down and engineering it because I come from an engineering background.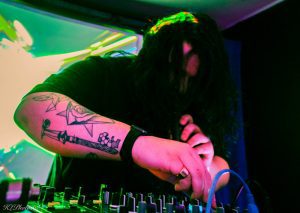 EDM Maniac: Speaking of madness, 2020 treated everyone differently. What was the last year like for you?
Benji Robot: Last year was very weird. I started it on the highest of highs and almost immediately it all went by the wayside. With the breakthrough performance with Tipper in New Orleans, then a few weeks later I released "Sedona", and a few weeks after that is when the whole lockdown happened. I had a whole tour and festival season planned. But that's alright. Everything happens for a reason. I didn't stop making music or think, "well what is going to happen now?"
Making music to me has always been because I need to. I don't make music to play. The fact that I get to go play and create experiences with people is just something extra. That has become an integral part of my process now, but at the end of the day, if I'm not getting booked for shows anymore, that's not the end of the world for me. I'll keep making music regardless. I'd feel like nothing if I didn't make music. You know, I have a job that I work 9-5 and the rest of the time I am all focused on "what else?". Some people can come home after work and just relax, but for me, it is just anxiety all day. Because I'm working my job, then I'm working THE JOB.
EDM Maniac: Tipper has to be one of the most mysterious and elusive people in the music industry. Having had the opportunity to perform with him and talk with him about your music, what was that like?
Benji Robot: It was the weirdest thing ever. The weirdest part about it was because he is so elusive and mysterious I had no idea what to expect. I had met him a couple of times before that night (Tipper & Friends in New Orleans), but not in a musical context where he knew I was performing or hearing my music. So that night at the show, hearing him talk to me was really strange. But the most shocking thing about him is how down-to-earth he is. He is very much like you or me. A guy who makes crazy noises, blows minds, and then walks off stage acting very chill… it's shocking. At the same time, it kind of makes sense. The dude is very righteous. But really, he is chill, he is very funny, he is just another person. That is what is kind of freaky, he is just normal.
EDM Maniac: In 2020 you released your debut, 14 track album "Sedona". How long was this album in the works? What was the inspiration behind this project? 
Benji Robot: I was working on it for the better part of a year and a lot of the inspiration came from past relationships and trying to figure out where my place is in not only that but in the world. But a lot of the ideas for it came about in Sedona, Arizona, when I was on a musical retreat with an ex-girlfriend of mine. We weren't dating at the time but very close; musically and as friends. That weekend inspired the idea behind the album; we worked out a lot of stuff in our heads and I wanted to put that into music.
EDM Maniac: Music is one of the rawest forms of expression. When it comes to your music, what are things you express and communicate through it?
Benji Robot: No one has ever asked me that, I feel like everyone leaves that up for interpretation, which I am all about. But a lot of what I am trying to convey is hope and joy. But there is also a lot of fear, uncomfortableness, and… loneliness. But drawing it all back together; we are supposed to be feeling all of these. And if we didn't, we wouldn't be feeling at all.
EDM Maniac: The music industry is like no other industry in the world. What has your experience in the industry been like since your career started to where you are now?
Benji Robot: I have been in so many different areas of the music industry at this point… I started dabbling in the professional music industry at about the age of nine… I have seen everything from the biggest shows to some of the world's most renowned recording studios. But the biggest difference now is I can do things freely. I am not upheld to anyone's expectations. There isn't someone hovering over me telling me what to do.
It is really freeing knowing I have an audience of people that are just ready to hear what I've got. And knowing I have the freedom to take that wherever I want to with those people is really cool. I'm not scrambling thinking "what will the people like?" or "how will this work?". Music to me has been "I am going to do this just because I like it" and I have found that if I like it, I'll have people who are going to like it.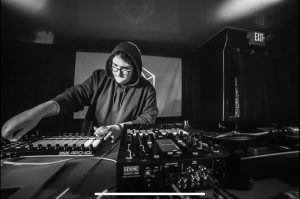 EDM Maniac: You have had great success in your career as a musician so far. When you look back at all you have done and all you have accomplished, what things stand out the most to you?
Benji Robot: Sometimes people come up to me and tell me how much my music means to them in their daily life… That hits home to me as a music fan because I have songs in my 'daily soundtrack' that I would feel lost without. So knowing that I make music that someone else adds to their 'life soundtrack' is the most gratifying thing. And other things like playing with Tipper and hearing him talk about my music to me… That was weird, but also super cool and humbling to me. Being able to release an album like "Sedona", I didn't want to release an album until I had something that I felt was right. So releasing that and seeing the love that came following that made it all worth it. 
EDM Maniac: You have announced a solid amount of shows and festival sets recently. Where and when will the people be able to find you performing? Do you have anything special planned that you can hint at?
Benji Robot: I'm not sure if I have anything super special planned, but I will be playing at Sound Haven, I will be playing an after-hours set at Tipper Red Rocks… It's my birthday that Friday so I wanted to enjoy his set on Friday and then be able to play a celebration show. I'll also be at Big Fam Festival in northern Michigan, and later in the year at Lunar Tide in Chicago. [*Not mentioned: Benji Robot will also be playing at Mersiv's album release in Detroit, October 22]
EDM Maniac: You have pumped out a lot of music in these last two years. Do you have any releases or upcoming projects you can hint at for the fans?
Benji Robot: I am working on a new album right now. I will be playing a lot of it out at some of the festival stops… Hopefully, there will be a tour for this one. "Sedona" was supposed to have a full tour but that is gone and I have new music now. As much as I would love to pick the "Sedona" tour back up… I don't think that's going to happen. But I would love to put something together for this new record because I just want to get out there.
Post Interview
Benji Robot is an incredibly talented producer who deserves your attention. Be sure to catch Benji on the festival runs this festival season and keep an eye out for some possible upcoming tour dates! For more on Benji Robot, check out the links below! I would also like to thank Benji Robot and his team for taking the time to set up and conduct this interview during the strange times we are going through. 
Links
Be sure to check out Benji Robots music on SoundCloud, Spotify, and Bandcamp
Follow him on Twitter, Instagram, and Facebook to keep up to date with The Bot Who Cannot Be Stopped
]Images Courtesy of Ethan Price