Gerard Not Gerald is an underground House and Techno icon who has been a major advocate in helping restore Techno music to Los Angeles' underground scene. Gerard Not Gerald has performed sets that have been featured on a few of the industry's most predominant Techno labels including Insomniac's Factory 93 and 6 AM Group. 

Gerard Not Gerald'

s passion for underground Techno has allowed him to not only perform music on some of the industry's most sought-after labels but it has also allowed him to Co-Found his very own Techno imprint, INCOGNITO, in 2007.

INCOGNITO has been pushing the boundaries between House and Techno music since 2007, and currently serves as Los Angeles ambassadors of the underground, helping educate and promote the sounds of House and Techno, and has featured Techno DJs ROBERT OWENS,  AMELIE LENS, Wehbba, ANNA, BEC, Bloody Mary, and Juliet Fox, amongst man others. INCOGNITO also serves as a platform for artists to showcase their skills to Techno-infused fans and has allowed artists to perform online and at venues in Los Angeles, San Francisco, and Austin. Since starting the imprint in 2007, Gerard and INCOGNITO have continuously expanded their vision by hosting COMPOUND warehouse shows and DRENCHED rooftop parties. Both events are heavily influenced by both Gerard and INCOGNITO and have since become staple Techno events in LA's underground music scene.
Before Gerard Not Gerald's (INCOGNITO) set on the MANIAC BLVCK livestream last night, we were able to talk to the Techno DJ and were able to discuss his career, musical inspirations, COVID-19, and what is to come for INCOGNITO. The MANIAC BLVCK Livestream on Insomniac TV will be uploaded to Insomniac TV's Twitch and YouTube channels in the coming days.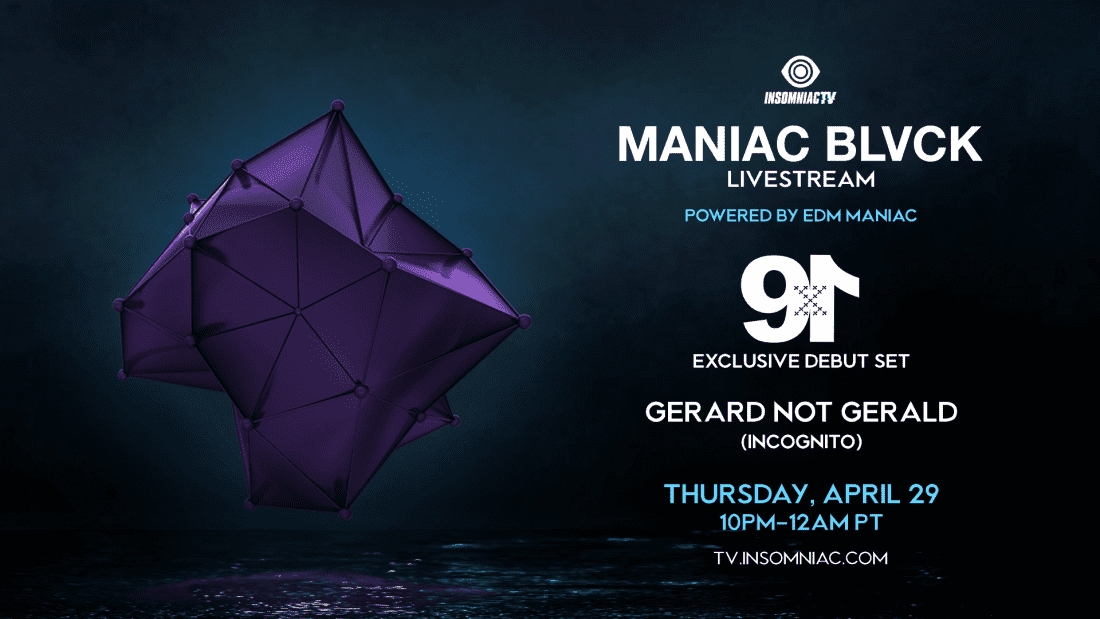 EDM Maniac: How did you first get into the music industry? When did you start to develop a passion for music, and when did your passion for electronic dance music begin to develop? How come?
Gerard Not Gerald: I've always been passionate about music since I was very young. I remember having dance-offs with family and friends as soon as music bumped through the speakers. I was even part of dance crews back in school and would help with choreographies. As for getting deep into electronic dance music, it probably was in the late 90s. I was a bit into rock & metal back then so getting introduced to the sound of The Prodigy, The Chemical Brothers, and their contemporaries were my gateway. Drum & Bass and breaks. You could see me every weekend going to Tower Records listening to almost any album in the electronica section and just getting immersed with all the subgenres, and buying at least 10-20 CDs every other week for almost 2-5 years. Now, I regret selling and donating most of them.
This was back in Manila where I grew up. Going bar hopping with friends and end up after hours at clubs. Bars & clubs don't close there 'til the last people leave which usually is when the sun is already out. I enjoyed meeting tons of new people through the music. And looking back, seeing movies like The Matrix, Blade, & GO to name a few, depicting bodies grooving in the same beat was so astounding. I actually was playing around with the idea of purchasing an old church and converting it into a club! Fast forward to 2003-04, living in LA for at least 2 years, I found myself back into the clubs specifically Circus Disco & Avalon to catch the superstar DJs. And I admit, I was definitely into a trance and progressive house during their peak. But at the same time, I was digging through the tracks and discovering the producers behind the music these DJs played. And it finally hit me! Rather than spending all my money every weekend, I realized there's a big hole in this crazy nightlife to finally break these artists into the LA scene.
EDM Maniac: When did you start seeing success in the industry? How were you setting yourself apart from others? Did you ever have a moment when you realized, 'I'm going to make it?' If so, tell us about that moment.
Gerard Not Gerald: I actually pitched the idea of building INCOGNITO to my co-founder, Alan Agbayani, at his birthday party back in 2007. I knew he was helping a friend of his with the all Pinoy parties here in LA and I enticed him to explore a much bigger idea. The idea to create a new party without any boundaries. We took the plunge into this industry without really knowing the ropes or the politics behind it. We carved our very own path! So, I guess our success metric for each show was seeing how many bodies go through the door and leave with smiles on their faces.
EDM Maniac: What made you focus on house and techno primarily? How did you start developing a passion for these genres of music? What do you enjoy most about making house and techno music?
Gerard Not Gerald: We actually started with House music & Trance, when we did our first shows at Boardner's Hollywood and they had 2 rooms. So, that was a perfect and successful start for us. I do think that to last long in this industry, or any industry for that matter is that you have to be passionate about what you do. And just like the saying goes, "Do what you love and you'll never work a day in your life!" And I believe that it shows during my DJ performances and also curating the experience at INCOGNITO through artist bookings to audio-visual productions.
EDM Maniac: How have you seen your music progress these past few years? In what ways have you improved or changed your music? In what ways do you challenge yourself and your musical abilities?
Gerard Not Gerald: I have sure honed into a more distinct sound and types of production from different genres. Trying to integrate a spectrum of music into my sets not only challenges me but it's also satisfying if they work flawlessly! Especially seeing people on the dance floor enjoying it with me. And since I've been fortunate enough to be living through this electronic renaissance, I can definitely tell where the influences come from and how it brings me back to the younger years when I discovered the music.
EDM Maniac: Obviously, the world was shut down for a year due to COVID-19… What did you do during that time? How did you spend your time during quarantine both personally and professionally?
Gerard Not Gerald: We've been busy almost every weekend since 2007, so this was a break I needed. But unfortunately, not the way everyone expected it to be. I'm actually enjoying this by spending more time with my 8-year-old son. And seeing him grow to be an amazing young man and be part of this adventure. We have also picked up golf together! Of course, his first time, and myself, after almost 2 decades since my last lesson. And OMG! He is so much better than me after almost a year of playing! I've also been more active during this time and finally started focusing on my physical & mental health.
EDM Maniac: Did COVID-19 allow you to explore any new musical ideas? If so, what were they? In what ways did you use COVID-19 to your advantage?
Gerard Not Gerald: I did finally try teaching myself Ableton Live after years of delaying it. I've started like 5 ideas already but I do need some professional guidance. So, the "tracks" are just sitting in my network drive right now.
EDM Maniac: How have you seen the music industry change throughout this time of no live events? In your eyes, how has the music industry progressed during this time?
Gerard Not Gerald: It definitely has been challenging not only financially but the creative juice in me stopped flowing. The challenge for us was how to differentiate ourselves from everybody else doing the same streams. There's lots of technology out there available for us but the warehouse ambiance doesn't translate through small screens. Each person will probably have different screen sizes, internet speed, and speakers! I need to be able to control these variables and it's tough.
EDM Maniac: What are you looking forward to the most once festivals return? What are you most excited about? Why?
Gerard Not Gerald: I'm actually glad that we live in California right now; currently the lowest infection rate in the country and the vaccine rollout has been ramping up. And finally, live event venues are able to open up safely.
EDM Maniac: What do you and Incognito have up your sleeve for the rest of this year? Any upcoming projects or collaborations that your fans can look forward to? If so, what are they?
Gerard Not Gerald: We just announced that we're bringing back our DRENCHED rooftop parties, recognized several times by LA Weekly as one of the top rooftop parties. This year, we're partnering with Nightbreed at the W Hollywood Hotel every Sunday starting on May 9. We also just announced this morning as we take back the underground with our biggest LA Techno collaboration, COMPOUND. This is a collaboration between INCOGNITO, Dirty Epic, Synthetic Minds, and 6 AM Group. We mutually agreed 15 months ago, to take a break and be cognizant of the public health dilemma due to the virus. We have taken this very seriously and we will be enforcing CDC, state, and city guidelines to ensure everyone in attendance will be safe to dance.
EDM Maniac: Where do you see Incognito being a year from now? What is something you guys would like to accomplish within the next year? What are your goals?
Gerard Not Gerald: Honestly, until the world is fully out of the pandemic, we will keep continuing what we do best. To give every attendee the best time of their lives. We do have plans to diversify our footprint and looking into other states and even countries. And we're also diversifying our online footprint via streams and podcasts. There's definitely a lot on our plate at the moment so execution is key.
EDM Maniac: Is there anything else you would like to tell your fans about your time spent in quarantine or any current or upcoming projects you guys are working on?
Gerard Not Gerald: Just keep tabs on any updates via our socials since changes do come in real-time.
Make sure to follow both Gerard Not Gerald and INCOGNITO on their social media accounts to stay up to date on all future Techno releases.