Vincent Sergeant (better known as Lektrique), is a Belgium producer who began DJ'ing at just 15 years old. He began DJ'ing parties for his friends and family which allowed him to develop an interest in music. His immediate interest in music allowed him to form a passion for DJ'ing which enabled him to fall in love with the European dance scene. As a result of his youthful success, Lektrique re-located from Belgium to Montreal, Canada, where he continued his passion for music production.
Just one year after relocating to Montreal, Lektrique joined forces with Kannibalen Records where he produced his first hit track, "Jesus Christ" with Apashe. The track blew up on Beatport's electro-house chart and received recognition from some of the biggest names within the industry. Since producing his first hit track, Lektrique has continued to develop his production abilities and has played at some of the biggest festivals in the United States including Lost Lands and Nocturnal Wonderland. Lektrique has collaborated with Black Tiger Sex Machine, aUtOdiDakT, and more recently, Wenzday from Los Angeles-based label, 40oz Cult. Lektrique will join Wenzday this Thursday, March 4 on Insomniac TV starting at 10 PM PST to play Bassrush's 40oz Cult label takeover powered by EDM Maniac.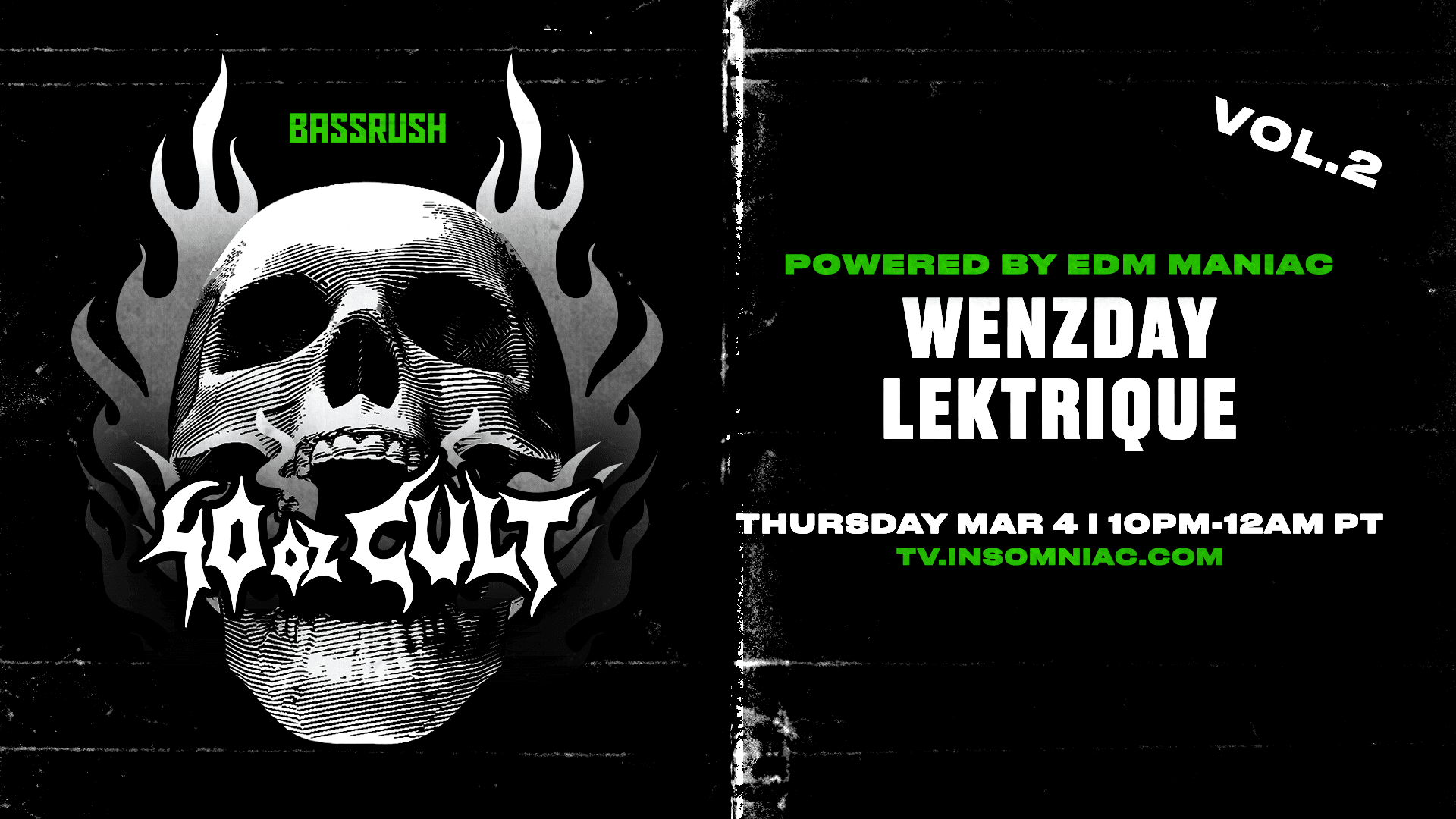 40oz Cult is primarily a bass-oriented label and features some of bass music's most predominant rising stars as well as established artists within the industry. Yakz, Figure, and Dubloadz are just a few of the artists who are featured on the Los Angeles-based label. We were able to sit down with Lektrique before his 40oz Cult label takeover set on Insomniac TV to discuss his career, life in Belgium, and much more.
Make sure to tune into Lektrique's set Thursday, March, 4 on Insomniac TV starting at 10 PM  PST.
EDM Maniac: Lektrique you were born and raised in Belgium. What's the music scene like in Belgium?
Lektrique: The music scene in Belgium is mainly house, we have some pretty good house in Belgium. Nightclub culture is huge in Belgium as well, you got to be a legend in order to perform.
EDM Maniac: You are going to be putting out a class on producing, can you give us a little preview of what that is going to look like?
Lektrique: Yeah, so myself and a few other friends are helping me put this class together. It's going to be basically a complete step-by-step process from when you're first starting off to where you've been producing for many years. I'm going to have information for every kind of level of experience and it's going to be laid out in 10 to 15 courses and we're going to cover as much as I can. So, basically, everything that I've picked up in my career so far, and I've been doing this for 15 years.
I feel old as heck right now. But yeah, all of that is going to be squeezed and spiced into this class that people are going to be hopefully using to enrich their experience and their ability to craft exactly what they want. So that will cover songwriting, mixing mastering, and everything in between.
EDM Maniac: What are the basics like? What program do you need?
Lektrique: That's a good question. There are so many really it varies what your style is and what you're trying to create. I recommend everyone to try a bunch of different ones because they all kind of do the same thing but in slightly different ways. You have various different tools available, the workflow is different, and so it really depends from person to person and what you're trying to do.
EDM Maniac: What has your production schedule looked like this past year and how do you think it will be different or the same moving forward?
Lektrique: I have taken a big step into uncharted territory this past year. At the beginning of COVID I found myself kind of wondering whether or not I wanted to keep only doing electric or maybe open the door to some other things. There are so many very different things on the horizon. I'm really excited about it, it feels very heartfelt and meaningful to me.
EDM Maniac: When you're seeing other countries and they're having music festivals, they're having events and we're not. What's your opinion about events not happening?
Lektrique: I mean, I understand that you get to put our safety first. I wouldn't want anyone to lose loved ones as a result of a party…
EDM Maniac: Absolutely. How did you end up hooking up with the guys from 40oz Cult? What's the backstory?
Lektrique: I can't really remember but it happened so naturally. I moved here to the states about two years ago and pretty early in the process, I already knew about them and I knew that Tanner skated. So, we just started hanging out, and then Taylor and I started a track together because it felt like, you know, we have these common passions of electrical and house. So, we collaborated and it happened organically too.
I had the idea for the vocal line and it was exactly what her brand was like, perfect for Taylor. She loved it. So we got together and we made it and we made it work. And I'm really happy with the final result.
EDM Maniac: Do you think more music was made in 2020 or less? Do you think music that was made in 2020 was more creative than usual?
Lektrique: More. It's a very difficult question because people, sometimes if you don't have enough exposure to new things, you might cut yourself off from creativity. I think, especially in music, more than other things, I think music is so visceral in the sense of like, okay, you go out and you're at the club and you're getting a vibe and you're like inspired and you're like, no, you want to put that into a song. I think music really took the hardest hit because I think if you're having an idea for a business or even an idea for even a TV show, I think those things can just stay in your head for a long time. But music is so fast, quick and emotional so it's best to act fast.
Make sure to catch Lektrique's set Thursday, March 4 on Insomniac TV starting at 10 PM  PST.
Feature Photo – Lektrique