As we've experienced a small hiatus from Insomniac's legendary Virtual Rave-A-Thons, look no further. As Beyond Wonderland was set to take place June 20 & June 21, their giving us the second-best thing. Although fans won't be able to experience this inaugural event in person, attendees will jump down the rabbit hole and be transported to a virtual land filled with Alice and Wonderland as well as beautiful scenic views of the venue located in George, Washington. Beyond Wonderland at the Gorge Rave-A-Thon will take place this weekend from 6 pm-12 am PT. 
Since the inception of Insomniac's Virtual Rave-A-Thon series, there have been more than 50 million viewers globally in over 100 different countries. In light of the huge platform they are able to access, this Rave-A-Thon will benefit the Equal Justice Initiative, an organization fighting to end mass incarceration and excessive punishment in the US. They will also be benefiting Rave Recovery, a relief fund specifically curated to relieve dance music fans affected by COVID-19.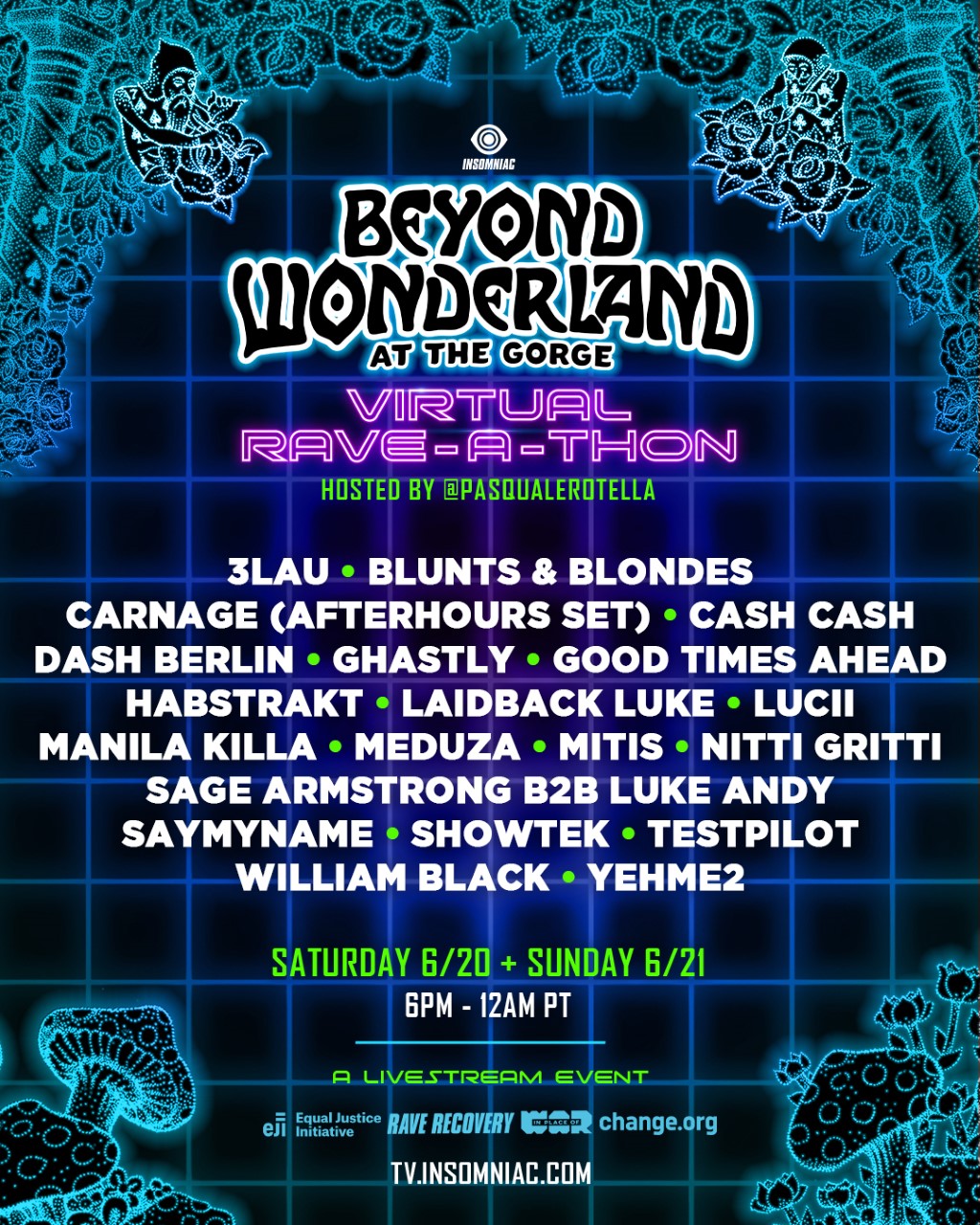 If you're interested in donating, you can go to eji.org and insomniac.com/rave-recovery. Donation links will also be made available on Insomniac's Youtube and Twitch during the live performances. Check out the lineup below. 
3LAU
Blunts & Blondes
Carnage
Cash Cash
Manila Killa
Meduza
MitiS
Nitti Gritti
Dash Berlin
Ghastly
Good Times Ahead
Habstrakt
Laidback Luke
Lucii
Sage Armstrong b2b Luke Andy
SAYMYNAME
Showtek
TESTPILOT
William Black
YehMe2