Thank the bass gods the Mile High Tour wasn't the last collaboration we got from Mike Guard, Blunts & Blondes, and Matt Coddington, Codd Dubz. The tour shook over a dozen cities during the last quarter of 2017 and the boys ran with that momentum with their new release "Mile High."
Somewhere in between clouds of smoke and countless antics the duo produced this deep dub tune during a week-long break at Matt's place in Brooklyn. They took a different, more chill approach to creating the track by switching from the apartment to The Den 631 Studio in Long Island for production.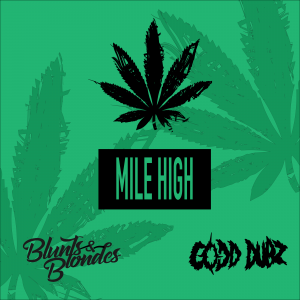 "I think my favorite part of making the track was just working with another producer in a comfortable environment instead of over the internet," Mike said. "It was really dope. And he's my homie so that made it even better."
The relaxed approach they took to the song worked in their favor. Blunts & Blondes and Codd Dubz are both extremely innovative and talented artists individually, but their ability to bring both of their styles together in this track takes their talent to a whole new level.
"Some days we would literally wake up and spend the entire day just working more on it and coming up with more ways we can improve," Matt explained. "Since we were both in the studio it was even better because then we brought both of our production styles together in one project file. He saw how I work and I saw how he works."
The track is characterized by super deep, almost rasta sounding wubs and dubstep melodies before it builds up a mile high and drops. It's a chill track to just vibe out to.
"It's a dope dub vibe with some hard elements," Mike explained. "It represents both of our styles well. Working on it felt really organic so I think the flow we were both going for was accomplished."
One delayed sample sticks out, which actually turns out to be the product of the two attending a Lil Pump show and getting a certain phrase stuck in their heads.
"When we were working on the track we had a little silence before the build-up and I thought 'Hm, needs an ESSSKEEEDITTTT vocal in there,'" Matt joked. "After going to that (Lil Pump) show the phrase got indented into my brain after hearing it a hundred times. So thus, the delayed 'esskedit' sample made it into the track."
https://www.facebook.com/CoddMusic/videos/1889065337774242/
I've said it before and I'll say it again, keep an eye on these two artists this year. They've blown up over the past year and I know that will continue in the coming months.
Codd Dubz is currently booking shows in cities across the country for 2018.
Blunts & Blondes recently announced his own co-headlining tour with Bommer called 'Blunts & Bombs' with support from HE$H. They are finishing up booking and will hopefully be dropping dates in the near future. Stay tuned for more about this tour guys, it's gonna be a wild one.
But in the meantime, what a better way to kick off the weekend than with a new Blunts & Blondes and Codd Dubz collab? Enjoy y'all 🙂