EDM Maniac is headed to Seattle this Halloween for BOO! Music Festival, an Insomniac production, and you should come with us! BOO! isn't just a music festival, it's an experience full of haunting beats, ghastly ghouls, tricks and treats. It is sure to make for a spooky good time.
Here are the top four reasons we think you should choose BOO! as your Halloween festival: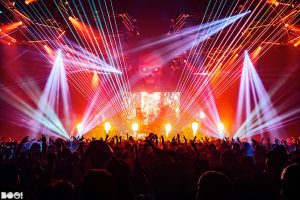 1. The Lineup
BOO! has such a diverse lineup this year that we haven't seen many festivals do before. The event will be bringing all kinds of music from house to bass and everything in between.
You can catch us bopping to energetic music from the Gay God herself, Wreckno, cry banging to Said The Sky, shuffling with Tchami and finishing out the night by emo screaming to Sullivan King.
Not to mention Rezz will be bringing her renowned Nightmare on Rezz Street set to the festival as icing on the cake. It is going to be a weekend of some of the best music in the scene all under one roof.
2. The Venue
Okay, so we know WaMu has a reputation of not being the best venue for EDM shows. Typically the stage is too small for the giant venue and the production doesn't reach very far. However, this is what makes it a unique festival venue.
WaMu is essentially a huge convention center with a wide-open layout, which will be fantastic for the three different stages planned for BOO! this year. We are thinking this venue will be easy to navigate and there will be plenty of room for artists, attendees, and everything else required to pull off a mind-blowing festival.
The three stages of BOO! are the House of Haunts, which will be the main stage, Groove Graveyard, which will be the house stage, and Den of Darkness, which will be the bass stage. No matter if you're a shuffling king or headbanging queen, there will be a place for you!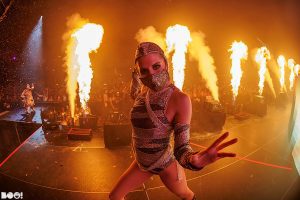 3. The Performers
BOO! is truly doing a fantastic job of making this festival an all-encompassing experience. There will be performers and halloween characters spread throughout the venue to keep you entertained, and spooked, when you're walking through the venue.
You can expect to see vampires, witches, ghouls and bats creeping around the festival grounds and we are encouraging you to dress up in your Halloween best and do the same!
4. The Festival Rides
Remember when we said that WaMu is a huge open space? Well, it has just enough room for Halloween carnival rides! If the music and performers weren't enough to keep you entertained, then we hope festival rides will be!
I mean, really, you can't have a Halloween music festival without some scary rides to knock your socks off! We don't know yet if the rides will be Ferris Wheels or Tilt-a-Whirls, but maybe plan your rides before having your hot dog dinner, just in case.
All photos courtesy of BOO!Seattle Facebook Page