As the talk for EDC Las Vegas 2019 is already in the works, there is recent news about new editions to Camp EDC that you won't want to miss. As the first Camp EDC this past year was a huge hit, they will undoubtedly come back stronger than ever Thursday, May 16 through Monday, May 20 at the Las Vegas Motor Speedway.
"Last year's wait times were unacceptable. Fixing that and other processes is one of our main focuses for Camp EDC," said CEO and Founder of Insomniac, Pasquale Rotella during a recent Reddit AMA. "We've had many planning meetings just about this. We will have a revised entrance plan that includes more lanes with more people working, check-in staff will be more experienced, and we'll have better processes all around without sacrificing the safety of you, the Headliner. We're also extending check-in hours to spread out the traffic ingress and adding in additional bathrooms and showers along with more waste removal services."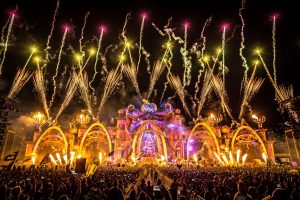 As usual, the Mesa will be home base for all activities and entertainment. Attendees will have the opportunity to enjoy a kickoff party with special guest DJs, pool parties, art installations, food trucks, full-service bars, etc.
Lodging options are below:
Moon Glow Camping (Starting at $999 plus taxes and fees): Accommodations for up to four people plus one vehicle pass. Bedding is not included. Layaway deposits start at $174.99.
Desert Rose Premier Camping (Starting at $1,299 plus taxes and fees): Accommodations for up to two people. Includes one vehicle pass, one deluxe queen bed or two single beds with linens and pillows, premier location closest to the Mesa, and access to the GA+ toilets inside the festival. Layaway deposits start at $199.99.
RV Camping (Starting at $279 plus taxes and fees):Accommodations for up to eight people. RV Campers will receive a dedicated RV site, access to all Mesa activities as well as showers and bathrooms. Water and power can be purchased separately. Layaway deposits start at $49.99.
To purchase tickets, click here.