Finding out about new festivals can be related to the same feeling you get when you wake up on Christmas morning. If you've been looking for that exact feeling, we have the news for you. An all immersive dance festival, Groove Island, is taking over the beautiful Catalina Island this September 27-30. The genius creators of Groove Cruise, Whet Travel, will be bringing you all this epic experience.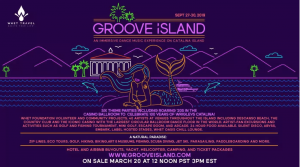 To make things even more exciting, Whet Travel has conveniently purchased most of the hotels and airbnbs on the island, so there will surely be ample space for all the concert goers. Not only will this be a music festival, but attendees will have the opportunity to partake in themed days and nights, stand-up comedy, meditation, yoga, a silent disco, delicious food, and of course the eclectic music. 
What should you really expect?  
The creators claimed, 
"Well you can expect the annual Catalina Wine Mixer–started after the popularity of the Will Ferrell film Stepbrothers–which is a fun mix of live bands, DJs, gourmet food, and fine wine all turned up to 11, as well as a daily dose of side-splitting stand-up comedy, over 40 artists across several island venues and day and night costume theme parties such as the "Roaring '20s" in the Grand Casino Ballroom with the largest circular ballroom dance floor in the world to celebrate 100 Years of Wrigley's Catalina."
As the lineup will be announced in the coming months, it will include over 40 unique artists from all genres and different parts of the word. Catalina Island is known for its beautiful wildlife, incredible views, a wonderfully blue ocean, and amazing food! This event surely won't disappoint. 
Tickets will be available March 20. Get yours by clicking here!