In its third year running, Clustxr Music Festival is making its return to the hills of West Virginia bigger and better than ever this time. The three-day festival (August 16-18) lineup features some of the heaviest names in bass music along with a number of industry rising stars.
https://www.facebook.com/Clustxr/videos/439917499823733/
Clustxr's History and Future…
Clustxr began as a series of basement parties in a studio in Huntington, WV but has exploded far beyond that since.
"About 25 DJs from the region would be invited to showcase their productions to a small intimate crowd on a pro-grade audio system," Festival Director Rick Brown explained the project's inception and journey to where it is today. "Eventually these parties got large and overran the studio, thus the first public outdoor Clustxr was spawned three years ago. It turned into a hidden gem that has now become the largest EDM festival in the state of West Virginia."
This year Clustxr will be held at a new venue that was previously hosted off-road motorsports and monster truck races. The massive property is the perfect place to handle headbangers from near and far. The festival grounds are located close to several major cities yet far enough away in the hills to offer the perfect escape from the real world.
"The property has a great setup that allows perfect acoustical isolation between stages without huge distances between them," Rick explained. "The venue is also just on the edge of the national radio quiet zone and has had few UFO sightings in the past, so let's hope they love bass music!"
"We have more freedom and room for expansion with the new location," Clustxr Co-Director Juan Maldonado said. "And this year's lineup really holds its own next to some of the biggest lineups in the country."
He's not exaggerating either. The lineup this year for Clustxr is truly out of this world. The lineup features a flawless mix of industry heavyweights, up and coming producers and some of the best regional talent out there.
The Lineup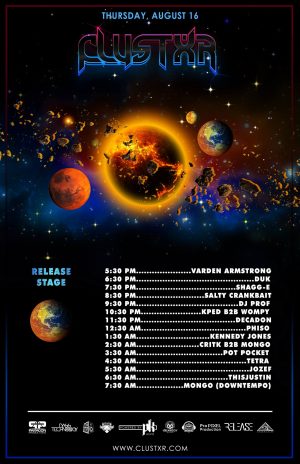 The first night of the festival (Thursday) will warm festival-goers up for the insane weekend to come. The Release Stage will open in the early evening and keep the party going until the sun comes up on Friday morning. Featuring performances from names such as Shagg-E, DJ Prof, Phiso, Kennedy Jones, Jozef and about a dozen more artists, attendees will truly feel the power of the release stage on night one.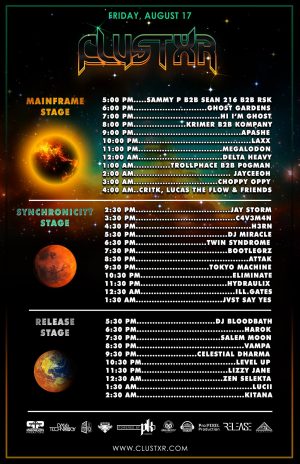 Friday takes the festival into high gear with the opening of the Mainframe Stage and Synchronicity Stage. Popular regional names like Sean 216, Sammy P and RSK open the Mainframe while West Virginia native Jay Storm will get the party started over on Synchronicity. These two stages will be soon be destroyed by filthy bass as names like Krimer, Kompany, LAXX, Megalodon, Trollphace, ill Gates and dozens more take hold of the decks.
On Friday night, the Release Stage is set to see a complete female takeover. Festival organizers invited some of the best female names in the bass game to come perform. Not something you see at a many festivals but seriously a really dope part of Clustxr. These ladies are sure to kill it, this stage is not to be slept on!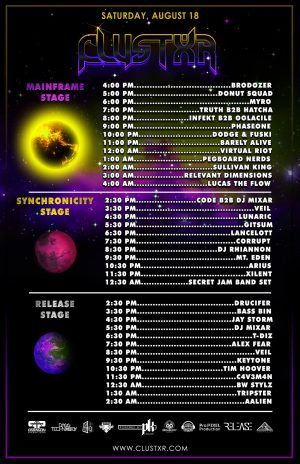 The grand finale of Clustxr on Saturday night is sure to blow attendees out of the water. Several names that have played large-scale festivals like Lost Lands, Electric Forest and beyond will make their way to West Virginia to rock the Clustxr stages. Festival organizers also planned a complete takeover from Disciple Records on the Mainframe Stage the final night, featuring performances by Truth, Infekt, Oolacile, Phaseone, Dodge & Fuski, Barely Alive and Virtual Riot. Coming off of hot new releases, Pegboard Nerds and Sullivan King will take the reigns of the Mainframe in the early hours of Sunday morning.
In addition to all of the scheduled sets and takeovers, festival organizers suggest attendees keep an eye and an ear out for secret sets throughout the weekend. The incredible lineup will be accompanied by PK sound, intelligent lighting, CO2 cannons, 10 Watt lasers and video walls on the three stages to keep the hype going all night long.
Grab those tickets soon…
As if all of this didn't already convince any headbanger within hours of West Virginia that they need to be at Clustxr, there's one final reason…. Three day GA admission and camping for this festival can be under $200. YES, you read that right! Three days of camping in the lush hills of West Virginia, BYOB into the festival venue and some of the best bass music known to the industry right now and it won't break the bank. UNBELIEVABLE. If y'all aren't joining me in two weeks at Clustxr what are you even doing with your lives?! This weekend is going to be UNREAL.
Ticket packages are still on sale through the start of the festival on Thursday, August 16. Attendees can purchases ticket packages for the main two days (Friday and Saturday) and add a Thursday Early Arrival to get the full Clustxr effect. If camping is not for you, you can purchase a car pass to drive to and from the venue each day with ease. There are also single day passes available for Friday and Saturday for those who cannot commit to the whole weekend. Secure your tickets to Clustxr soon as tier prices may increase the closer the event gets!
You won't want to miss Clustxr 2018
Although this is only Clustxr's third year running Rick, Juan and the rest of the Clustxr team have worked tirelessly and poured their hearts and souls into making this festival one of the most memorable weekends for attendees. It's surely not one to be slept on.
"The vibe of Clustxr is very free-spirited and relaxing," Juan explained. "You get a real sense of family here. The mixture of rolling hills, mountains and amazing scenery make for a constant smile on people's faces. It's going to be a great year!"