This past Friday, July 29, Joel Thomas Zimmerman, aka deadmau5, played a private event at Denver's Meow Wolf art museum. Only 480 tickets were sold to this extremely exclusive NFT and Crypto event, which made for an especially intimate production.
The artist played in MeowWolf's special event venue. The stage was decked out in production that looked like stained glass windows and light fixtures that resembled the most perfect cotton candy clouds.
Overall a very unique, artsy and geometrical vibe. The only thing the show was lacking was lights and lasers. Had this been at a larger venue, I think the lasers would have been more prominent, however, the set up still had a lot to offer and blew my expectations out of the water.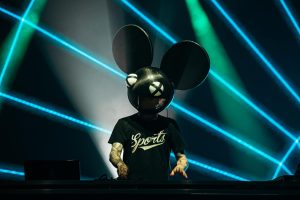 Zimmerman a DJ set for an hour and a half, bringing all of his best house tracks and very high energy all night long. The wait to see him was definitely worth it once he stepped on stage and the whole place came to life.
The set was very intimate in the best way possible. It was super easy to get front row and jam out with the DJ. Not to mention Zimmerman often spoke directly to the crowd, chugged a beer on stage and even stopped at one point to take a video to send to his mom. It really felt like being at your best friend's house party.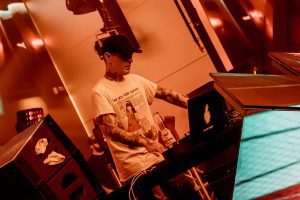 Although, at your best friend's house party the crowd is probably pretty similar; that was not the case for this event. The crowd seemed extremely diverse.
With it being an NFT and Crypto event there was a fair amount of older individuals that appeared to be pretty wealthy. Many people were wearing high fashion outfits that cost thousands. Some people I spoke to hadn't even heard of deadmau5 prior to the event.
On the other hand, there was a decent amount of early 20-year-olds decked out in their platform shoes and pashminas. Even though the crowd was pretty mixed, everyone seemed to be treating each other with respect and having a great time. This show was definitely one of the more eccentric ones I've been to
Overall the event was a once in a lifetime opportunity. MeowWolf as the venue, limited  tickets sold and house all night with great vibes made for an unforgettable evening.