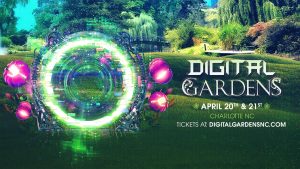 Festival season is finally underway! One event that's been on my radar for some time now is Digital Gardens Music and Arts Celebration in Charlotte, North Carolina. The event is the brainchild of SOMA Entertainment, one of the big event curators in North Carolina and beyond, and a number of teams companies and individuals from across the Carolinas. The team has been tirelessly working to make this event unforgettable.
"Every detail down to the names of the drink specials at the bar has been a focus of ours to provide a unique, fun and fulfilling experience to the inaugural year of ticket buyers," explained Sam Throckmorton, one of the founders of SOMA. "We can't wait to unveil the curtain and continue to grow as a community and family not only through this weekend but into the future."
This two-day festival is sure to leave a lasting impression on attendees for a number of reasons. But as usual, I'll just give you guys the top 8 reasons why you should get yourself to Digital Gardens this weekend:
1- Have you seen the lineup?!
What initially drew me to the festival were the fan favorites I saw on the lineup. SOMA did the damn thing when compiling this lineup, bringing some of the biggest names in dubstep and beyond to the table. They had me convinced with the "Special 4/20 Sunset Performance" by Boogie T. But then went on to list Bear Grillz, Black Tiger Sex Machine, Cookie Monsta, Minnesota, illGates, Stylust Beats, Digital Ethos and a couple dozen dank local artists. I.AM.AMPED y'all. I made a playlist of the Digital Garden talent you guys can check out on Soundcloud. The weekend will definitely not be lacking in musical talent, or bass, in the least bit.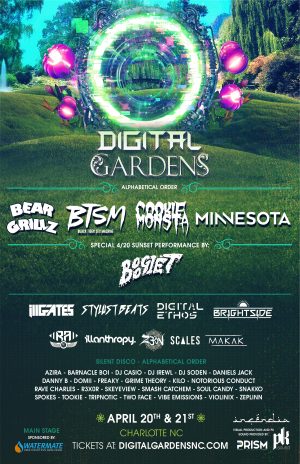 2- The stage design production is bout to be lit, literally.
I am beyond stoked to see what this WaterMate Main Stage looks like. Pyrotechnics will be done by Incendia, whose immersive flames have captivated audiences at festivals like Okeechobee Music and Arts Festival, Warped Horizon, Moonshine Music and Arts Festival and many more. And it's not just flames, I'm talkin like 25-foot fire cannons guys. The main stage will also be powered by the infamous PK Sound Production, which manages to rattle my existence down to my very core every time I get near a speaker. Specializing in lighting, Prism Live Design will be bringing a massive LED wall to round out the stage production…This shit is bout to be wild yo.
3- What would a festival be without a silent disco?
Attendees will be able to vibe out to some of the best talent of the Carolinas and beyond at the Official Digital Gardens Silent Disco. This event will be powered by Sound Off, a company that specializes in Silent Discos. The high fidelity wireless headsets are engineered specifically for these kinds of things; which I imagine will make the DJ vs DJ event super epic.
4- The live entertainment doesn't end at just music…
Digital Gardens won't only be booming with great music but will also be full of amazing artists as well. Attendees can make their way through visual art installations and interactive art installments alike. Live painters and artists will be working throughout the event. Fire breathers and spinners will also help bring the venue in the art district to life. Speaking of the venue…
5- The venue is in the heart of the Charlotte Historic Art & Entertainment District.
Known to locals as NoDa, the arts and entertainment district is a gem of North Charlotte. Digital Gardens will be held at The Shed, a pop-up amphitheater, located at the Station House in the district. Attendees of the festival can explore the lively neighborhood before and after the festival. NoDa boasts its "unique character" as it features many restaurants, breweries, galleries street vendors and boutiques. I am beyond excited to explore this area!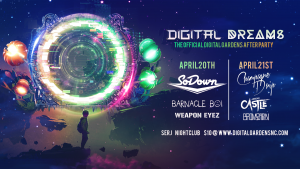 6-There will be some pretty dope after parties.
The party doesn't end when the last headliner walks off-stage at Digital Gardens. Digital Dreams, the official Digital Gardens after parties, will keep the momentum going all night! Both nights the parties will be held at SERJ Night Club (about a ten-minute ride from the Digital Garden venue) from 11:30 p.m. until 2:30 a.m. The nightclub is said to have a pretty dank sound system and is the unofficial home of the Charlotte EDM scene. The Friday night after party will feature the sounds of SoDown, barnacle boi and Weapon Eyez while Saturday night will welcome Champagne Drip, Jordan Castle and BroMosapien to the decks. It will only cost attendees an extra $10 a night to keep the party going with a couple big EDM names and heavyweights from the local EDM scene!
7- You'll get to say you were part of the very first Digital Gardens
This is the festival's very first year and the first EDM event of its kind in the Carolinas. Organizers explained, "This could be a staple event for years to come, so make sure you come support our origins!" I mean how cool would it be to look back and say you went to the first Digital Gardens ever? I'm down for that.
8- All of this won't break the bank if you snag those tix STAT!
Tickets are FLYING for this event guys so snag them while you can! Pricing is actually pretty reasonable too. SOMA makes an effort to keep tickets reasonably priced for all of their events and cut down middleman fees as much as possible.
GA Admission tickets are on sale for:
One Day GA (Friday or Saturday) -$40
2-Day GA- $79
Or get a lil fancy with it and go for VIP:
One Day VIP (Friday or Saturday) -$74
2-Day VIP- $145
VIP tickets are for those over 21 only and include an Official Commemorative Event Art Poster, a Special VIP Only Digital Gardens Laminate, VIP Exclusive Viewing Areas (Main Stage and Silent Disco), VIP Exclusive ZICO Coconut Water Lounge, free earplugs a Digital Gardens Lighter and a Digital Gardens Sticker. Get them while you can!
 I am super stoked to make my journey from Cleveland to Charlotte for Digital Gardens at the end of this week.
Anyone who wants to follow my adventures this weekend can add me on Instagram: momo_dubz and check out my story! Hope to see you all there, rave fam!