One of dubstep's most prominent labels, Disciple, is headed to the Nos Events Center in San Bernardino, CA to take over Insominac's Park 'N Rave on February 26 & 27. The two-day event will feature epic performances from Virtual Riot, Barely Alive, Bandlez, Dirtyphonics, Modestep, Terravita, and Volt. All of these bass-packed performances will be accompanied by state of the art production from Insomniac
Tickets are on sale now and can be purchased here and will start at $200 per car and will allow up to five adults per vehicle with the option to purchase additional passes for larger vehicles if necessary. All traffic laws and social distancing guidelines will be enforced at all times. The show is an 18+ event and will go from 6-10 p.m. Get tickets here.
In order to stay up to date on Insomniac's Park 'N Rave concert series news, follow Insomniac on Facebook, Twitter and Instagram. For any other additional event information, click here. For a list of frequently asked questions about the Park 'N Rave series, click here.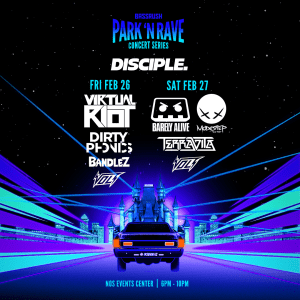 Feature Photo – HDAGY Photography