For two incredible nights over Memorial Day weekend, the 'City by the Bay' became a Utopia for Trance music, where fans from all over gathered for the second edition of Insomniac's Dreamstate: San Francisco.
The event marked another huge milestone for the Dreamstate brand as it has touched down in multiple cities, clubs and even new countries in the past year. It's been an incredible ride that shows no stopping any time soon, and Dreamstate has proven to be a fan favorite across the globe with both new and old fans coming together to enjoy some of the best in Trance music.
This year's Dreamstate: San Francisco was an incredible display of production, with exciting theatrical elements adding to the experience. First, let's talk about the stage design. The stage was an incredible step up from last year that featured pyrotechnics and an astonishing "mothership" design. The detailed design elements and stunning visuals made for an incredibly new experience. On top of that, Insomniac added a insane moving truss filled with lights that would rotate on it's axis throughout the night. This element was very similar to the Circuit Grounds stage at EDC Las Vegas in prior years. As the night went on, the moving truss descended upon the audience and shined massive lights on everyone below. It was an insane sight to see and impressive at that, given the venue. It really showed what Insomniac is capable of with just a stage and plenty of room.
The "mothership" design was akin to an alien spaceship and featured theatrical performers and aerialists. These unique elements really brought the stage to life and aligned with Insomniac's etherial, extraterrestrial Dreamstate branding. Insomniac also brought out a ton of lasers for this year's show which was definitely a nice surprise. The show did feel like it could have had more lasers, but this was probably limited because of the venue.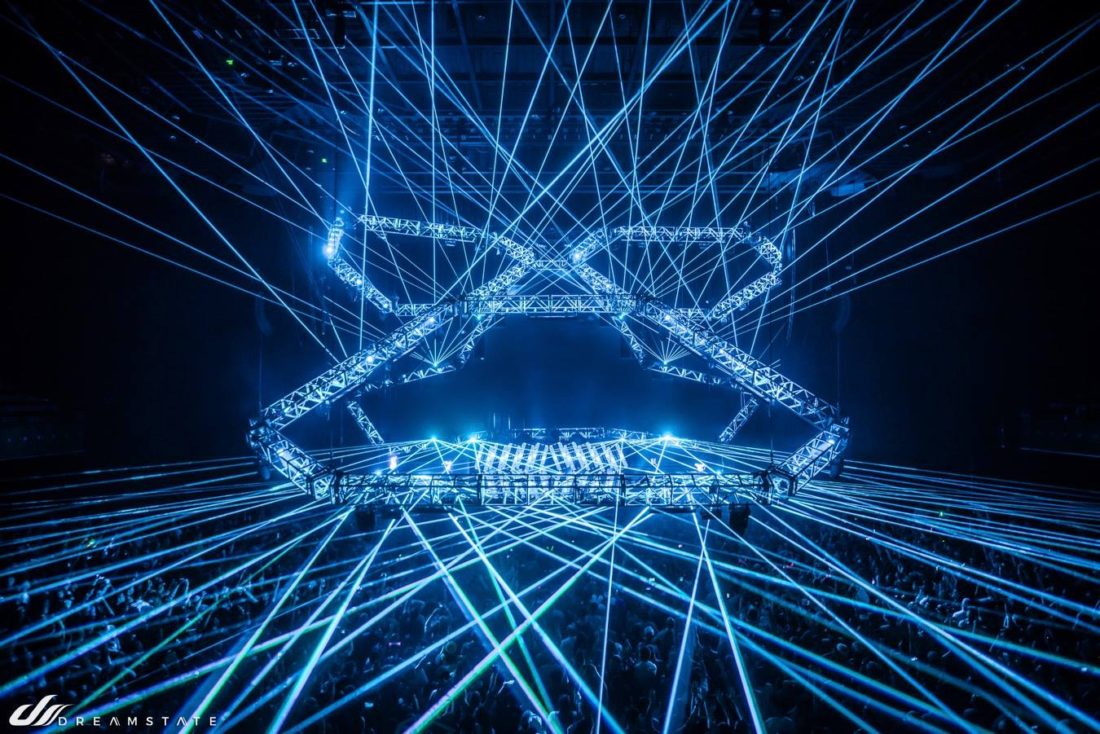 This year's artists featured unique performances from some of Trance music's biggest names. There was a ton of Psy Trance, which seemed to get the crowd really going. Ben Nicky's early set time did not stop fans from showing up early and getting straight to dancing.
I had seen Ben Nicky at Avalon Hollywood earlier this year and that set that night made me a huge Ben Nicky fan. I was eager to get to the venue early just to see him. He did not disappoint. He played it all. He went fast, and got the crowd going. He even played "Satellite" –  a Trance anthem that got my friend really emotional. He took us on an incredible journey early in the night and set the stage for a truly magical evening.
Also on the first night, Ferry Corsten played one of his Producer sets, where he played only his own music. The crowed shared a blissful moment of solidarity and unity when he played his hit single 'Anahera.' I have never seen a beautiful crowd in all of my years of going to events. I have been to many Trance events, including all of the big ones, but something stuck out with this crowd. Everywhere I looked everyone was dancing and smiling and absolutely immersed in the music. The unity of the crowd made me really understand why Trance fans love this music so much.
It was at that moment during 'Anahera' that my like for Trance ascended to the next level. I looked around me and the energy was so palpable, so real and so pure.
With these tough times in the world we live in, I sensed a feeling of calmness and tranquility. It wasn't like an escape from the real world, but more like a breath of fresh air. It was more of a feeling like "we're going to be okay. The world is going to be okay." I kept telling myself, if the world united like what I was seeing at this show, the world would be a far better place. I realized that everyone around me probably embodied that, and are part of the positive and driving force in making our world a more peaceful place. This music really does have the ability to change and move people. The energy I saw that night was beyond words.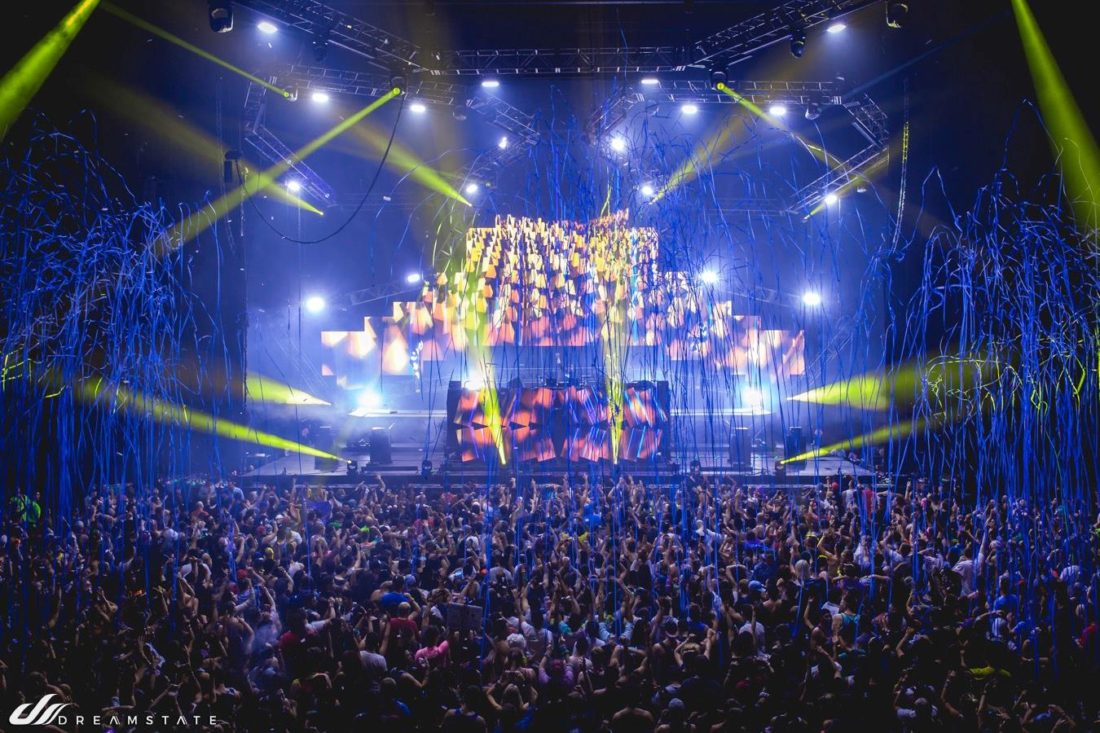 The second night was one of night I was most looking forward to. The biggest highlight: Markus Schulz performing as Dakota. I had spoken to Markus earlier in the year during Miami Music Week, and he had mentioned this was one of the shows he was really looking forward to, as it would mark the return of Dakota. His performance mesmerized the crowd. It was dark, and euphoric and incredibly well-crafted. The visuals accompanying his performance really added to his set and you can easily tell he thought a lot about every track, every detail and every visual. This performance was iconic in a sense, because it showed how well of a storyteller Markus is and how detailed oriented and thoughtful his artistry can move people. I was really stoked about this performance that I had to talk to Markus more about it. Catch our quick chat below!
---
EDM Maniac: Thanks so much for speaking with me Markus! How was the Dakota performance?!
Markus Schulz: Wow, it went very well. You know, many would think that because I have been a DJ on the international circuit for over a decade, being privileged to play at the world's biggest events; would mean that I wouldn't get nervous ahead of my set anymore. But for this one, because it was Dakota, because it was the grand unveiling of The Nine Skies to a live audience, I was so nauseous and anxious.
To see it all come together; a year's work and a year's worth of heartache and soul searching, it was something that I wanted to almost sit in silence backstage afterwards and soak it all in.
EDM Maniac: What motivated you to bring the return of Dakota to Dreamstate SF, of all places?
Markus Schulz: The city of San Francisco has played such an important role in my career, and indeed my life. It was one of the first places I played in outside of my residency at The Works in Phoenix in the 90s, and I would even travel to the city as a fan and clubber to see the big international DJs perform. I still have vivid memories today of going to see the likes of Sasha live at 1015 in Folsom. So utilizing the city as a source of my DJ education, along with the legacy that I have gradually built throughout the years with multiple World Tour and even CD compilation recordings, made San Francisco a natural starting point for The Nine Skies' story.
It also was a case of convenient timing, because the individual pieces for the project only became ready a couple of weeks prior to the show taking place. I actually had to turn down offers to do The Nine Skies at festivals earlier in the year, for the simple reason that it wasn't ready. But with the history and special connection I have with San Francisco and its people, I will look back fondly and be glad that the SF and Bay Area Trance family were the first to experience it.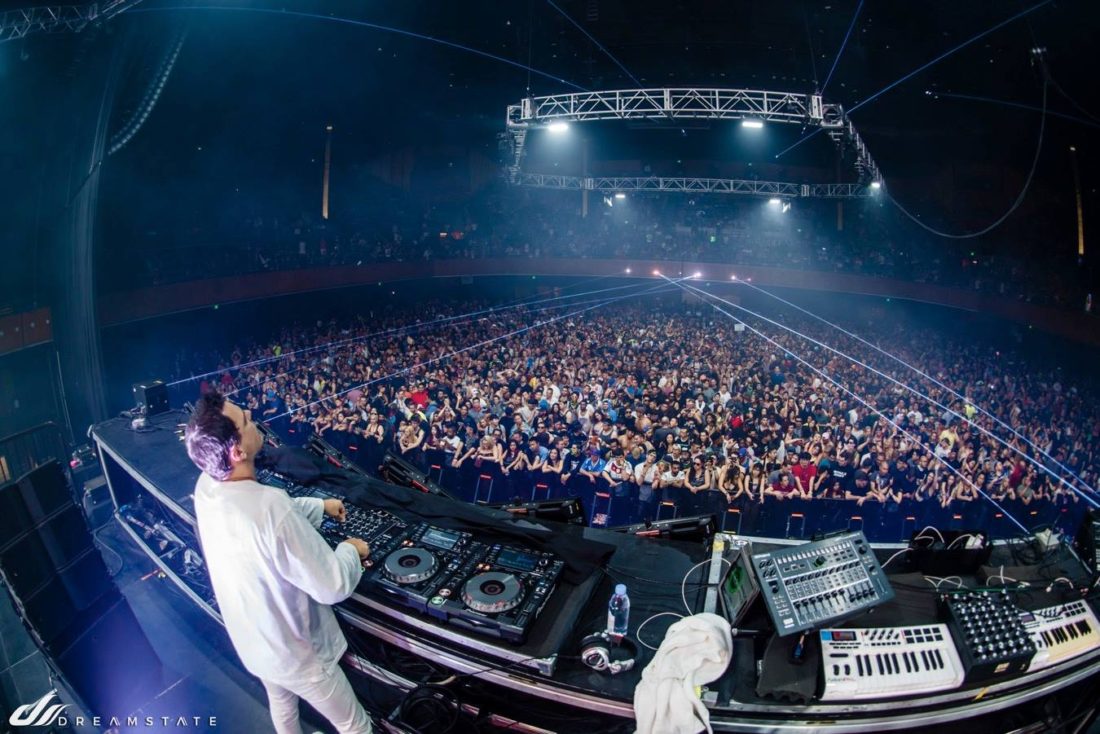 EDM Maniac: Lots of time and effort goes into creating the Dakota experience. Can you tell me about the process?
Markus Schulz: The Nine Skies was a year in the making. I had just finished the Watch the World album which was quite an exploratory chapter of growth for me, delving into the world of songwriting. However, when I started touring with the album, there was a lot of tragedy in the world, and everyone felt a sense of unknown and fear due to everything that was happening, politically or otherwise. When the mass shooting happened at Pulse Nightclub in Orlando, it absolutely shook me to my core, that something so terrible could happen in an environment that I could well have been in myself; and in a city very close to home in Miami.
At that point, I pretty much went dark on a personal level on social media, and left my team to get the word out about upcoming gigs and releases – because to me, I couldn't feel comfortable with embracing this party and good vibes atmosphere when the world around us was suffering every day.
I did a lot of reading and studying in my downtime, taking on board a lot of Reiki influences. The story of a person finding themselves as a lost soul, but find the right pieces to set themselves on the journey towards enlightenment is something that essentially applies to my own life, and something I hope that can inspire others as well.
So the music is almost like a soundtrack to a self-help book, where it is tailored towards each sky and step in the journey. It starts off very militant and techno driven, and in the end we find ourselves in an uplifting and enlightened environment.
EDM Maniac: Where can people catch the Dakota experience next, and what can they expect?
Markus Schulz: The next Dakota show takes place at the biggest event for dance music in the United States every year, Electric Daisy Carnival in Las Vegas. And for fans in Europe, The Nine Skies will also be presented on the first weekend of Tomorrowland in Belgium, and at SouthWestFour in London.
For EDC, it will be the full ninety minute presentation of The Nine Skies, with ten minutes dedicated to each section. I'm very excited to mark this concept with an event as important as EDC, and having the Trance Family from all corners of the world at the Dreamstate stage will be very memorable indeed.
---
Although I was reading a lot of negativity online about Gareth Emery getting the closing set for the second night, I was actually really excited. For me, Gareth was one of the first artists that got me listening to Trance many, many years ago. Though Gareth has evolved as an artist, he played a lot of his old songs that peaked my interest in Trance music back then. That, with a combination of his newer music, left me feeling elated inside. It was nice to see Gareth play and I know a lot people were excited about his set. Thank you, Gareth.
Not only did Dreamstate San Francisco present a huge show of production, but it displayed an incredible and beautiful energy that just blew me away. The music was beyond amazing and the vibes were so on point that all I have been listening to since the event is Trance. I knew people loved this music, but that night I really got to experience why. In all my years of going to Trance events, this Dreamstate was truly special. My advice: if you haven't checked out a Dreamstate event, you need to. Trust me!
I'm really excited for where Dreamstate heads next: Electric Daisy Carnival in Las Vegas! For the first time ever, Dreamstate will have it's own stage the entire weekend. I think I know where I'll be spending most of my time! I also can't wait to see Markus at EDC and Tomorrowland in Belgium. I will be there for both performances, front row, and can't wait to relive the magical energy that I saw at Dreamstate San Francisco.
Thank you Insomniac, all of the attendees and DJ's, and especially Markus for making Dreamstate San Francisco an incredible weekend.