As you know by now (seeing as how you've purchased a ticket), EDC Las Vegas is one of the biggest and most badass festivals of the year here in the U.S.! For three spectacular nights, you will dance under the electric sky with 140,000 of your closest friends! EDC is nothing short of life-changing and an experience that is truly like none other. This is one of the only festivals in the US that allow you to party from dusk till dawn!
Of course, with great reward comes a great deal of planning and effort. EDC is not for the faint of heart lol! Some of you have asked for tips on how to successfully survive the insanity. In this article, I'll do my best to impart any tips that I've learned from the past 5 EDCLV's. Please keep in mind that these are my thoughts on the festival only and everyone's experience varies greatly. So, without further ado, we present your Complete Guide to EDC Las Vegas.
ARRIVING IN VEGAS
Arriving in Vegas is one of the most magical and exciting times, especially if it's your first time to this glorious sin den! Arriving Wednesday or Thursday is always best. A good portion of the attendees will arrive late Thursday night after work or Friday morning. Traffic from Los Angeles is no joke during this mass rave pilgrimage! If you're driving into Vegas, don't speed as you approach the city. The police will be out in full force and too often we see festival attendees pulled over just before Vegas, or worse yet, in wrecks. Don't be foolish… speeding is only going to shave off a half hour at most probably. Have a DD and don't have open containers in your car. Be smart, be safe and be conscious of those on the road around you. If you're flying into Vegas like we are, then hell yes. Grab a drink before boarding and enjoy smooth sailing all the way into Sin City.
When you arrive in Vegas, especially on Thursday or Friday, expect potentially long lines for check-in at your hotel. This is a very busy weekend in Vegas and sometimes check-in times can be upwards of 1-2 hours. Grab a drink, settle in line and be patient. The party will start soon enough!
SO YOU'VE CHECKED IN, SETTLED IN AND POURED YOURSELF A DRINK. WHAT NOW?
Go explore the casinos. After all, what's a trip to Vegas without a little gambling?! If this is your first time gambling, start with slots. They're simple to use, fun and flashy. In my personal opinion, if you're going to play slots you should bet max. These have the highest payoffs and the most chances at bonuses. Look for games that offer free spin bonuses, these are too fun when you manage to hit the bonus rounds! Word to the wise; beware of machines that are too flashy and big. Often times these suck your money away all in the name of production value. If you're looking to try out a table game, let me recommend roulette. This game is so incredibly fun and fairly easy to learn, though it is easy to burn through your money quickly. Look for tables with lower minimums and ones that aren't packed if you're looking to learn a game. Most dealers will be happy to explain the basics. Remember to tip your dealer occasionally, especially if you win. A few chips go a long way in showing your appreciation!
If gambling isn't your thing, Vegas has more than enough nightlife options to keep you busy until the wee hours of the morning! Premier clubs such as Marquee, Omnia, and Daylight have fantastic lineups running Thursday through Monday. Expect the clubs to be packed during EDC week. Also, make sure to check out the dress code at the club you're going to, as many do not allow tank tops, t-shirts or tennis shoes. Besides, it's Vegas, class it up a little bit. You'll enjoy the feeling. Remember not to go too hard or you'll pay for it all weekend. This is just the beginning! If you're doing bottle service with a group, make sure to collect the per person amount ahead of time. In my opinion, it's best to add an additional 30% to each person's expected amount as charges often end up being higher than you anticipate. When reserving a VIP area, make sure to plan for gratuity and VIP host tip on top of your table minimum as well.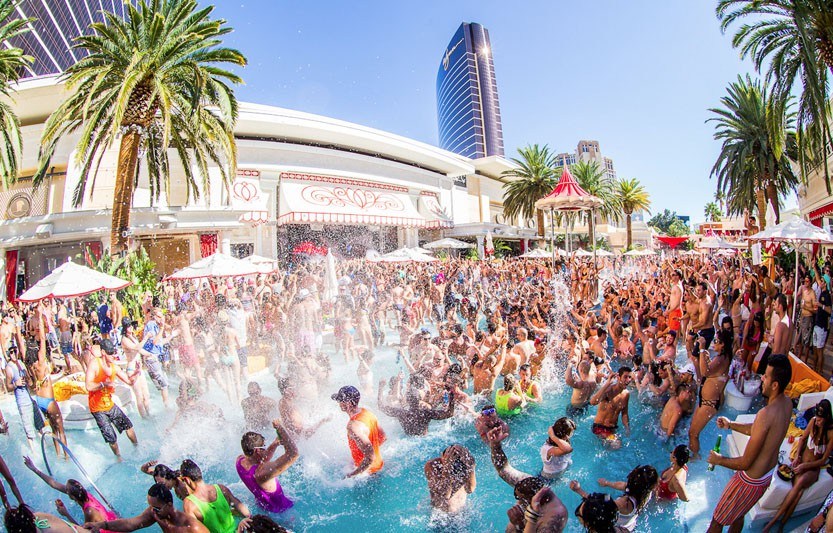 During the days, EDC pool parties are the place to be. Almost every hotel has some variation on the pool party. Many hotels have actual outdoor clubs built to accommodate thousands of partiers. Some of my favorites include Daylight, Wet Republic and Marquee Dayclub. The lineups offer something for everyone. You can find us getting wet and wild at Above & Beyond on Thursday at Wet Republic. Ticket holders should make sure to arrive early as security lines can get very long and VERY HOT. Last year we were in line for almost two hours in the scorching sun waiting to get into a pool party at the Wet Republic. Don't show up trashed either or they won't let you in. Remember when partying all day in the sun to take some shade breaks and hydrate. I cannot stress enough how important it is to hydrate while slamming back shots of tequila in 100-degree desert heat. Wear sunscreen.
Vegas pool parties offer a wide array of VIP options. See that nice day bed just chilling there? Yeah, that's a VIP option. If you can sit on it at a pool party, chances are you have to reserve it. Contact VIP hosts for any pool party and they can provide you with pricing. Grab a drink or two, splash like mad when that beat drops and have the time of your life!
THE MAIN EVENT: EDC LAS VEGAS
The moment you've been waiting for all year is finally here! It's time to make the trek to the Las Vegas Motor Speedway. First things first: EDC is a marathon, not a sprint. You're going to need to pace yourself so that you can survive all three days, literally. Notice I said to survive and not enjoy. EDC, while incredibly fun, is also incredibly risky. You are asking your body to do things that it would never normally dream of. However, do it right and you're in for one of the most magical experiences of your life!
Before leaving the hotel, make sure you eat and hydrate. Get a good meal in you, especially before the first day. Protein and carbs are your friends. They will keep you strong and fuel you through the upcoming three days of partying that lie ahead. Take your multivitamins in the days leading up to Vegas so that you're ready for whatever lies ahead. I suggest eating at least 1.5 hours before you leave for the shuttle. This will give you time to digest and hopefully deal with your stomach. No one wants to have a bathroom emergency on a 45 min shuttle ride. Other good nutrition options as the weekend wear on are meal replacements such as Boost, Ensure and Pedialyte. These are easily consumed and offer a wide variety of nutrients. Grab a six-pack or two and keep them in your room when you get to Vegas.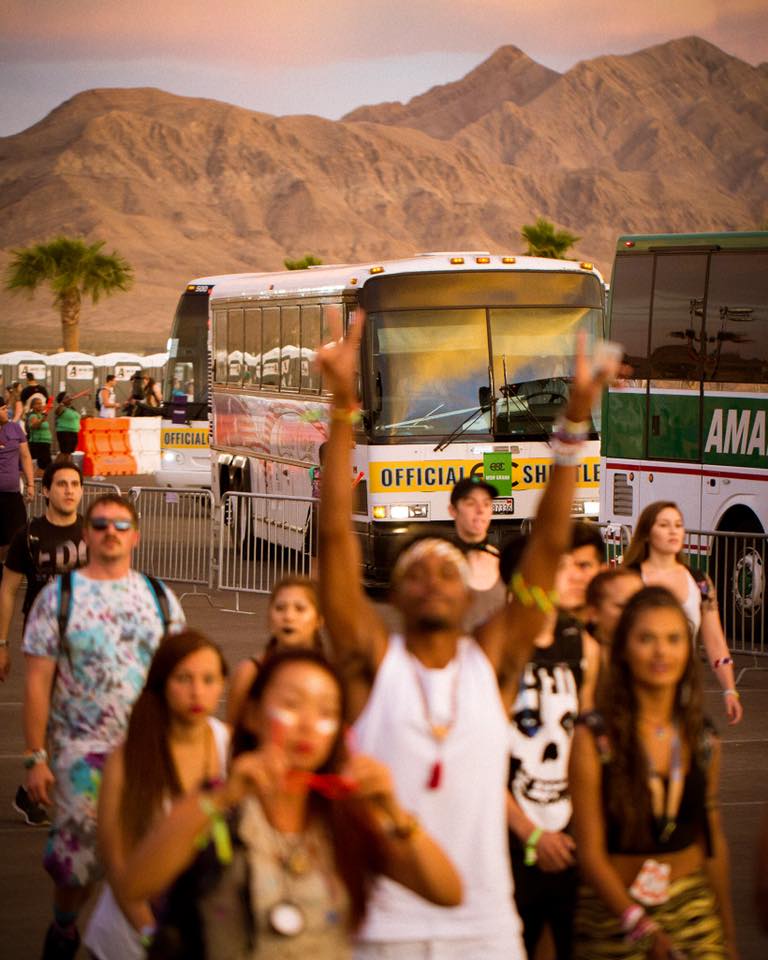 So now it's shuttle time! By now you should know what shuttle stop you're using as you had to select one when purchasing. Plan on the walk from your room to the shuttle taking anywhere from 15-30 minutes depending on how far you are from your shuttle stop. Take some water with you if you have to walk outside, as it will most likely be hot if you're heading over late afternoon/early evening. There are many footbridges, escalators and sidewalks to navigate when traversing the Strip. Shuttle lines and wait times get longer the later you wait to go. 8-10PM are the peak times, arrive earlier if you want to avoid a wait. Lines are shorter for entry and everyone generally has a good time in line waiting for the gates to open. There's nothing better than being in the first wave of attendees to enter EDC. You have so much room to explore and familiarize yourself with the grounds before the masses arrive.
Getting into EDC and through security is always an interesting process. Here are a few tips to make your entry go smoothly:
Streamline your purses and bags. Be ready to pull out everything so they can quickly search through it and also be ready to quickly pack it all back in. Remember to check the list of what all is allowed. You don't want to have that expensive lip liner you for some reason brought with you to get thrown out. If you have an item that should be permitted (and isn't on the prohibited items list) and security tries to throw it away, don't make a scene. Calmly ask to speak to a supervisor or an Insomniac rep. Ultimately if you want to get into the event, you'll probably have to curtail to securities demands. If you're a smoker, make sure to bring UNOPENED packs of cigarettes, as those are the only packs permitted. Expect security to run their hands around your belts, pockets, pant legs. Know your rights. The Festival Lawyer on Facebook has excellent information about your search rights on his page.
Ladies be prepared to have the underside of your bras searched as well as any wigs and costume accessories you may be wearing. Make sure to follow totem guidelines as well. There's nothing worse than spending time and money on a totem that doesn't meet Insomniac guidelines. Also, do not be completely wasted when you arrive at security. They have the right to deny you admission to the festival if you are too inebriated. I've seen it happen more than a few times. Besides, if you're this wasted at 7 PM, you probably aren't going to have the best evening anyways. Be smart, be respectful and relax. You'll be inside soon.
Above all else, do not start shoving and mobbing the entryways. This is a nightmare anytime it happens and it never does any good. If you don't want to wait, arrive early. Once you're through security, DO NOT stop immediately and wait for your friends.
Move past the "no standing" zones and find a spot to wait on the side for the rest of your group. They will find you so don't freak out if you get through first and are alone for a few minutes. Keep your eyes on the entryway to see when they make it through and you'll be good to go.
SO YOU'VE MADE IT THROUGH SECURITY! WHAT NEXT?
Hell yes! You are in the festival safe and sound. Get ready for the most epic view of your life as you enter the speedway. Get the cameras out and get ready because you are definitely going to want to capture your friends' reactions as they enter the grandstands and see the massive festival sprawled before them. Make sure to grab map/timeslot booklet when you first enter the festival. Not only are they helpful for figuring out what and where everything is happening, they also make excellent hand fans. Familiarize yourself with the map.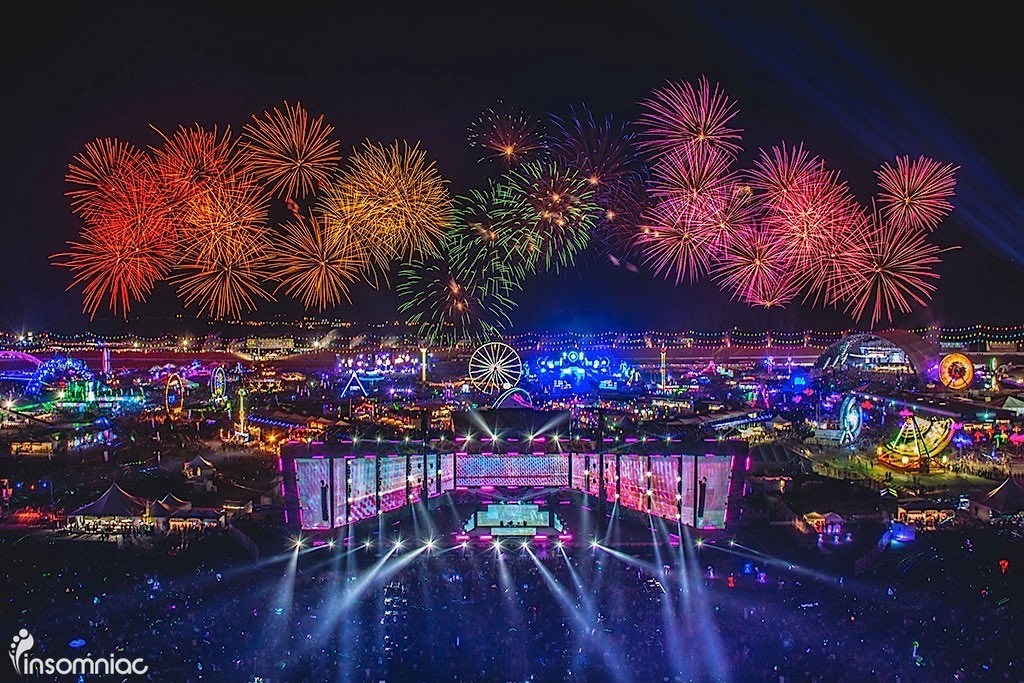 Once inside, figure out an emergency meeting spot for your group. DO NOT choose the most obvious things like the giant daisy. Choose somewhere that's not a massive crowd draw and also try and choose a spot where you can have a good view and hear music. If you're going to have to sit and wait for your group, you might as well have something to see/listen to! Here's a super important pro tip: never go anywhere without a rave buddy either. You might just think you're running to get water and will "be right back" but all it takes is moments to get separated in such a large crowd. Take a friend with you when you go on errands and then you're guaranteed to not end up alone should you get separated from the group.
I can't say it enough, but hydration is key. This doesn't mean chug a gallon of water, but rather make sure you're sipping on water and sports drinks throughout the night. Drinking too much water very quickly can be just as dangerous and deadly as not drinking enough water! I suggest picking up an Insomniac refillable water bottle if you don't already have one. They're sturdy and make great souvenirs. You can refill them (or any bottle for that matter) at one of the festivals free water refill areas. These water refill stations are LIFESAVERS featuring fast filling, cold, purified water! Another good idea is to pick up some fresh fruit or a smoothie during the night to give your body fuel. There are lemonade, fresh fruit and smoothie vendors scattered all throughout the festival grounds.
BUT HOW AM I GOING TO SEE ALL THESE DJS?!?
In my opinion, the best way to maximize your EDC experience is to pick a few "must see" acts each day. Get an idea of who all you'd ideally like to see, but keep in mind that EDC is about more than just the DJs. EDC is about creating unforgettable memories with friends. Don't get too caught up in the time slot game. Some of the best sets I've ever experienced at EDC were because I randomly ended up at the stage. One suggestion I do have is to try your best to shut down the festival on day 3. There is no feeling like seeing the sunrise over the festival on the last day. Dash Berlin's 2013 sunrise set is one that will not soon be forgotten!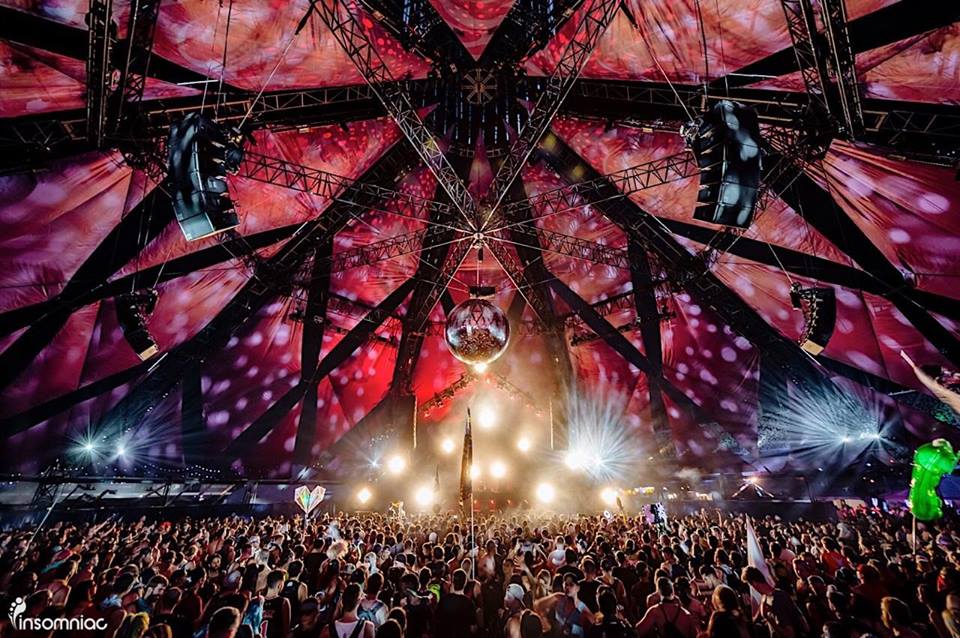 While you're running from stage to stage, make sure to hop on one of EDC's many carnival rides. There's something for everyone ranging from calm swings to dizzying spinning rides. Also make sure to check out all the fantastic and visually stunning art installations Insomniac provides. Some breath fire, some move, and some are black light mazes. All are absolutely stunning as these artists deliver the highest caliber installations.
Some of the many, many, MANY amazing things that happen nightly at EDC are the fireworks. These aren't your normal run-of-the-mill pyrotechnics. These are Olympic caliber firework shows that are guaranteed to dazzle your eyes and blow your mind! Look to the sky for at least one big display each night. The grandstands are a great place to view these and so is the area between Kinetic Field and the Cosmic Meadow. In addition to this one major display, fireworks shoot off all night from most stages. You've never seen pyro like this! Also, keep an eye for art cars and the nightly EDC parade! EDC has some of the best performers roaming the grounds of any festival I've ever been to. Wait for …is that an inflated purple elephant talking to a clown on stilts over there?!
I THINK I NEED TO PEE. OH BOY.
There is nothing quite like the EDC porta-potty worlds. There are literally hundreds of porta-potties lined up in these crazy poo cities. Yes, it's gross, but there's no getting around it. My best advice? Think of it like Grand Theft Auto set in Sketch City. Turn it into a game and plot your course. Keep an eye out for the weirdest things to happen by the bathrooms lol! As I said, it's gross…but also pretty entertaining sometimes. Get in and get out as fast as possible and don't forget to bring wet wipes! A small pack of toilet seat covers is also a great idea to pack in your bag in case you have to pop a squat. I highly suggest using the bathrooms when you first arrive, as that is when they are the cleanest.
FINAL TIPS:
–If you see someone in need, help him or her or find help for him or her. Looking out for your fellow ravers goes a long way in preventing a potentially bad situation from becoming worse.
-Be polite to the volunteers, workers, medics, and security working at the festival. They are there to help you, not harm you.
-If you need assistance, look for the Insomniac Consciousness Group or Ground Control. You can spot them by their silver winged purple t-shirts. They can help you figure out where to go, be a friend for a minute or help you to the medical tent if need be. They are your friends; do not be afraid to ask them for help.
-Buy popular merchandise items earlier in the weekend, as many items will sell out.
-If you want to avoid longer shuttle lines returning from the speedway, consider exiting the festival around 4 AM. The lines get longer as the night wears into the morning. Make sure to have a full bottle of water when you leave the speedway so you can hydrate on the shuttles if need be!
-Don't leave the festival without telling a few people in your group. No one wants to sit around and wait or worse, search, for someone who already went home. Your group will thank you.
-Use airplane mode on your cellphone to preserve the battery. Make sure to not view the entire festival through a phone. Many sets and photos will be posted online after the festival if you need to relive a particular memory. Save the phone for pics with friends and not for 30-minute videos of mainstage.
Have a wonderful time at EDC Las Vegas headliners! Make the most of every moment but make sure to care of yourself and those around you. I know that Pasquale and the Insomniac team will once again deliver a truly magical weekend like none other!
See you all under the ELECTRIC SKY! Tickets for EDC Las Vegas 2019 are still available here.
-Callie H.