Everyone remembers their first festival; the first time they took a real trip to experience music and dancing for multiple days in a row. And that's not to say it's an amazing experience for everyone either. Some people get hooked. Some people don't.
My first festival was EDC Las Vegas 2012, and I'm one of the people who got hooked, but not on EDC. In the seven years since that summer, I made no real attempt to attend the festival again. That is until now.
I'm lucky enough to enjoy a near-photographic memory. Images and sounds sit in my brain like books in a library. Waiting to be removed from the infinite shelves and dusted off for a stroll down literal memory lane. There may be a lot in there, but I always know where to find them, and I know exactly where to find the section marked 'EDC Vegas 2012'.
As I approached Vegas heading north on the 15. As I picked up my credentials with absolutely no wait (big shoutout to Insomniac for that one). As I got in my car to head to the festival it was endlessly intriguing to see how those aging memories aligned with what I was about to experience again, seven years later.
Some of them were identical. Some couldn't be more different. And in this context, being the same or different was not at all related to being good or bad; better or worse.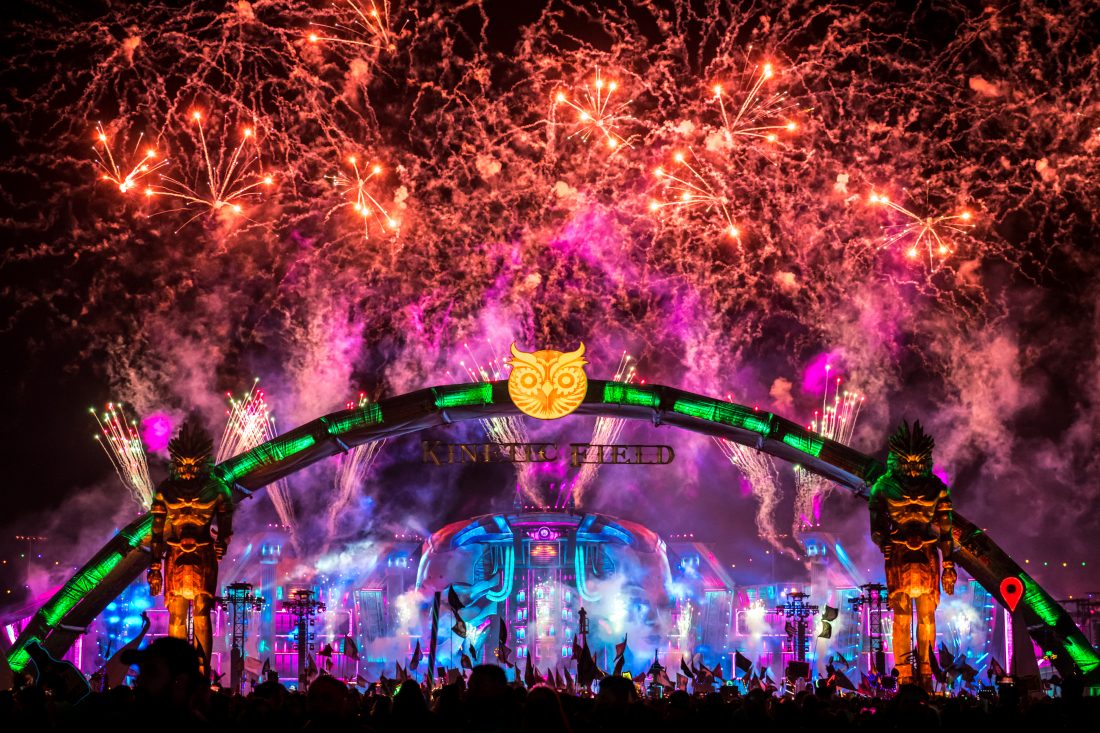 I begin with the car ride to the festival because that was the first memory that was identical in the best way. Of course, there was traffic, but that didn't phase me one bit because the snail-like pace at which we were creeping allowed me to enjoy the positive energy overflowing from cars around us. Everywhere you looked kandi-covered arms were flailing wildly as all the different genres we were about to hear were leaking out of cars and coming together in a way that somehow worked.
The party started on the drive up, and with a little adept maneuvering, I was able to bypass an enormous chunk of the line to enter the parking lot.
Then came the big moment. Perhaps the volume in my mental library with the thinnest layer of dust. When you finally circumvent the speedway layer by layer, fence by fence, security check by security check and reach the narrow hall at the end of which lies your first look at the grand testament to human will that is EDC Vegas.
Seven years later I had a phone with a video camera, so I started filming a couple of dozen steps out, and that only served to make the reveal more suspenseful. Colors flashing against the drab inner workings of the stands. A house music groove that became louder and louder until, boom.
There it was all laid out in front of you. A sea of different chromatic hues and tones almost untamed from their sources there were so many. Architectural stages that resembled slumbering beasts who were happy to let DJs spin a few tunes on their back for a weekend. Singular fireworks and bursts of flame peppering the distant sky, teasing you for the full show to come in a few hours. Chills overtook me from head to toe. This memory was not the same, but it also wasn't different. I realized it was impossible to expect that I could contain this memory in full seven years ago, and seven years from now I won't be able to contain it either. Simply breathtaking.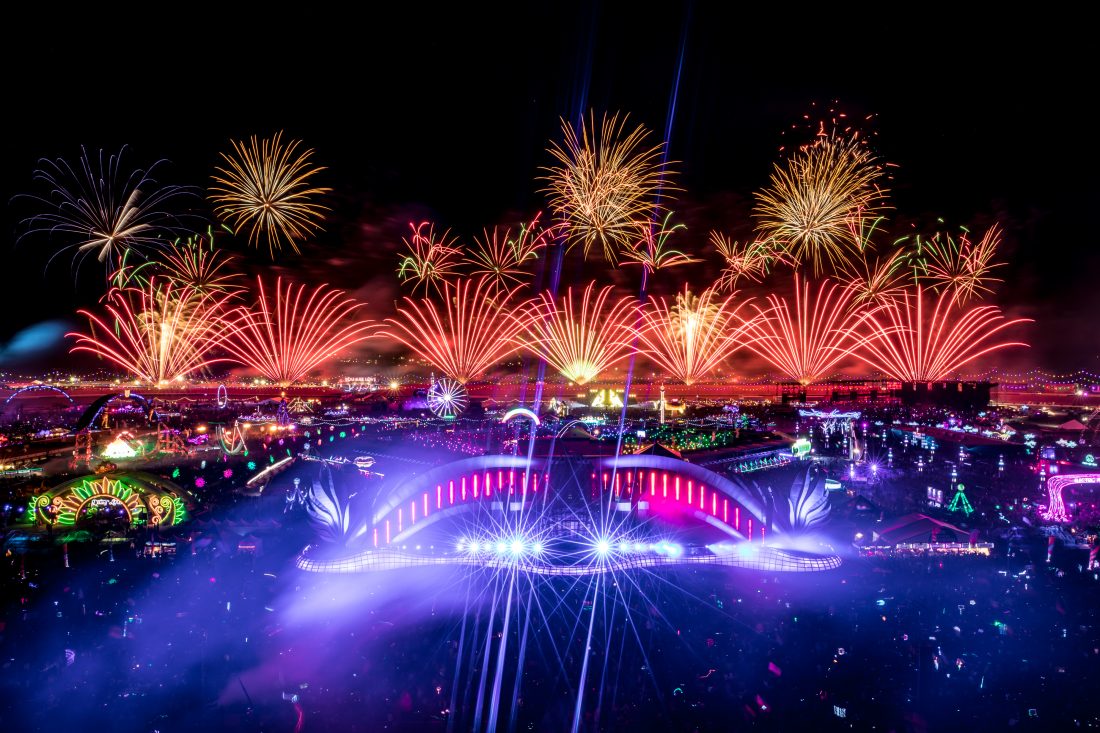 Yet over the next few hours, I would proceed to have a great time, and also realize why I made little to no effort to return since 2012.
EDC Vegas is enormous (it was factually the largest music festival in the world in 2019). In scope it is unmatched, but with 150,000 attendees spread across 1200 acres, many of the qualities I had come to enjoy about festivals since my last appearance simply could not exist in such a dense atmosphere.
Mainly logistics. Nothing was just short jaunt away. Whether it was food, water, bathrooms, or anything else. Most of the time these treks were manageable as wandering through festival grounds and people-watching is its own form of unique entertainment.
Other times it was exhausting especially when occasional parades would stop the flow of foot traffic immediately and resolutely. There was really only one road that was efficient for moving about the speedway, and the parades would render that road useless. The festival would go from partially breathable to claustrophobic in an instant. The crowds at the stages were thick and active. No amount of "excuse me's" were enough to make navigating them easy and with so many people you often had to be within the crowd in order to enjoy the music properly.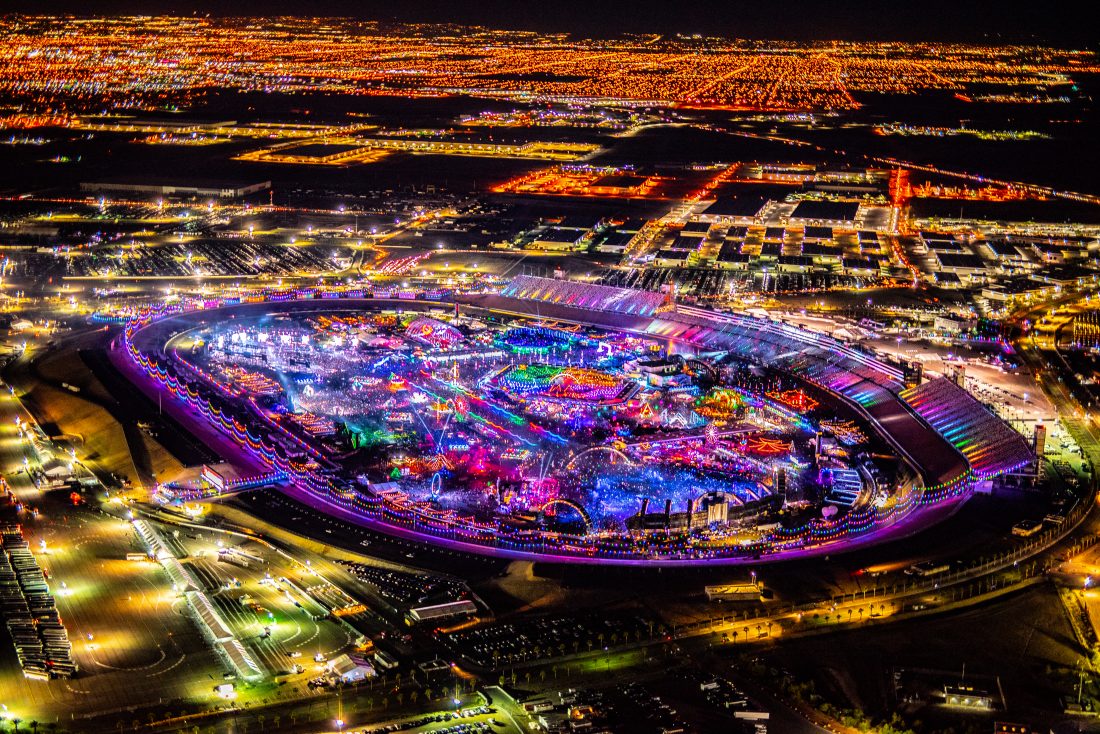 Speaking of the music. That is an area where things had only improved during my absence. When I was at EDC Vegas last, Neon Garden was just another grab bag. I believe I saw Major Lazer, Laidback Luke and Feed Me there in 2012. Now it's for house (and techno) heads only. It really is refreshing to know there's a place where people want to dance for real at a big festival like EDC Vegas. The DJs were suspended in a tiny little window that was frequently hidden behind a series of blinding lights. No one was rushing towards the front (except when Idris Elba played, but can you blame them?).  I didn't spend too much time in there, but when I was in there I felt at peace.
My two favorite sets of the weekend were found elsewhere, and they were provided by Eric Prydz, Skream, and Rusko. It was my first time seeing Prydz, and everything I had heard about his live show was confirmed. I may not have been the biggest fan of having more than 150,000 people on the ground, but Prydz's set was a reminder that an event can only accomplish certain things with that many people present. He played Circuit grounds — the best looking and sounding stage in the entire festival — which wrapped around the crowd a full 270 degrees. Moreover, thanks to EDM Maniac's good friend Steve Lieberman of SJ Lighting, I was able to enjoy the set from the lighting booth a.k.a. the epicenter of that audio/visual experience.
Prydz is known for his loyal fanbase. Standing on the raised platform there was a sea of flags before me, and unlike at Neon Garden, these people were packed in. Trying to be as close to Prydz as possible. When an epic techno kick would commence from a Cirez D track, the crowd wouldn't dance so much as they would vibrate together. Their cheers lost in the swirling synths as lights and lasers shot around them at lightning speed. I was observing all these different overlapping elements under a near-full moon, and frankly, it was magical. I know for a fact I didn't feel something like that seven years prior (and not just because I couldn't get into the lighting booth back then).
Something else I didn't experience at my last EDC, and I very well may never experience again was an old-skool dubstep set from Rusko and (wait for it) Skream. Seven years before writing this I would have said the only reason I got into electronic music at all was because of Skream's dubstep. That remains categorically true. Skream is one of those artists who defined my taste in music, and this fact is furthered because he is my favorite house DJ as well. I have seen him spin house and techno at least a dozen times, and each set invoked sounds and rhythms I had never heard before. His dubstep set with Rusko did that ten-fold.
Those deep grimy wubs; the kinds that invade your soul. Followed by true homages to the Jamaican roots of the genre. Ending with unmistakable classics like "Innocence" by Nero and "Midnight Request Line" by Skream himself. It was everything I could want from a dubstep set. What honestly caught my attention most fervently was Skream's antics on stage. When you see a DJ a certain number of times, the way they are on stage becomes a part of the show (fully emphasized by the DJs who stand on the table). I've seen Skream rock to house tempos so many times. It was my first time seeing him rock to 140, and I could tell that dubstep still had a special place in his heart. I wouldn't be surprised if dubstep sets become more common in the near future. Then again they might not.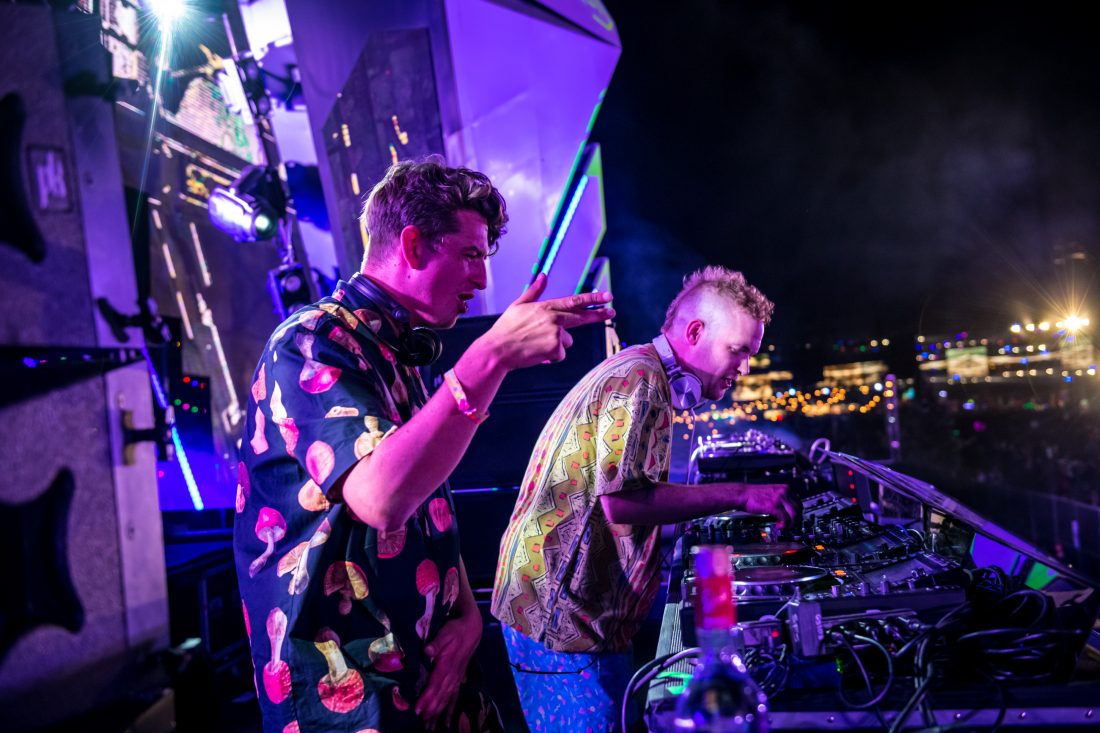 Skream and Rusko ended at 3:37 AM on the first day, and what I subsequently remembered that was the end of peak hours at EDC Vegas. For the final two hours, unless there's an artist for whom you're really excited, the entire energy of the festival changes. People slowly start filtering out. Most people are tired. There's trash all over the floor. It's a grimy but authentic feeling. You look around and realize 150,000 people have been in it for hours.
I used these shifting vibes as a chance to reflect on my second EDC Vegas, and there was one final thing missing: the people. Not in numbers. It was more people than I had ever seen in one place. But in connections. In trekking around the festival for hours I had not one heartwarming memory with a stranger.  People I approached weren't interested in conversation. There wasn't a disproportionate amount of rudeness or anything in that vain. At festivals I attended in the recent past, however, random events would occur with strangers as naturally as the tides. Nothing like that at EDC Vegas this year.
Looking back I honestly can't tell if it's because the festival changed or because the times were just changing. The festival was different, but not in the ways that defined it. Enormous. Almost entirely electronic music (A$AP Rocky was the only artist outside the electronic spectrum). A huge emphasis on production.
The size was taxing, but that's not something that needs improvement. It's a cornerstone of the event.
The music could use a little spicing up. Three days of almost nothing but DJs on eight huge stages and a dozen art cars? Yes, I understand it's a rave, but the door is already open for rappers. Why not sprinkle a few more in there? Perhaps invite some more dance bands like Metronomy or Passion Pit to perform? La Roux played in the past. The people who come to EDC Vegas have broad tastes in music. A bit more variety would be a welcome change.
On the production side, things were only better. The stages looked marvelous even if it was weird to be so far from the DJ or to not know where he or she was on the stage at all. Insomniac's production quality has sky-rocketed in recent years. Proved further in regards to the second the day when a couple of stages were closed due to high winds.
This was seriously uncanny. Those who attended EDC Vegas 2012 will remember the closure that happened on Saturday night for the exact same reason. Other than the fact that I may be an EDC Vegas jinx (Closing on the same day for the same reason? Come on.) it was impressive how much better this was handled. The stage designs lent themselves to safety under these conditions and the whole night was essentially able to continue without a hitch.
This state of reflection culminated on the walk back to the parking lot, and of course, the egress from the parking lot. After almost a decade at the same venue, I held out a bit of hope that this situation had improved since my last morning leaving the Speedway. I was wrong. It was still a completely unorganized mess. If we had not made several vicious cuts we might still be waiting in that parking lot right now. Just because there are thousands of people leaving at the same time doesn't mean things can't be improved. A few attendants to direct traffic would at least make things go more smoothly. Just thinking about it again gives me anxiety.
Yet every day we made it out. And on the drive back to the hotel, and then on the drive back to L.A. I thought about the new volume of memories marked EDC Vegas 2019. Cherishing them in their most vibrant state, cataloging them by various criteria, and wondering if I would ever add any more. I'm sure I'll be at EDC Vegas again, but I'm curious what will bring me back next time.
Photos provided by Insomniac