This past weekend, Danish DJ and producer, MORTEN, took over the main stage at EDC Orlando. MORTEN is widely known for his unique collaborative sounds in "Future Rave" with producer David Guetta. 2021 has been a huge year for MORTEN as he was ranked the highest new entry in the DJ Mag Top 100 at spot #39. MORTEN and Guetta previously released a 4 track EP titled "New Rave," which smashed the charts internationally. MORTEN has traveled the world headlining festivals such as Ultra Miami and Tomorrowland. We got the chance to catch up with MORTEN following his set at EDC Orlando, read the full interview below.  
EDM Maniac: Hey guys, I'm here at EDC Orlando with MORTEN, how are we doing tonight?  
MORTEN: We are doing great! How are you? 
EDM Maniac: I'm great, I'm having a great night. You played earlier at Kinetic Field, how does it feel to play at EDC Orlando?  
MORTEN: It feels ahh- super crazy!  
EDM Maniac: Were you getting the energy you wanted from the crowd?  
 MORTEN: Yeah and they kept giving me more and more!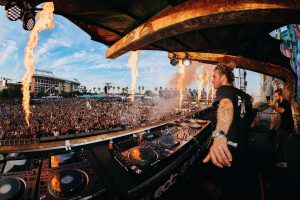 EDM Maniac: Yeah I could feel it too! So to start, can you tell us a little bit about yourself and your career?  
MORTEN: I am from Denmark originally but I've lived here in America for the past 10 years. Two years ago, I launched a project together with David Guetta which we call "Future Rave".  And I played like 20 of our records at EDC Orlando today, it was great!  
EDM Maniac: Can you describe the "future rave" sound for those that don't know?  
MORTEN:  Yes, we are creating our own sound in the electronic scene, and are bringing rave back! We are producing Nordic melodies inspired by techno music, are making mainstream music the way we like it!  
EDM Maniac: Absolutely and I think that's the coolest part! You do a lot of producing with David Guetta, how did you get into making music together?  
MORTEN: I met David a few years ago in Los Angeles, but the first time I met him was at Tomorrowland, where I got his email. I kept feeding him records and suddenly he was like "this is fire, let's work together!" 
View this post on Instagram
 EDM Maniac: Wow, that's crazy! Since then you've had a crazy successful career with over 3 million monthly Spotify listeners along with playing tons of festivals, what has been the most rewarding part of your career so far?  
MORTEN: Honestly, I don't look at Spotify streams, or radio plays. I want to create a sound, a culture. I want people to experience and enjoy our music, just like how we love it. The most rewarding for me is to bring the "Future Rave" sound to the crowd and people be like, "this is exciting, new and fresh!"  
EDM Maniac: Absolutely,I think it's great that you say that because you're right, it's not the amount of streams that matter, it could be a little or alot but what really matters is the music!  
MORTEN: Yes exactly! 
EDM Maniac: So you've also played a ton of festivals; EDC Orlando, Ultra Miami, Tomorrowland… What has been your favorite festival to play at?  
MORTEN:  This one was really special to me! I'm not saying this because we're here, but it was almost sunset and the crowd was incredible. I live in Florida myself so that makes it extra special to play at EDC Orlando.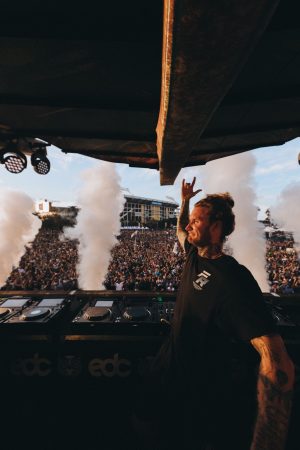 EDM Maniac: That is awesome. I agree it was a very special night. Do you have any pre or post festival set rituals?  
MORTEN: Some tequila shots haha…no no no I just try to stay healthy, and feel good on stage and be happy and have fun!  
EDM Maniac: Haha yes! And one more thing, do you have any new projects you're working on?  
MORTEN: Yes yes yes! I played about 6 unreleased records tonight and two of them will be released soon. I have a lot of new music coming up! 
EDM Maniac: Well we will make sure to look out for that. It was so good to meet you, your set was awesome, thank you so much!  
MORTEN: Thank you!  
It's no doubt that this is just start of an incredible career for MORTEN! Be sure to follow MORTEN on his socials below and stay on the look out for live performances and new music.
HOP ON THE FUTURE RAVE TRAIN…