Electric Cookout 2021 is a new food and music experience.
Happy Tuesday! We are extremely excited to announce that we have partnered with Electric Fiesta to host San Antonio's first-ever electric cookout. Our brand new safety first and socially distanced event will be a food and community dance music experience that will welcome all ages. Our socially distanced Electric Cookout will take place in San Antonio's downtown at The Lot at 800 Live on Saturday, April 17; showcasing the best of San Antonio's food, music, and culture.
Electric Cookout's primary focus is on giving back to the community of San Antonio. Throughout the pandemic, there have not been a lot of industries that have been impacted harder than the live events industry. Both EDM Maniac and Electric Fiesta are looking to boost the local economy for entertainers affected by the coronavirus crisis as well as provide jobs and opportunities by hosting the event. Only local vendors and food merchants will be present at Electric Cookout. Additionally, Electric Cookout has partnered with a local San Antonio food bank to host a canned food drive where canned food will be accepted throughout the duration of the event.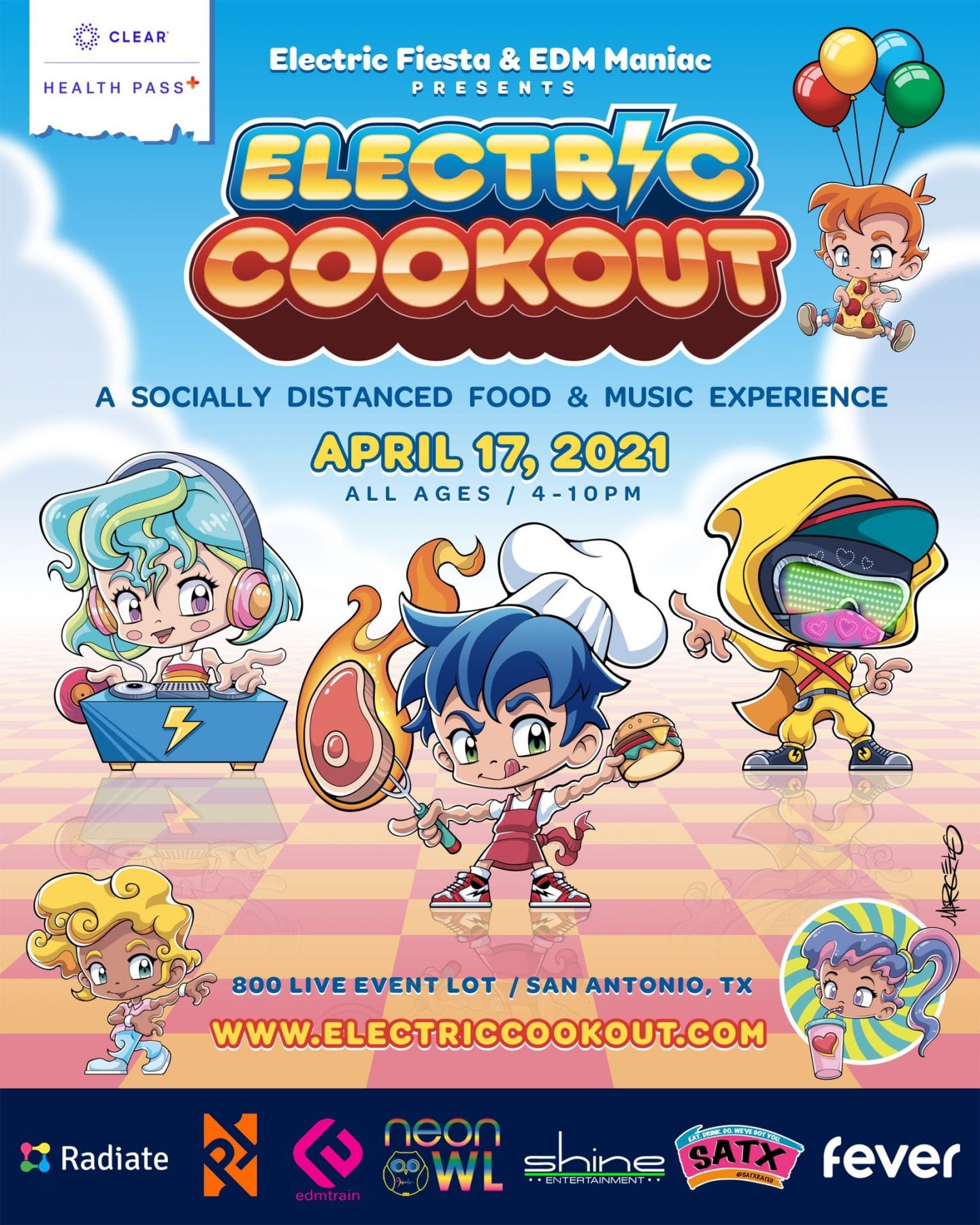 Electric Cookout 2021 event safety
Electric Fiesta and EDM Maniac are putting many measures in place to ensure the safest way for San Antonio residents and guests to connect and party. Festival planners have collaborated with Bexar County Officials, Local Health Departments, Bexar County Sheriff, the Fire Marshall, and the venue team on logistics that exceed state regulations. Attendees will be required to wear a mask for the duration of the event unless eating or drinking. Attendees will be able to enter and exit the venue which will allow guests to enjoy the event at their own pace based on their desired choice of programming.
Electric Fiesta and EDM Maniac are excited to partner with CLEAR and provide optional access to CLEAR's Health Pass technology for attendees. Health Pass is a free, mobile experience by CLEAR that securely connects a user's verified identity to multiple layers of COVID-19-related health information. With Electric Cookout, attendees will be able to submit a health survey and link their COVID-19 test results to their Health Pass. CLEAR's Health Pass will be optional for all Electric Cookout attendees and those who successfully complete a Health Pass will receive expedited entry and additional incentives.
All activities will be modified to be enjoyed with social distancing. Extensive sanitization protocols will be put in place. High tops, picnic tables, and grass seating will be available and marked to enforce guided social distancing between parties. 
Make sure to follow Electric Cookout, EDM Maniac, and Electric Fiesta to be notified of all updates surrounding the event.
Tickets are available on Wednesday, March 25, and will start at just $20. Click here for tickets.