Known for fiery bass music with a dark industrial flavor, cinematic visual performances, and their iconic tiger-helmets, Black Tiger Sex Machine (BTSM) is hitting the road again with a bang.
BTSM's Julien Maranda and Patrick Barry greeted EDM Maniac before performing live at the Knitting Factory in Spokane, Washington — one of the last stops in the group's latest tour: Once Upon a Time in Cyber World. 
The Quebec-based music group started touring in the US in 2015, but their journey as musicians and friends started long before.
BTSM has appeared on many world-renowned festival stages including Lollapalooza, Electric Forest, and Ultra Music Festival. The trio also runs the Kannibalen record label which supports artists like Apashe, Kai Wachi and Dabin.  
Currently touring as a duo, Maranda and Barry appear relaxed and cool as they open up about their latest productions, artistic inspirations, the group's unique creative process, as well as what it's like being on tour again for the first time since before the COVID-19 pandemic.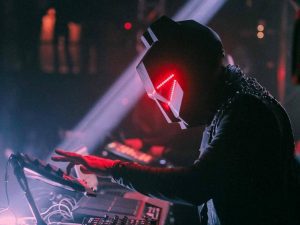 EDM Maniac: Hi guys, it's nice to meet you!  Thank you for taking the time to talk with us today. So first of all, what's been it like being on tour again?
Maranda: Well, most of the people we've been meeting after shows keep telling us that we were their last show before everything shut down. Our previous tour was happening while everything was shutting down and we stopped our tour short.
We're fortunate that we're back on the road, shows have been selling out pretty much every night and the community's still very strong, the BTSM church is very strong, and we're selling a lot of merch. It's really fun to see fans creating their own cosplay and getting into the storyline. So overall we're blessed.
EDM Maniac: The last couple of years have been pretty tough on artists of all kinds. What was the pandemic experience like for you?
Barry: It was definitely an adjustment being at home after being used to all that movement and trying to find inspiration to keep making music even though we weren't sure when things would open back up or when we'd be able to play shows again.
There was definitely a period where it was a bit discouraging, I would say. We just channeled that energy into our music and worked on an album that we were able to complete and that we released in January. That's where we channeled all our feelings.
EDM Maniac: What else has been unique about this tour so far? What's unique about the Once Upon A Time in Cyberworld experience?
Maranda: So when we were touring last time,  we introduced this new character called Naomi in our artworks. When we planned to film the first chapter of the movie experience, we wanted to talk about her backstory, where she comes from, and what her part in our world is.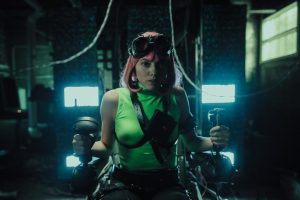 We wanted to incorporate a female character into our storyline so that everyone in the room could feel connected to what we do.
It's great seeing so many girls cosplay her, and we decided as we were preparing to release the album that it would be a good idea to keep going with the story because people were hooked.
Once Upon a Time in Cyber World is a crossover between cyberpunk and a Spaghetti Western …  two genres that we like, and that influenced the entire art direction of the album, and you'll see, it answers a lot of questions that people have been waiting on. 
We did a couple of cameos too, and it's a fun story. There's comic relief, and action, and it sucks people into the story just when the show starts.
EDM Maniac:  What would you say is your biggest inspiration for your storylines? Is there a movie, TV show or book that you draw from? 
Maranda: There are many different movies that inspire us. "Blade Runner" is a good example of a movie that just in terms of lighting and atmosphere has influenced our music and our visuals from the beginning. 
And then in terms of the spaghetti westerns, I've always been a big fan of Sergio Leone who made the film "Once Upon a Time in The West".  It's fun to play around with different genres, it brings something unexpected that leaves people trying to figure out why these styles are mixed in together, but it ends up working well.
EDM Maniac: When you guys come up with your ideas for your storylines, how does your creative process go? Do you come up with a narrative and then build the visuals and the music around it?
Maranda:  That's a good question.  I think it's a little bit of everything. Sometimes the music will come first, sometimes it can be a direct inspiration from something else.
Sometimes it starts with a Pinterest mood board, a previous artwork that we put together, a movie, or another song that we like. And now that we have Naomi, we were just trying to place her into these different worlds that we're creating and we're just letting it go.
EDM Maniac: Very cool. Lastly, what's next on your radar? And what's next for BTSM after the tour?
Maranda: After the tour, we have a bunch of festivals. We have Bonnaroo, Beyond Wonderland Pacific Northwest, and we have a lot of Canadian dates and some cool news about international festivals we're going to announce soon. We're also going to Brussels to play at Rampage this summer so we're going to Europe, too.
Then, we're trying to figure out the right way to approach it, but there could be a Once Upon A Time in Cyber World Chapter Three, as well as some new ways of presenting our shows. And then we're tapping a little bit into the anime world. We've been doing that a lot on our tour and people have connected with it a lot…you'll see!
Images courtesy of Black Tiger Sex Machine (BTSM)