Electric Forest kicked off its seventh year by making it a two weekend event due to consistently selling out. For years now I have been hearing about all the wonders of Electric Forest from all of my friends. Sadly every year they have sold out before I could get a ticket. So the announcement that there would be two weekends this year made me very excited. This year I made sure that I had enough money saved up to buy my tickets for both weekends as soon as they went on presale.
The anticipation nearly killed me as I waited seven long months for the middle of June to come. I let out a yelp of glee as I board the plane that is taking me to Chicago to meet up with my friends. I am extremely excited that I finally get to explore all the wonders that Electric Forest has to offer! With the Early Arrival pass we get to set up camp and explore the R.V. sound camps a full day before most of the other campers. Everyone is extremely friendly, and almost everybody you pass by yells out, "Happy Forest" with a big smile. After we get our camp and hammocks all set up in Maplewoods, we go exploring the Vendor Alley located in the GA camping.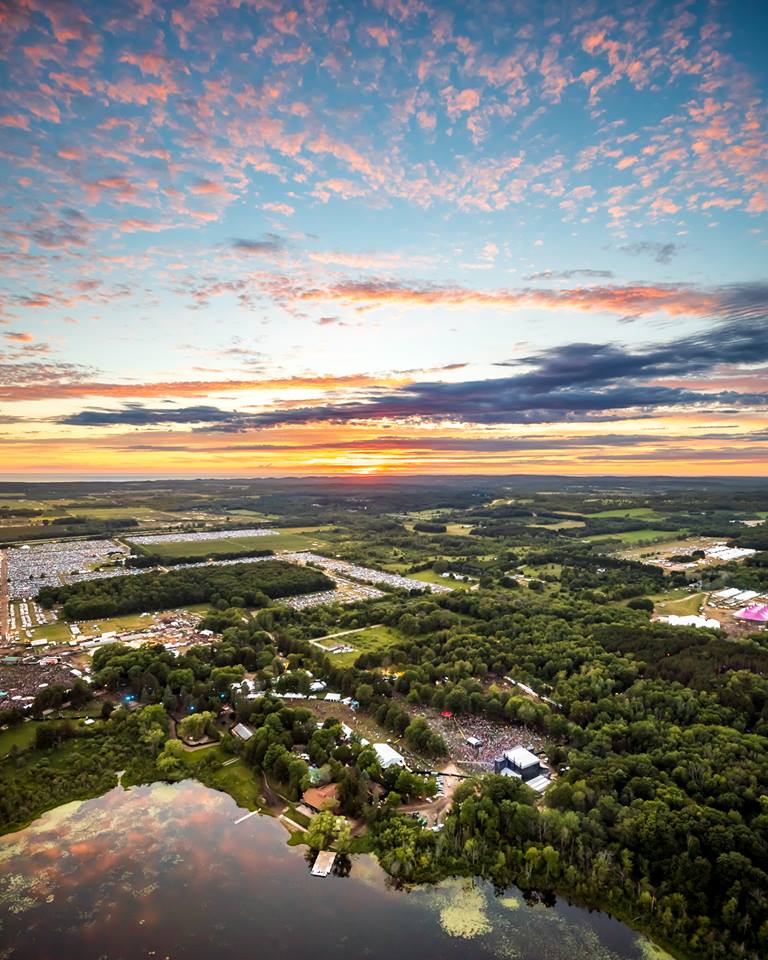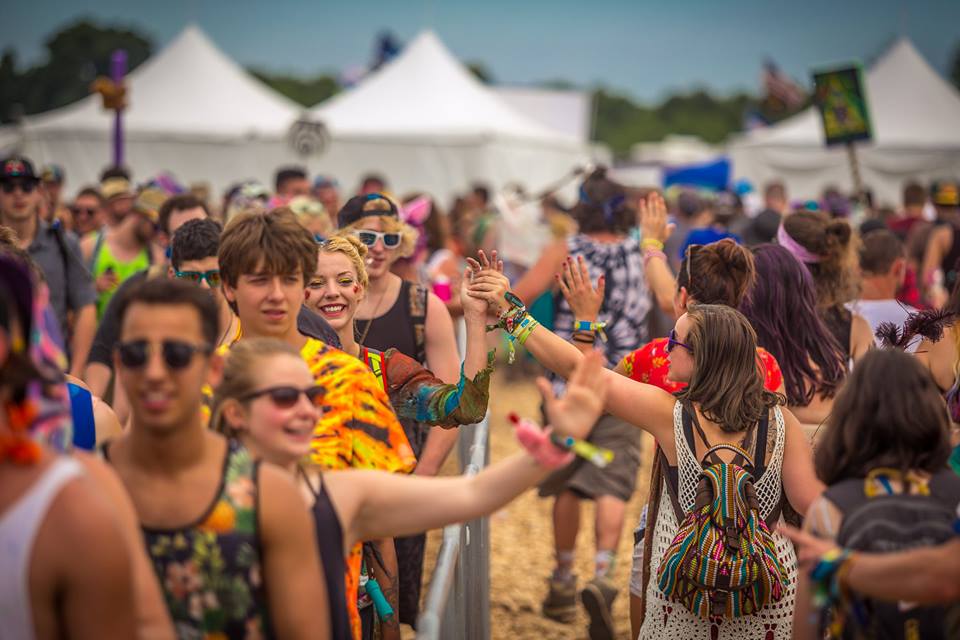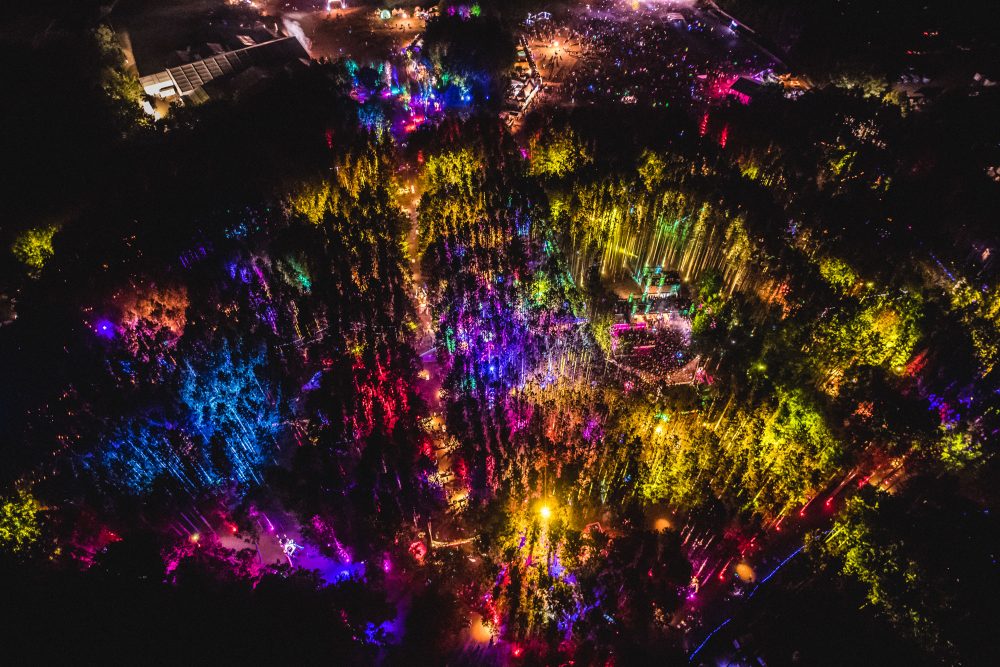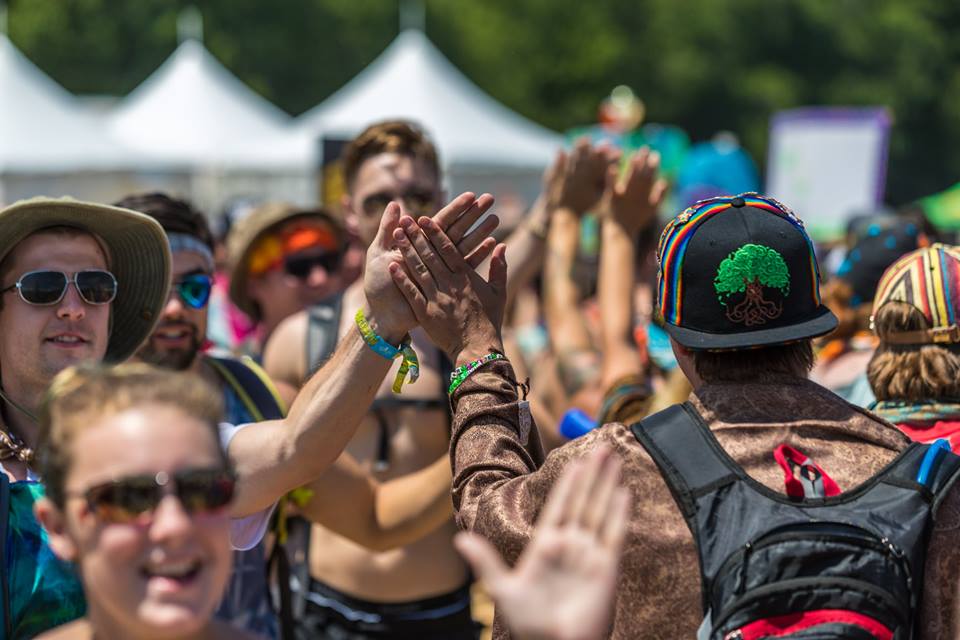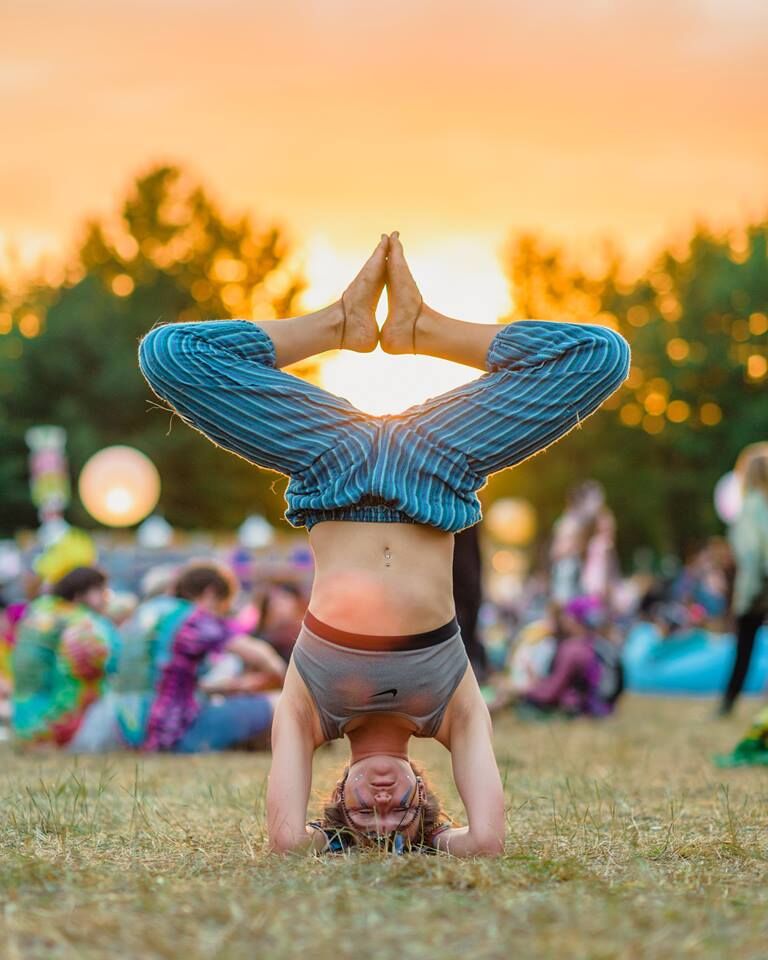 As you walk through Vendor Alley you see many different vendors selling various camping and rave gear. There are many great food vendors located here that are open 24 hours a day in case you need a late night snack after the show. A few of my favorite spots to eat included the Cereal Sundae Bar, Ozark Biscuits, and the imfamous Spicy Pie Pizza in the GA camping and the fire baked pizza stand in the Good Life Camping that offered a personal 10" pizza with some really dank toppings. One of the things that I loved was that they offered many different vegan and gluten free options at almost every single food vendor. Another beautiful thing to see was the Farmer's Market that offered fresh fruit off the vine, fresh meats, chips and salsa, ice creams, and many other goodies made fresh in the local area.
The first day I am filled with excitement as I wait in line for the gates to open up so I can explore all the hidden wonders that are waiting for me inside. The first thing you see as you walk into the venue is the Ferris wheel and the Triploee stage right next to it. The first night of the first weekend, The Birdhouse took over Tripolee for the first of many curated stages throughout both weekends. Claude VonStroke brought a variety of artists including Golf Clap, Machinedrum, and Maya Jane Coles. I got to hang out with Claude backstage in The Birdhouse trailer and talk with him about the change of venue for his Dirtybird Campout festival (story coming soon). Both weekends Bassrush took over the Tripolee stage for one night and housed many bass-heavy artists including 12th Planet, Crizzly, FuntCase, GTA, Nero (Live), and Zomboy. It was here that we danced in the mud to an epic b2b set from Liquid Stranger and Space Jesus.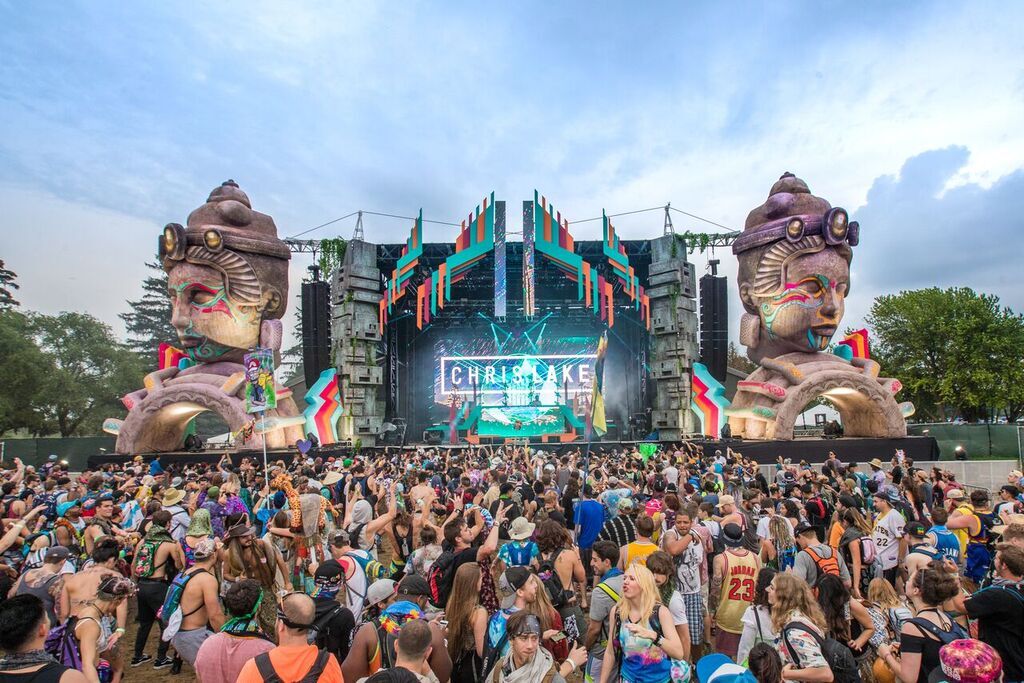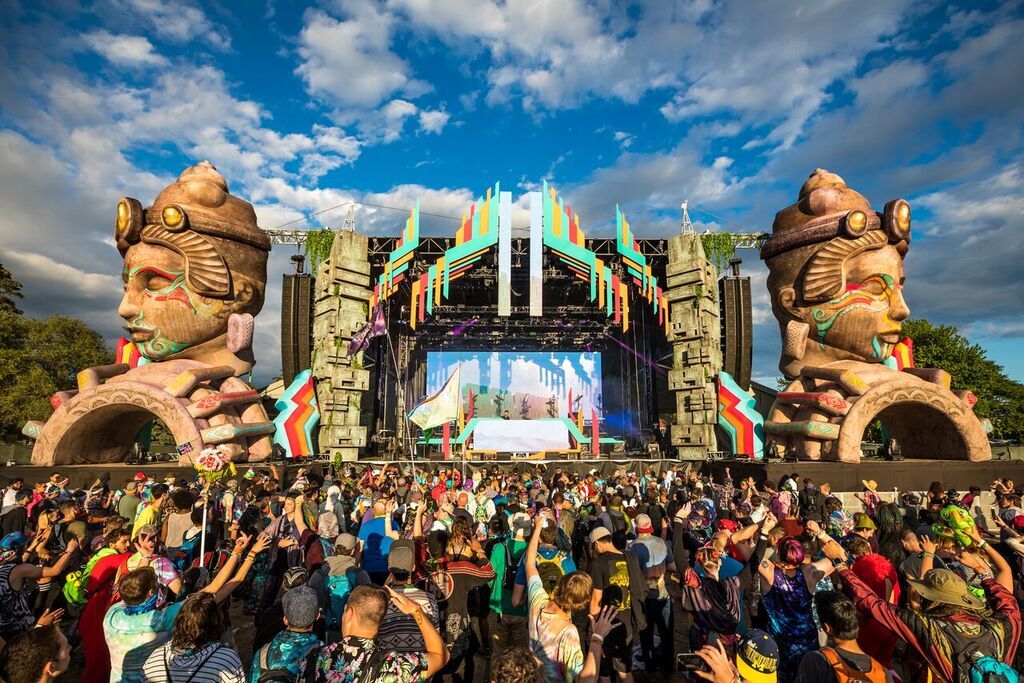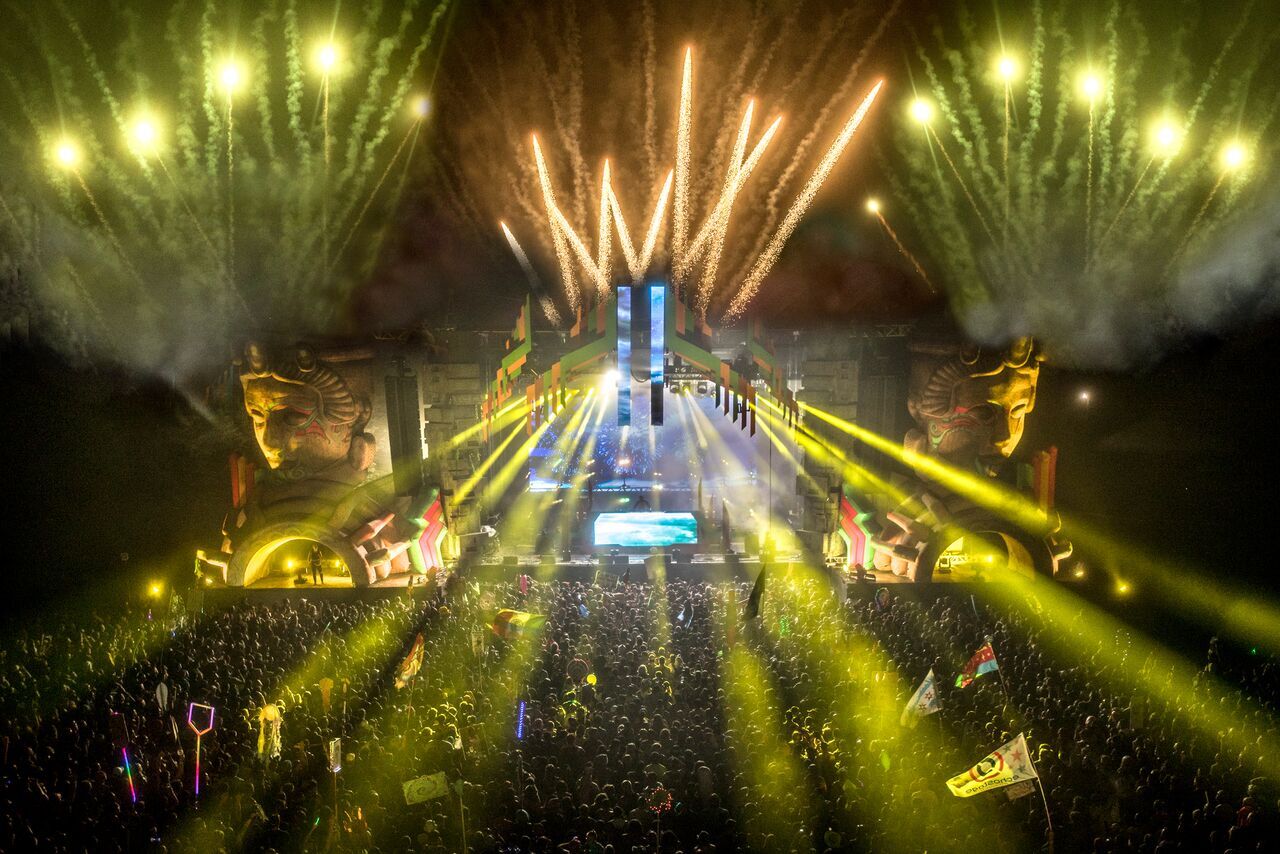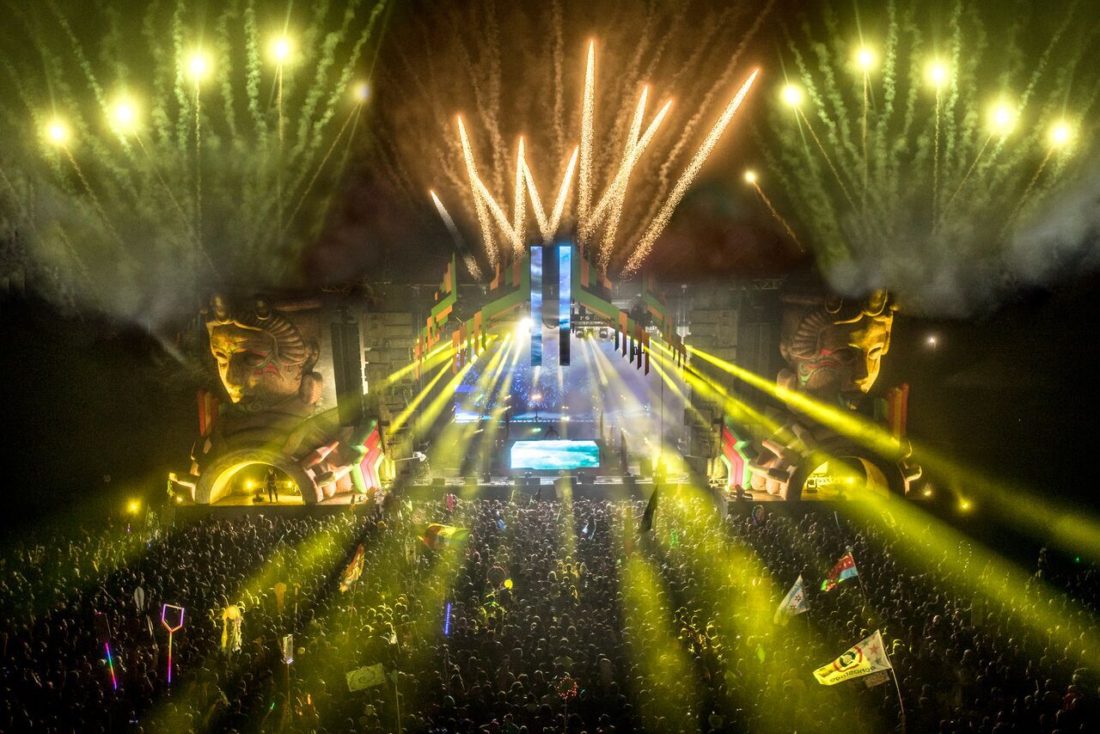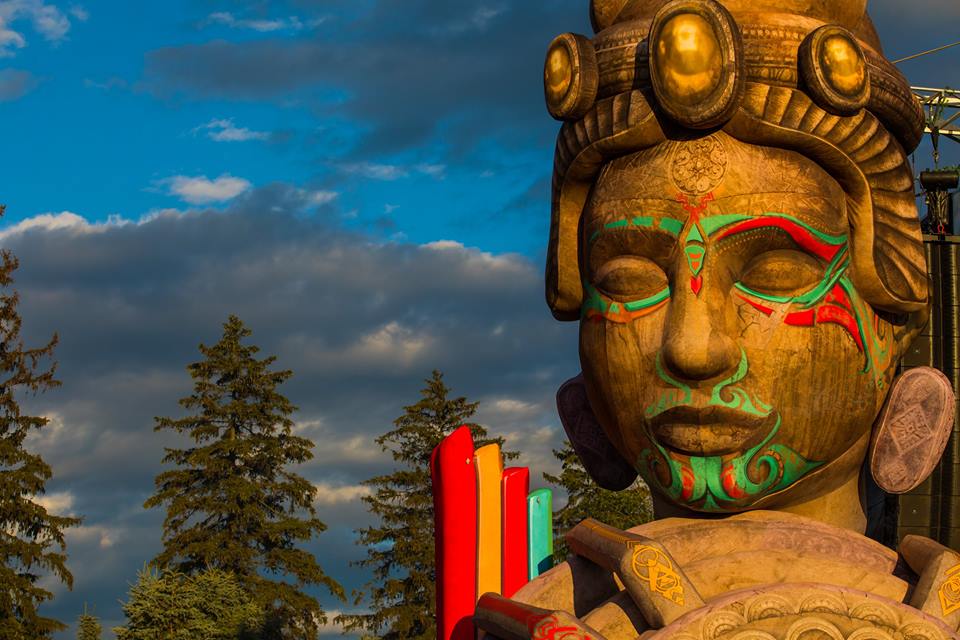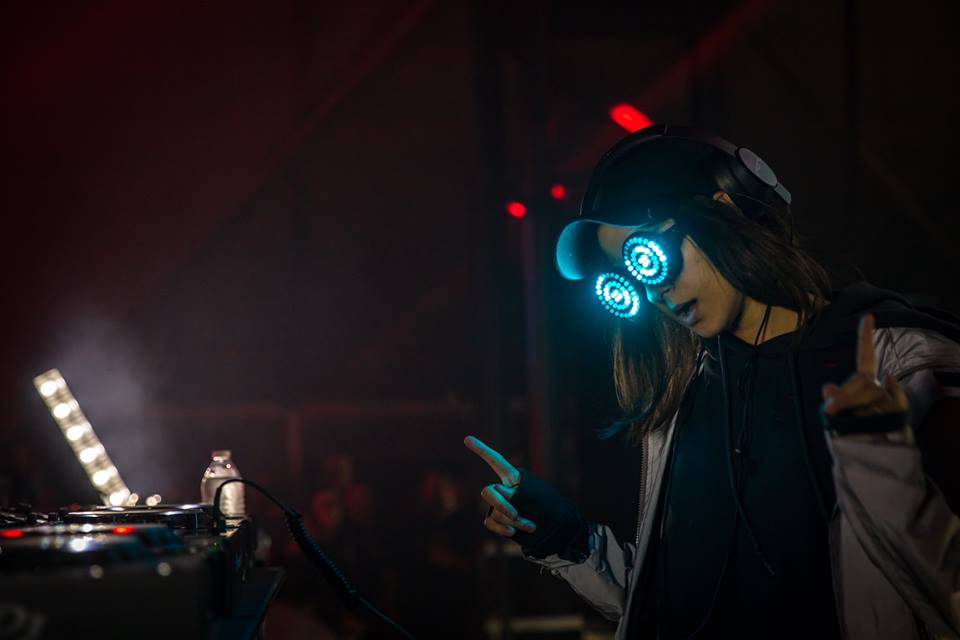 Right past Tripolee you come across the Giving Tree which is known as a place where you can trade items anonymously. If you see something you like or need, then you simply grab it and trade it for something of equal value. If you're feeling extra generous then you can just give items to the tree for others to use. I did this with an old fanny pack I was no longer using. It was here the second weekend that someone randomly gave me a giant 3D epic kandi cuff to add to my kandi belt. Just please be safe, and do not climb the tree. We want everyone to make it home safely and in one piece. Right next to the Giving Tree you find the first of several treasure chests that are hidden throughout the Forest.
After you pass by some vendors you come to the main stage, the Ranch Arena. This stage has a large grassy area with several trees scattered throughout to hang a hammock on. With a giant 360 degree spotlight installation hanging right from the center of the stage, it was truly a sight to see. The Ranch Stage had its own VIP (The Good Life) area with its own private lounge that had couches, lounge chairs, its own private bar with food options, and let's not forget some of the best views of the stage. This stage even had its own entrance for those who were fortunate enough to be camping in the Good Life Camping. Hosting major headliners like Bassnectar, Big Gigantic, Flume, Odesza, and The String Cheese Incident it was definitely a busy stage both weekends. The String Cheese Incident played a five hour set on day 3 weekend 2 that ended with a must see shebang. I look behind me and see the legendary Sherwood Forest entrance with its rainbow colored arch. I run off to explore the Forest and all the art installations that it has to offer.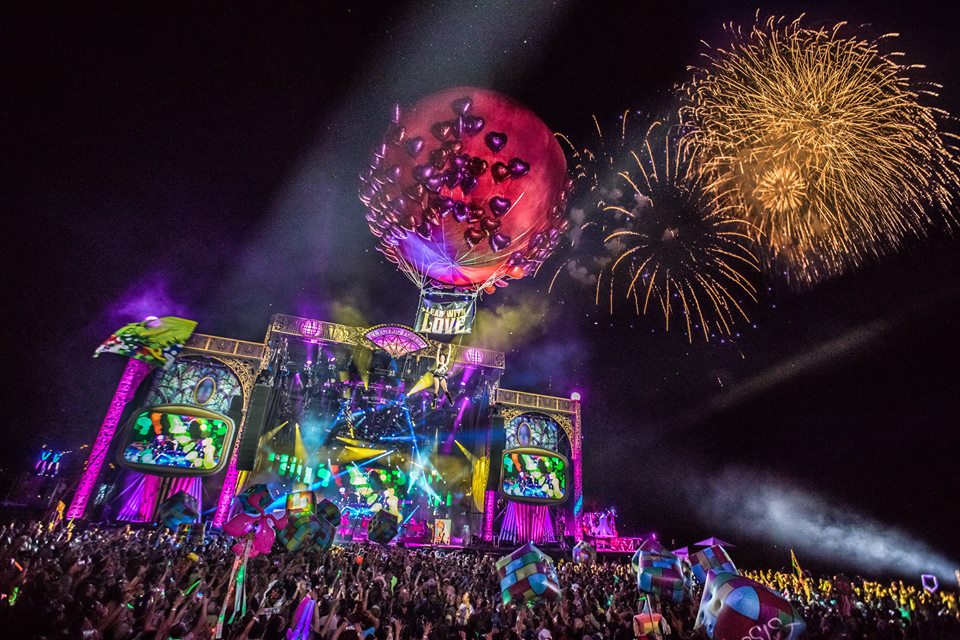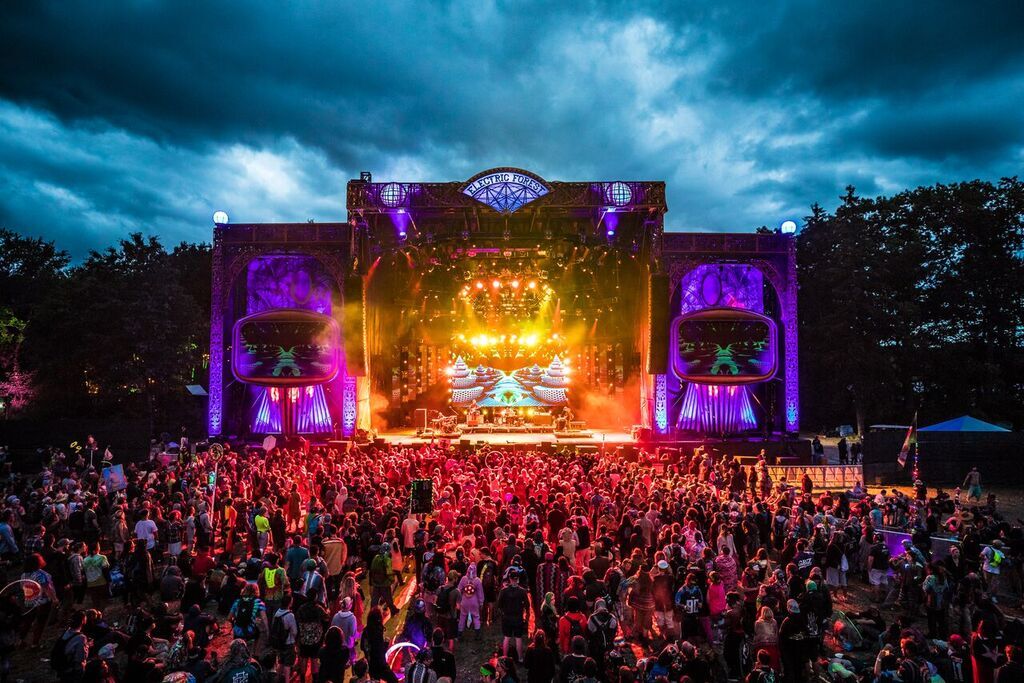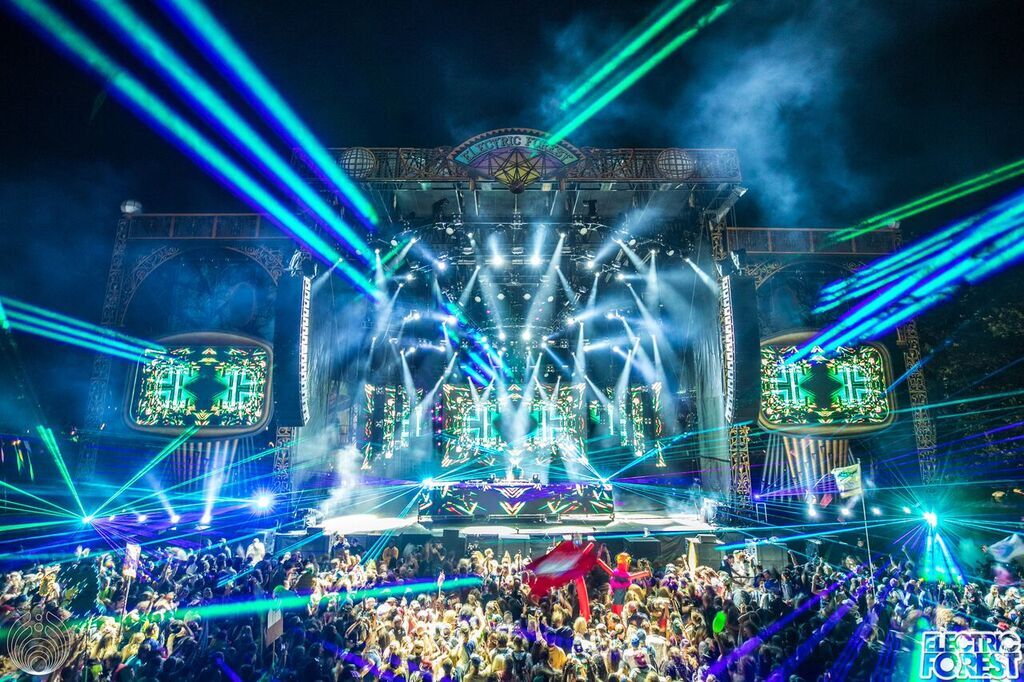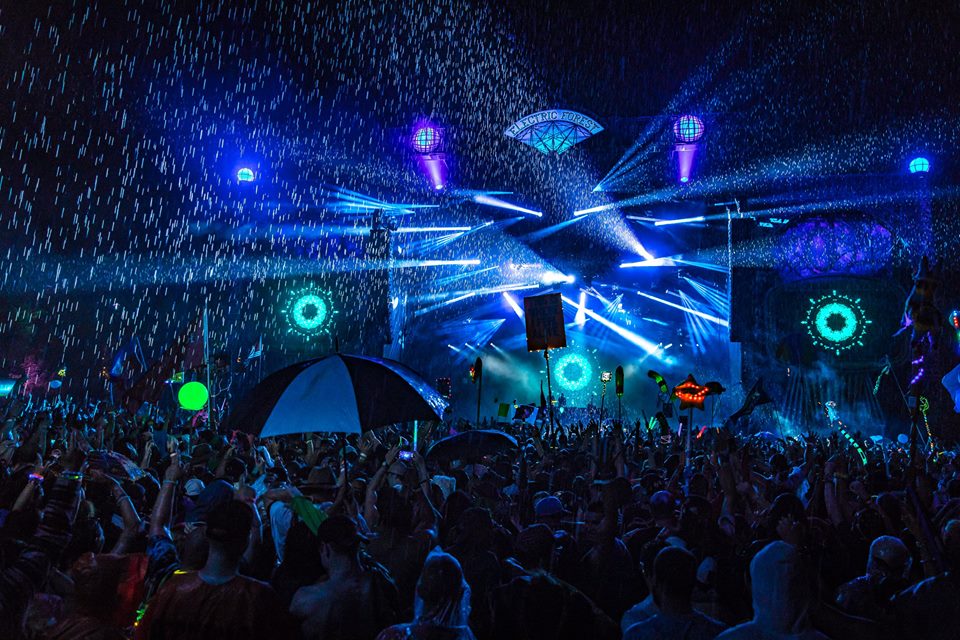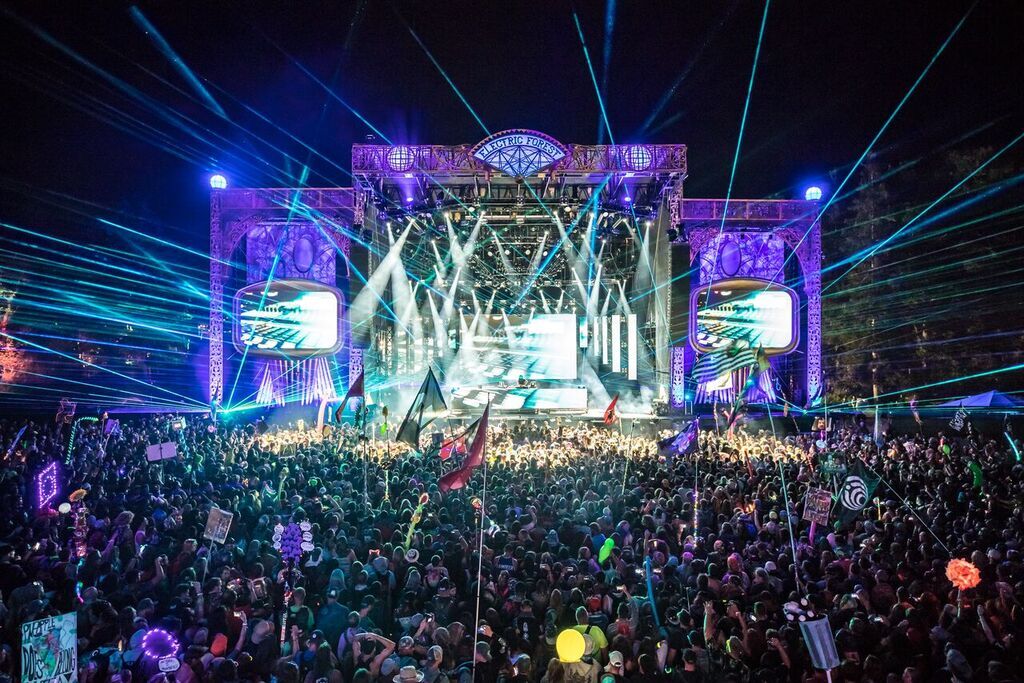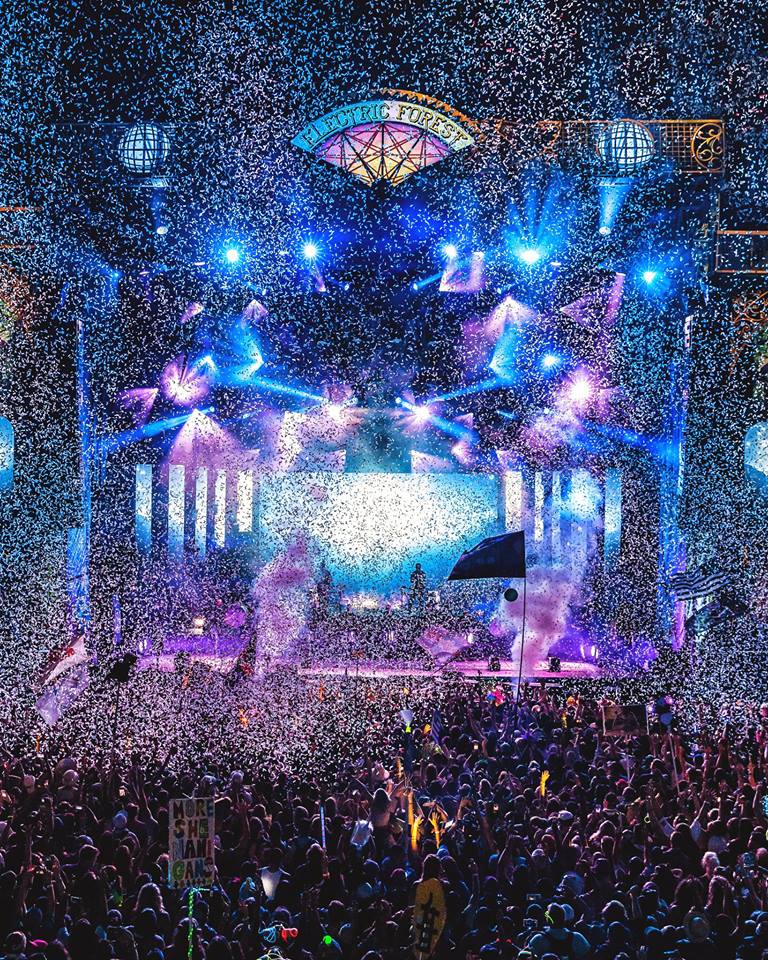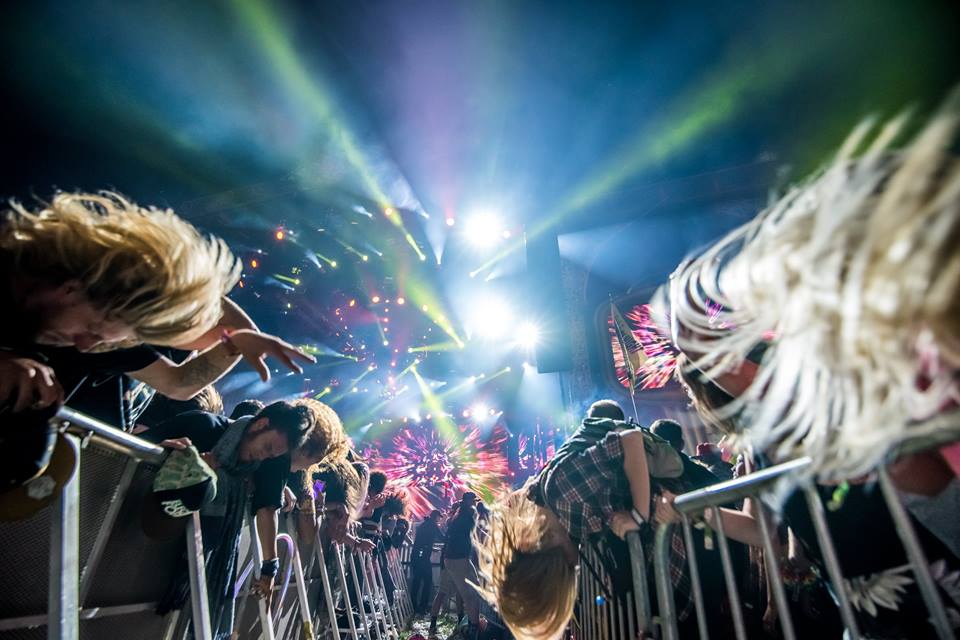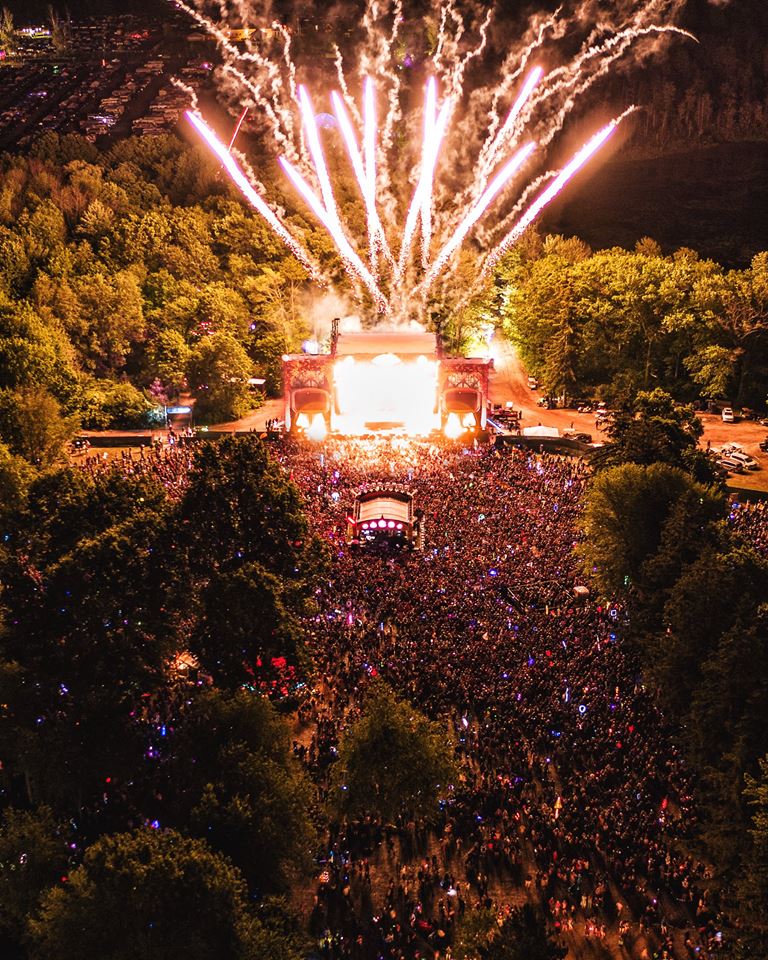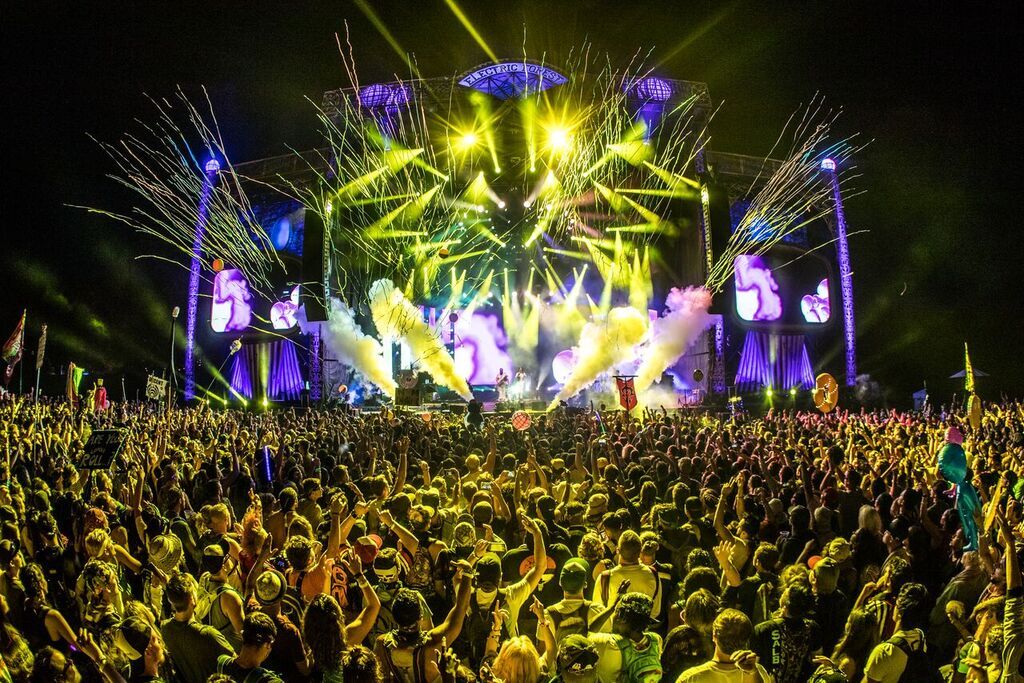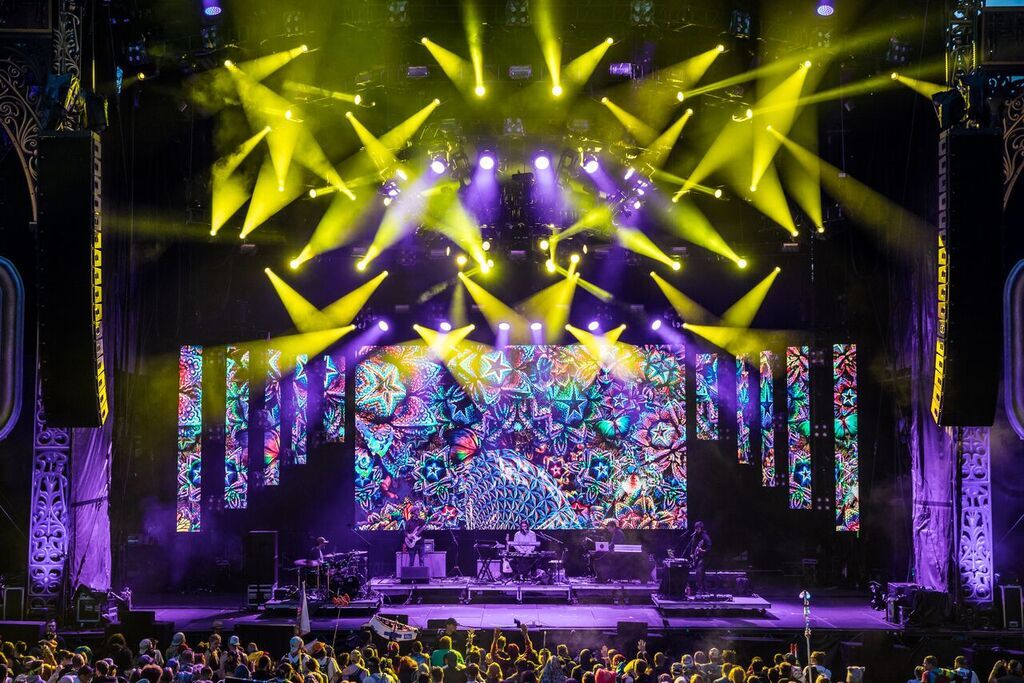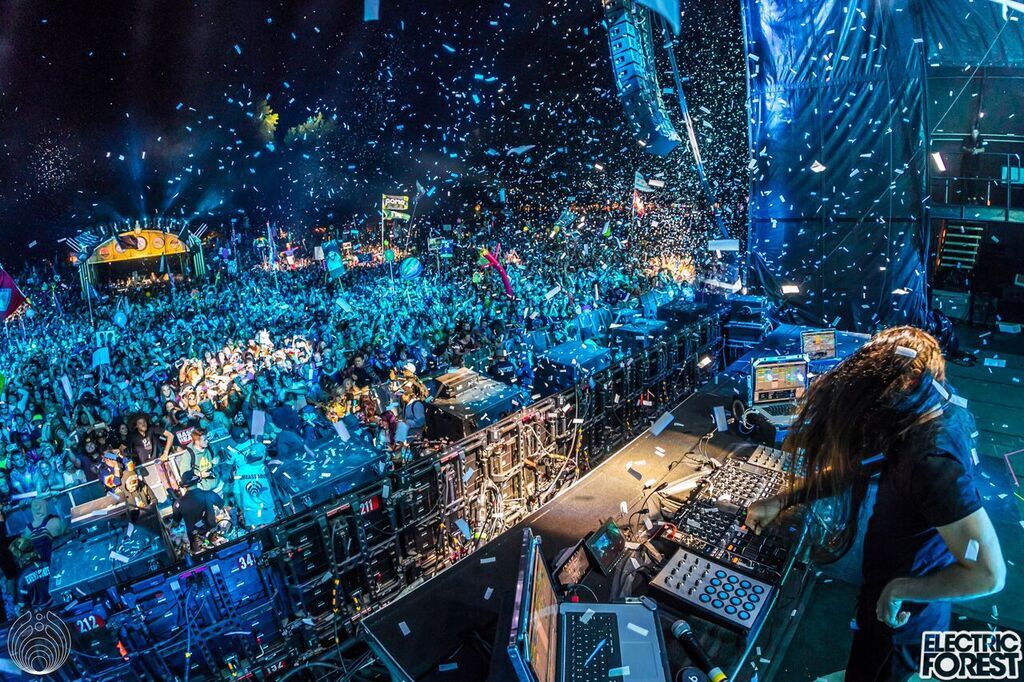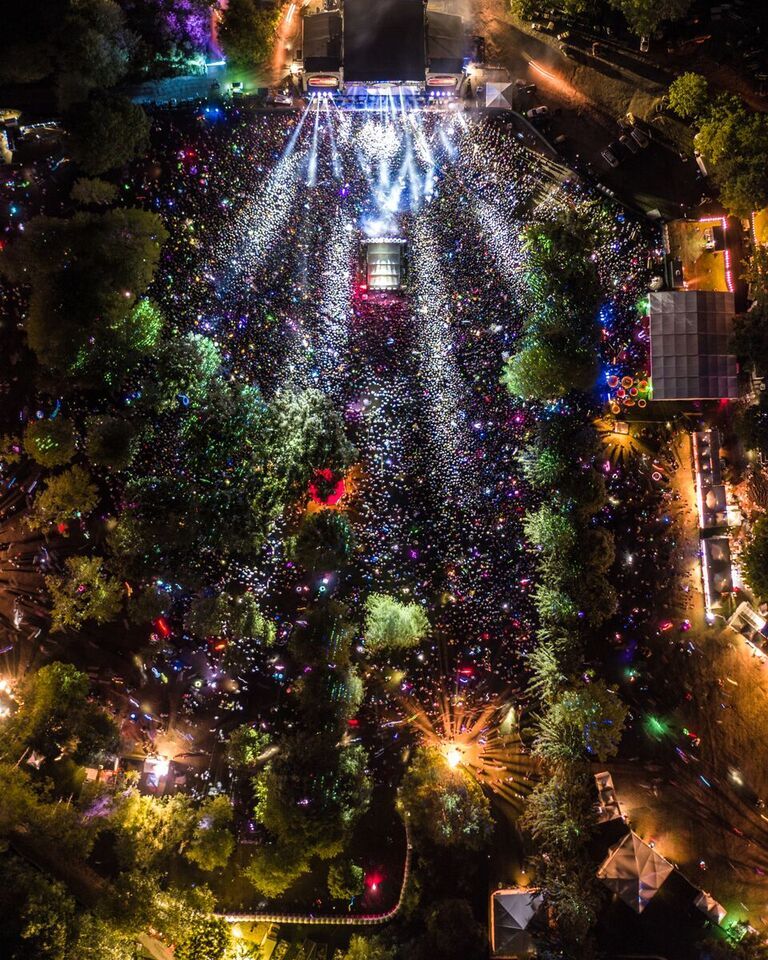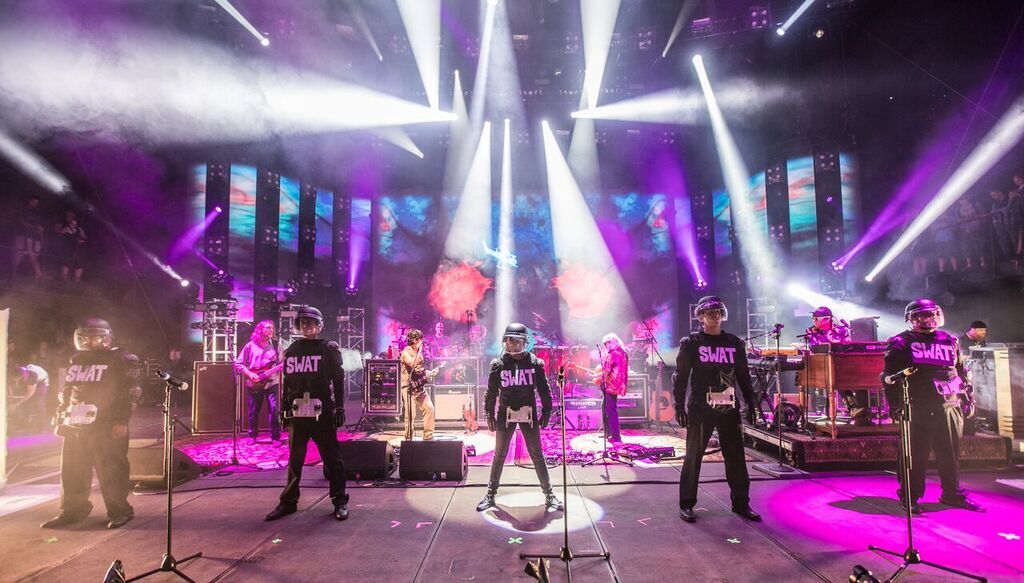 While wandering through the Forest I quickly discover the Forest Stage. All around this stage hammocks are set up on certain trees. You see people all around you enjoying the show from the comfort of a swinging hammock. There is a special Good Life Camping entrance near here that leads you directly into the Forest. Not far from there you come across the Observatory Stage that earns its name from all the tall observatory decks that surround the DJ booth. These observation decks are open to everyone and they allow spectacular views of the stage from several angles. It was one of my favorite stages of the festival with a wide variety of artists playing like Claude Vonstroke, Dixon's Violin, and XYLO.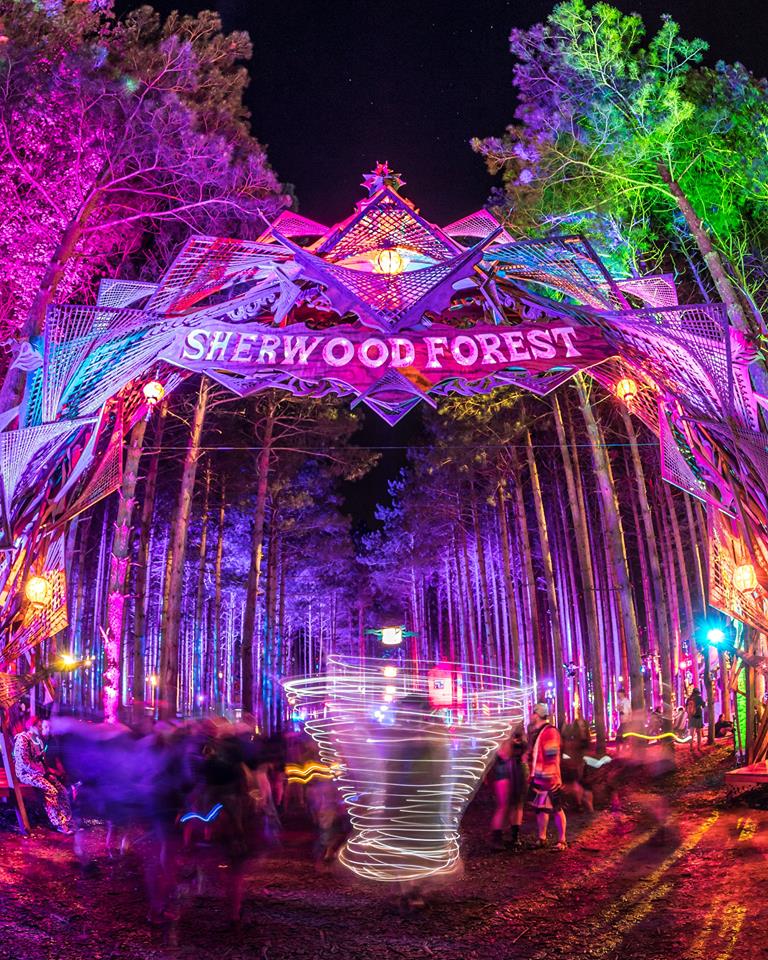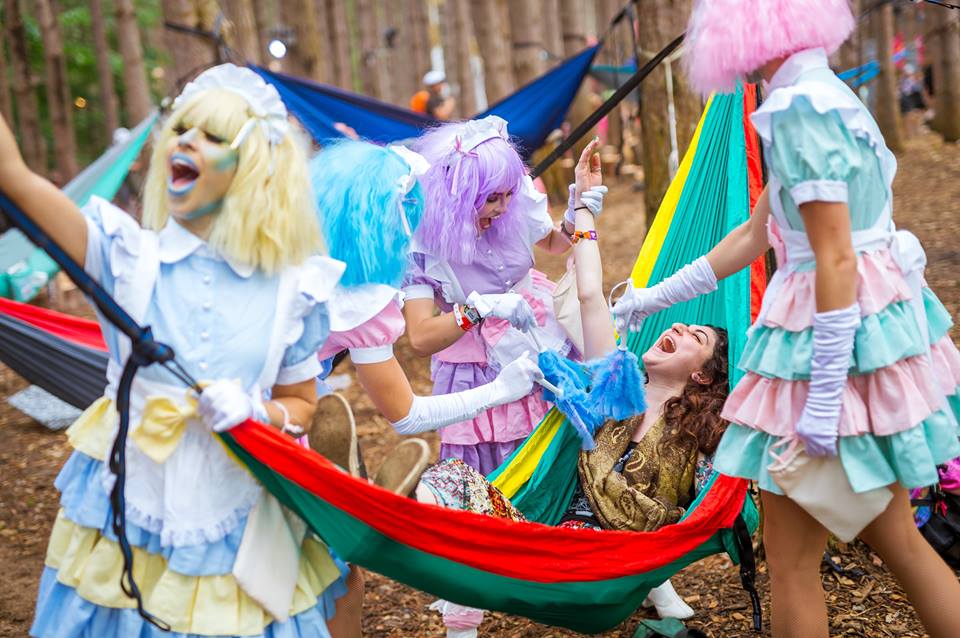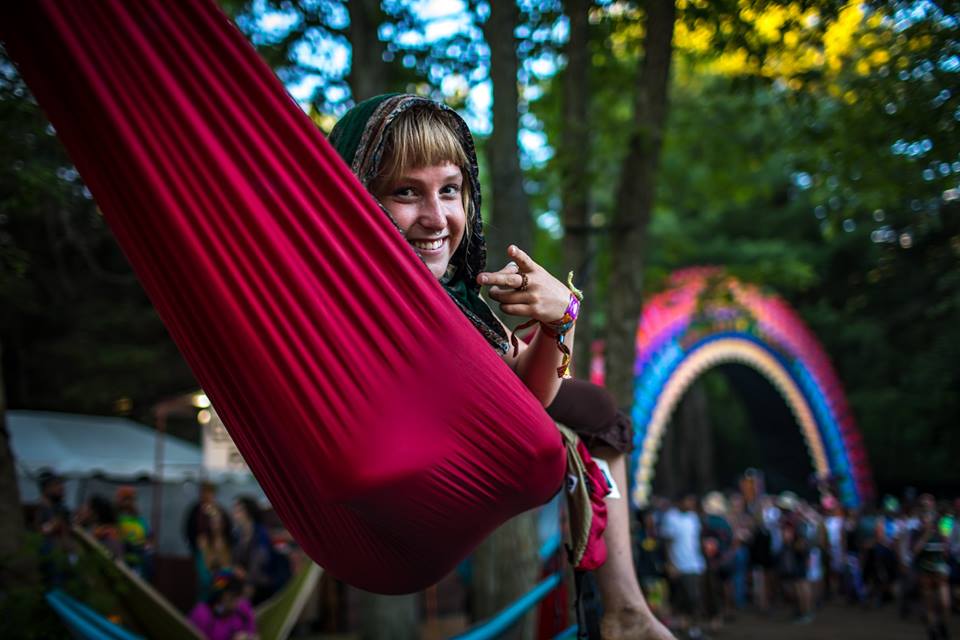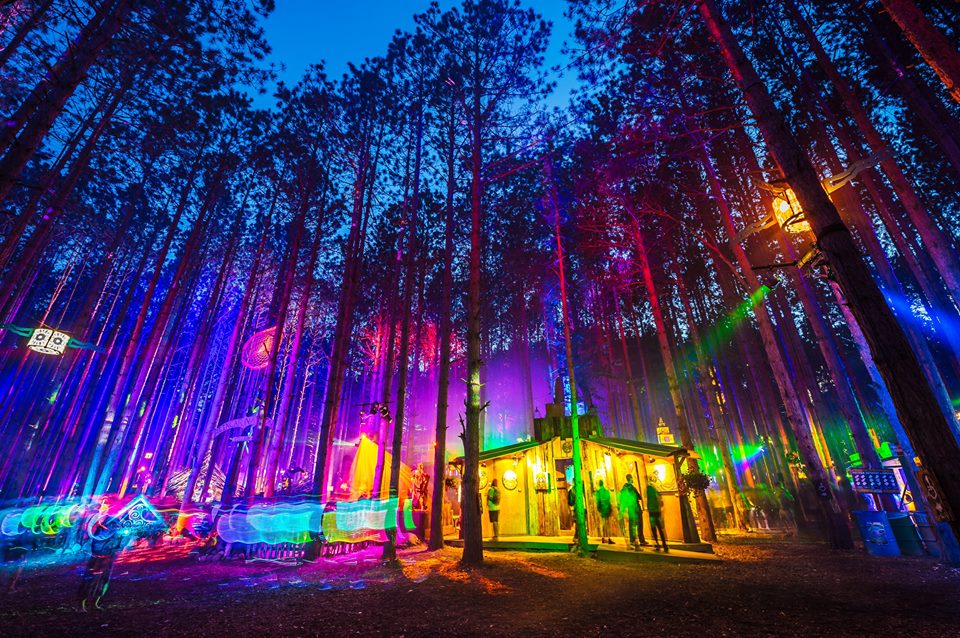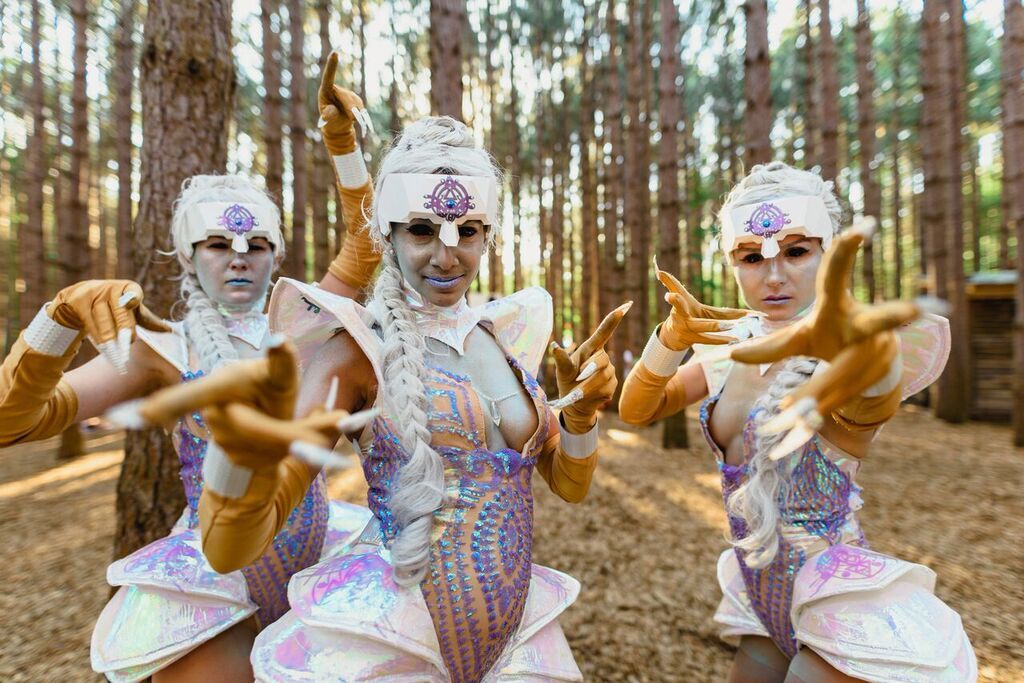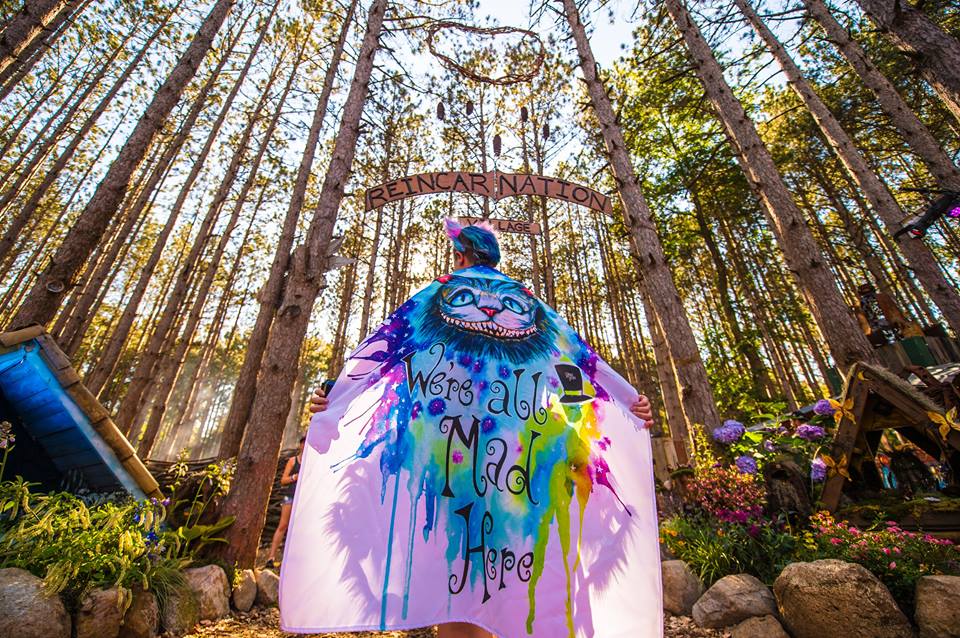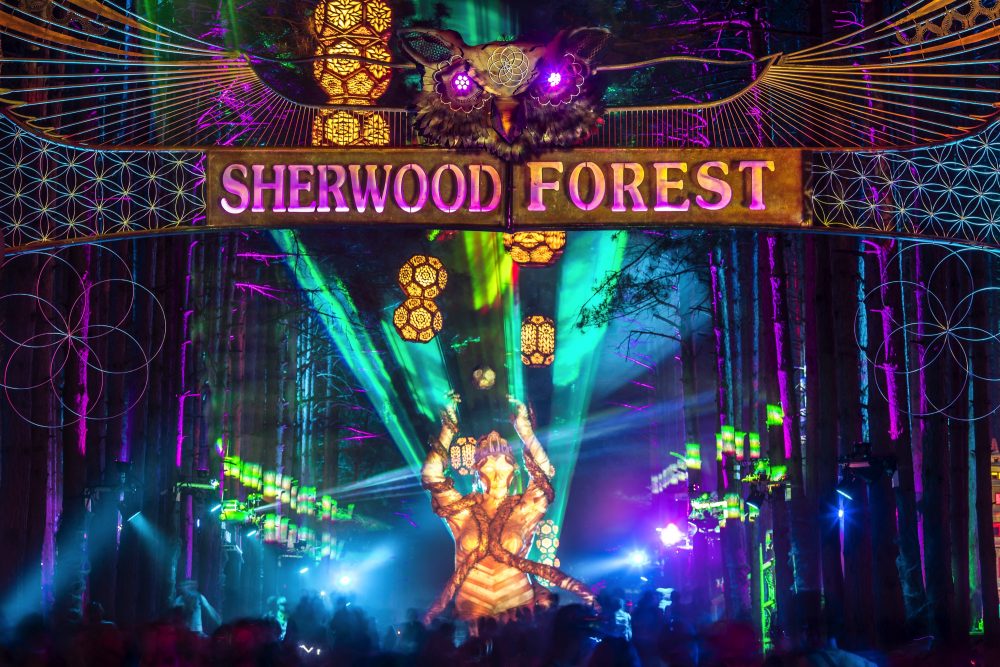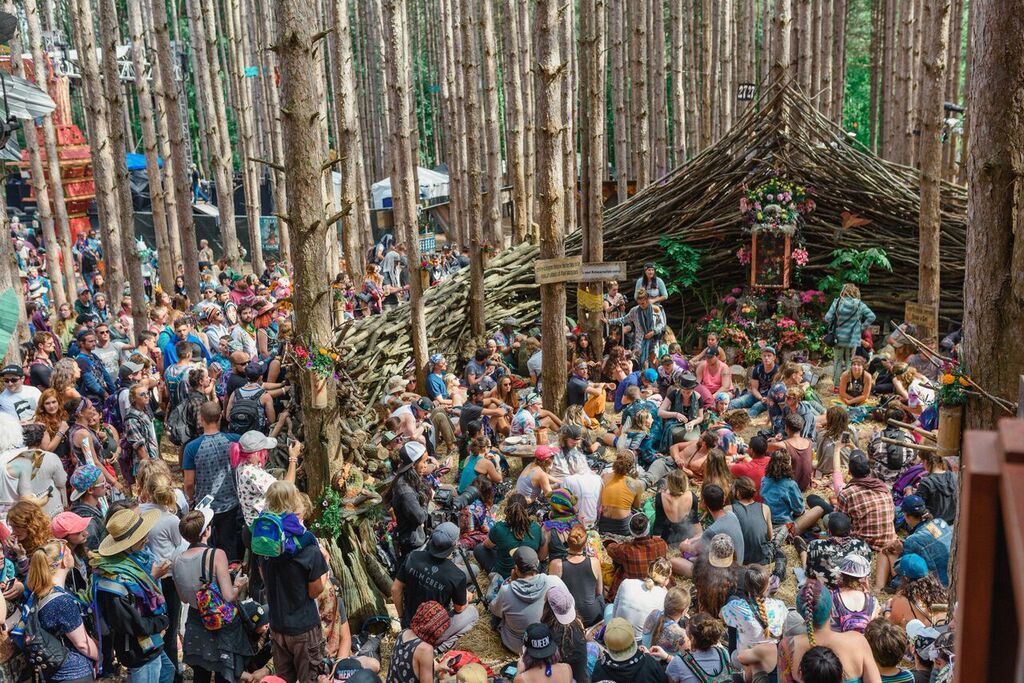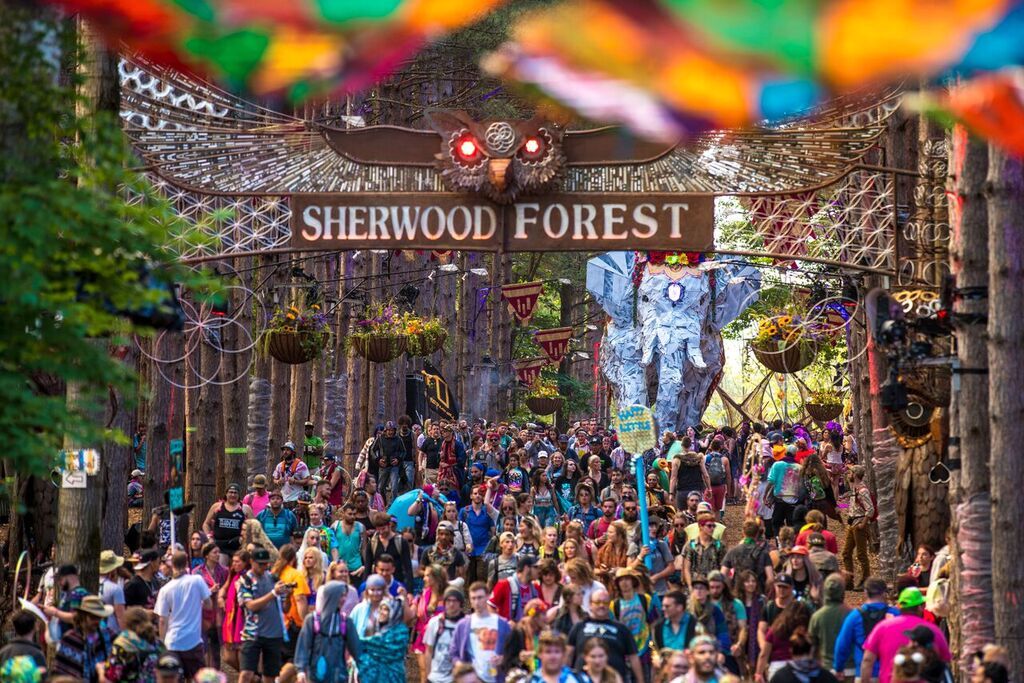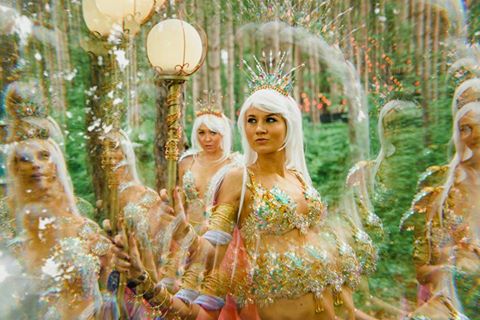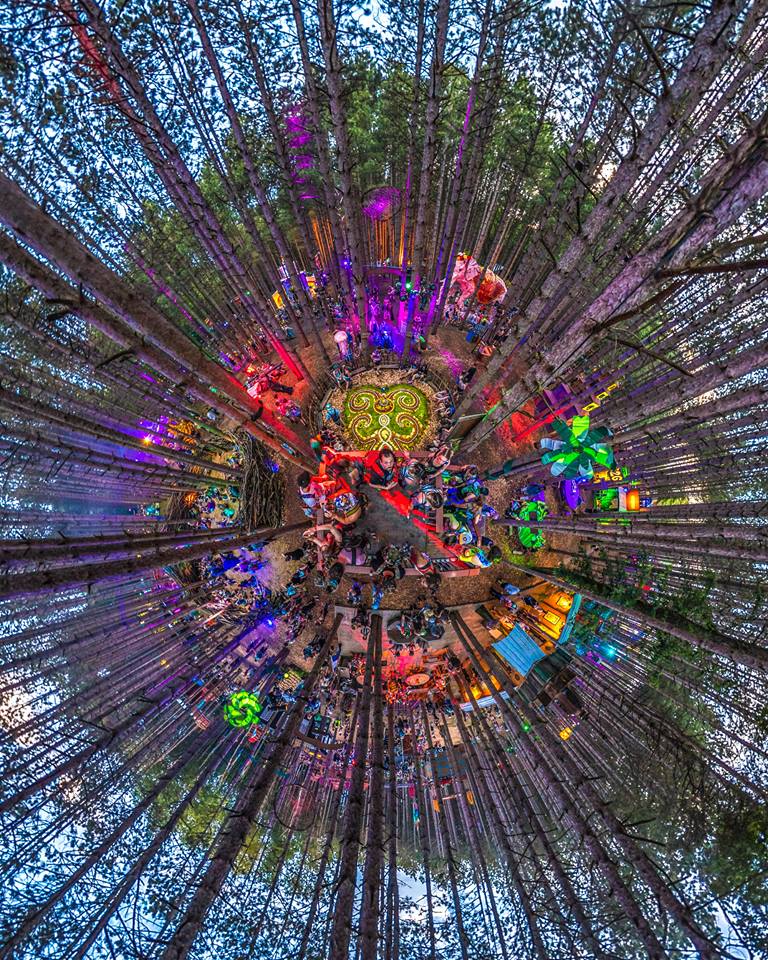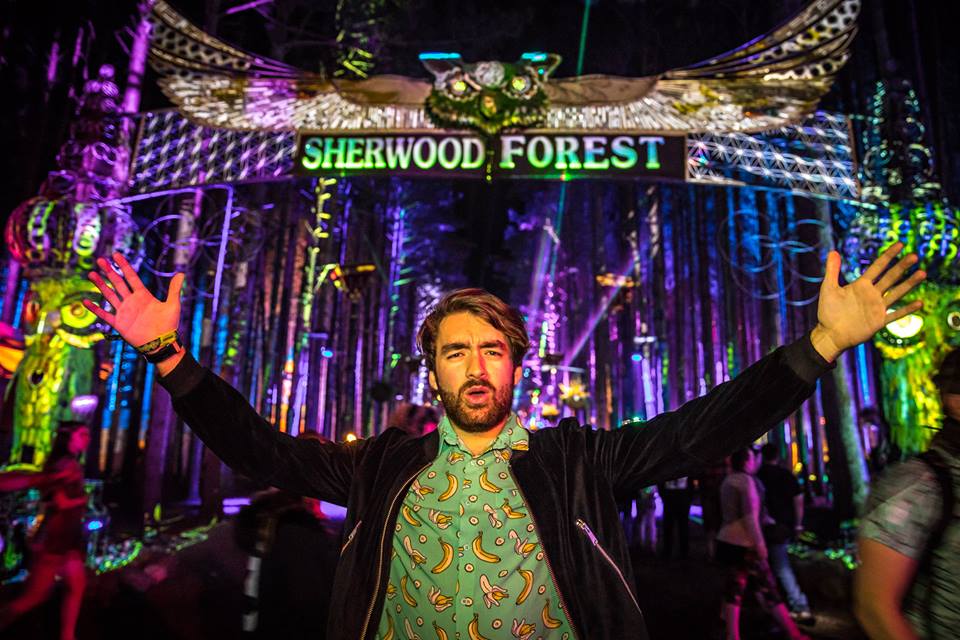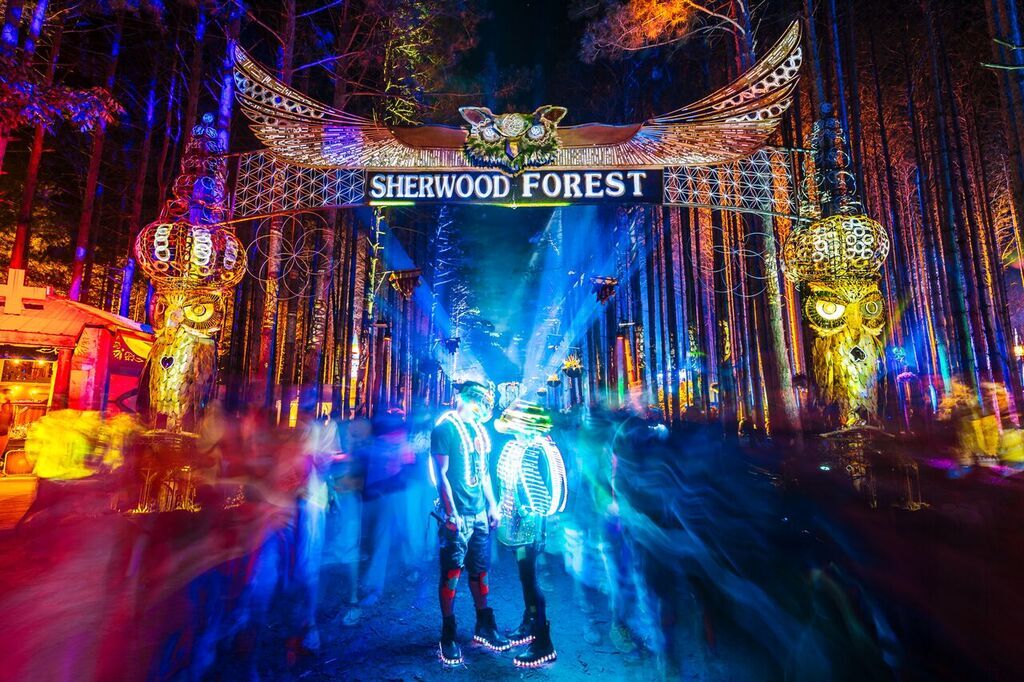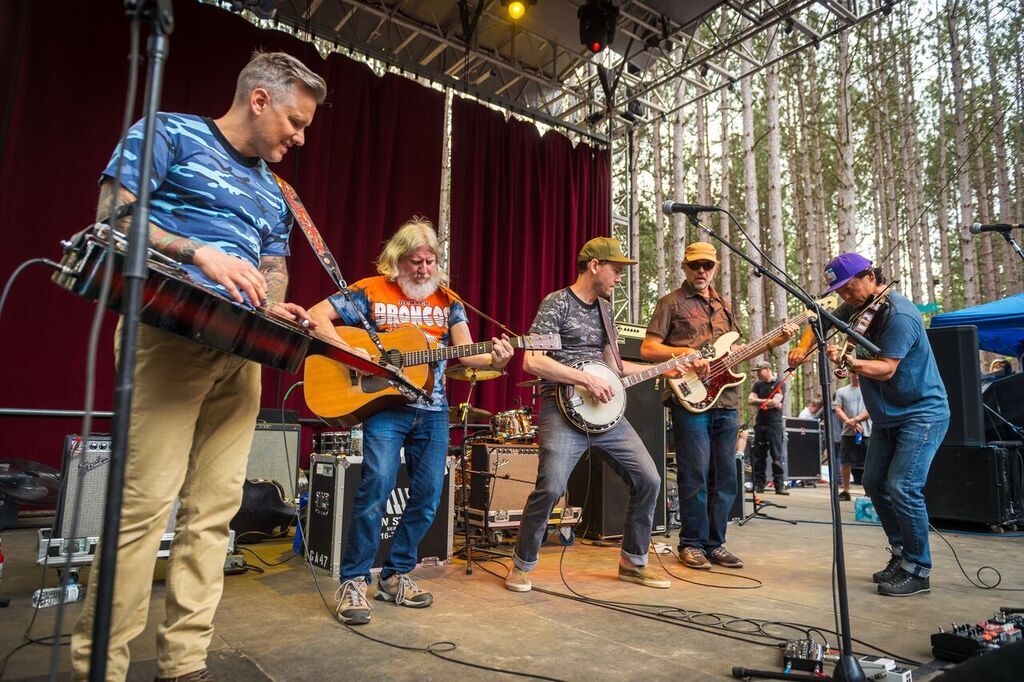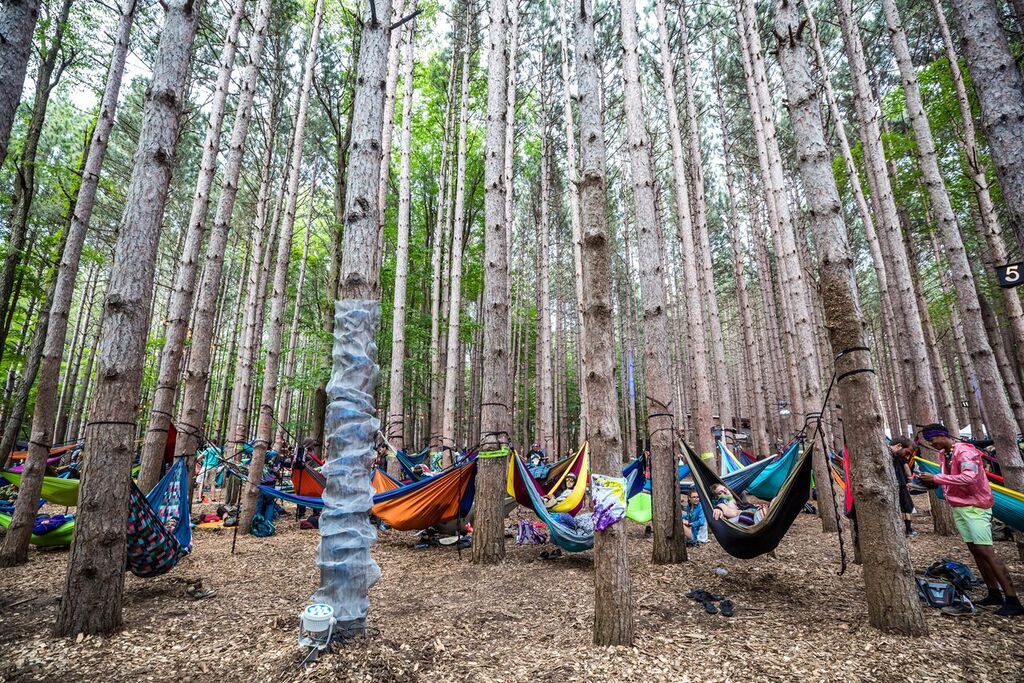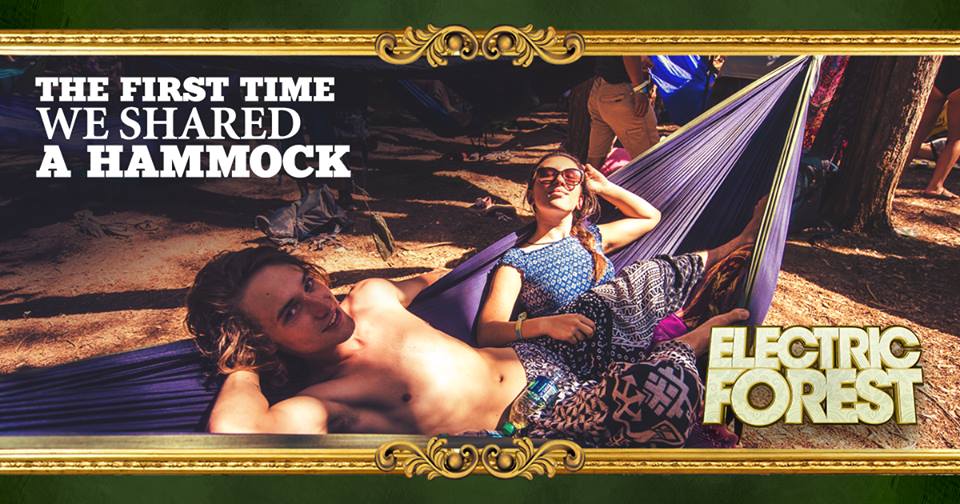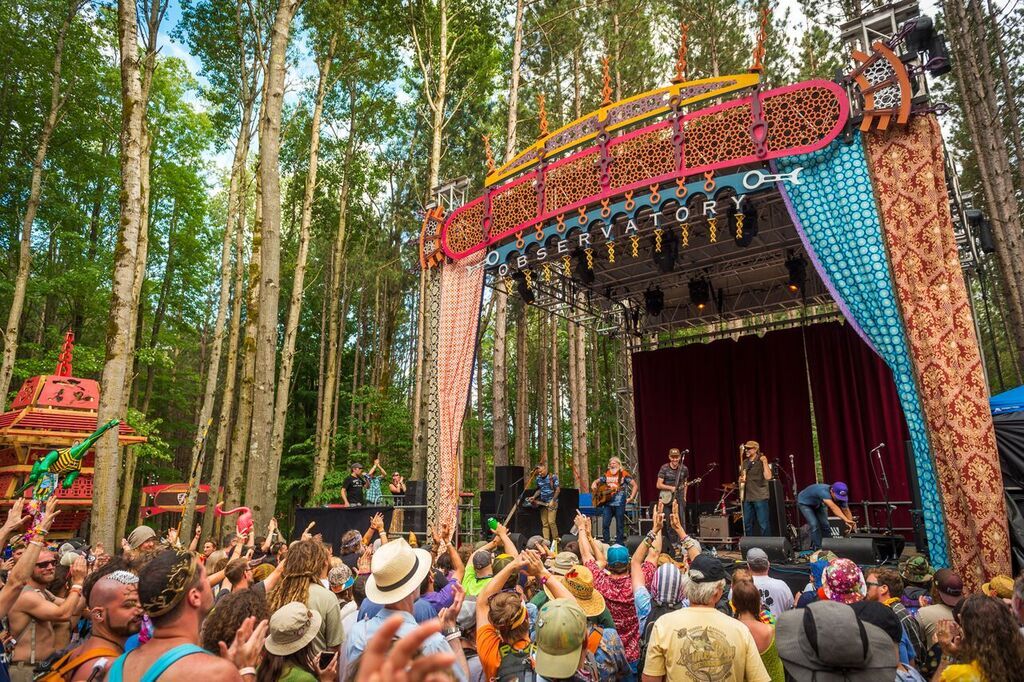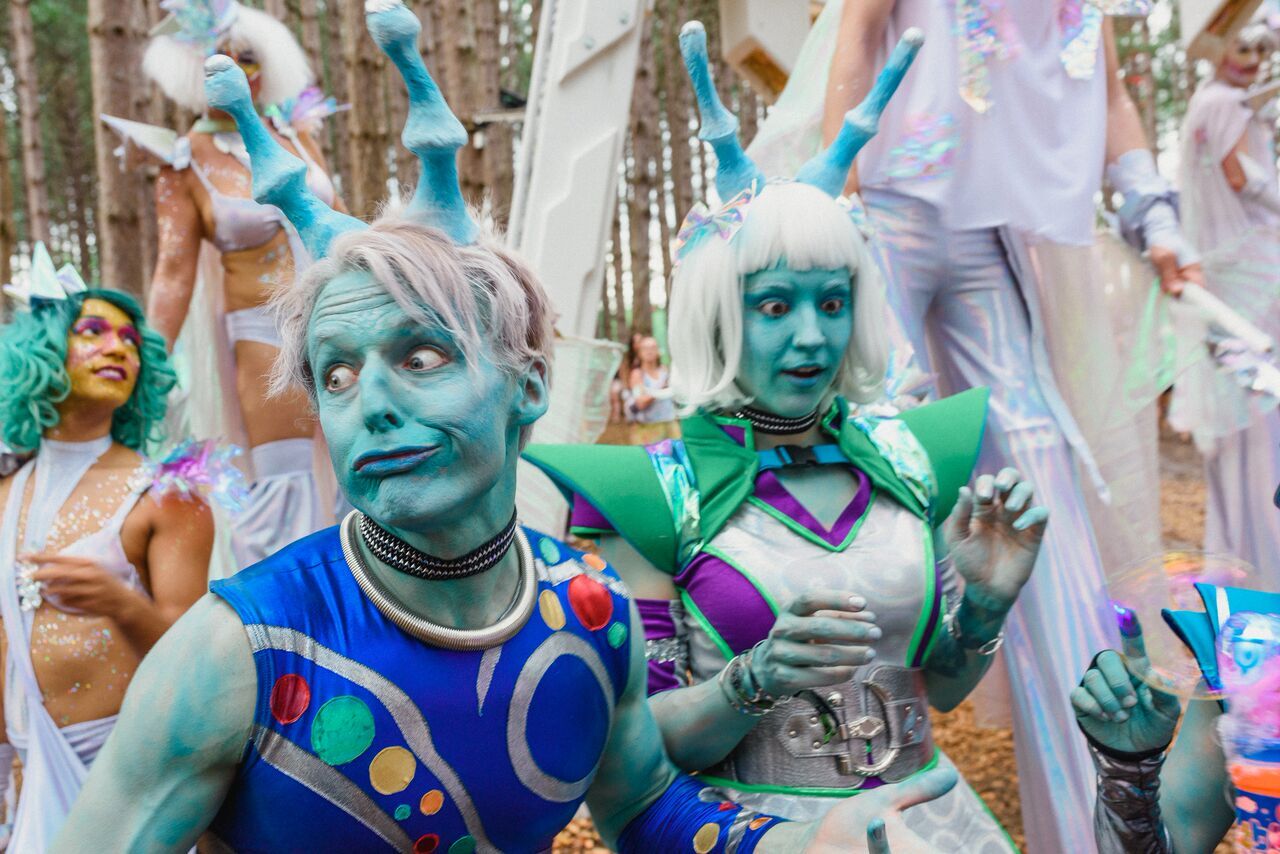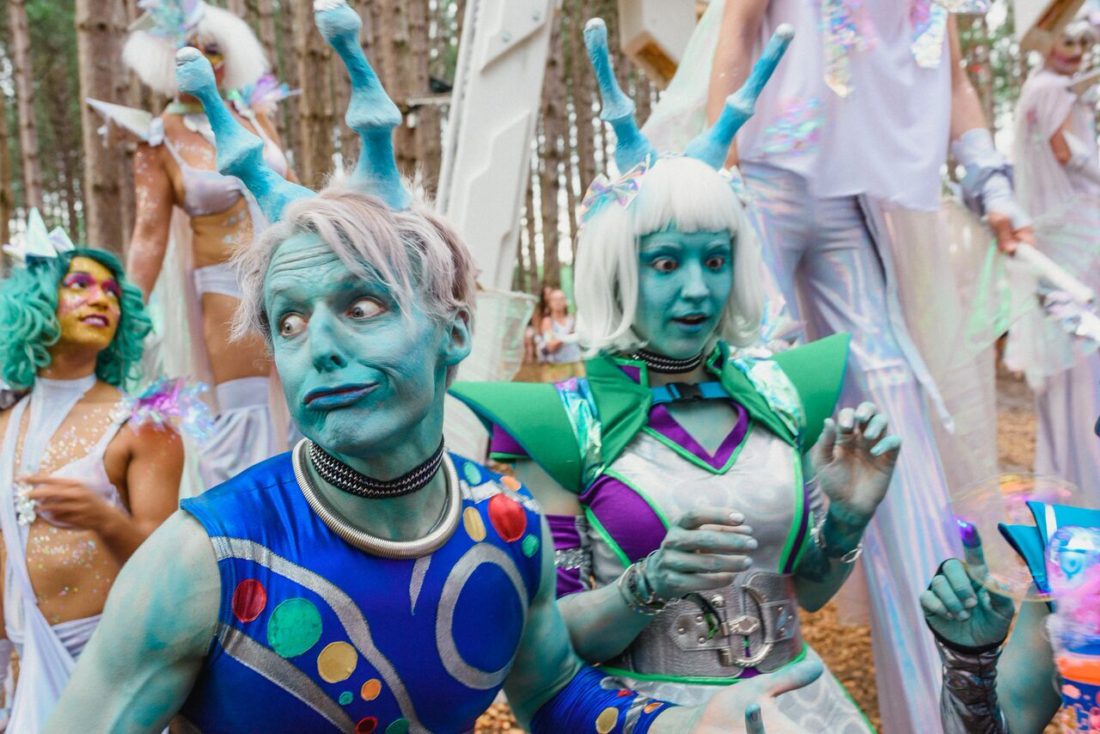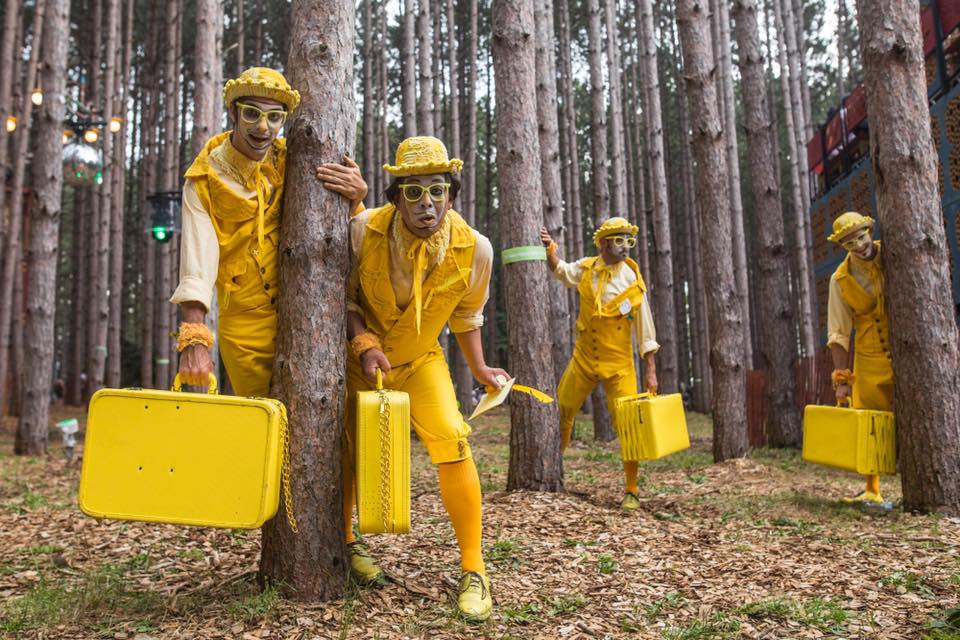 One thing that makes Electric Forest different than many other EDM festivals is that they have many live artists and interactive art installations that change up every year. Every year there is always something new to explore. Electric Forest Founder / Producer and President of Madison House Presents, Jeremy Stein had this to say after the first weekend, "We plan year around to raise the magic of Electric Forest from the year before. Experiencing the festival with the EF community brings all the hard work to life and inspires us for the next year, and in this case, the next weekend. We couldn't be more grateful and humbled by the enthusiasm and contributions the entire Forest Family brings to the EF experience."
This year Electric Forest unveiled several new art installations including the Caravan Elephant centerpiece, Mechan9 Robot, The Night Lily, Pisces Pool, and more. The Reincarnation Village encourages introspection and conversation on the topics of environmentalism, consumerism, and re-usability. This is aided by the use of simple wood signs meant to encourage festival goers to stop and ponder. One reminds us that "Nature does not hurry, yet everything is accomplished." "Be Present," another emboldens. I wander through the Forest solo admiring all the beautiful artwork while there is still some daylight left. I intentionally get myself lost, just exploring the all art within the Forest. Eventually I stumble upon the Art Bar where you can make your own EF pins, wooden charm necklaces, clothespin animals, or your very own Karl so he never gets lost again.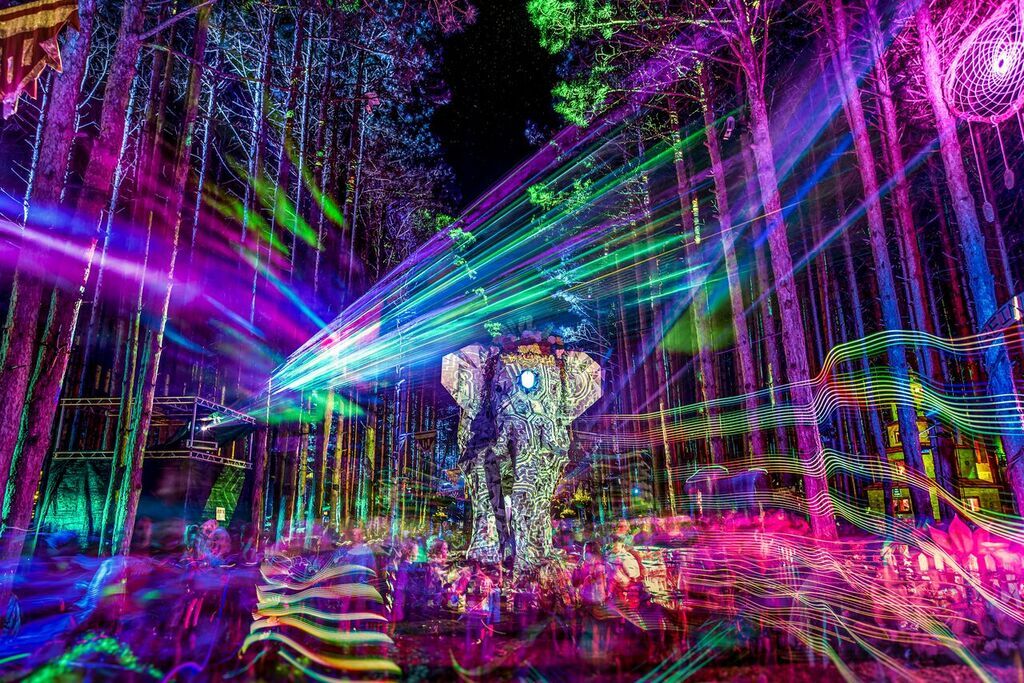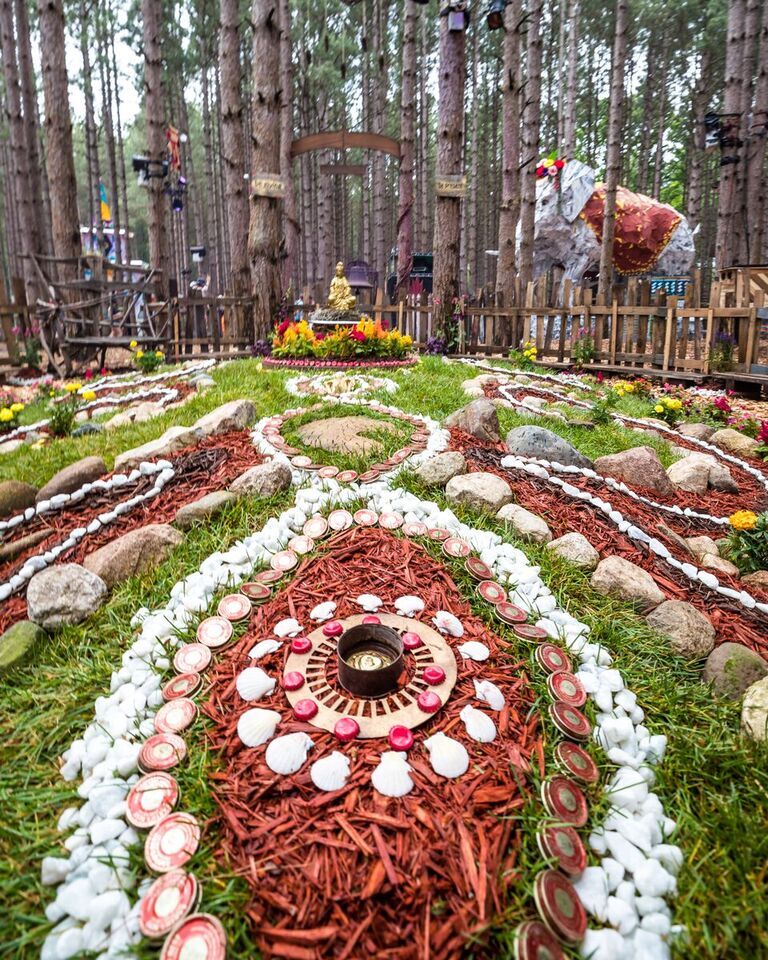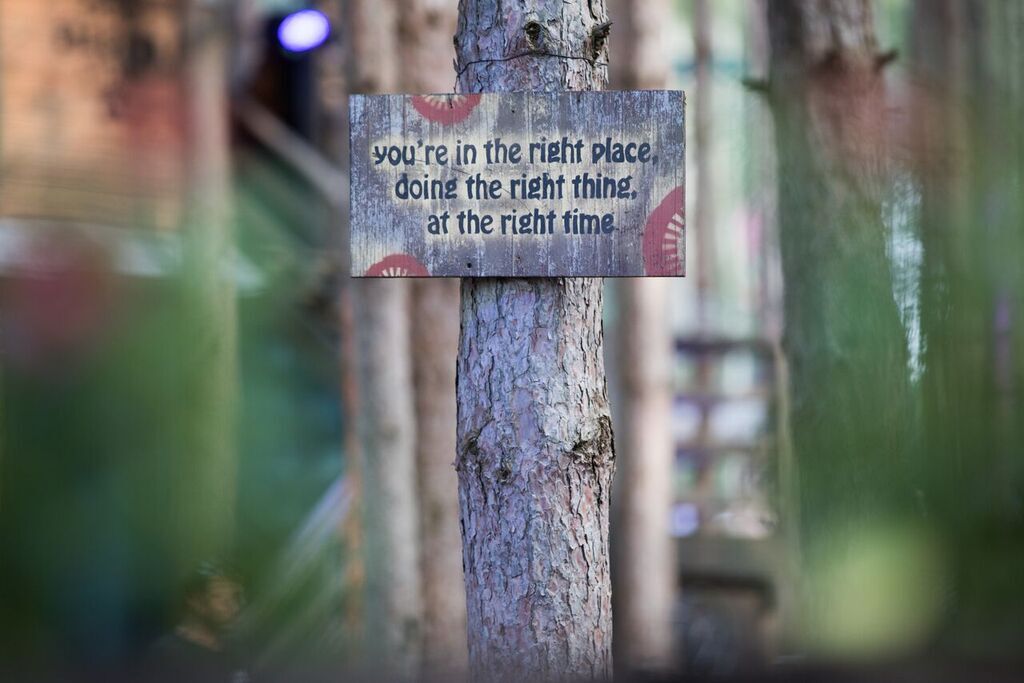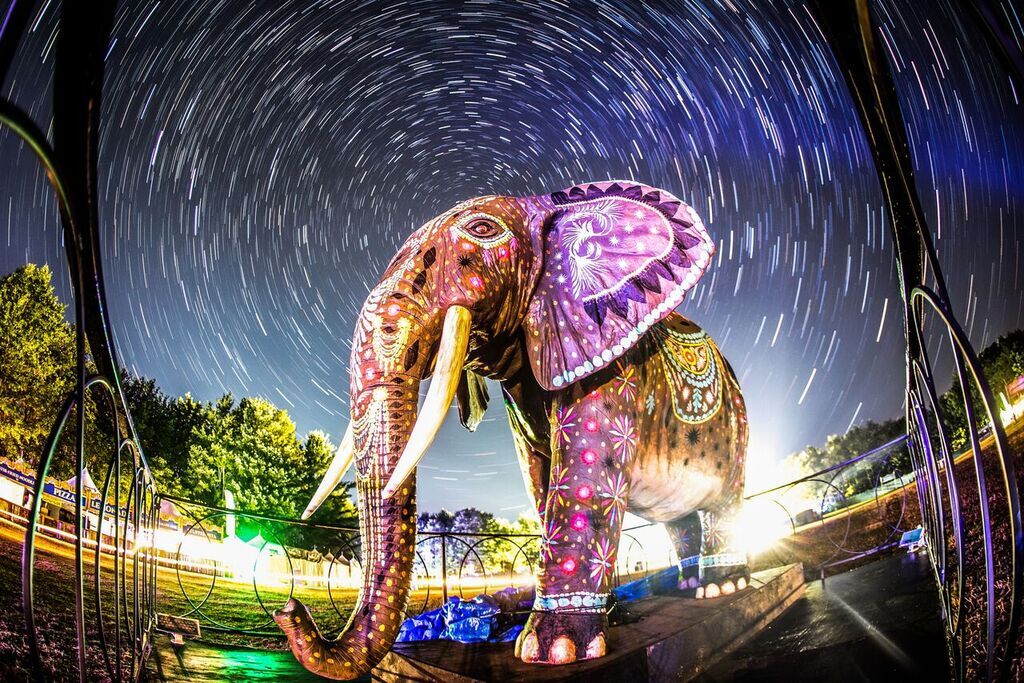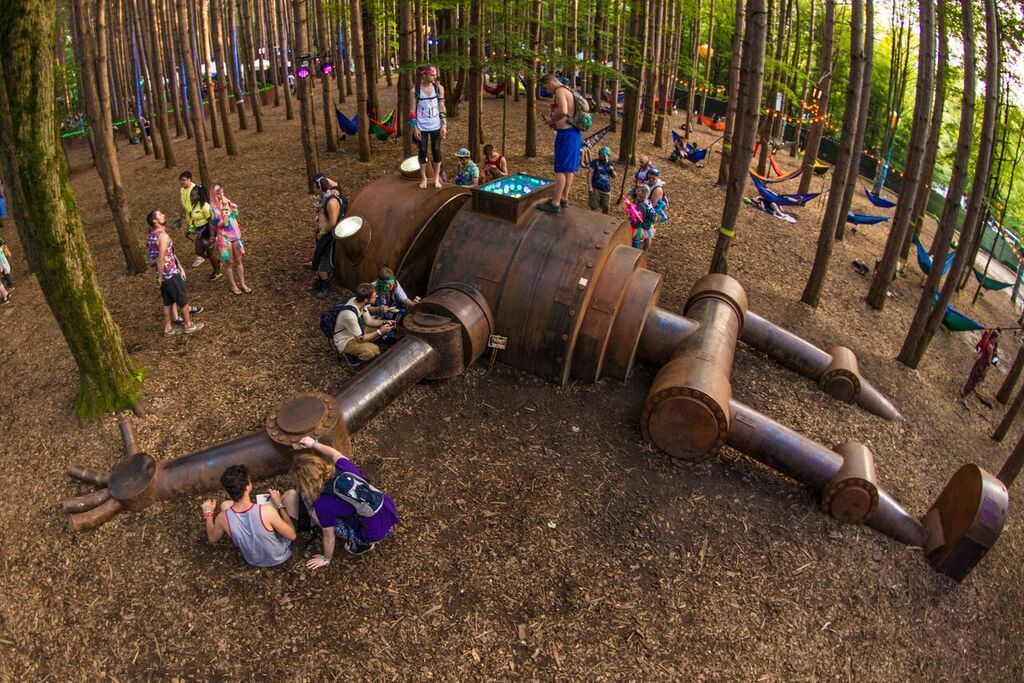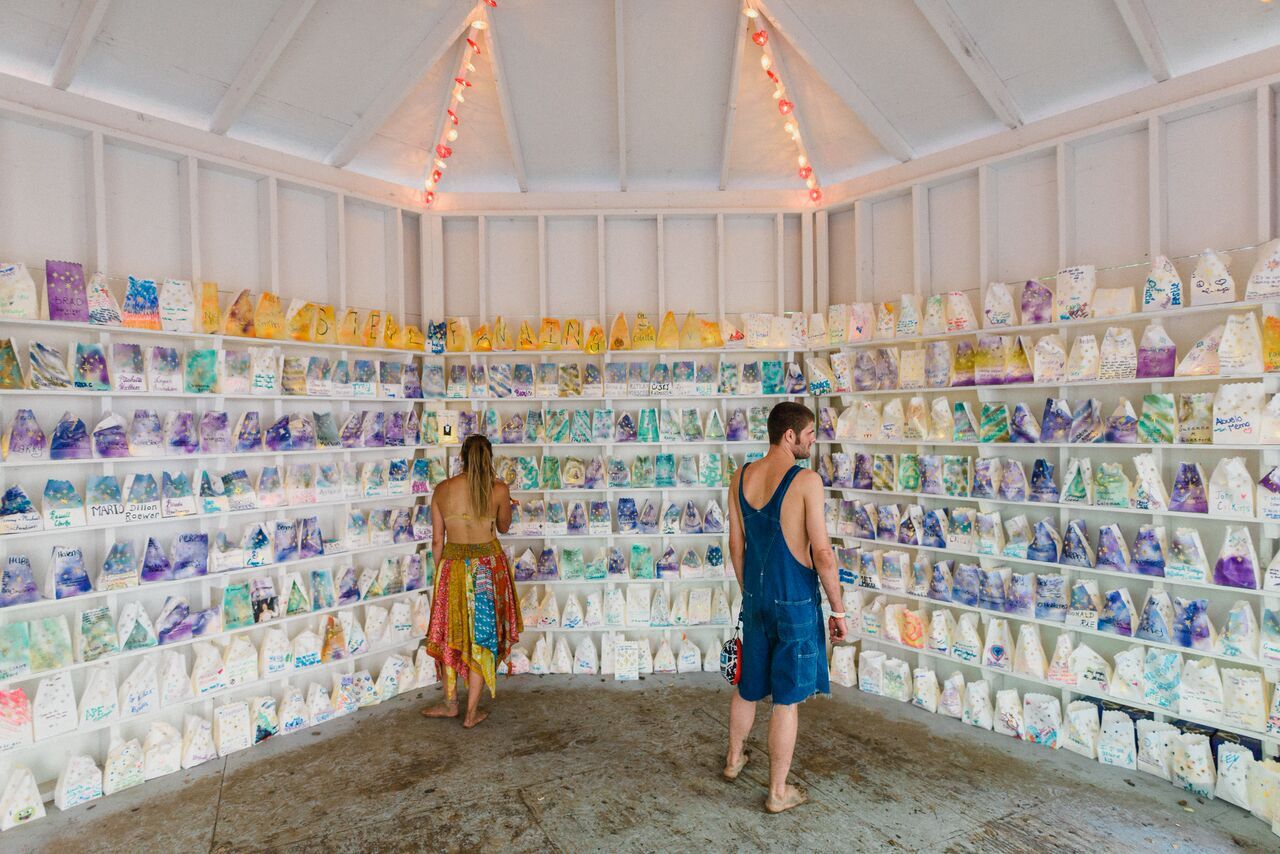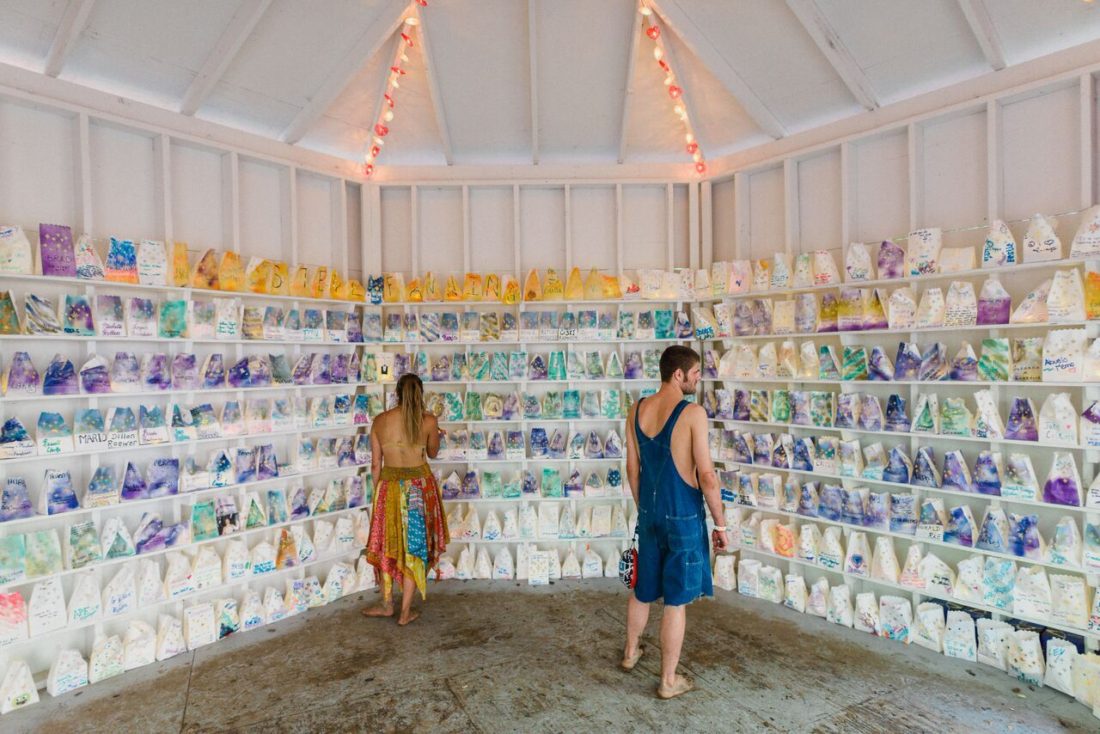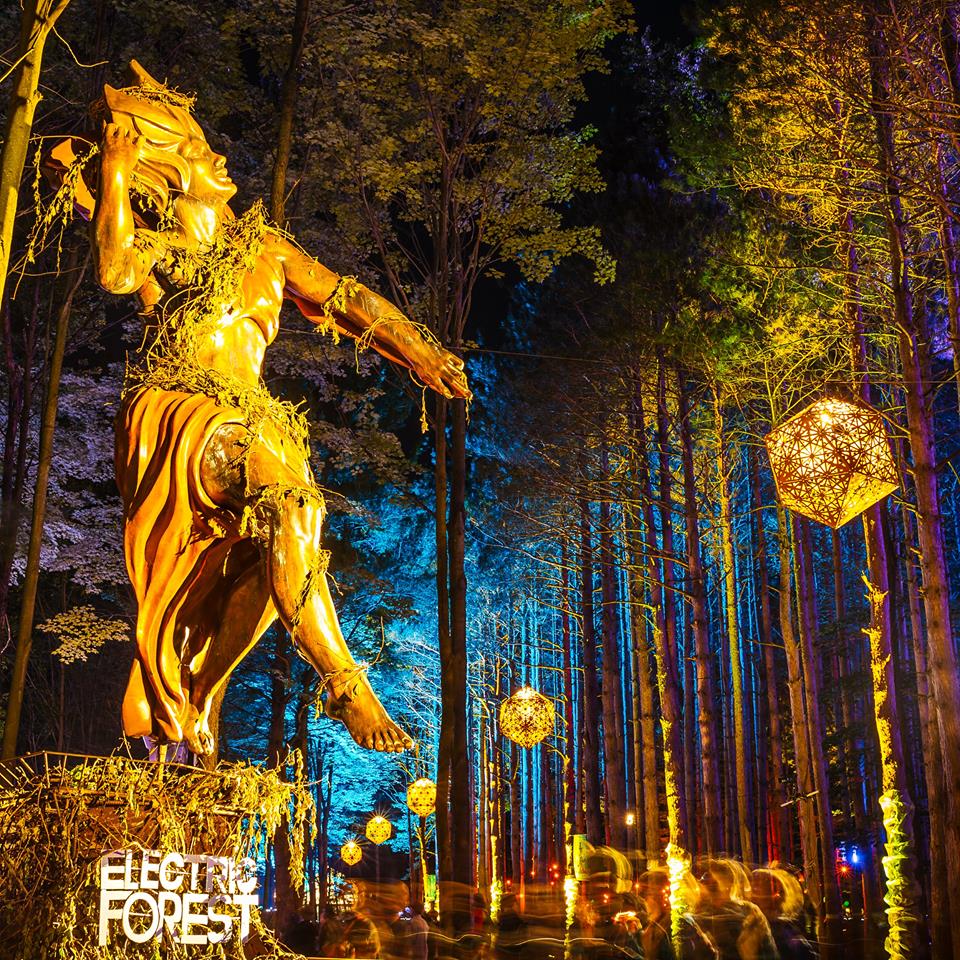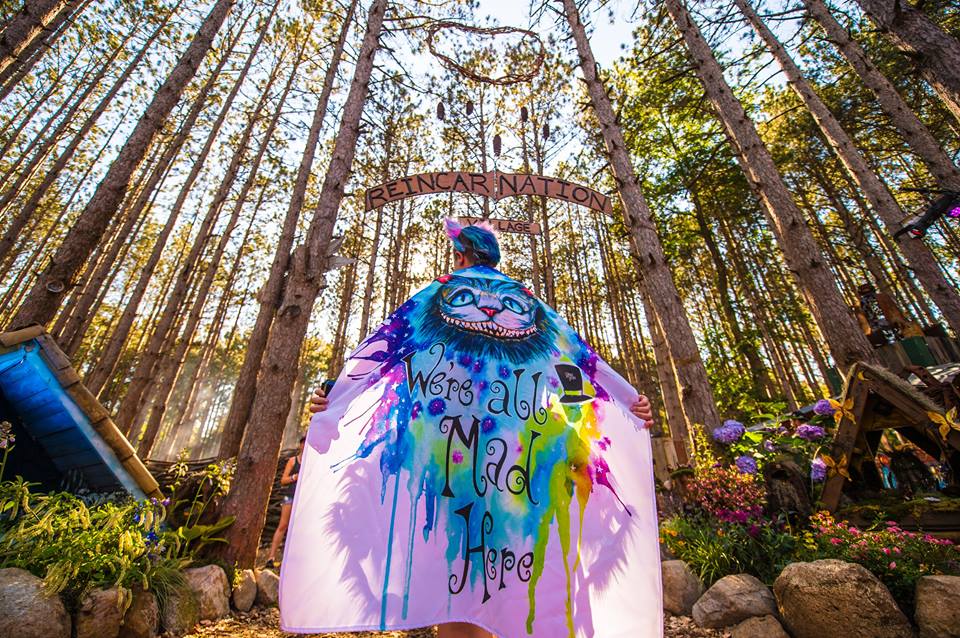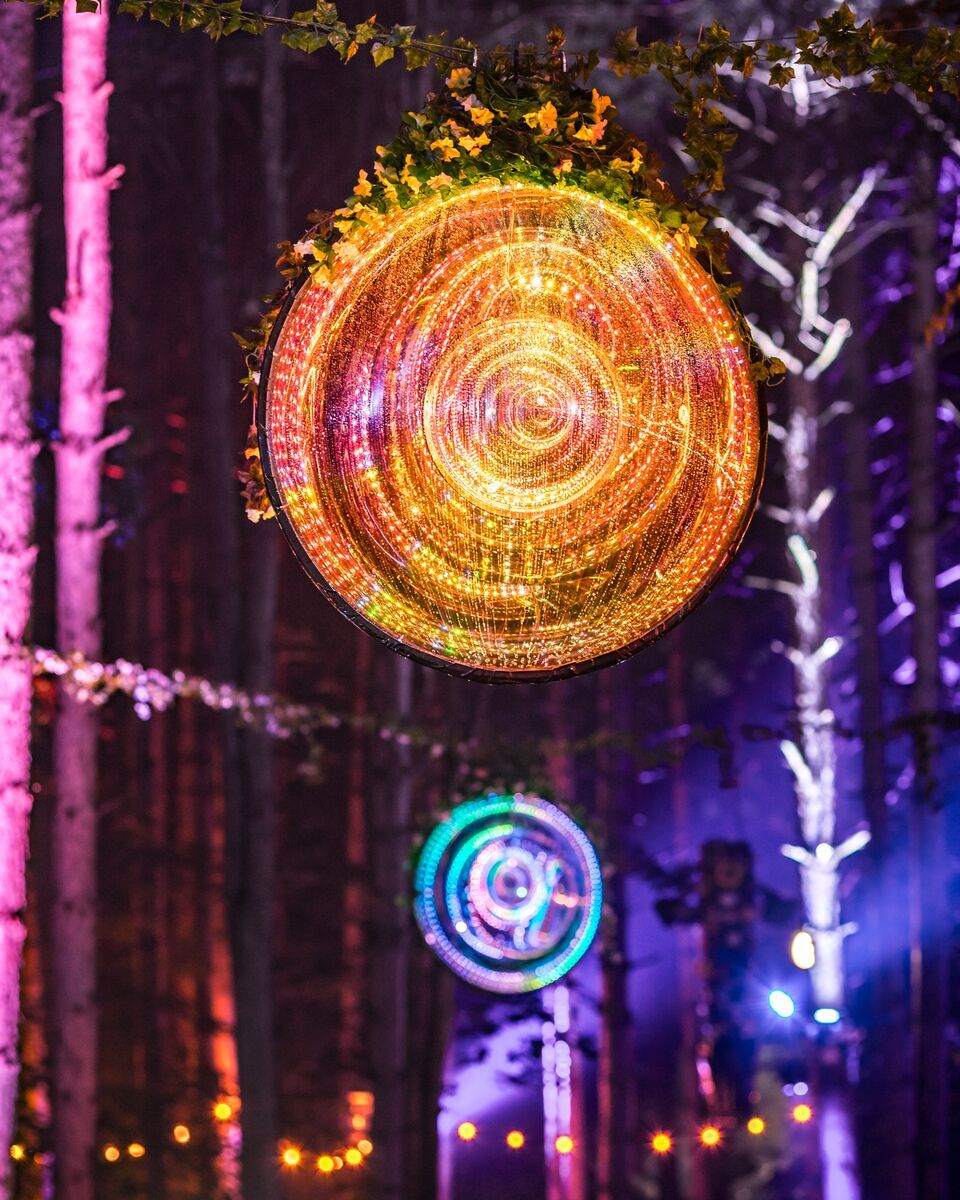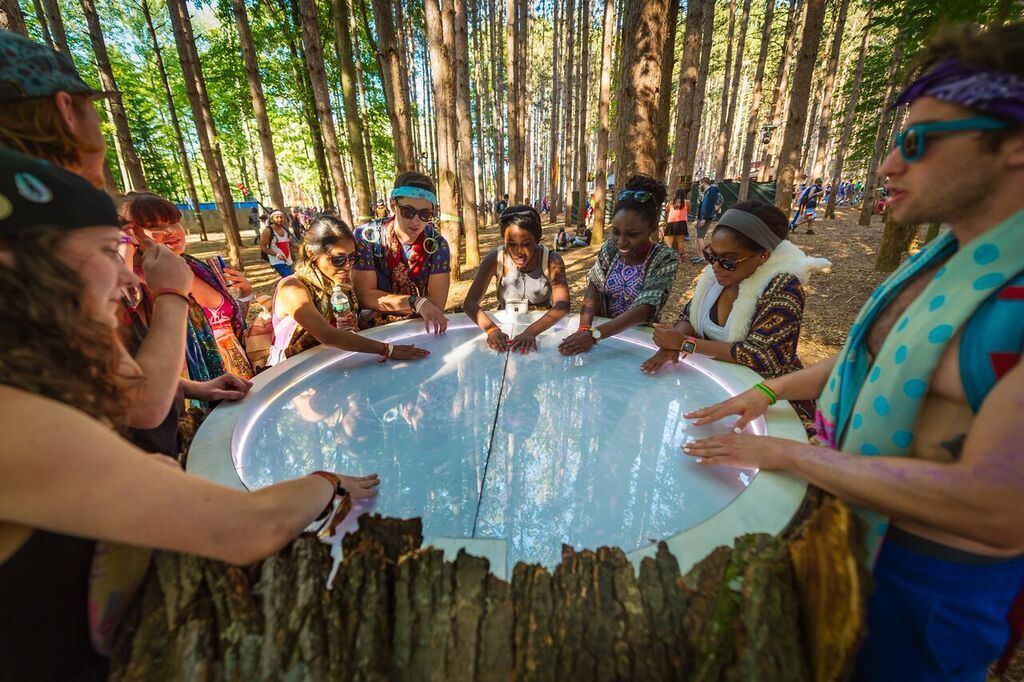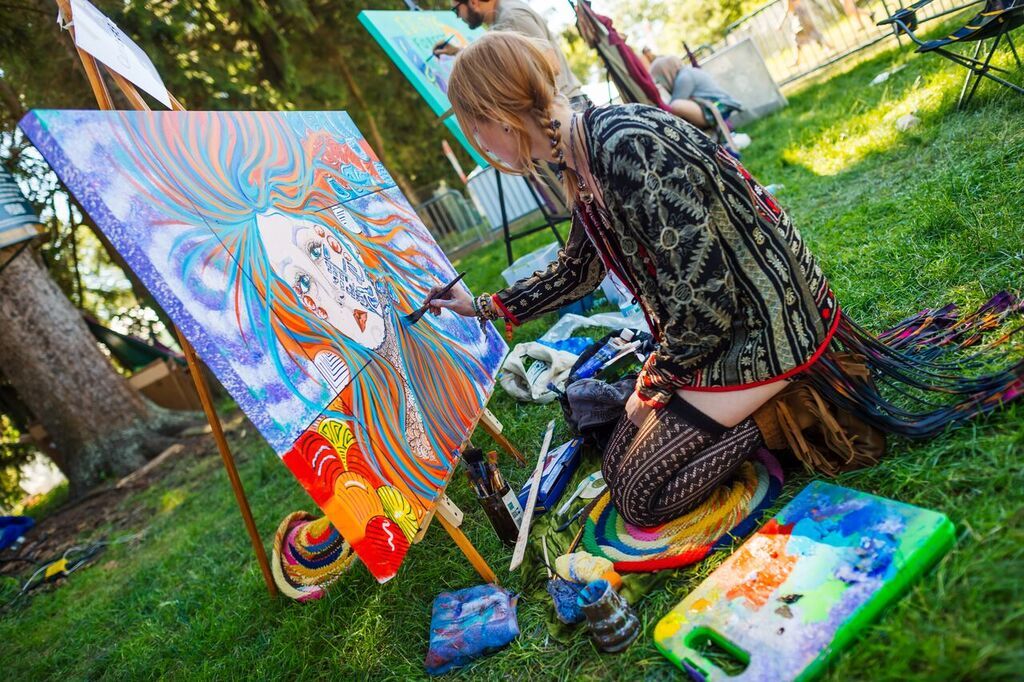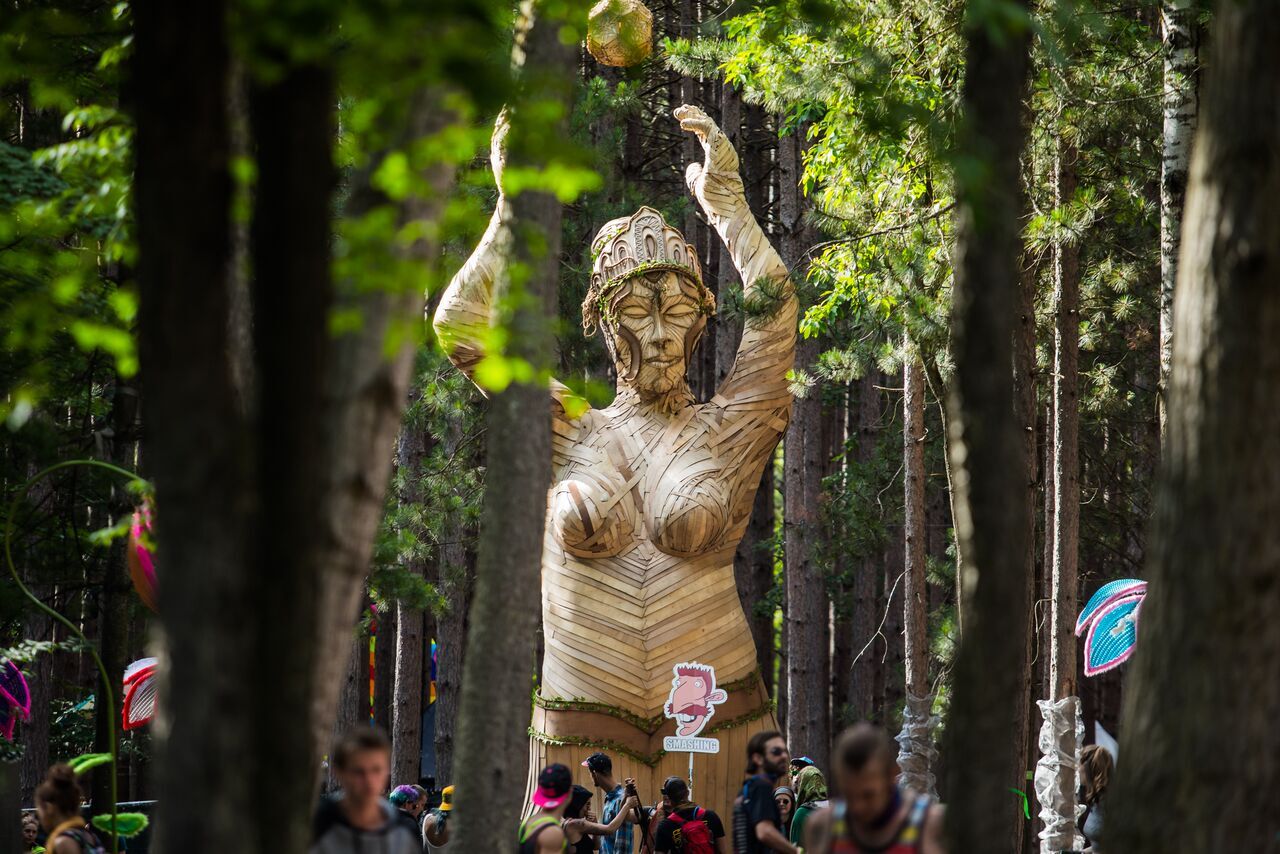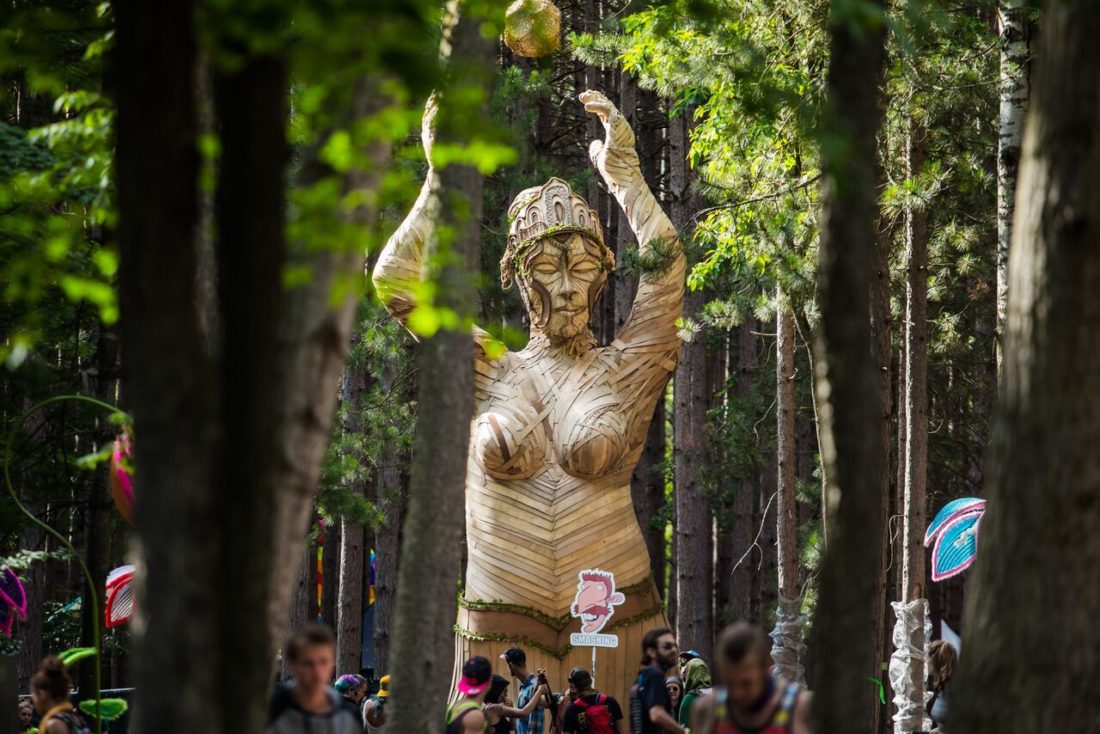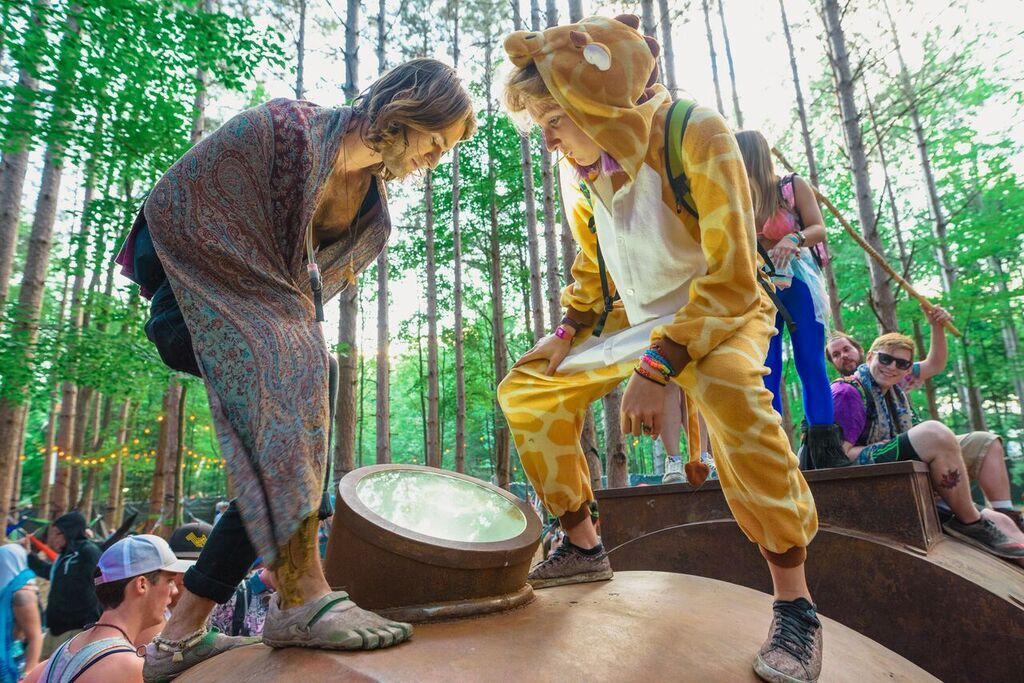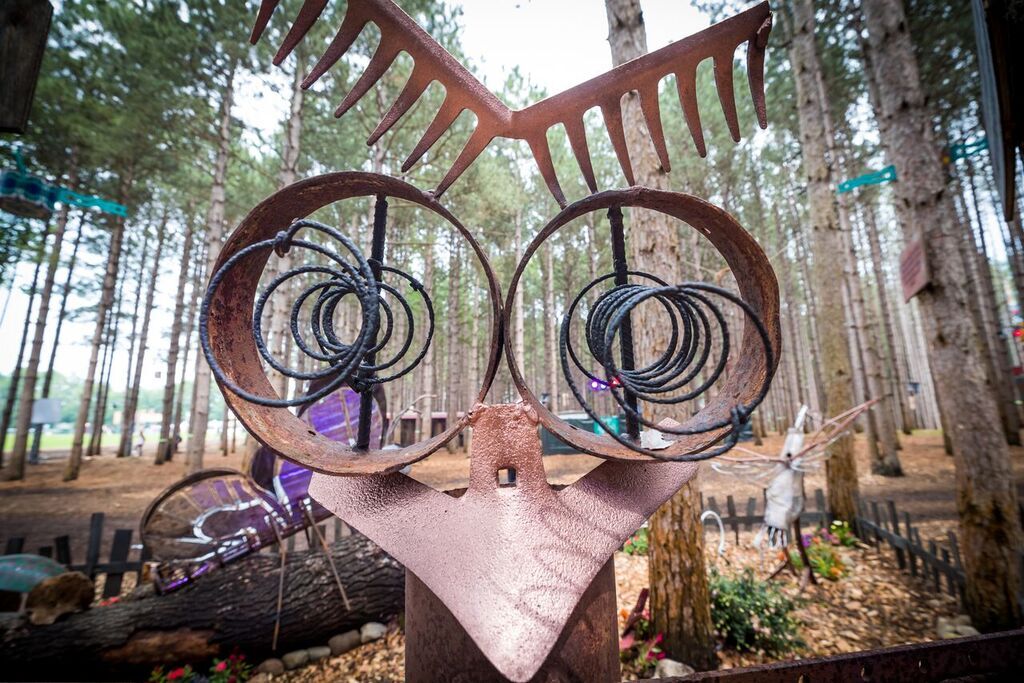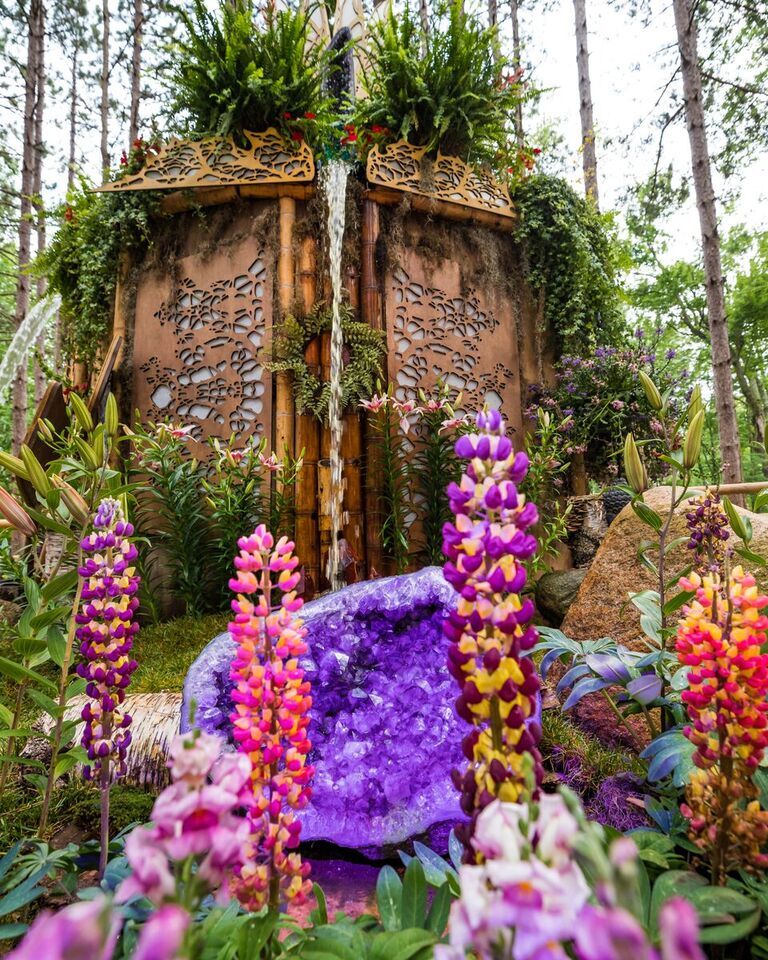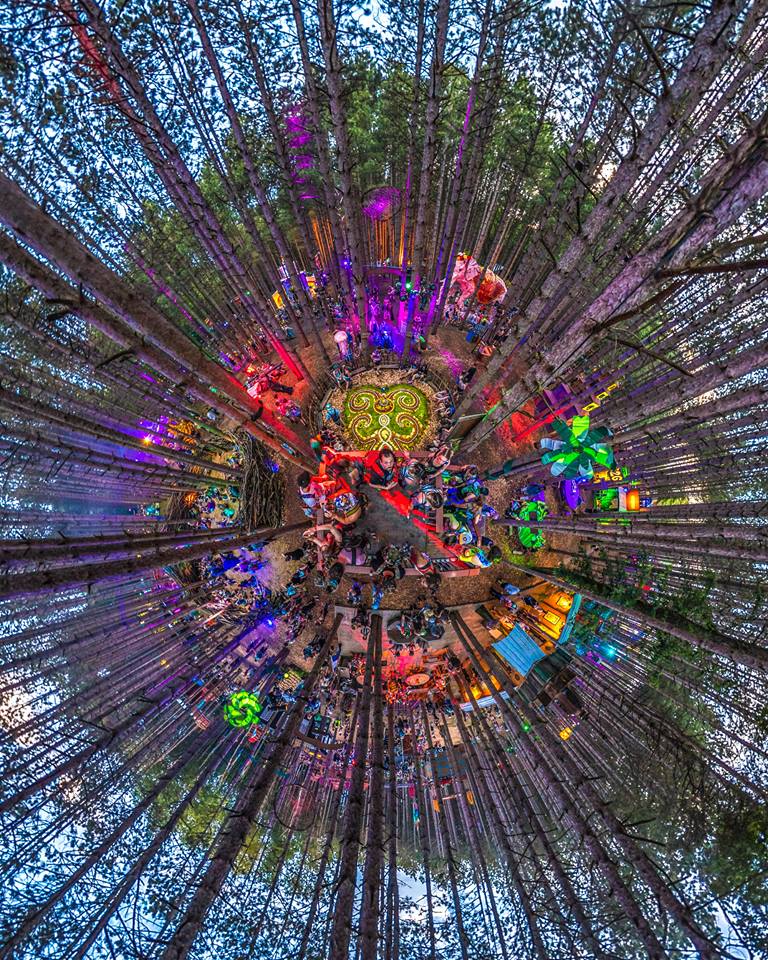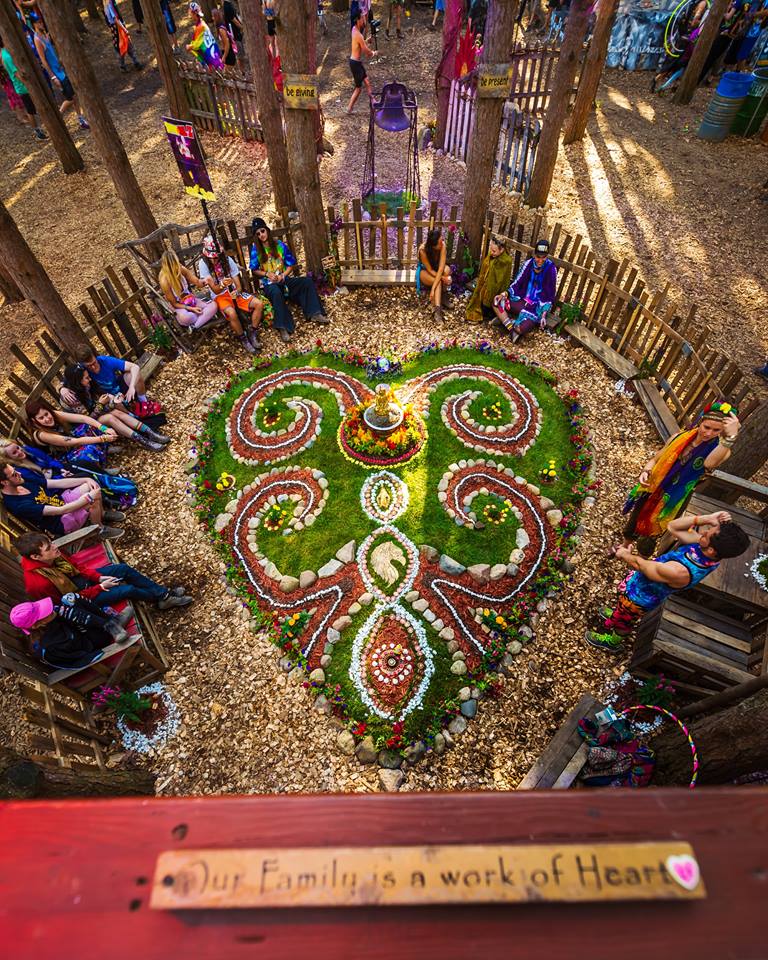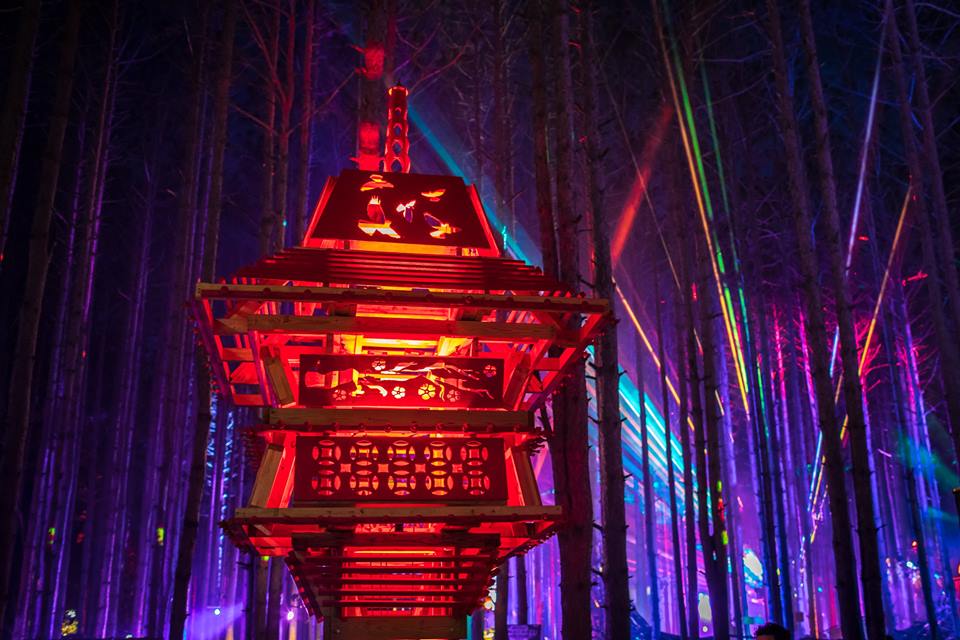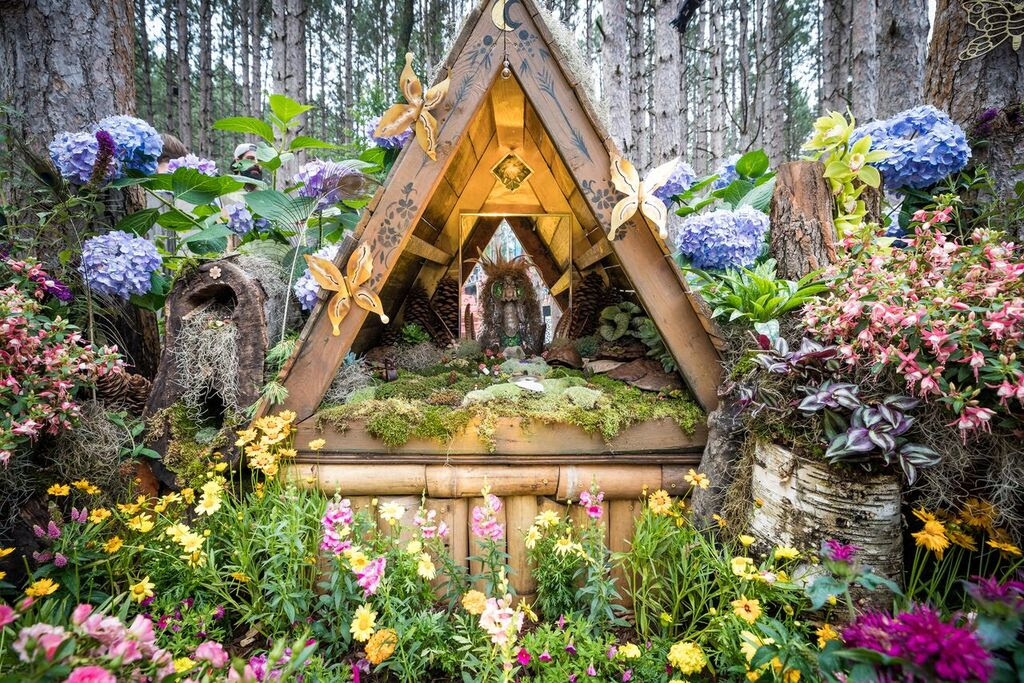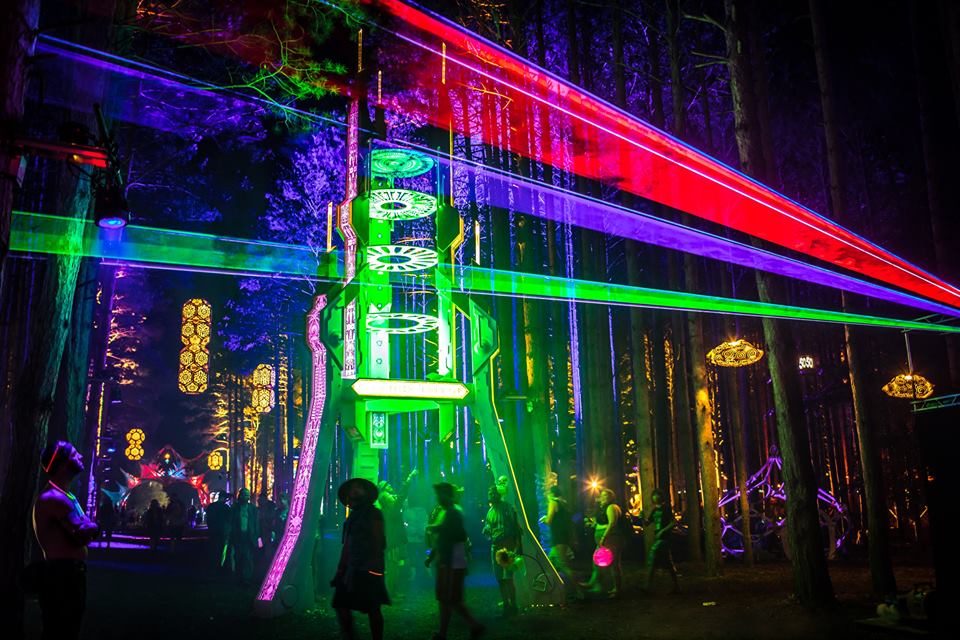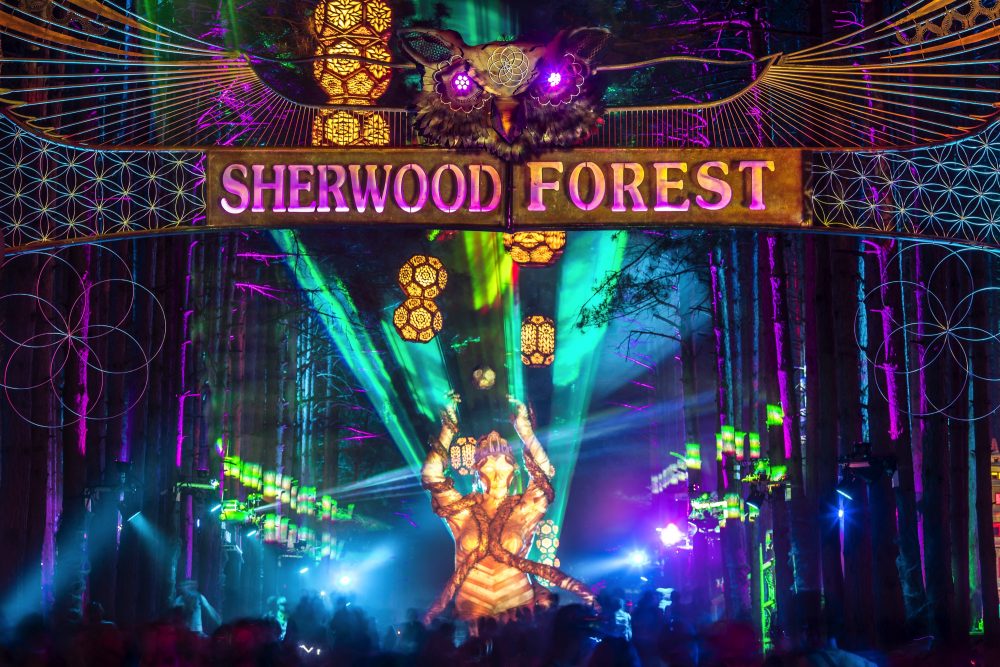 There are many more hidden gems to explore within the Forest other than the art installations. While roaming through the Forest you find the Trading Post where you can make some really unique trades. Put your wallet away when you come here because they prefer to deal in heady trades (sorry no kandi or LED light up toys). They would rather have some really unique one of a kind items or antiques. I went there and traded eleven of my favorite and rarest hat pins to obtain a handmade chain-mail necklace and an ocarina. Right behind the Trading Post there is a small hidden stage that was so packed on some nights that you couldn't even get through the crowd!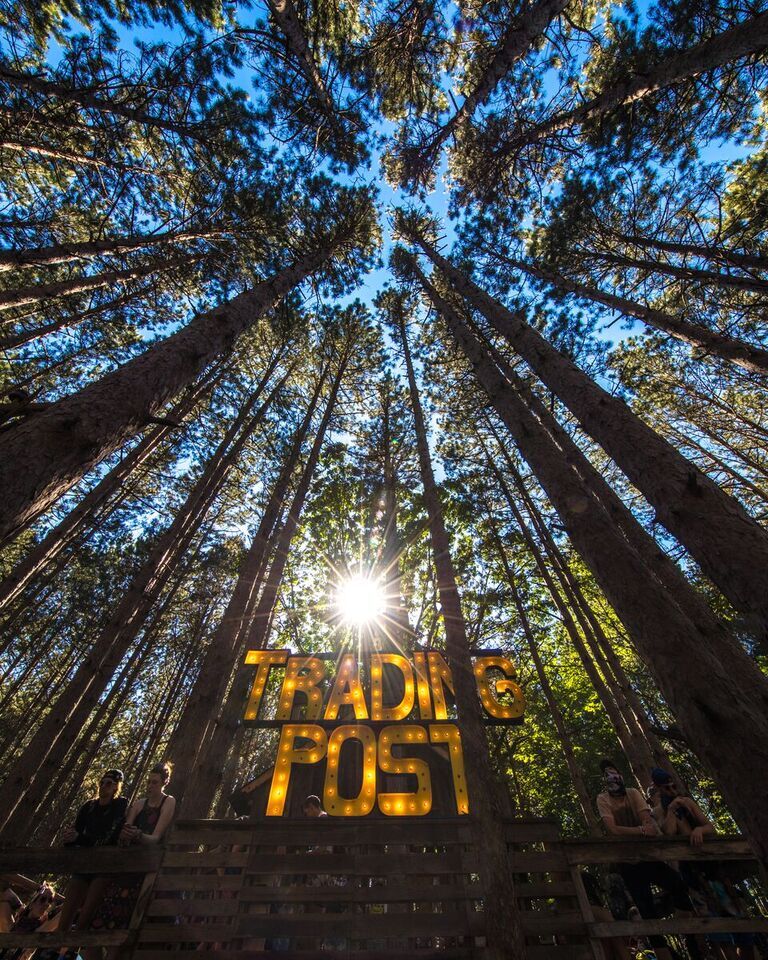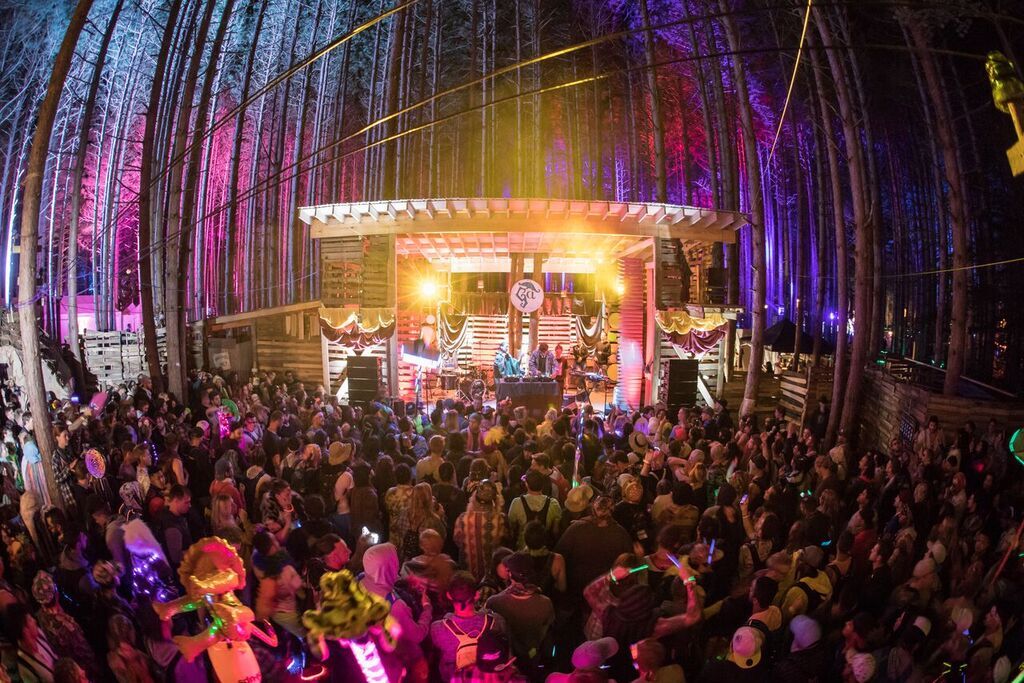 Love is abundant in the Forest, and everywhere you look you can see people holding hands or hugging. If the moment feels right and you feel like getting Forest married, then head on over to the Chapel where they hold some of the most comical weddings you will ever see. I myself got Forest married to a girl on the second day of weekend two after knowing her for less than an hour. It was hilarious as we got to switch up the gender roles and I got to be the bride walking down the aisle in a white gown (they provide all the clothes needed). They even give you a "marriage" certificate and a copy of your wedding picture after the ceremony. Close to the Chapel you can visit the Book Nook where you can trade out books for ones you haven't read yet. There is even a piano in this area if you feel like ticklin' the ivories.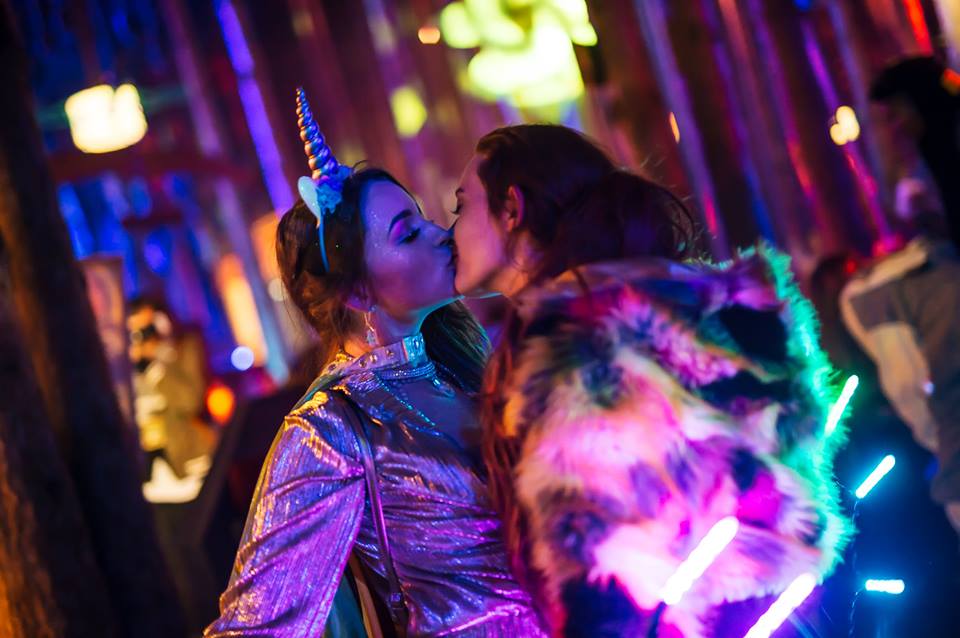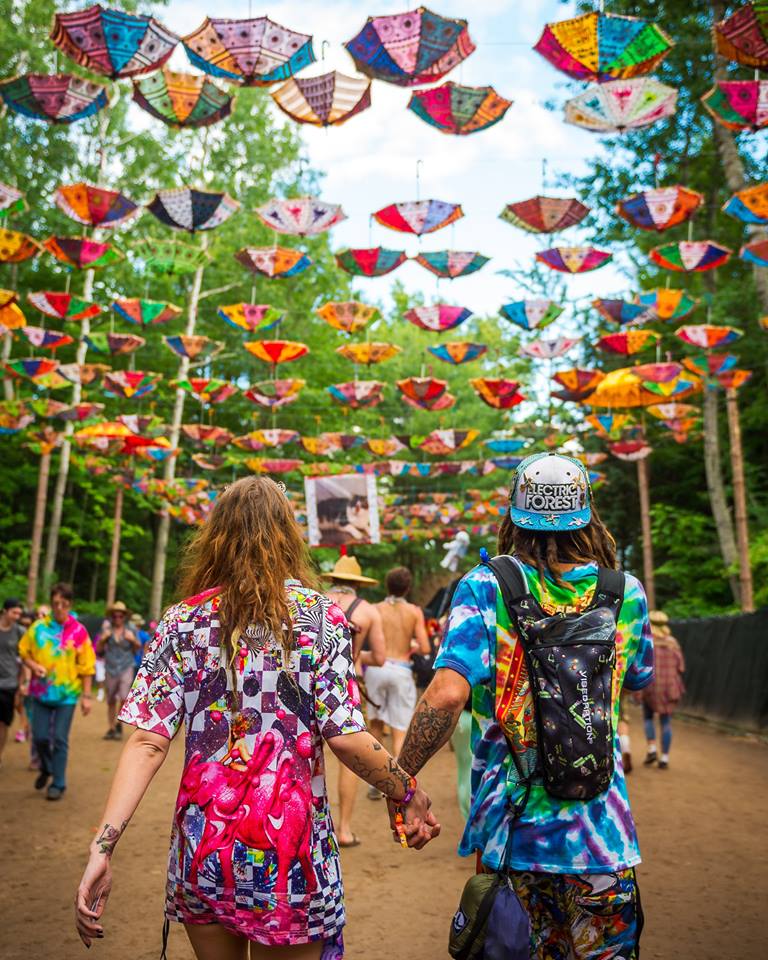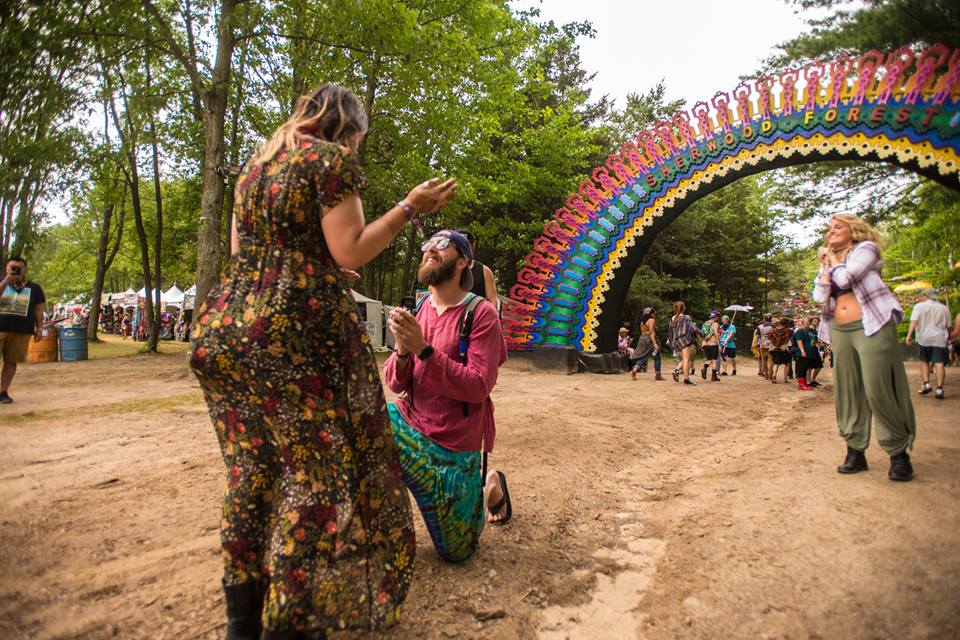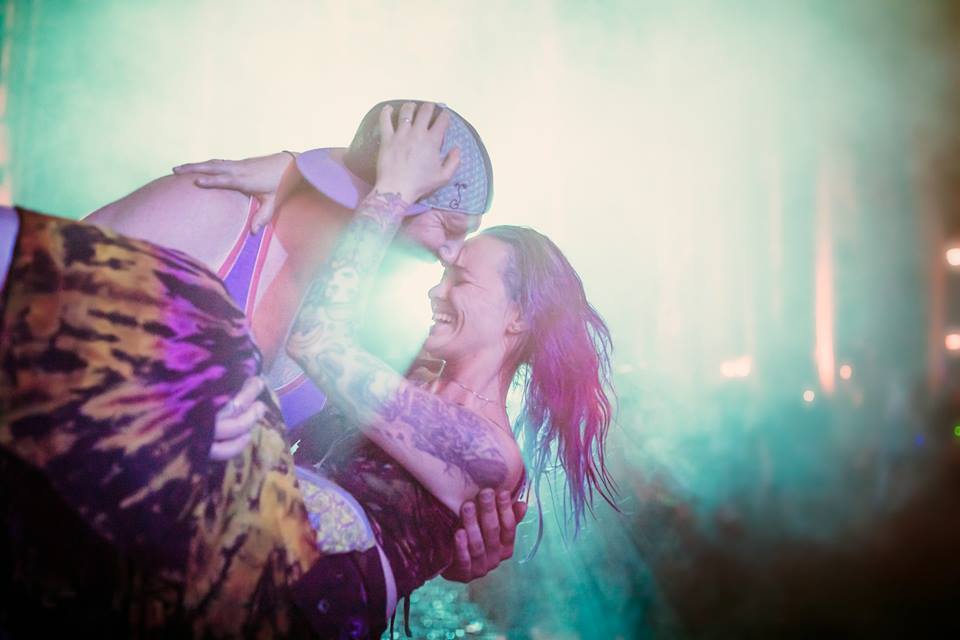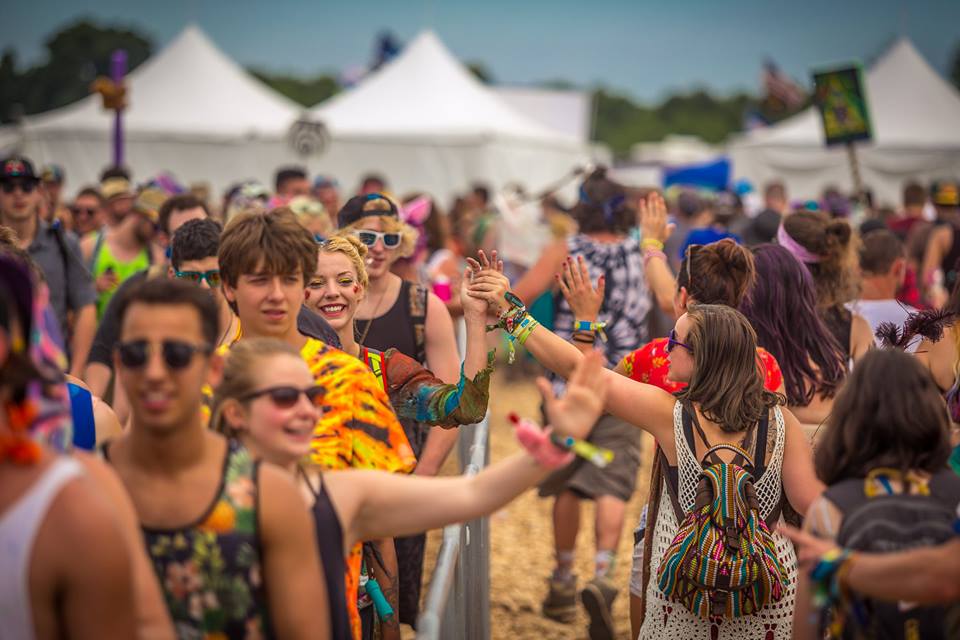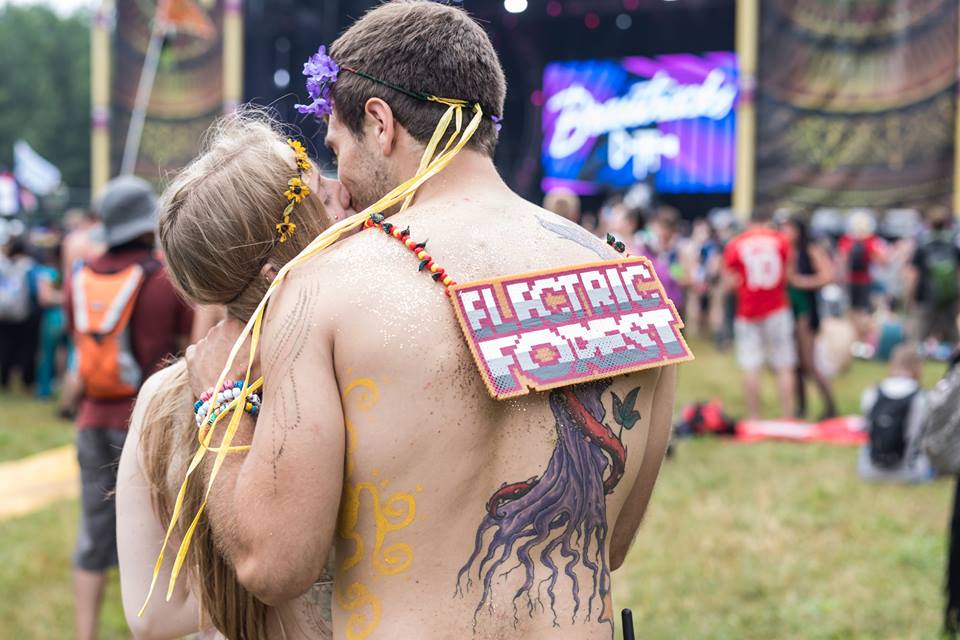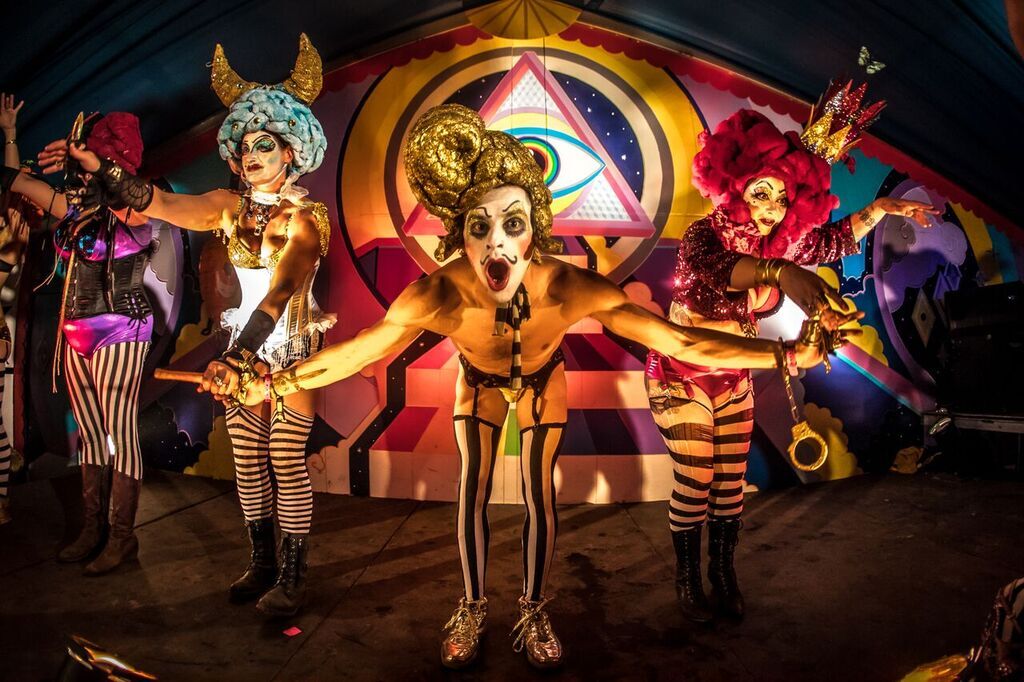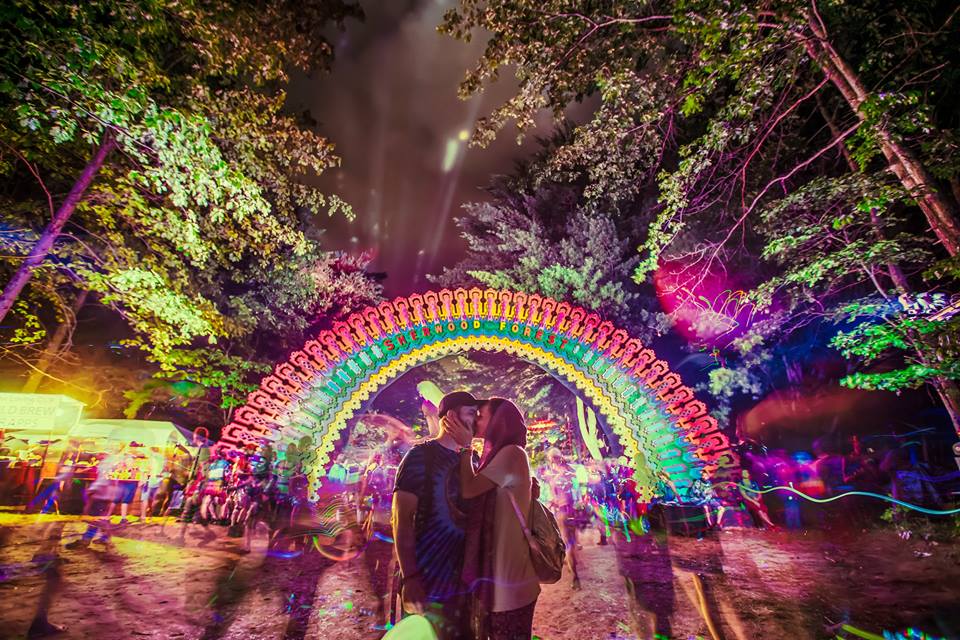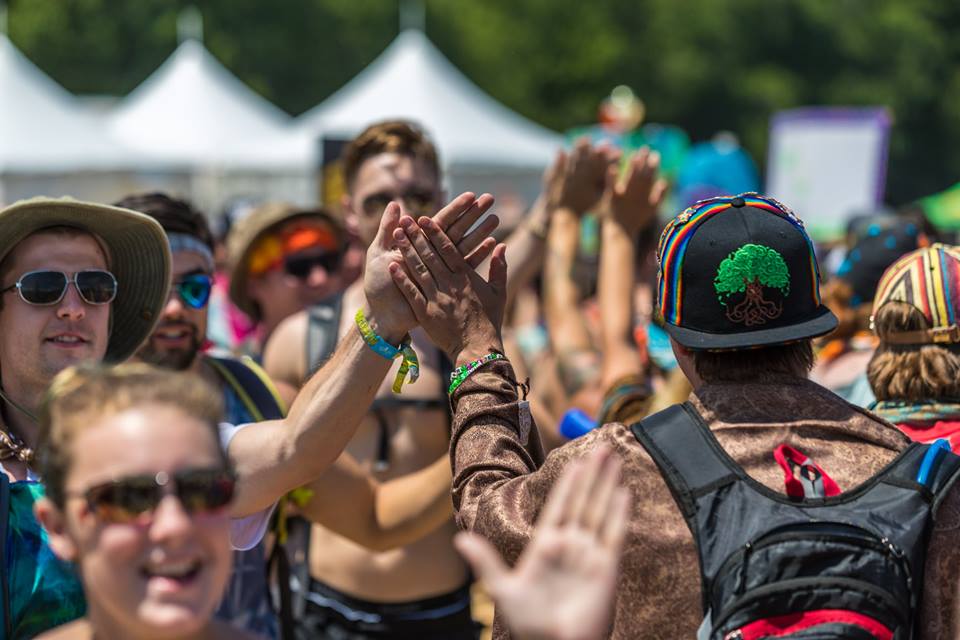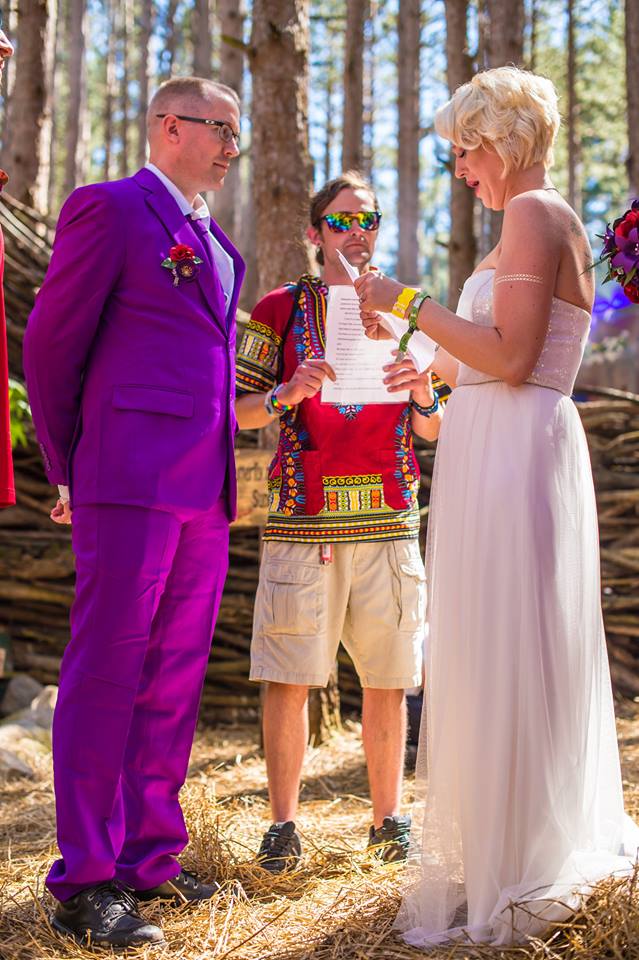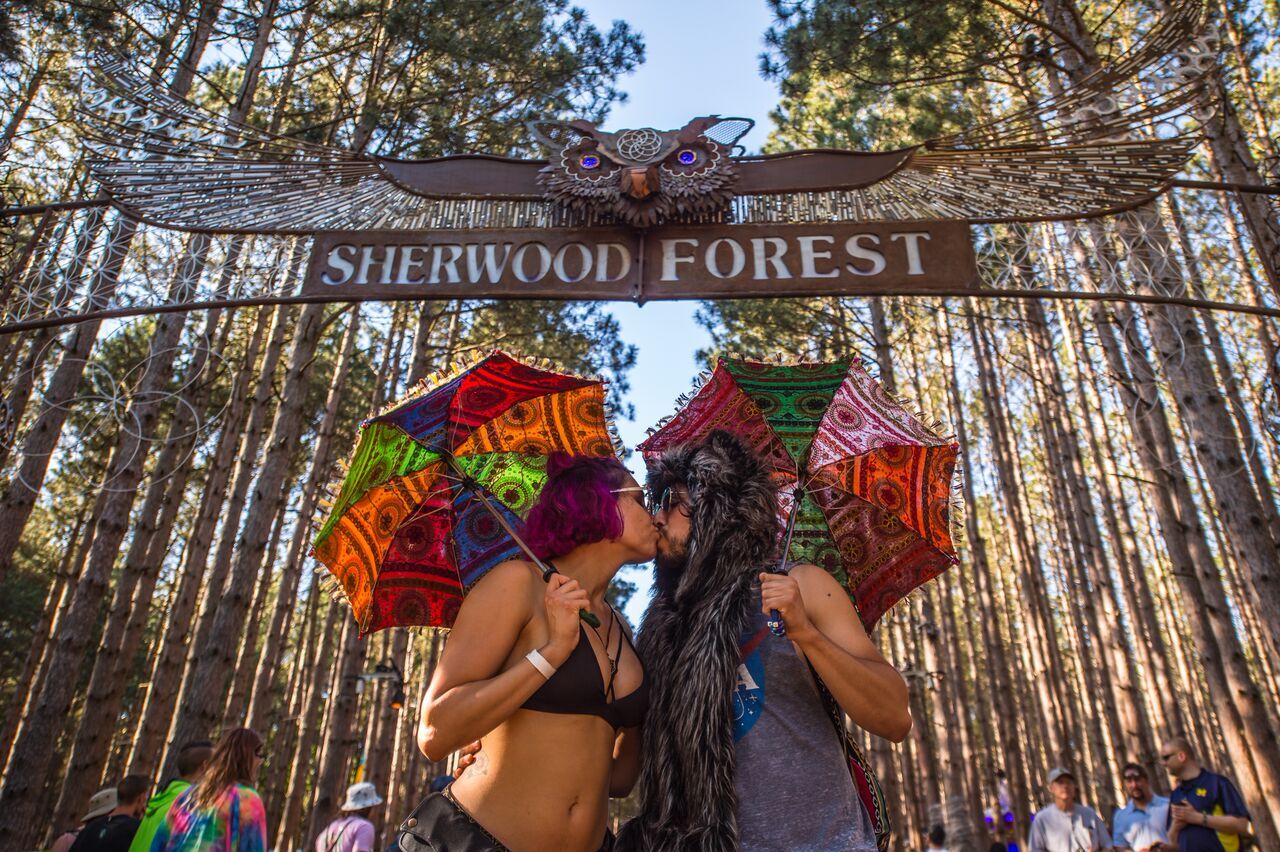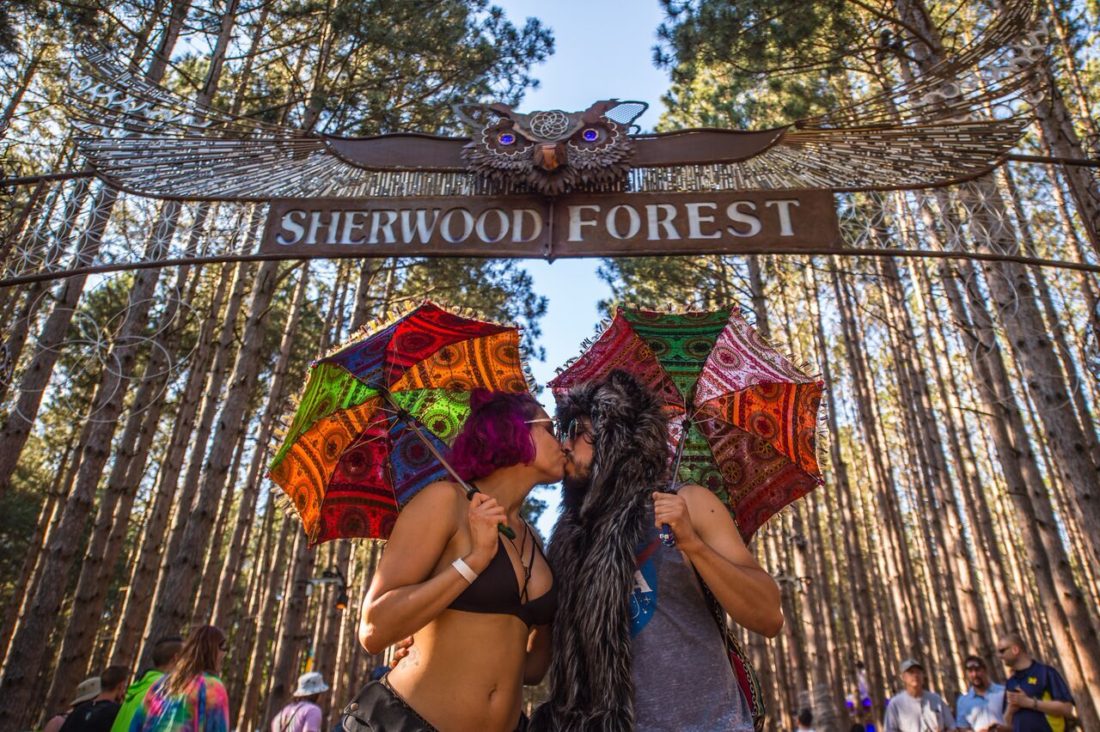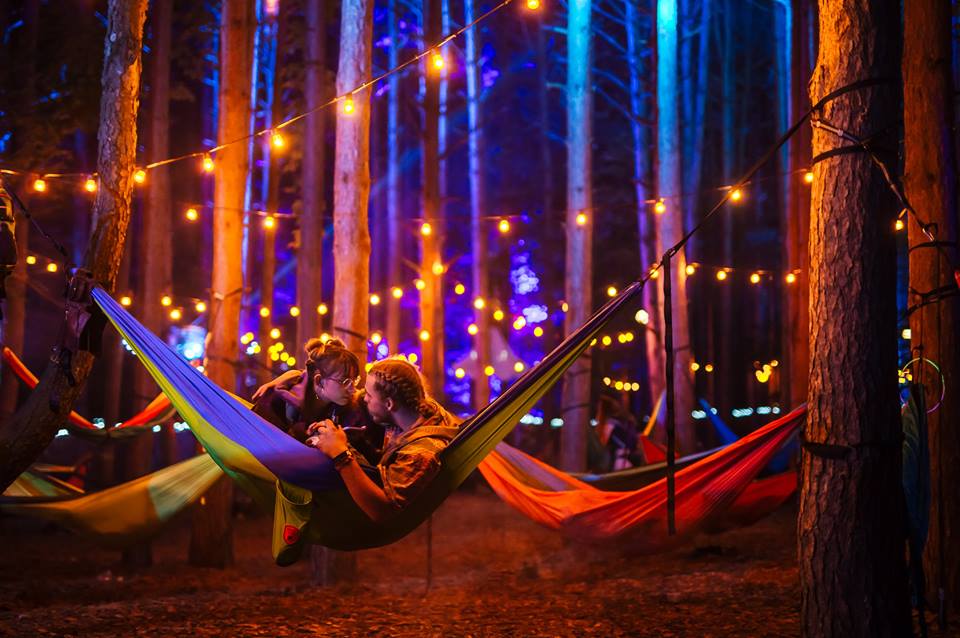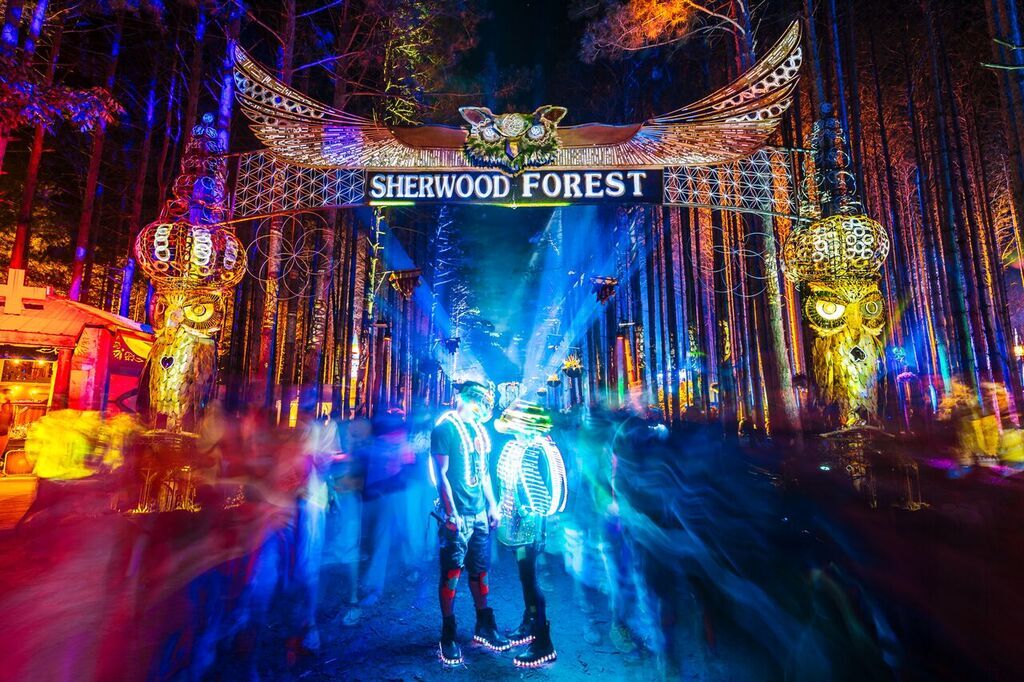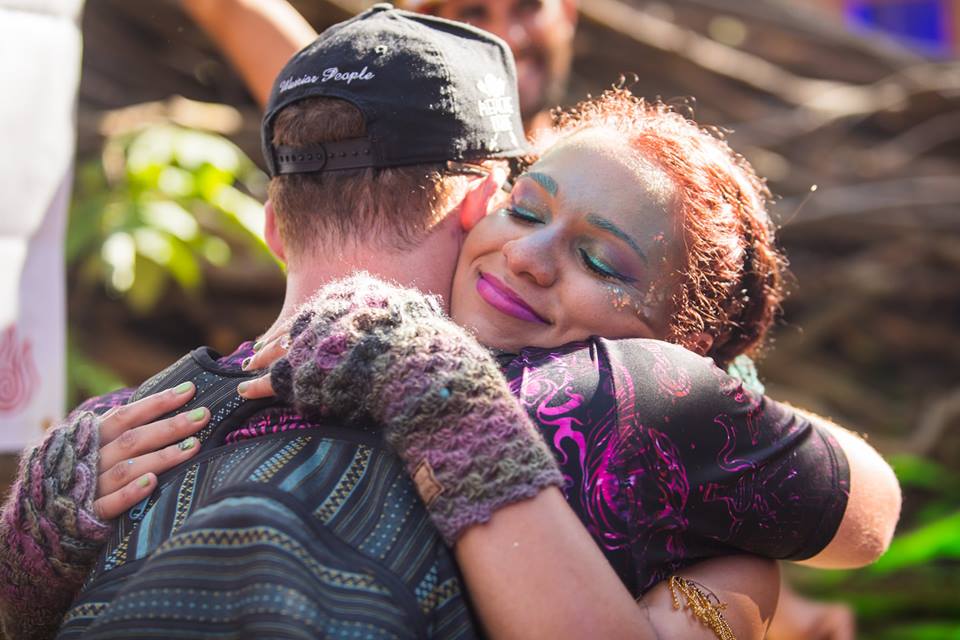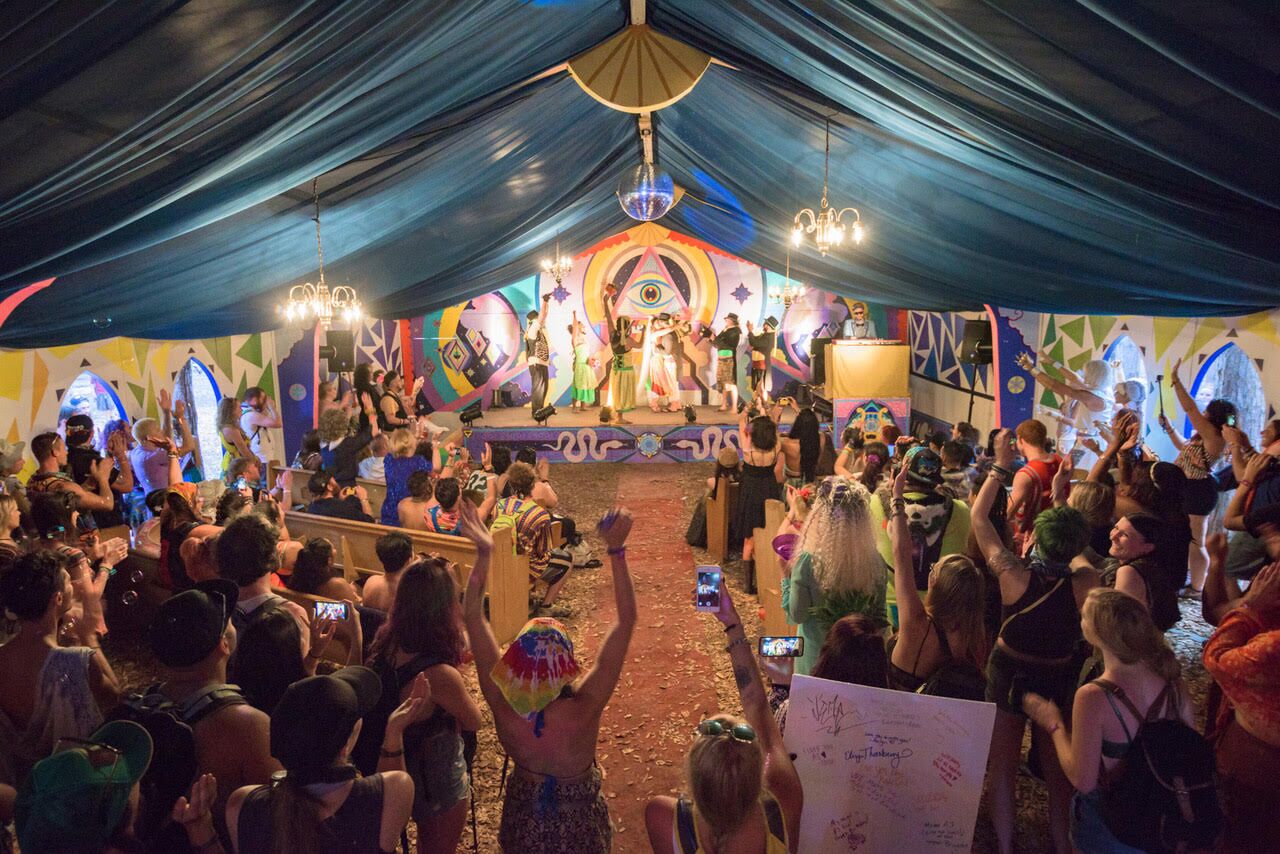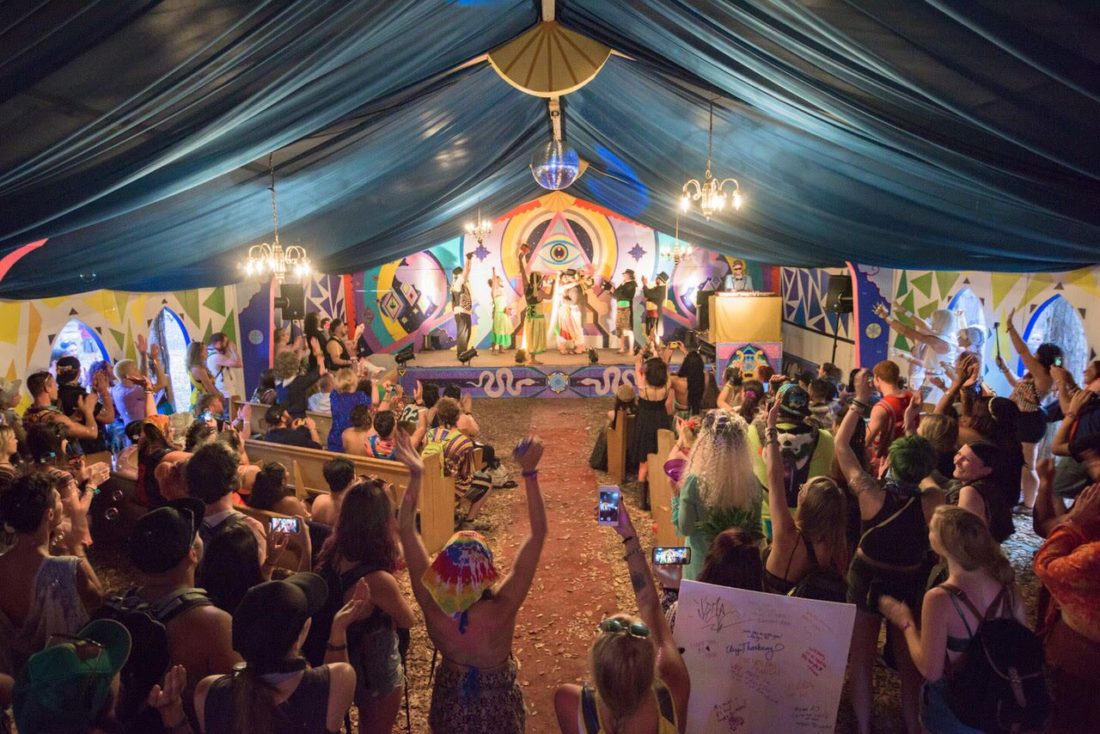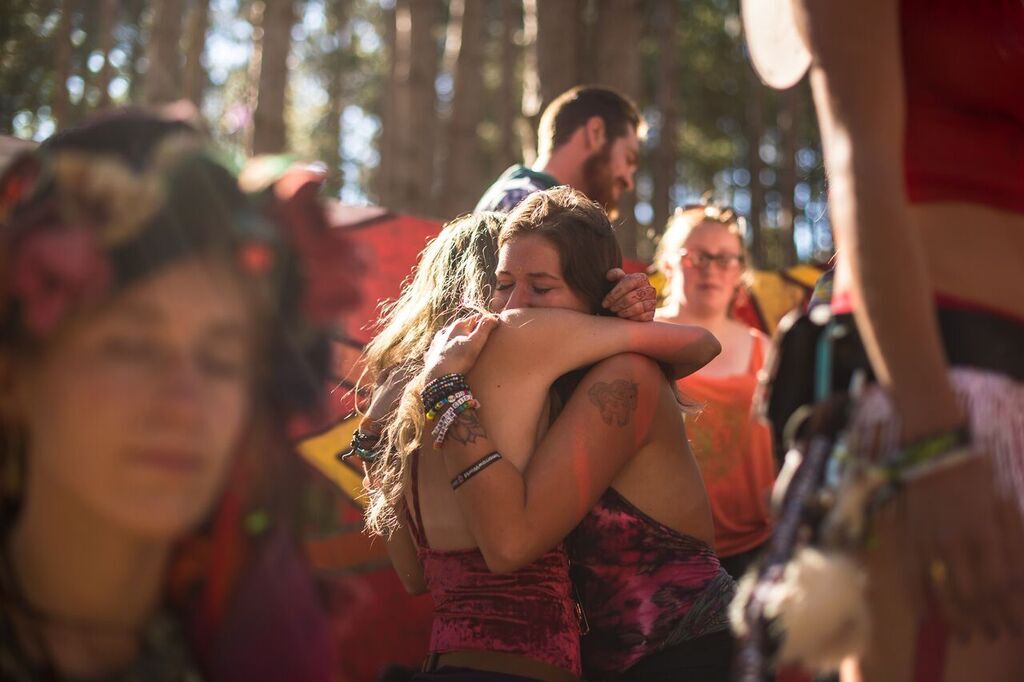 While roaming through the Forest you stumble across the tribute to Wally Wojack, the man who quite literally planted the Forest back in 1952. Wally was very hands on in the creation of the Rothbury Festival, which later became known as Electric Forest. Sadly Wally passed away this past April. In a heartwarming memorial to the father of the Forest, his favorite boots and hat were placed on top of his favorite ATV with his photo. Many Foresters left him kandi and small tokens of their appreciation both weekends. There will be a permanent memorial in place for Wally at Electric Forest 2018. Check out the short memorial video to Wally below.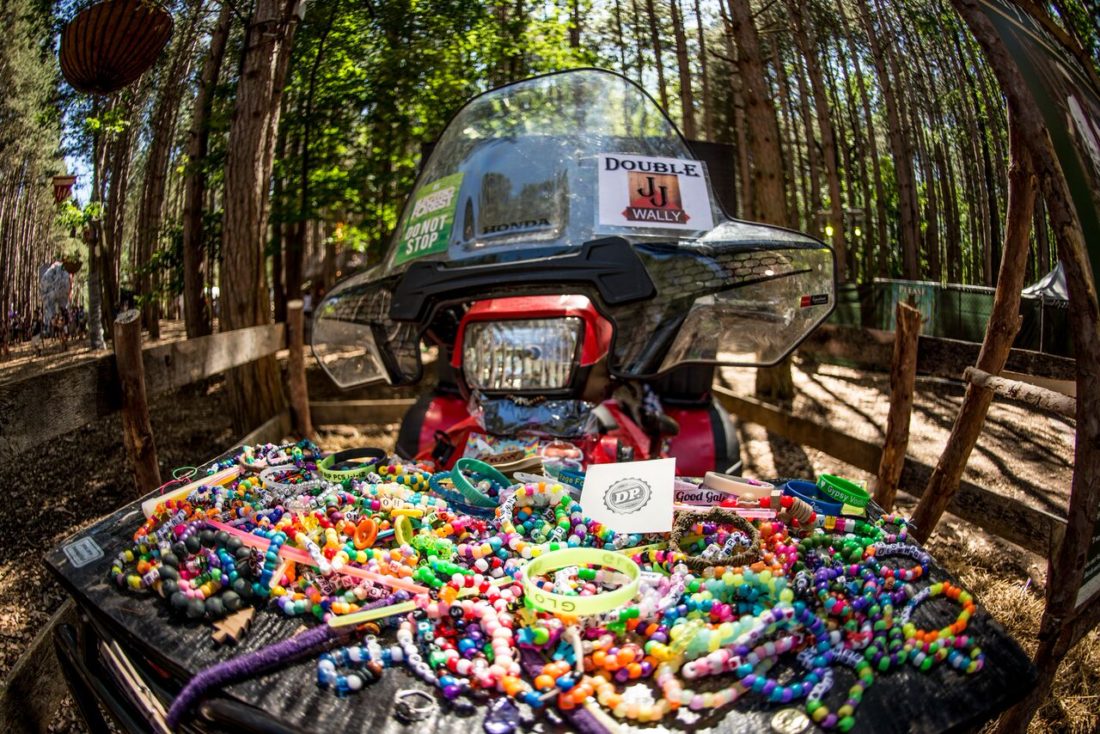 Our tribute to the man who planted the seeds that grew to be The Forest. #ForestFamilyEnd Photo Credit: Allison Scarbrough/Oceana County Press

Posted by Electric Forest on Wednesday, June 28, 2017
When you come out of the other side of Sherwood Forest, you see the secondary main stage Sherwood Court. With plenty of grassy areas and no trees, there is plenty of room for you to throw down a blanket and relax as you watch your favorite artist play. Just like the Ranch Arena, Sherwood Court offers its own Good Life entrance that takes you right to the stage. While the Good Life viewing area here is slightly smaller and lacks the amenities of the Ranch Arena, it still offers an amazing view of your favorite artists. While there was no private VIP bar, there is the craft beer tent located at the rear of the stage. Here they have a wider selection of craft beers and cocktails than anywhere else in the Forest, and both weekends they offered a free craft beer tasting for anyone over 21. It was at Sherwood Court the first weekend, that Big Gigantic threw down one of the best and most bass heavy sets I have ever seen them play! It took me completely by surprise and was honestly my favorite set of the entire weekend.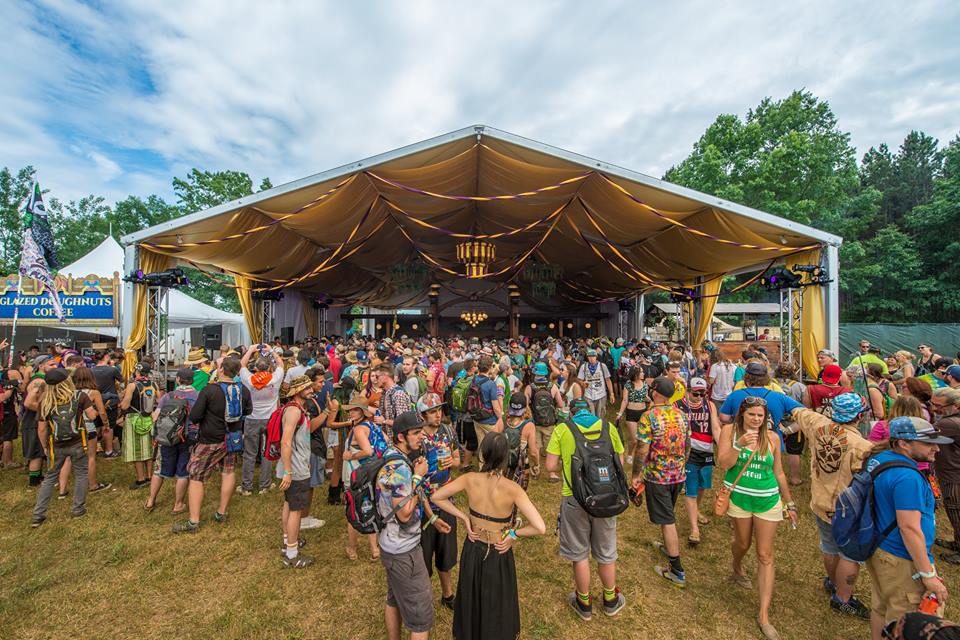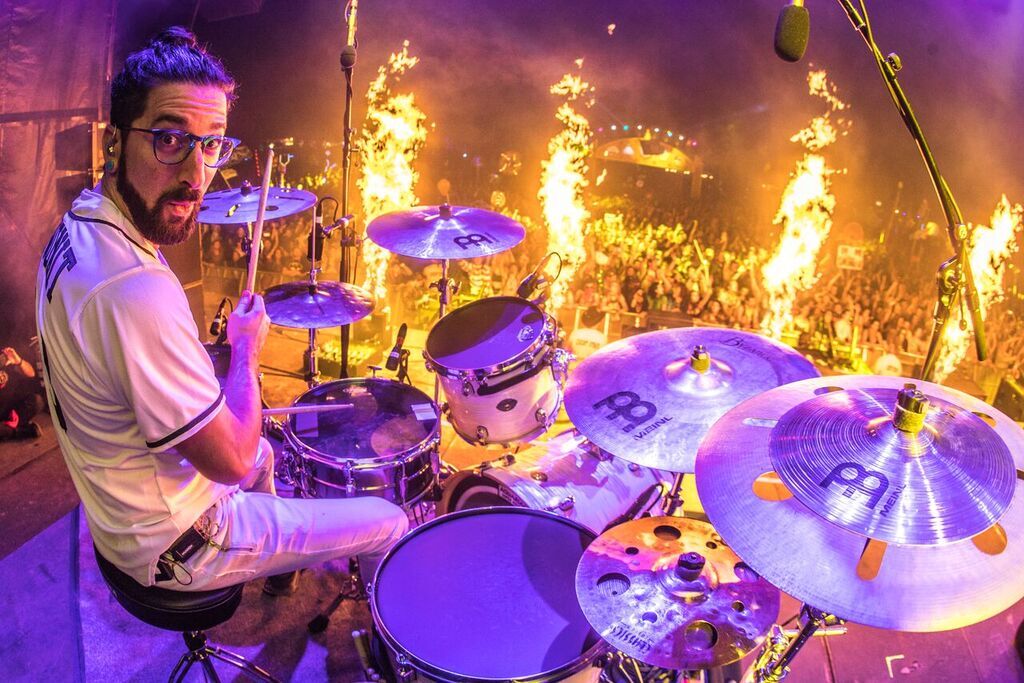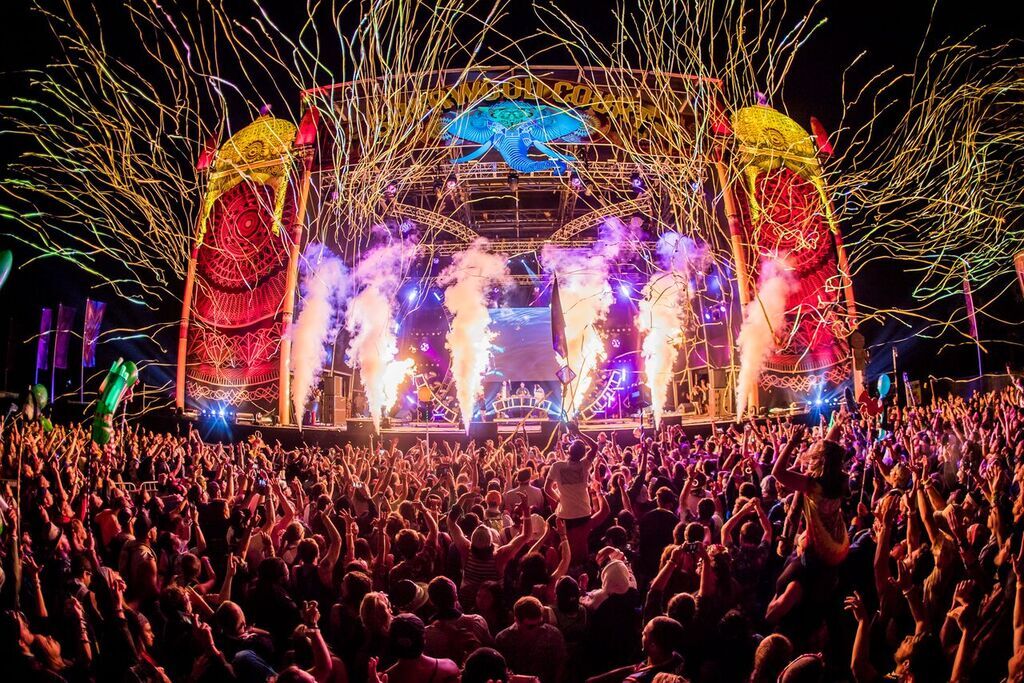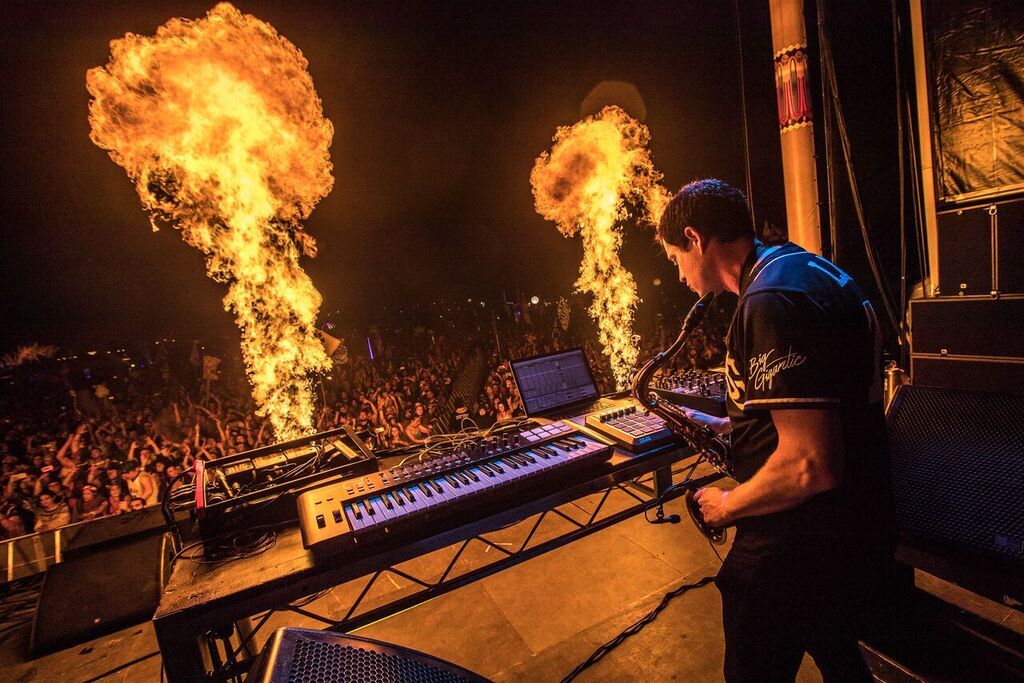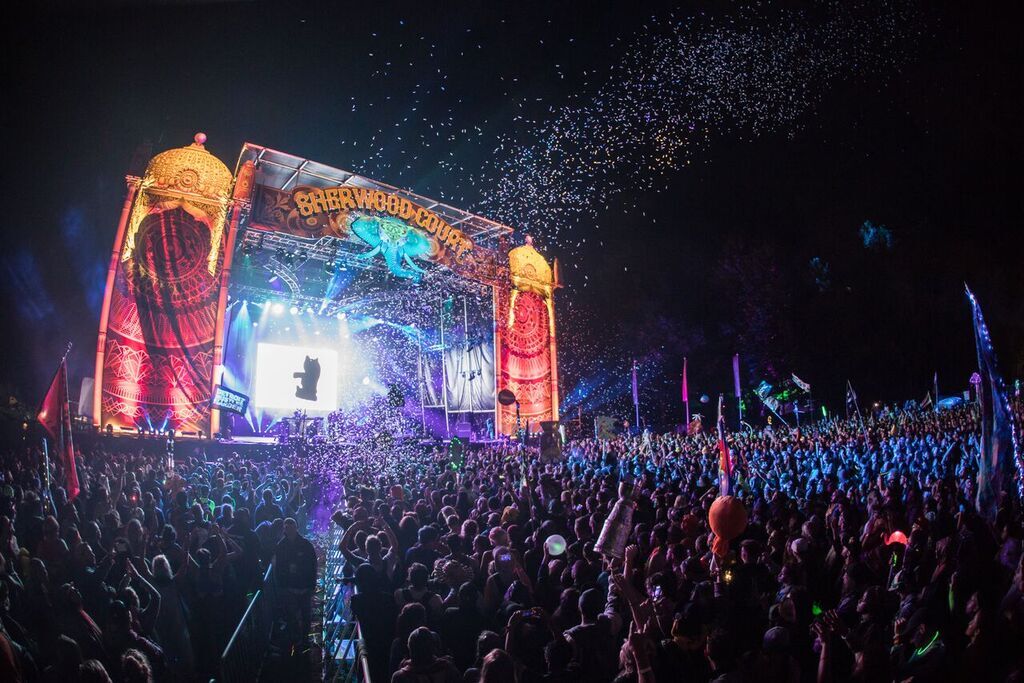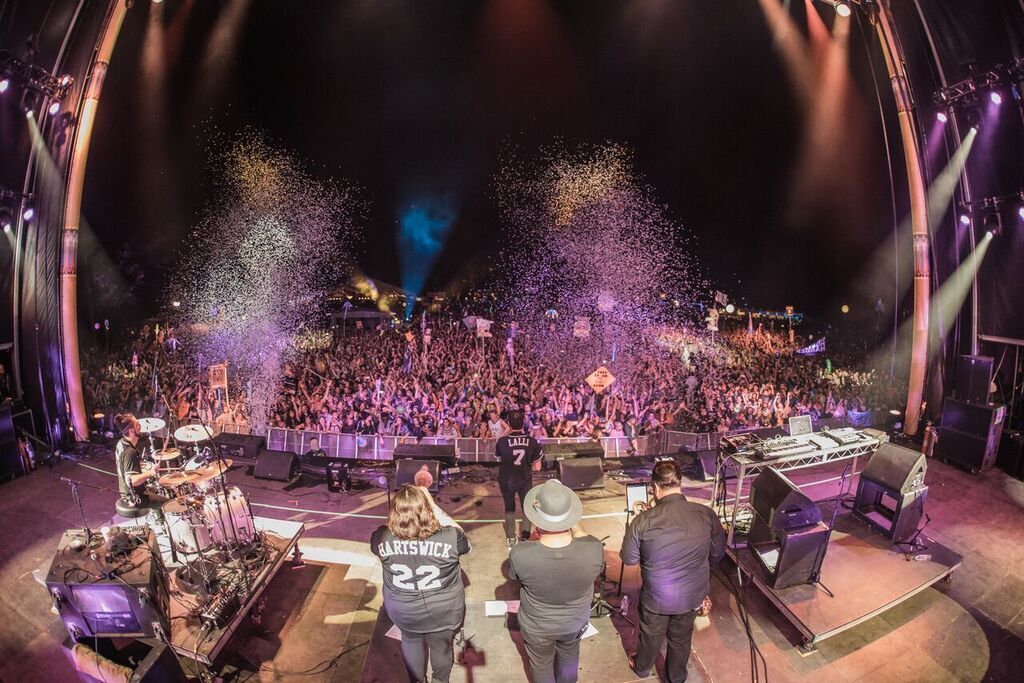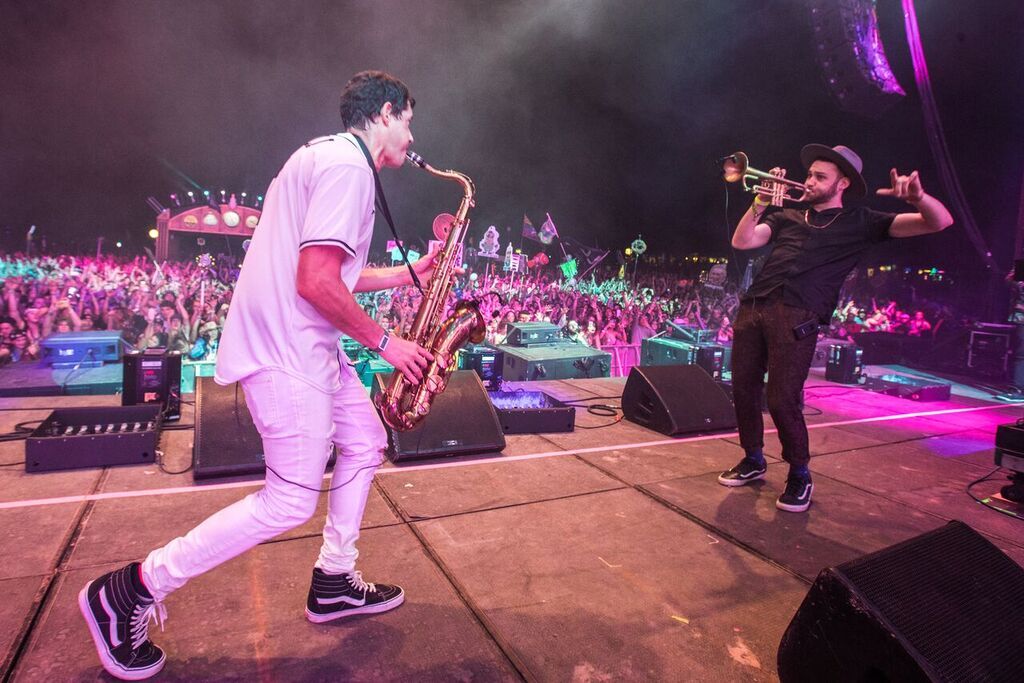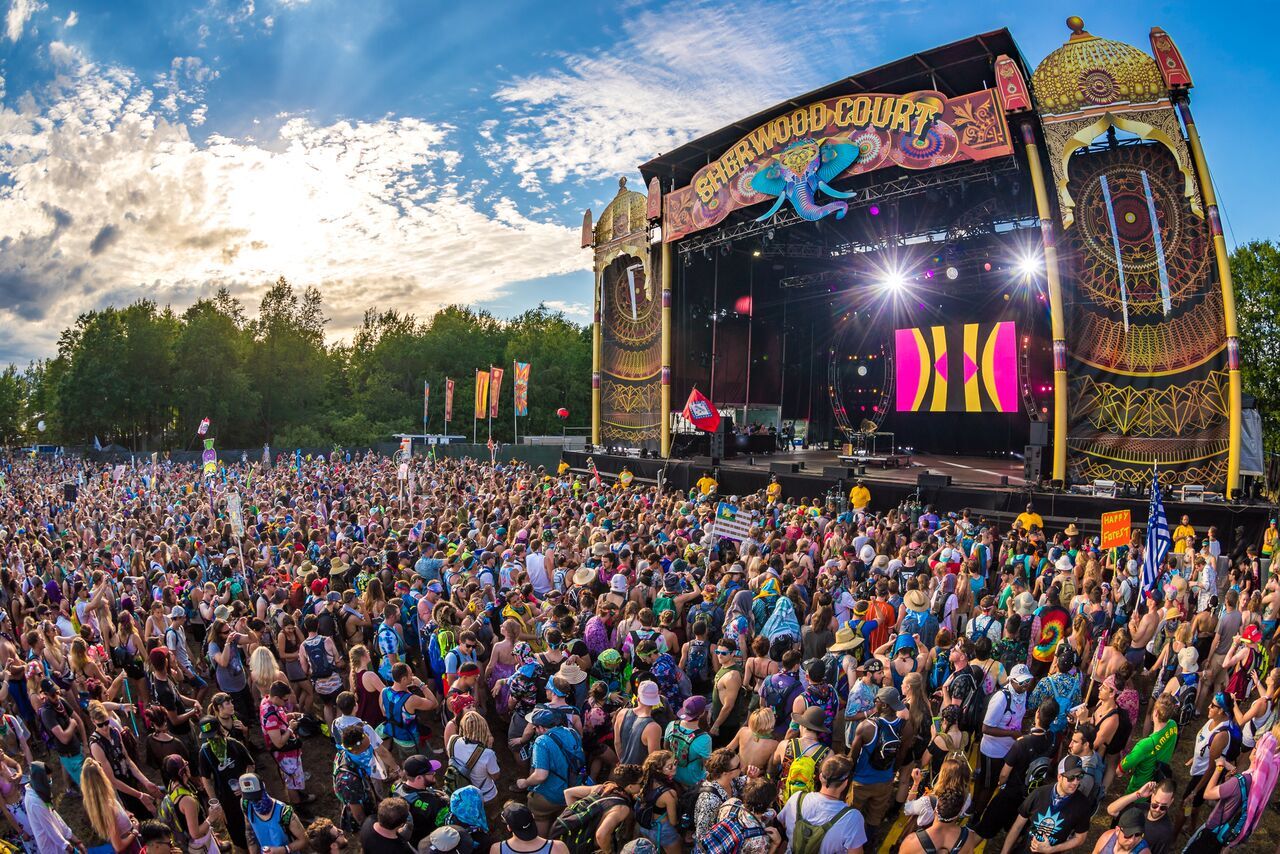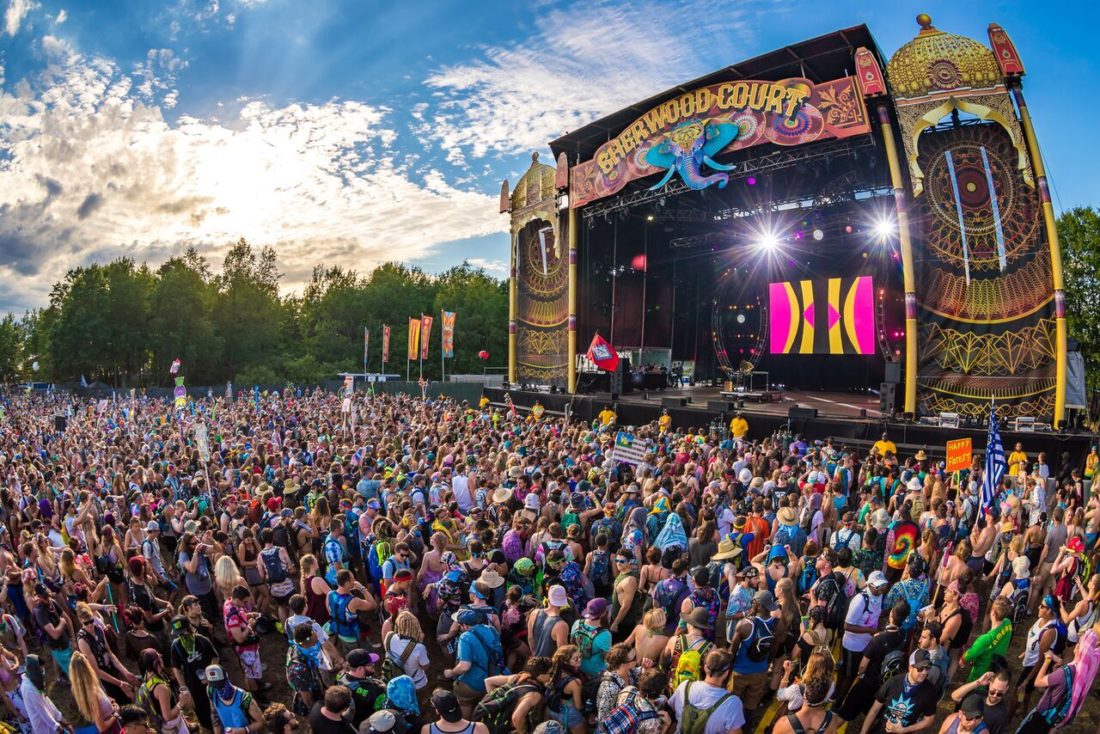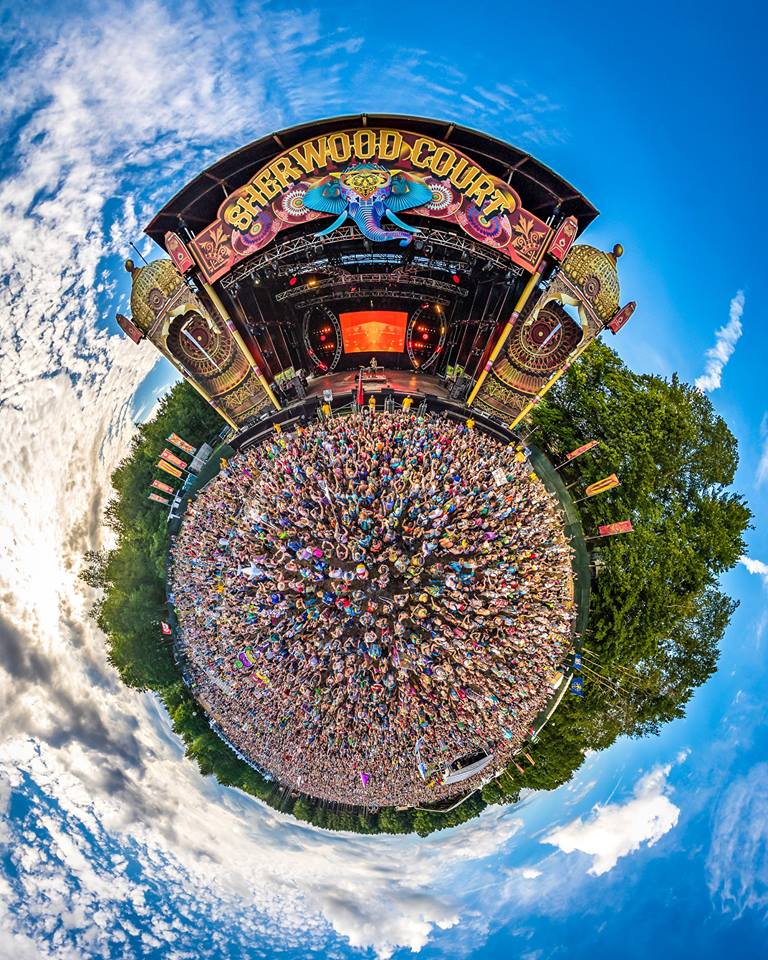 A little way past Sherwood Court, you come across The Hanger. This stage is set up to look like a World War Two era hanger converted into a speakeasy theater. It has a large 360 degree bar set up towards the back of the stage with 1940's era tables and chairs set up in between the bar and the stage. There are all sorts of complimentary "shops" all around the stage (tips are always greatly appreciated). Stop by the Recharge Station and get a quick massage with a buffer machine. Pop on into the Hair Salon and quickly get your hair braided. Don't forget to stop by the kitchen to say hi to the poet sitting at the counter with his typewriter for a short poem and if you're lucky, a clue on how to find the hidden poetry brothel hidden away in The Hanger. On the other side of The Hanger you find the Tattoo Parlor where you can get an exclusive Electric Forest temporary tattoo put on by the Sargent of the platoon. Stop by the Game Room where they have a couple of bowling lanes set up, a couple ping pong tables, a bar that sells a wide array of candies, and even a pool table with a resident pool shark.
If you happen to beat this Brooklyn based trickster in a game of pool, he will give you a coveted dog tag and the password to another secret area in The Hanger. There are other ways of procuring one of these dog tags however. If one of the actors happens to see you preforming an extraordinary act of kindness, they might relinquish their dog to you. Otherwise you can always ask one of the actors how to obtain one. From there they will send you on a scavenger hunt all around The Hanger, following clues and hints that lead you to a dog tag and an "out of order" phone booth next door to the Game Room. Once you scan your dog tag in the booth, the phone rings out of nowhere. Once you answer the phone and give the correct password, the wall opens up to reveal a dark hallway with a reception podium. They open up a curtain and you find yourself in a hidden speakeasy bar complete with a Foosball table and specialty drinks only found here. Also hidden away in here is a small stage where they have nightly burlesque shows every hour starting at 10 p.m. but get here early because it fills up quick.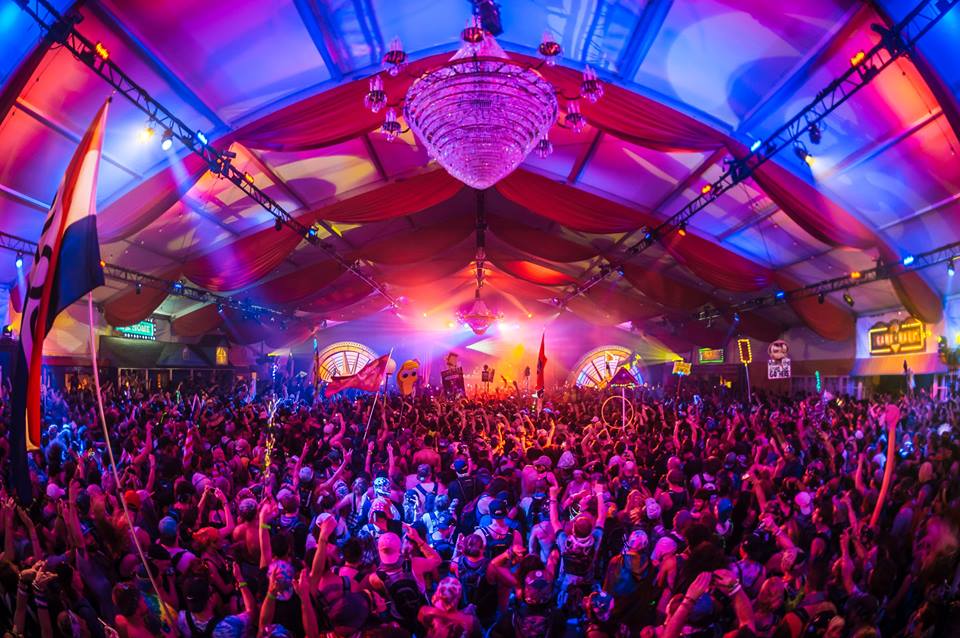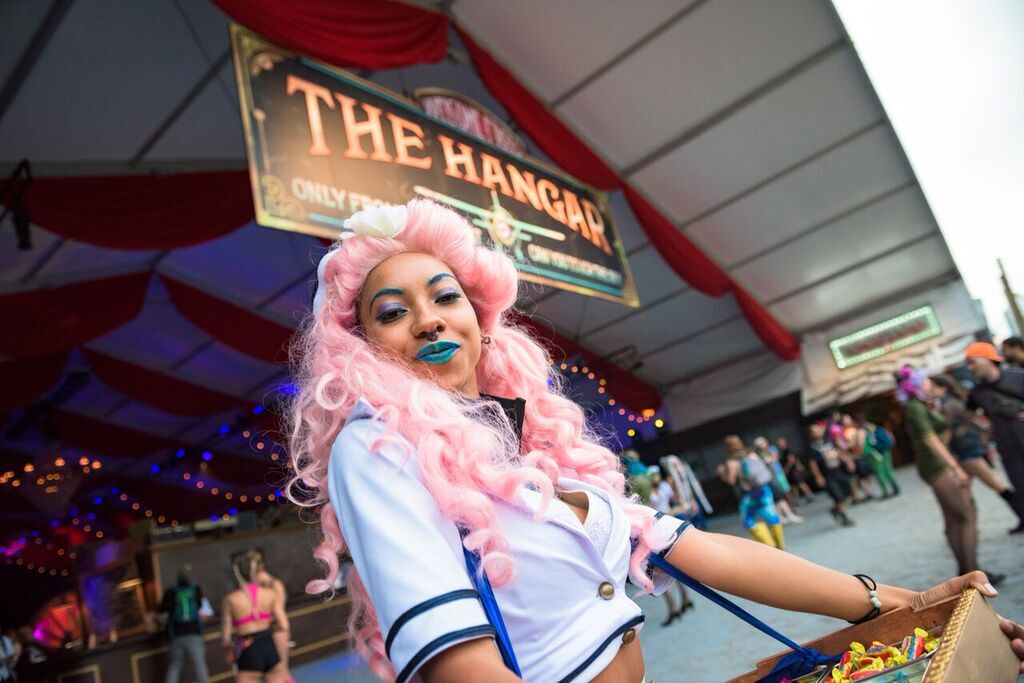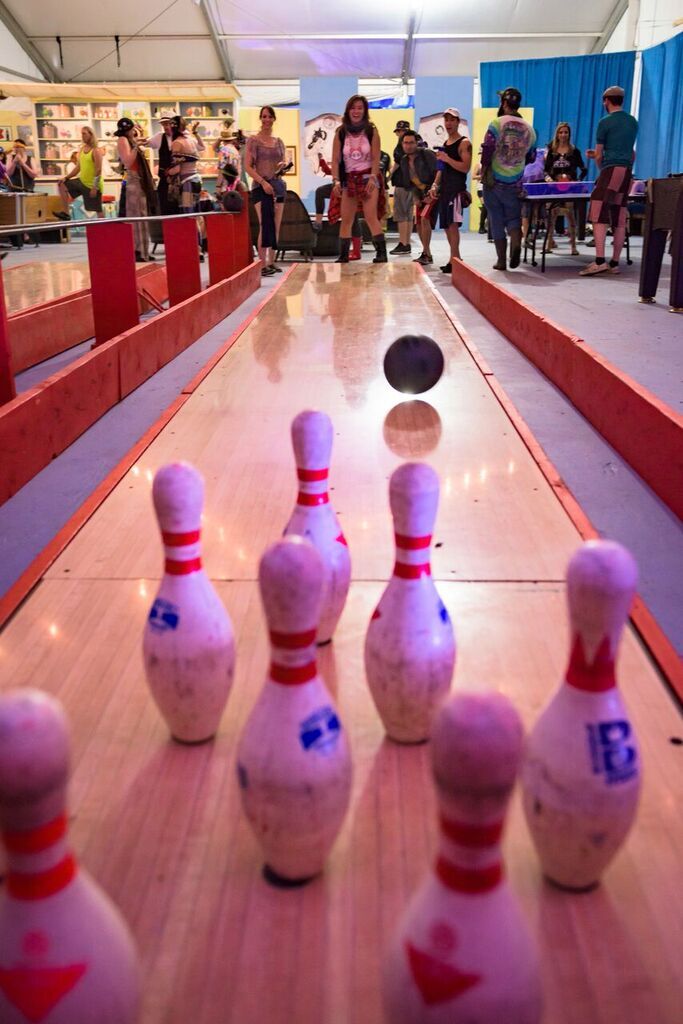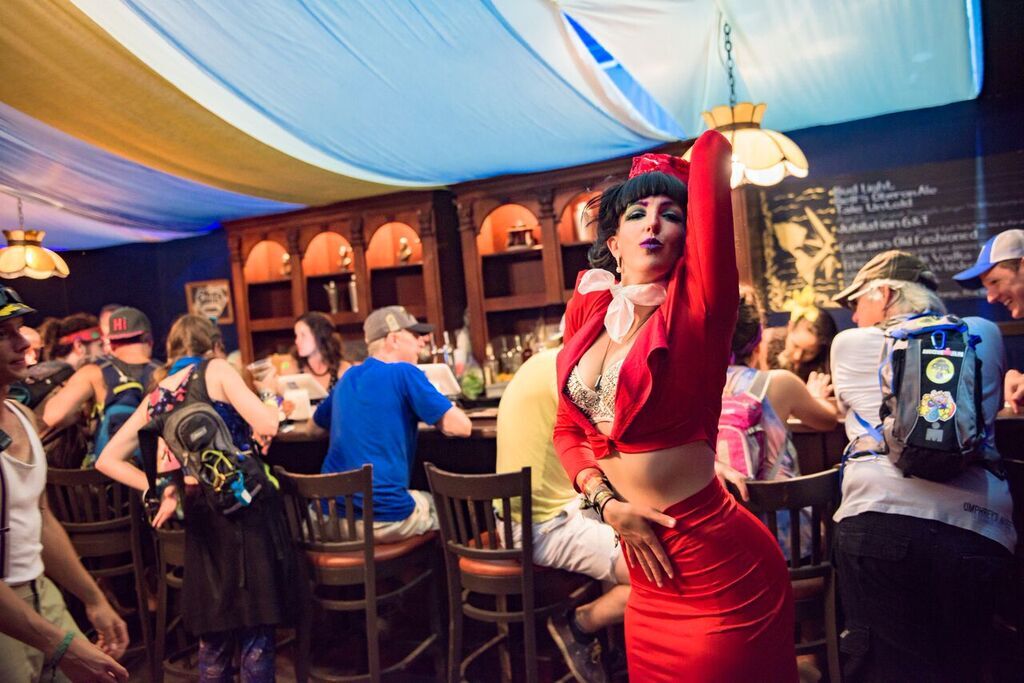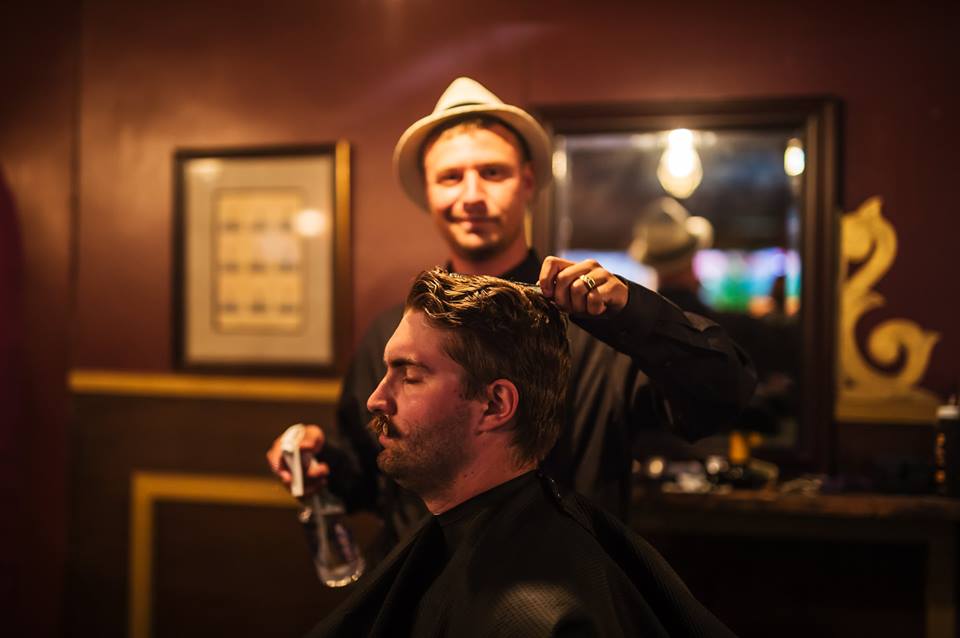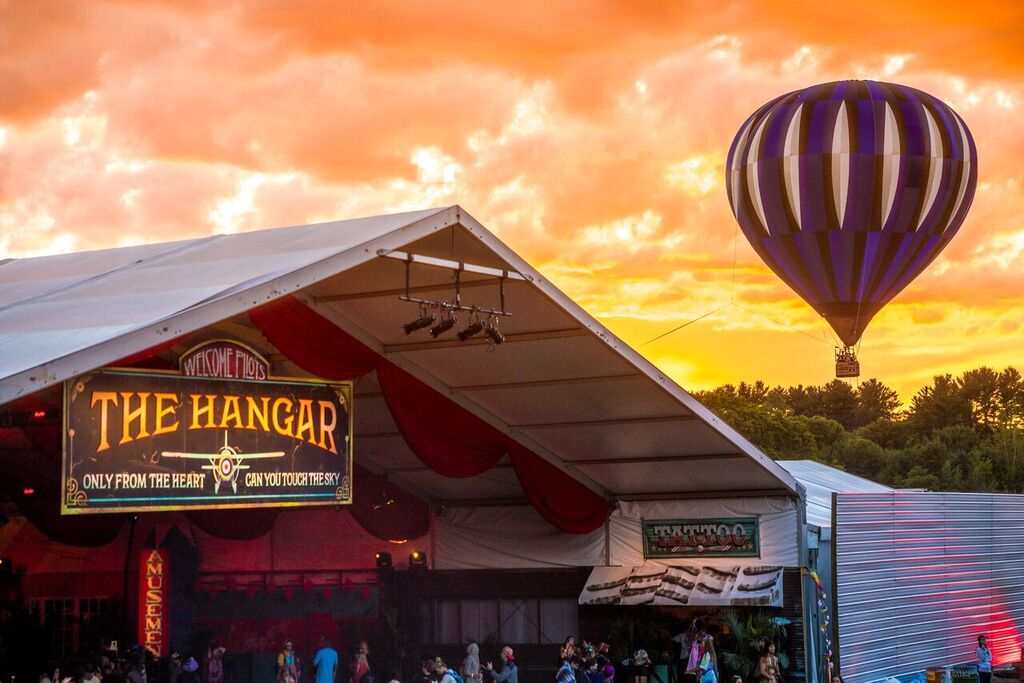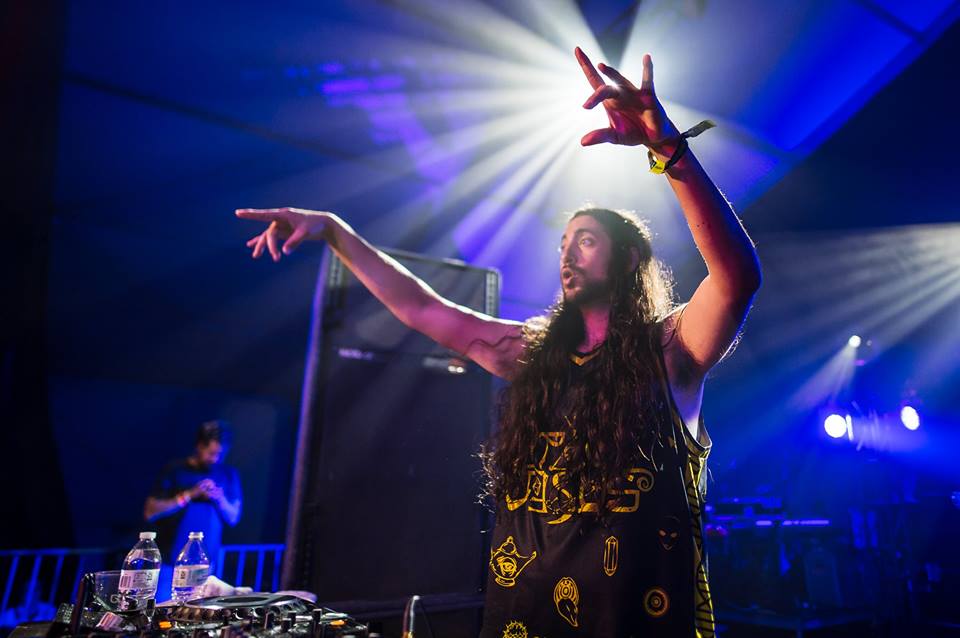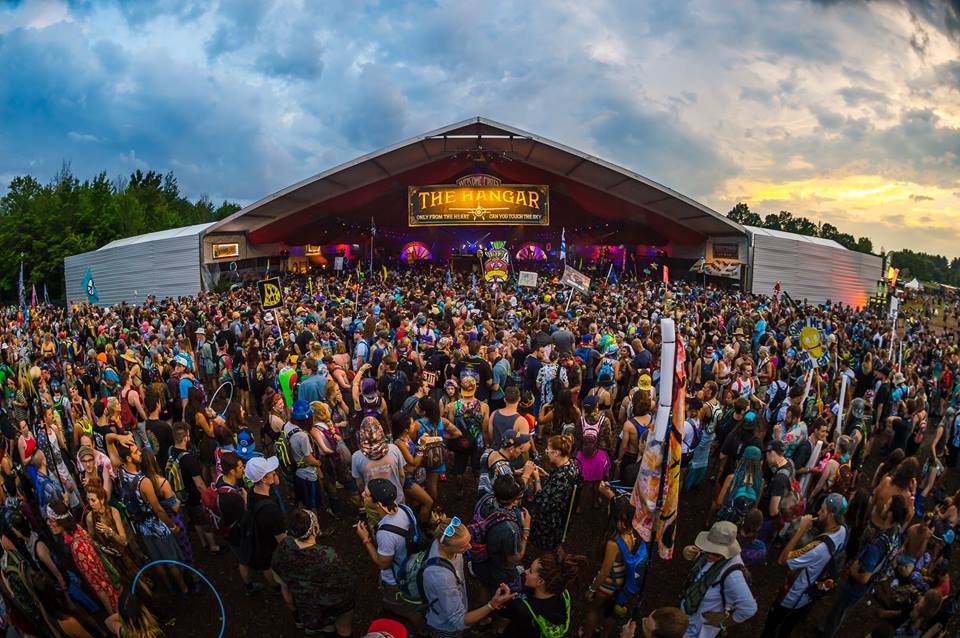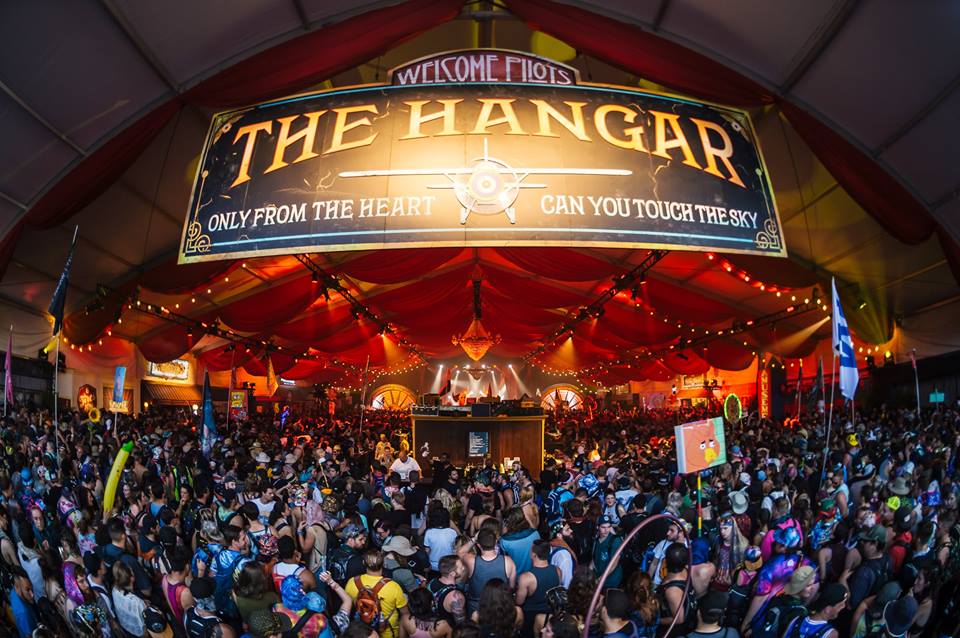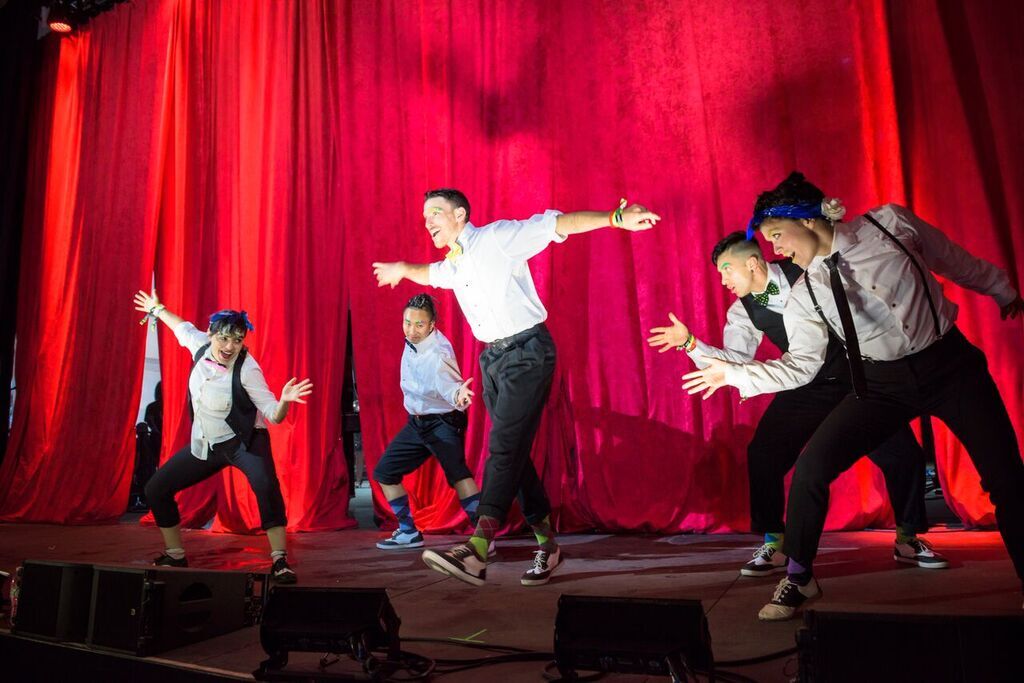 Just beyond The Hanger you come across the final stage, Jubilee. This stage is set up under what looks like a giant circus tent. Many big name artists played on this stage ranging from Ganja White Knight, Opiuo, Snakehips, Vince Staples, and Wave Racer. There was even a surprise b2b set at this stage with Big Gigantic, Ekali, and Illenium for the "This Song is Sick" secret set. It was here that I ended my epic 8 day Forest experience with one of my all-time favorites, Nahko and Medicine for the People. After their set was finished, I was invited to hang out backstage with Nahko and the whole Medicine Tribe for a very intimate and private screening of his new album set to release in October of this year.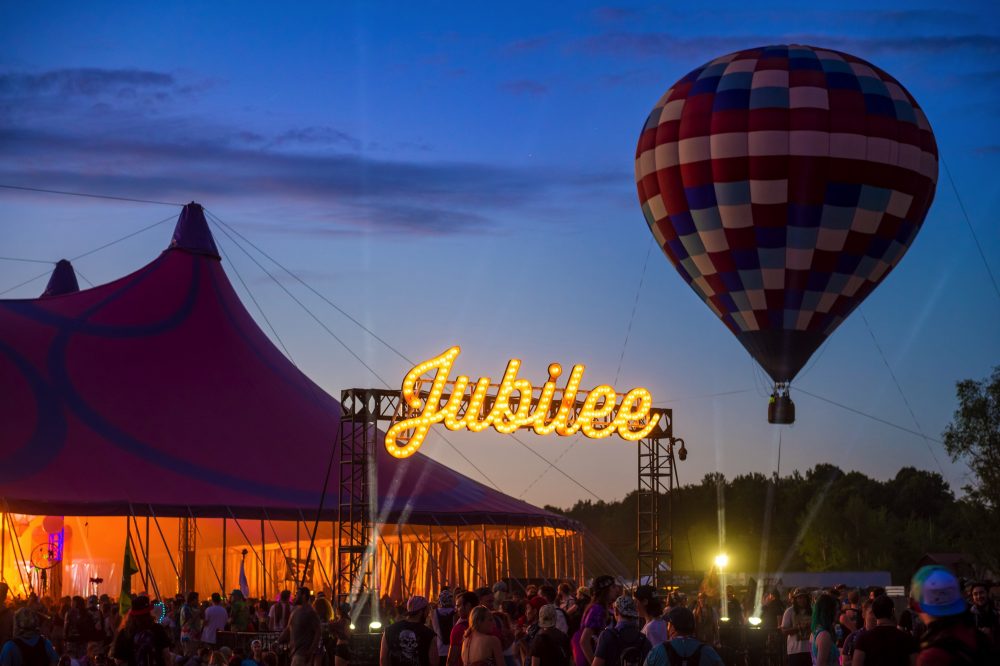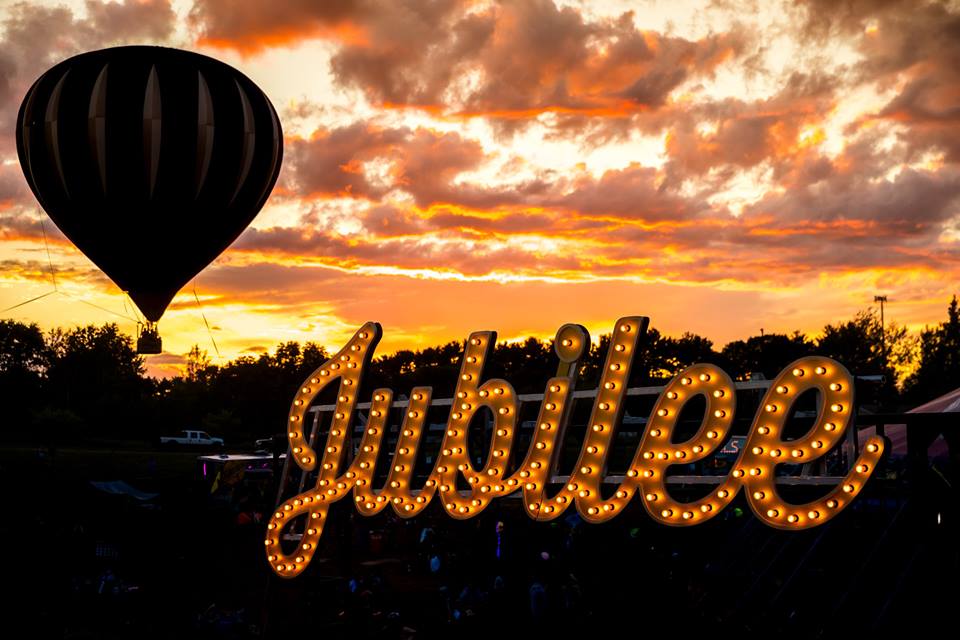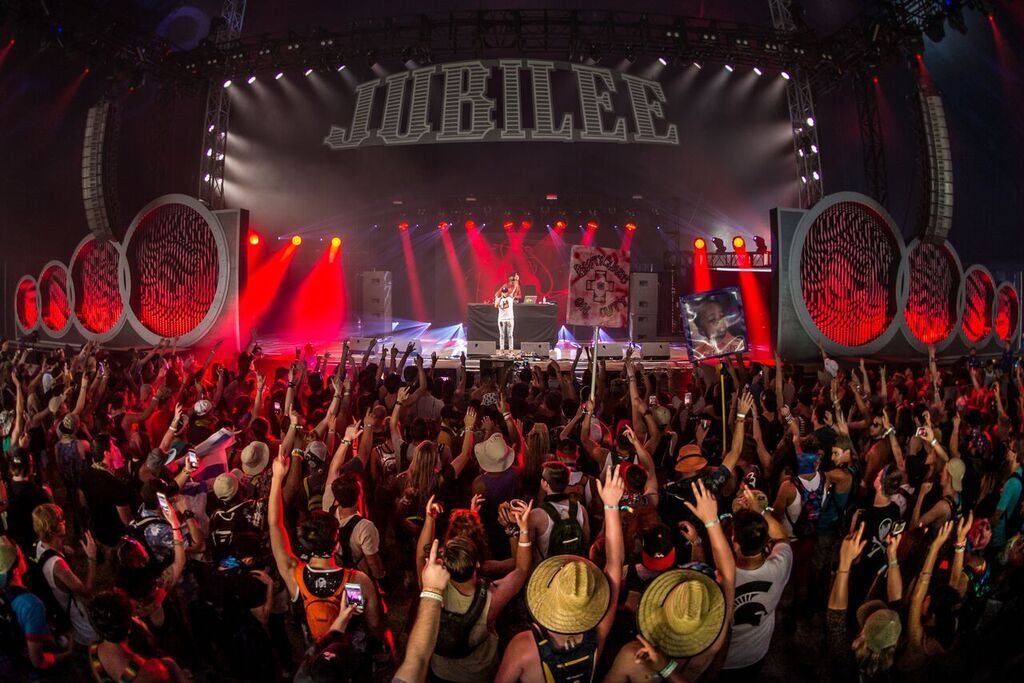 Insomniac and Madison House have a shared vision of a better and brighter tomorrow by practicing AND teaching better conservation and recycling methods today. All throughout the Forest and the camp grounds there are 3 different colored barrels with a sign explaining what exactly goes into each different one. All of their vendors are enforced to use compostable materials and even all of the used fryer oil is recycled into bio-diesel. They have the Electricology program that allows you to earn points that you can use for one-of-a-kind prizes including exclusive Electric Forest merch, Specially Forest branded ENO hammocks and Vibedration hydration packs, Good Life VIP upgrades, and even free tickets to Forest next year. Every night the "Prize Cart" comes out at each stage, and you are able to earn special prizes here every night as well. They hand out trash bags to anyone who wants to help pick up the trash left behind after the set. One of my friends actually won a brand-new ENO hammock one night just for helping pick up trash!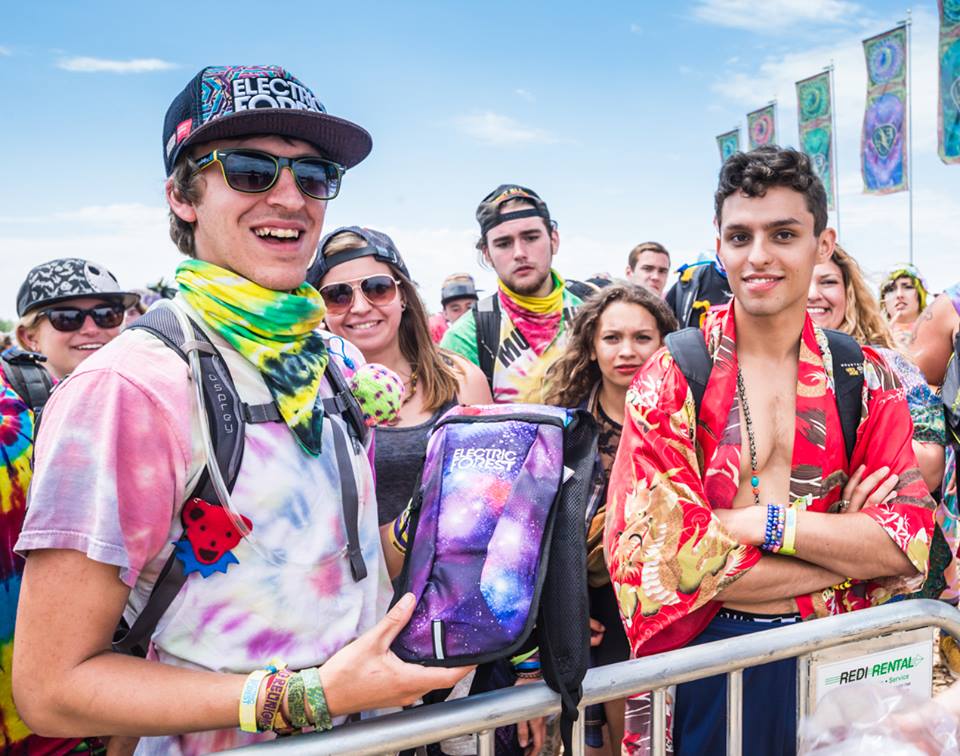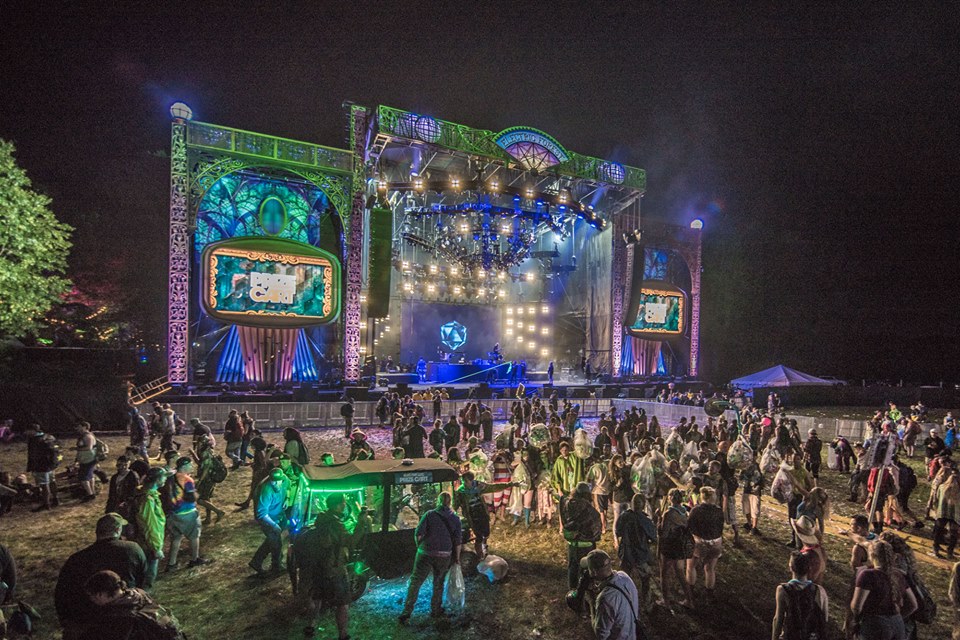 All in all I would have to say that Electric Forest is one of the most intricate and well thought out festivals I have ever attended. The vibes of everyone there were some of the best I've seen at any festival. From the attendees, to the paid actors, to the artists, to the musicians, to the Ground Control, to the staff, even to the security, everyone had a smile on their face and were some of the friendliest people you will meet. Special shout out to the Michigan State Patrol who were there to make sure everybody was safe. They were some of the friendliest officers I have seen at a festival. They weren't out to get anyone, they only wanted to make sure that everyone was safe while they had fun.
There were many secret things to discover from the hidden eggs and fairy doors that contained uplifting messages throughout the forest, to the Mechan9 Robot scavenger hunt that sent you all over the Forest to get the combo that opened the safe, To the hidden phones in the Forest with an operator that would give you clues, to all the mysteries within The Hanger. With so many secrets, I was extremely grateful that I had two weekends to discover them all! I can't wait to be back in the Forest again with my Forest Family next year!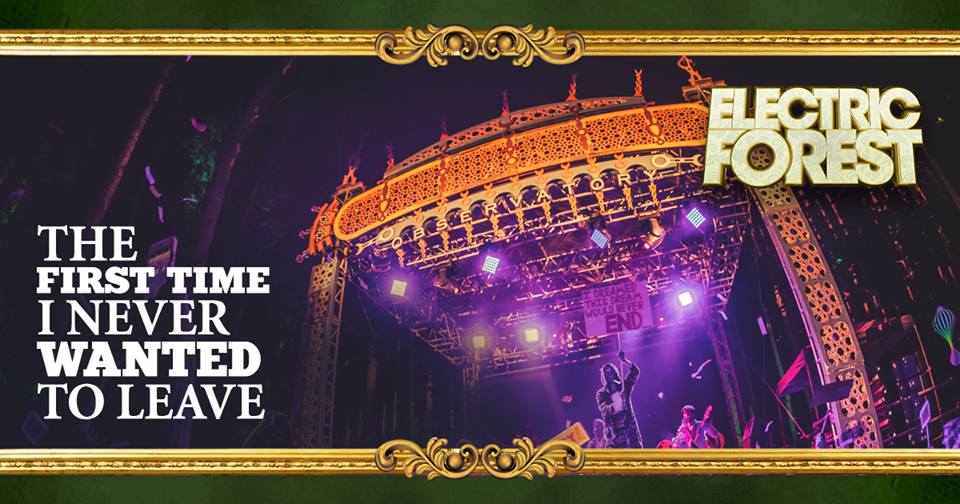 Photo Credits: Electric Forest