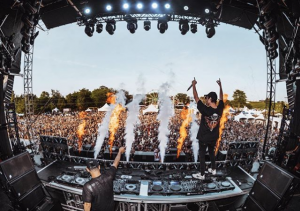 After much anticipation, my festie bestie Sarah and I made our way to Canada June 8, 9 and 10 for Ever After Music Festival's 2018 event. We had a pretty decent time, but were, unfortunately, let down more than once during our time in Kitchener, Ontario. Before we even left the states, we were having issues with parking and where we would be camping which made me a bit nervous. But we took a leap of faith and went with positive vibes to the festival.
Upon arrival, the stress ensued and only seemed to let up during our favorite sets and when we were back at the campground with some new friends. Normally when I write, I stick to a "say something nice or don't say anything at all" policy. But in this case, I feel like it's my duty to let you all know what we experienced this past weekend at Ever After Music Festival: The good, the bad and the ugly.
The good
The artists
The lineup was what initially drew me to this festival and if absolutely didn't disappoint. The main stage (Excalibur) was rocked by some of the heaviest names in dubstep on Friday, while the auxiliary stage (Upside Down) turned into a drum and bass haven. The stage production was pretty cool featuring confetti cannons, fire and some pretty insane lasers and fog. It looked especially dope from atop the Ferris wheel as Flux Pavilion played a b2b set with Doctor P. We were even able to catch the tail end of Pendulum's live DJ set from our campsite which was a pretty sick experience.
Saturday brought some more heavy bass goodness to the main stage. My favorite set of the day was probably Borgore (who I saw for the first time) and threw down a filthy mix of his dopest tracks, a few bass fan favorites and some oldies but goodies. He brought Svdden Death up on stage with him for a hot minute too which was a great surprise because we missed his set earlier in the day. While the Excalibur stage was poppin off, the Upside Down flipped the switch from DnB to house music bringin big names like AC Slater, Drezo and Claude Von Stroke to the party. Plus, would it even be a music festival if I didn't get super emotional during at least one set? Nope. That set for me was Illenium, whose tunes and production always get me all up in my feels. I shed a couple tears of joy as I sang along to hits from his most recent album 'Awake' with the rest of the crowd.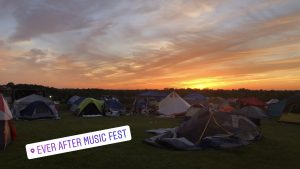 The last day of the festival started off strong and continued with that momentum throughout the day. We heard the stylings of Wooli from our campground as he started the day off on the Upside Down stage. We made our way into the festival to catch Boogie T b2b SQUNTO (two of my personal favorites) before making our way over to Excalibur to see a legendary B3B. The trio of 12th Planet, Cookie Monsta and Virtual Riot  (who jumped in to replace Funtcase after he announced he wouldn't be able to make the festival due to health concerns) absolutely threw DOWN. We rounded out our day Sunday watching Kayzo's set from the Ferris wheel before heading back to see Getter close out the Upside Down stage. Another artist I've never gotten the chance to see before, Getter's set was a high energy masterpiece that concluded with a few of his more recent (more mellow) tracks that I absolutely love. We saw Excision take reign of the main stage to close out the festival as the sun set over the hills of Bingemans and Ever After 2018 came to a close.  
The people
I've been to several festivals before but I have to say that the vibes were one of the best at Ever After. I mean of course every festival has its troublemakers, but all in all, EA brought some of the coolest people I've ever met to Kitchener. So many friendly faces in the venue, endless kandi trades and conversation that just flowed seamlessly. By day three we were seeing tons of familiar faces among the masses that we had talked to or just headbanged with the previous days. Meeting new people and making new friends is one of my favorite parts about the EDM scene. Our part of the campground (the no car camping area) was also one of my favorite parts of the weekend. Everyone kept the party going all day and night without getting destructive or disrespectful.
Special shoutout to our new friends from Vancouver: Shawn, Peter, Brandon and Marco, Alberta: Abby, Jerusa and Alana and Emily from Hawaii for keeping the conversation real, the laughs coming and making us feel right at home in Canada. It's people like you guys who make festival camping such a dope and memorable experience.
Tons to see and do
There definitely was never a second of boredom to be had at EA. If anything we kept running out of hours in the day to do and see every inch of the venue. Inside the festival venue (aside from the music of course) there were TONS of inflatables creating a pretty awesome adult playground. There were structures to cool off and chill in/on, light ups that illuminated the small forest at dusk and giant blow-up games like billiards, hockey, skee ball and golf for festival-goers to challenge their friends at. Carnival rides and games ran down the midway area of the festival, which were awesome to hop on to get an unparalleled view of the main stage.
The festival also offered ziplining, bungee jumping and roller skating inside the venue. Attendees could also gain free admission to the Bingemans water park whenever they weren't partying inside of the festival. Between the music, games, campground parties, activities and photo ops there was never a dull moment at EA 2018.
The bad
The over-crowded view of the main stage on the first night. Notice how you can hear the festival rides and voices over the music.
The sound
After a number of issues with the city of Kitchener, Ever After has come under fire in previous years for the noise levels coming from the festival. This year, organizers ensured festival-goers that the sound would be uncompromised and the city would still be kept happy. In a previous article, I touched on how the festival founder boasted pk-sound, a system notorious for producing the heaviest and loudest sounds in the game, for this year's event. Although pk-speakers were spotted, they weren't used to their fullest capacity.
Actually, most of what I was told about the sound wound up being untrue. The sound levels were absolutely compromised. Volume varied between sets, where one artist would be noticeably quieter or louder than the previous. At some points we could even hear the volume being messed with DURING sets. Excision's set started off quieter than usual and we could actually hear it get louder toward the tail end. I've seen Excision plenty of times to know this was not an intentional increase. Here's the thing: if I can hold a full conversation with someone at normal volume during a main stage set at a music festival, the sound is not loud enough. End of story.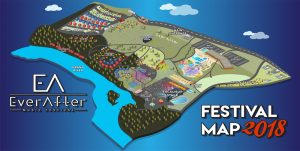 False advertising
Nothing irks me more than false advertising. When someone purchases something, they should get what they are told they will; ESPECIALLY when spending hundreds of dollars on a music festival ticket. Basically, EA stretched the truth on a lot of things, or lied by omission if you will. The photos of the roller rink posted were not from a previous festival but a completely different event. All it was was a small circle around an inflatable. Same with photos from the "Extreme Zone," the actual structures were completely underwhelming when we saw them.
The festival also boasted a "wide variety of food and merchandise" vendors for the event on their website. Another underwhelming promise. Most of what was offered was fried food, grill items and lots of pizza. Listen, I love pizza as much as the next millennial but it would have been nice to have more options, maybe even a couple healthier ones? I would have been totally screwed if I were a vegetarian or a vegan, I didn't see many options (if any?) for those dietary restrictions at all. There were maybe a dozen merchandise booths too, which I hardly consider a "wide variety."
The staff
The security and the people working will-call and the front desk were visibly stressed out and aggravated on the first day. Which is totally understandable given how over-populated this festival was. The next two days seemed a little better for them morale-wise but there seemed to be one common trait amongst them all: they were all completely clueless. Not totally their fault, I'll give them that, but I have never seen an event staff so completely oblivious to what is going on in the festival they're working. The first day was a complete mess of being blindly directed all over hell's half acres by clueless event staff as we were trying to find water, the VIP section, the media pit, etc. We missed two whole sets just trying to find things.
The festival map they offered was completely useless because it didn't actually point out a lot of things INSIDE the venue like bathrooms, water stations, entrances, etc. They seemed completely powerless over anything and everything. I raised several concerns with my contacts before and during the festival. The girls were very nice and I know they tried their best to make things work for us, but there was too much that was out of their control.
The ugly
This was the water faucet festival-goers began using in addition to the "station" that the festival provided next to it. We waited an hour to fill our hydration packs.
The water situation
If anyone who wasn't at EA heard anything about the festival, this was probably it. Like most festival goers, we tried to find the water stations to fill our hydration packs as soon as we got into the venue. We first went to VIP looking for a station, nothing. Our only option there was wait in the long ass VIP bar line for a cup of water. So we left VIP to find the GA water stations. We were directed to the back of the venue where we found two LONG lines for water. After talking to a couple people in line, we found out these were the ONLY stations in the entire venue. Thousands of people, two water faucets. Attendees started using a camp water spigot as an additional option. It was 80 degrees, people had been out in the sun setting up camp all day and there were THREE SPOUTS for water.
The worst part? The Ever After Twitter boldfaced LIED about it. They tweeted out a picture of those only two spouts saying there were no lines and there were multiple stations. This was not true, period. We looked near and far and found no other options other than buying an $8 box of water from the vendors. On Saturday, we waited an entire HOUR for water, missing all of Liquid Stranger's set. I'm honestly surprised no one died from dehydration. This is the most careless thing I have ever seen at a festival before in my life.
Please ignore my shrieks, but pay close attention to the bathrooms lines at the beginning and middle of the video.
The lines and lines and LINES
This festival was absolutely oversold. I know we are all used to big crowds, especially on Saturdays but this was not just big, it was a hazard. Thank god no crisis happened or we all would have been screwed. It took 15 minutes to get from one side of the main stage to the other because of how packed it was. The lines were the perfect example of how overpopulated and unprepared the event was for attendees. Will call lines for camping on Friday were hours long. I'm not exaggerating, HOURS. I saw people waiting outside of the fences all day long, waiting for their camping wristbands so they could start setting up camp.
The will call line for the festival was the same. Then the line to get into the festival? Some people waited over an hour and a half to get in. I talked to several people on Saturday who couldn't even get into the festival on Friday night because their entire day was wasted by waiting in lines. Once we got into the festival, the horrible lines continued on. A lot of people spent a good chunk of their time inside the festival waiting in lines of dozens of people for just about everything: bathrooms, water, rides, food, the bar. There were just far too many people for the venue to handle.
The VIP section
First day in VIP was alright. We were disappointed that there was no water for the section specifically. The VIP bar,  that was advertised to be better and with shorter lines than GA, was nothing special. The lines were just as long and prices were the same as GA for drinks. There were fun tent areas with couches to sit and view the stage from the left side and a balcony with more couches. It was a nice area to chill and watch the sets in a less crowded space. But Saturday took a turn for the worse.
Apparently, VIP was oversold too and there wasn't too much special about it other than having its own porta potties. On the second day, those seating areas were all taped off and we got yelled at for going up on the same balcony we were allowed on the day prior. Why? Because they closed of those areas to the people who ordered "bottle service" aka those who spent upwards of $200 for a bottle of Grey Goose and a platter of fruit and sandwiches. If you didn't drop this kind of cash, you were not allowed to sit anywhere in VIP anymore.
My last straw was listening to a group of women scream at people for coming anywhere near "their area" on the balcony because "you don't belong here, you didn't pay for shit so FUCK OFF." The one woman even hit a guy's sunglasses off his head and screamed at him to walk away from her. Another woman from the group proceeded to yell at the fun stilt walkers in costume who had come to bring some fun and spread good vibes to "get the fuck out of my way, you're blocking my view of the stage." Wow, just, wow. We left "VIP" and did not go back on Sunday. Who the hell treats people like that? Better yet, what kind of "security" allows it? Bye Felicia.
Personally, I think Ever After and Beyond Oz needs to be held responsible for all of the things that went epically wrong at this year's event. Most of those issues seem to stem from greed and lies, which is all the more reason they need to be held accountable. It's one thing to make a mistake or two, it's a whole other thing to lie about it. Festival-goers trusted you guys, they gave you their hard earned money and made arrangements to come out to a festival and you kind of played them. Yes, the lineup was great, the stage production was cool and the rides were fun, but you can't deprive people of basic needs like adequate access to restrooms and water. It's not right.
This recap may seem harsh, but it's honest. It's everything I saw and experienced first-hand. I definitely don't advise people from going to this festival in 2019. I will warn you all, however, to be wary while buying your tickets for next year's event.