Once upon a time, there was a music festival tucked away in the scenic landscapes of Kitchener, Ontario. This magical event whisks festival goers away from their day to day grind and transports them to a fairytale world with surprises around every corner. Ever After Music Festival is an extraordinary experience; featuring whimsical performances, theme inspired dancers, stunning visuals oh, and did I mention that they've put together one of the filthiest lineups I've ever seen?! Ever After may sound lighthearted but don't be fooled, it's a headbangers paradise.
Ever After Music Festival is coming back to Canada for its fourth year June 8, 9 and 10. This three-day festival has quickly made a name for themselves in the EDM community, attracting upwards of 40,000 festival-goers every year. The festival offers camping packages, cabins, containers (renovated freight containers) and RV spots for lodging. Event organizers have worked long and hard to ensure a unique, unforgettable experience for attendees.
"We strive to give an unparalleled, world-class festival experience," Ever After's organizer and President of Beyond Oz Productions Inc. Gabriel Mattacchione stated, "We're constantly on the pulse of the EDM scene and work to provide a line-up that combines a mix of emerging acts and EDM superstars. Ever After is an immersive, uncompromising musical experience. This year is guaranteed to be the most memorable one yet."
I have heard nothing but good things about this festival (which is saying a lot cause usually, someone has something to complain about) and I am BEYOND stoked to attend for the first time this year! I've done some digging into this event and asked a few of my fellow headbangers what they're favorite parts of it were and now I'm even more excited. Here are the reasons why: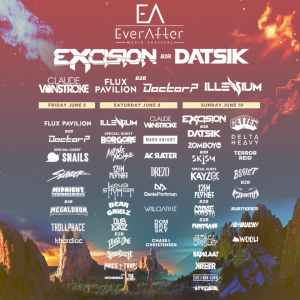 1. THAT LINEUP DOEEEE
I saw this lineup drop a while ago before attending the festival was even an option for me and was immediately drooling over it. My first thought was that it was kind of like the Canadian Lost Lands; featuring EPIC B2B sets, notoriously heavy artists and of course the kings themselves, Excision and Datsik, headlining it all. I was gonna go through the lineup and highlight which artists and B2Bs I'm most excited for but honestly, I'm excited for them all lol. This lineup is stacked yo, what better way to kick off the summer than vibing out at Ever After to some of the biggest names in bass music?
2. Access to a waterpark is included in all ticket packages.
So when I'm not headbanging at a set I can be splashing down a waterslide or taking a nap in the warm sun poolside? Sounds dope AF to me! Ever After festival-goers will have full access to the Bingeman Waterpark on site at the festival.
3. The Ever After Midway is an adventure all its own.
In addition to the waterpark being included in the price of tickets, so are the wonderful rides of the Midway. The Midway features carnival rides and games for all to enjoy while they're not headbanging their worries away. The Midway is also home to a bunch of the awesome food and merchandise vendors to be announced in the near future.
4. The campgrounds offer power, water and CAMPFIRES!
I was so ridiculously excited to hear that campers are allowed to have campfires at their sites! I've never seen this at a festival before. It probably has something to do with  Ever After's partnership with Unity Travel, but either way, it's awesome. Campers can also choose a campground that offers power, but there is an extra charge. A lot of the on-site camping packages are sold off but not to fear! Ever After also offers off-site camping options which are cheaper and provide a free shuttle.
5. Channel your inner child with inflatable games.
ANOTHER perk of having a pass to Ever After is that ticket holders also have unlimited access to the game area. Grab a group of friends to play inflatable football, run through the WipeOut obstacle course or even a game of full-size table hockey. It looks like a blast!
Still not convinced? Check the 2017 after movie:
WE ARE DAYS AWAY FROM #EAMF18 – Do YOU have your tickets??Prepare for the adventure with The Official 2017 Ever After Music Fest After Movie.VERY Limited GA tickets remain > http://bit.ly/eamf18tix (VIP SOLD OUT)Adventurers from around the world will gather in Canada this June. Create your own fantasy – June 8, 9, 10.

Posted by Ever After Music Fest on Monday, February 19, 2018
 So who am I gonna see at Ever After this summer?! If you haven't gotten tickets to this festival you may want to consider it, its gonna be the talk of the town. Stay tuned for more Ever After Music Festival coverage in the coming months leading up the main event!
Photos courtesy of the Ever After website