Although the first Electric Daisy Carnival kicked off in the early 1990s as a warehouse party in LA, the first coming of EDC to Orlando was on May 27th and 28th, 2011 with 12,000 attendees on Friday and 20,000 on Saturday. Since then, EDC Orlando has rapidly expanded, becoming bigger and better every year, especially with the epic announcement that 2019 will be 3-days. Come along with us as we explore the golden years of electronic dance music through EDC Orlando's lineups since 2011.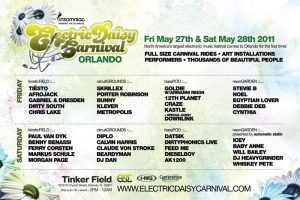 EDC Orlando 2011 was held at the same location that it is today, Tinker Field, a year after the large-scale renovation of Camping World Stadium. Trance was a 2011 staple in electronic dance music, as the lineup featured Ferry Corsten, Paul Van Dyk, and Markus Schulz. Dubstep was just stepping into the mainstream as artists like Skrillex, Datsik, and Feed Me graced the lineup with their filth. This was a big move for Insomniac, as it was their first festival in Florida, and it would gain them many loyal fans for years to come, as their production promised to be off the chain. Tiesto was a very popular artist during this time, and brought about a lot of buzz and excitement in relation to the event.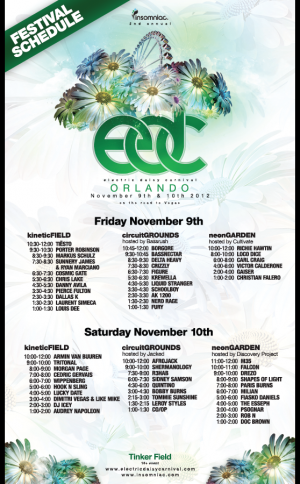 2012 came along and a noticeable rise in dubstep and bass music came with it. Also notable is the spike in big room popularity with the featuring of Dimitri Vegas & Like Mike. Armin Van Buuren and Tiesto remain a staple at kineticField for years to come, and Bassnectar enters the EDC Orlando arena for the first time, bringing a more diverse crowd with him. They may have come for Bassnectar but they stayed for Borgore, and likely enjoyed the rest of the circuitGrounds lineup on Friday.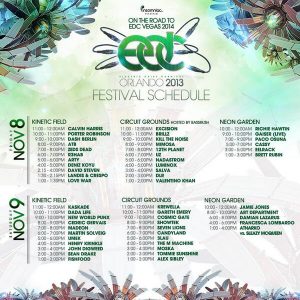 It's 2013, and the neonGarden is popping off with big names like Jamie Jones and Paco Osuna. Electro house shows its face at the circuitGrounds, going by the name of Showtek, and Tommie Sunshine and 3LAU hop in there as well with the electro. Excision has just become one of the most popular dubstep artists, and is gallantly headlining circuitGrounds along with Kill the Noise and 12th Planet. If only dubstep fans knew at this point that dubstep had reached its absolute peak, and that it would start declining very soon in favor of different genres. Trap music has come to fruition this year as artists like UZ and Luminox take the stage, welcoming a darker crowd with their 808s, and introducing the gangsta side of electronic dance music.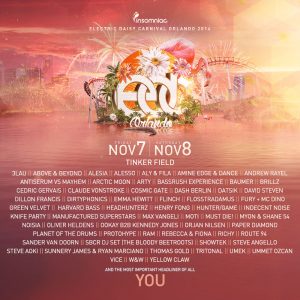 EDC Orlando 2014 was a wonderful year for complextro and electro house, as Knife Party destroyed the kineticField with their genius ensemble, interestingly preceded by some hardstyle (Headhunterz). This was a notable name on the lineup, as hardstyle struggled to make its way to the mainstream in earlier years. neonGarden was on top of their game this year with a day full of trance and then a day full of house. Claude VonStroke, a familiar name on EDC's lineup, destroyed the neonGarden with funk. The trap was absolutely booming at circuitGrounds with Flosstradamus headlining, a genre that would soon be missed by many as it falls to the wayside in the near future.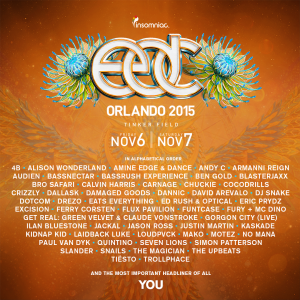 2015 was an interesting year at EDC Orlando. As old school dubstep seems to hang on with names like Flux Pavilion and Bro Safari, new school dubstep artists like Slander and Alison Wonderland emerge to take the spotlight. These artists seem to favor the merging of trap and dubstep, instead of the taking it towards the sounds of brostep, or dubstep with electro house components, like Skrillex, Zomboy and Knife Party had so masterfully done in the past. Underground electro house artist DALLASK delights the circuitgrounds with that deliocious complextro, and Drezo brings with him the rise of bass house. Paul Van Dyk is still an EDC staple in 2015 as he headlines the neonGarden, and Claude VonStroke teams up with Green Velvet to deliver the heat as Get Real.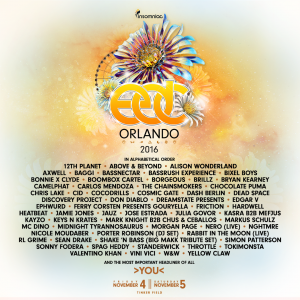 2016 brought Above and Beyond fans from far and wide as they closed out kineticField, and names like Jauz and Ephwurd ushered bass house music into the mainstream. Vini Vici brings a unique take on psytrance, absolutely destroying the neonGarden, as well as Nicole Moudaber, Mark Knight, and Chus & Ceballos. The merging of trap and dubstep is quite apparent at circuitGrounds with RL Grime, Brillz, Valentino Khan, and Kayzo. Hardwell closed out kineticField with his signature ground shaking sound.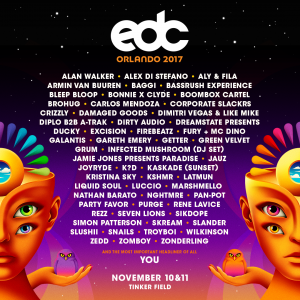 2017 comes with the addition of a fourth stage, the Boombox Artcar featuring a day full of house music ending with Cocodrills, and a day full of trap music. Bass house has remained in the spotlight and artists like Rezz and Bleep Bloop enter the scene with their space bass music, to the pleasant surprise of many. Legend, Skream is featured at the neonGarden, alongside Green Velvet and Pan-Pot as Marshmello headlines the kineticField with a future bass/Top-40 like set. The neonGarden always brings a large amount of talent, and gives underground music fans somewhere to retreat to.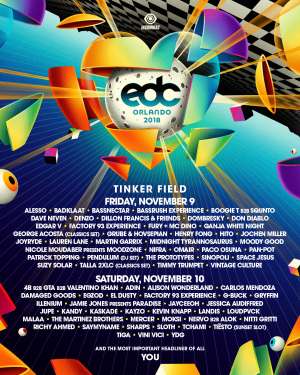 It's 2018 and old school dubstep as we knew it has been wiped off the face of the earth in favor of a
more space-bassy vibe with names like Space Jesus, Boogie T, and SQUNTO. Vini Vici brings his mind-blowing tribal psytrance talent to kineticField, demonstrating to some basics what superior music sounds like. Bassnectar takes the stage again to blow some minds as the neonGarden pumps out the madness through the decks of Patrick Topping and The Martinez Brothers. House music, techno, and tech house have blown up this year, offering previous trance and electro house fans a sanctuary, and bass house continues to shine behind names like Malaa and Tchami. Gryffin brings the future bass that had recently gained popularity, replacing big room, and Dombresky brings house music to main stage with a mouth-watering sunset set.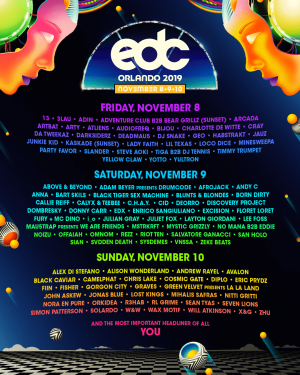 2019 sees the rise of techno and the addition of a 3rd day at Electric Daisy Carnival Orlando, allowing for so much more talent and so much more time to dance. This event falls on a holiday weekend, so you won't have to worry about taking off work or missing school. Mau5trap is set to absolutely annihilate the stage with debauchery, and Adam Beyer and Drumcode are sure to be unbelievably epic. ZHU takes the stage this year with his melodic desert house, Above & Beyond fans and Gorgon City fans will rejoice, and be sure not to miss i_o's take on techno at kineticField this year. EDC Orlando is also offering a payment plan, with a down payment of only $14.99 for GA, don't sleep! Purchase your tickets HERE to be a part of electronic dance music history, at EDC Orlando 2019.