Jessica Audiffred is a force to be reckoned with in every sense of the word. Her exciting bass music has caught the eye of industry giants, such as Flux Pavillion and Skrillex. She has been deemed a tastemaker in her genre, and it is no secret why. This dubstep queen not only produces but has opened the door for many other producers to follow her path. Jessica, herself, has taken the stage at festivals such as EDC Mexico and Tomorrowland Unite (Mexico). However, she noticed that there is not as much opportunity for dubstep artists in the Mexican dance music scene. As a result, she has created projects such as A Records and Back to Bassics, the first-ever bass-centric radio show in Mexico, to help her fellow dubstep lovers out.
While she has been dominating the Mexico music scene for a while, she has begun bringing her mix of trap and dubstep over to the United States. Along with curating her personal projects, she has released music under labels such as Circus Records. We cannot wait to see what Jessica brings to the United States electronic music industry. With her motivation, passion, and experience, we are expecting nothing short of a revolution. We had the chance to connect with Jessica and learn more about her journey, music, and plans for the future. Learn more about this amazing woman, below.
EDM Maniac: You've been dominating the dance music scene for a while; how did you get started?
Jessica: I started DJing when I was finishing college. I graduated with a degree in psychology, and right after I graduated, I started with DJ classes. Since then, I've dedicated my entire life to music.
EDM Maniac: In previous interviews, you've mentioned that you decided to branch out of the Mexico dance music scene because you felt like it wasn't ready for your music style. That being said, you still made quite the name for yourself while staying true to your music. What was it like being a heavy bass artist in a less receptive space? What hurdles did you have to overcome and how did you do it? 
Jessica: Mexico is an amazing country for electronic music, the only problem is that they still like the more mainstream electronic music than other genres. Take bass, for example. You can't play dubstep at clubs here unless it's a big festival or a party of my own label. There are just not enough places for us to play bass. So, you kind of need to decide whether to keep playing it three times a year here or start to make music and open a path for yourself in other countries. I decided to work and get myself out there.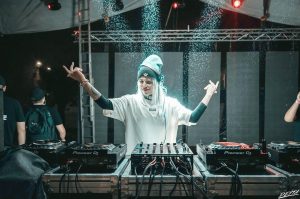 EDM Maniac: Because of where you began, you have a different background than a lot of popular artists in the United States. How would you say starting your career in Mexico helped you? How has it influenced your style?
Jessica: Growing up in Mexico definitely opened my eyes in a lot of ways. With so many things happening here on a daily basis, you became a little bit more aware of your entire context. I'm way much more appreciative of the good things that happen to me so I'm grateful to experience my own culture with different audiences and see how every culture is different. I love to see that uniqueness every time I get to play in a different country or city.
EDM Maniac: You have had multiple projects outside of your music. Can you give us some background on A Records and what your goal was when creating the label?
Jessica: A Records is my baby, I love every single thing about it. From the releases to the artists and their own amazing styles. Every new artist on the label is like a breath of fresh air to the Mexican bass scene. I'm so happy to provide that space where they can be themselves and grow as a team because my label is a team. We are all trying to grow the bass scene here and you can only achieve that with amazing quality music and teamwork.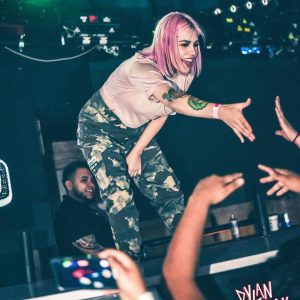 EDM Maniac: Similarly, can you tell us more about Back to Bassics? For our followers, can you give us some background on what it is and what releasing it was like for you?
Jessica: Back to Bassics is my radio show with a few producer friends. We put together this 1-hour radio show on a national radio station that is HUGE! BEAT 100.9 is the only electronic music station here in Mexico City so I'm so happy they gave us a show so that people can start to familiarize themselves with bass music a little more.
EDM Maniac: You've been deemed a tastemaker within the industry due to your progressive take on bass and trap music. How did you find your niche? How would you say your music developed over the years?
Jessica: I'm so in love with bass music that I wanted to be a part of it so bad! I don't consider myself anything but a girl who loves bass more than anything. I release music I believe in and if the people like it, I'm happy with that.
EDM Maniac: When looking into your background, I saw that you studied psychology. I imagine that it has helped you relate to your fans and understand the industry. Have you used what you've learned in your career? How so?
Jessica: I've always been an introspective person. I like to watch people's behavior, even if it sounds creepy, I just do. I like to know why they're the way they are and what leads every one of us to become what we are now. To me, playing shows is about reading people's emotions so I love to see their faces when I drop certain songs. It makes me happy to see everybody happy.
EDM Maniac: Seeing as the dance music community, especially dubstep, is heavily dominated by men, your success as a woman is even more impressive. What is it like being a woman in your field? What struggles have you faced and how have you overcome them?
Jessica: Honestly, I've never thought being a woman would make things harder or easier. I just dedicated myself to work on my career. If you work hard, have your own style, cool music, and have a positive attitude; people will start to notice you.
EDM Maniac: What advice do you have for other women entering the industry?
Jessica: Learn how to produce, how to deliver amazing sets, be yourself, and create your own vision and style, so that people will remember your face after a show.
EDM Maniac: Not only are you a woman, but you are also from a different country. While we think that only adds to how amazing you are, have you had any challenges because of your heritage? Have you faced any discrimination? How so?
Jessica: I've never experienced anything bad, honestly. On the contrary, in my case, everyone is a little bit more curious about my heritage so they are really nice around me.  Also, I'm lucky to meet a lot of Mexicans all around the world at my shows who come to me at the end of my sets to tell me how cool is to see another Mexican there. We all feel like family in a way!
EDM Maniac: What advice do you have for artists coming from different cultures? 
Jessica: Embrace it, it only gets better. We are all unique in one way or another but getting the chance to play outside your country for a new audience is one of the best feelings in life.
EDM Maniac: You have a lot to be proud of. What is one of your favorite parts of your career? What has been one of the most gratifying experiences that you've had?
Jessica: The fact that I get to play the music that I made in my little studio here in Mexico to big masses of people at festivals, clubs, or whatever just blows my mind. To get to know them (my fans) in person and talk to them at shows means the world to me, I'm so grateful for every single person that listens to my music or pays for a ticket to see me live. Also, the fact that I get to meet artists that I've admired since I started DJing and release music on their labels it's like a big WTF to me. I don't know how that happened but it makes me so happy.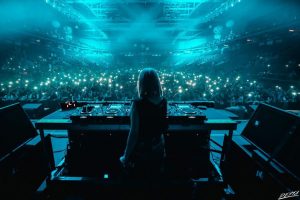 EDM Maniac: I love your song "Take me Back", especially because I'm pretty sure we'd all like to go back to 2019. What has the 2020 quarantine been like for you? How has it affected your career?
Jessica: I think we all needed this in a way, the earth needed this, and even though we lost a lot of gigs and money, we gained more time to make music or learn how to play an instrument or something. In my case, I started to learn to play guitar. And since I love psychology, I had the time to take online courses to learn more about the human psyche. We are all going through a rough time, but you need to decide whether this will bring you down or not.
EDM Maniac: How has it affected you personally? How has your mental health been?
Jessica: I'm not 100%, okay, but none of us are completely sane. The important thing is to notice what's bugging you and overcome it, that's the real battle right there. So, for me, every time something makes me feel anxious or sad, I try to understand why and I'll change my way of thinking in order to achieve peace.
EDM Maniac: Do you have any words of motivation or advice for our followers?
Jessica: Just to let you know that everything that's happening in the outside world can not be controlled by you, what you can control is how you react to that. You decide whether to be happy or sad. It's your choice, how you feel it will always depend on you.
EDM Maniac: What are some projects in the works that you are excited to share?
Jessica: I have some super fresh collabs on the way!
EDM Maniac: Do you have anything else you'd like to share with our followers?
Jessica: I love you, keep grinding, and thanks for the support!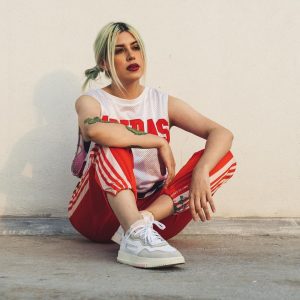 We wish Jessica luck, but we know she doesn't need it. We cannot wait to see what this next year has in store for her projects and music. And, more than anything, we are ecstatic about the possibility of seeing her tour within the United States!
Featured photo by @jessica_audiffred