Just a few miles from Hollywood on the streets of Downtown Los Angeles is our pick for 2013's Best club experience for EDM fans in LA. 
Located in the Historic Core of Downtown Los Angeles, approximately one mile from Staples Center and the Los Angeles Convention Center, Exchange LA is one of Los Angeles' most beautiful and oldest venues.
Some history:
The Los Angeles Stock Exchange Building began construction in 1929, just three days before 'Black Thursday' and the market collapse. The eleven-story Exchange building was designed by Samuel Lunden in the Moderne style of architecture. When the Los Angeles Stock Exchange opened its doors in 1931, the country was deep into the throws of the Great Depression.

The highlight of the interior was its massive 90′ x 74′ balconied trading floor with a forty-foot ceiling and sixty-four booths. On fifth floor was a clearing-house with a statistics department, an auditorium, and a lecture room. Offices occupied floors six through nine, and the top two floors included: a club with a library, a card room, a billiard room, and reading rooms. The basement held a 2,660-sq. ft. printing room and a vault.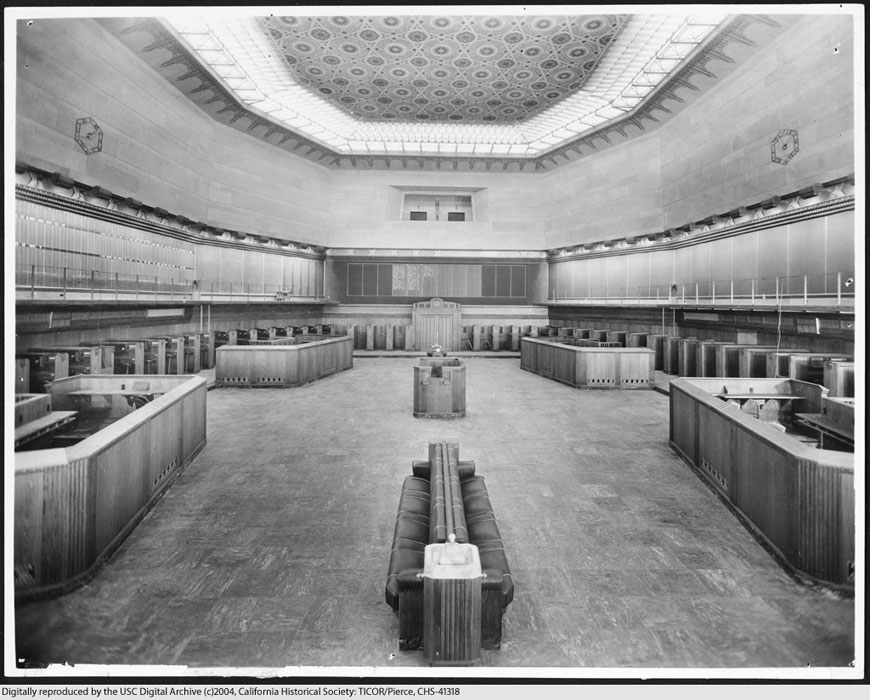 Los Angeles Stock Exchange trading floor
The Los Angeles Stock Exchange eventually merged with the San Francisco Stock Exchange and became the Pacific Coast Stock Exchange in 1956, and remained open until 1986. The doors shortly closed after and in the 1980s, the building was converted into a nightclub called the Stock Exchange. Over time, the historic building begun a massive restoration and finally became Exchange LA in 2010 hosting various live performances, TV shows and events. Spanning over 25,000 feet and four floors, Exchange LA was bringing the old building back to life.
The Exchange LA we know today is home to Insomniac's Events weekly Friday/Saturday parties. In June of 2012 Insomniac Events, producer of North America's largest Electronic Music Festival 'Electric Daisy Carnival" partnered with Exchange LA to bring weekly EDM events to the venue. Insomniac has produced more than 250 music events  for more than 3 million attendees in California, Nevada, Colorado, Washington, Texas, Florida, New York, Puerto Rico and the United Kingdom. Insomniac kicked off it's residency at Exchange LA on June 22, 2012 with Tritonal for it's inaugural weekly Friday trance shows. The "Awakening" series highlights the best in trance music with DJs from all over the world taking over Exchange LA on Friday nights. In August 2012 Insomniac introduced a weekly Saturday party called "Inception" which seeks to bring the best house music talent to Exchange LA. Friday nights you can expect Exchange to stay open till as late as 3AM on some nights and Saturday you can expect Exchange LA to stay open till 6AM on most nights.
So why is this the Best Club experience?  It's because of the immersive and welcoming experience that Insomniac is known for, but inside of a club. Recently, Exchange LA's main stage went under another renovation, by enhancing the experience with a giant LED wall and state of the art lasers. The production for any night you attend will immerse you within the music and really transform your expectations of a nightclub. Insomniac and Exchange LA are doing something right now that's so special that many clubs aren't. Insomniac's "all about the experience" mantra is showcased at their festivals and events throughout the year, and Insomniac has taken that mantra, their core value of connecting fans with an unparalleled experience, to a nightclub. The stunning visuals and investment into a beautiful, immersive main stage proves that their desire to reinvent the nightlife experience is paying off. But it doesn't stop there. Exchange LA has to be one of LA's most raver-friendly venues.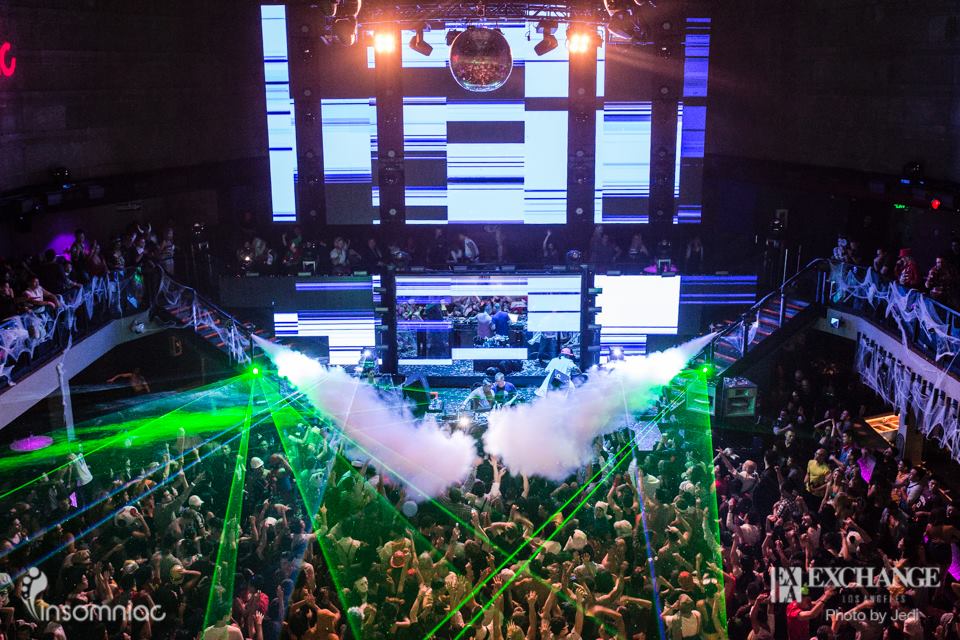 The main stage at Exchange LA
There are so many clubs in Hollywood that bring EDM artists but don't necessarily cater to the EDM crowd or audience. They cater to the upscale Hollywood crowd that "likes EDM." We've always felt welcomed at Exchange LA, and we've felt like we're hanging out amongst the same people we would find at festival. This is what makes Exchange LA so different. The crowd that the venue attracts is friendly. It's not stuck-up. It's not like a typical Hollywood club. For this reason, we can't help but acknowledge that Exchange LA is home to loyal music fans and is very much accepting of them. Their "On the road to EDC' and Halloween-themed parties make the vibes at Exchange LA very positive and make it feel like home. This is quite possibly the most difficult thing a club could attempt to do, and we have to say that Exchange LA does it really well.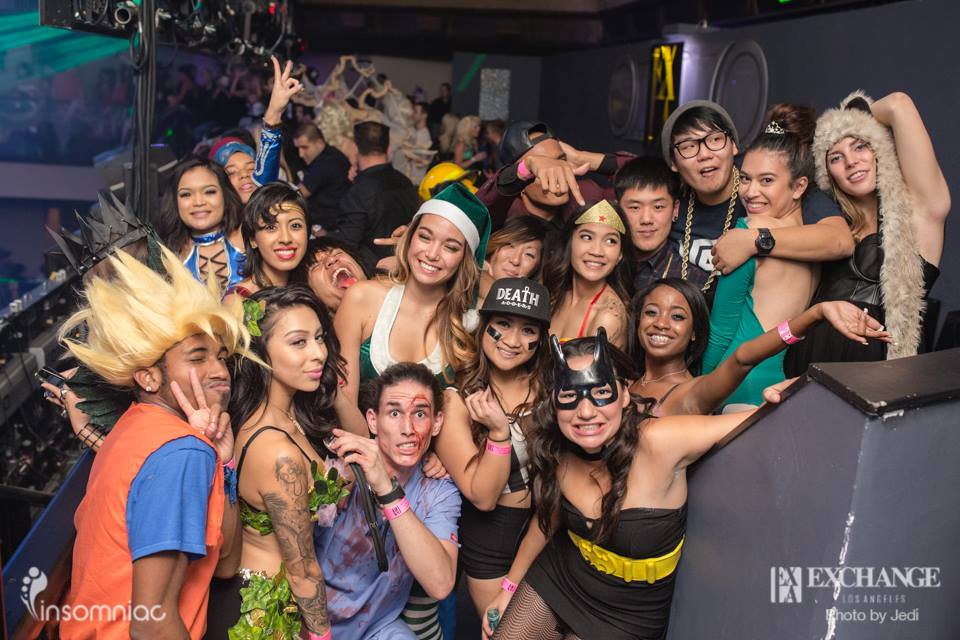 Exchange LA Halloween
If you ever need to take a break from the massive visuals and lasers, head downstairs to the Gallery Room. Part of Exchange LA, the Gallery Room hosts upcoming talent. Exchange LA partners with local blogs/websites and DJs to play in the Gallery, and this is one of our favorite parts about attending any show. You can check out upcoming DJs downstairs (there's a bar) and it's great that such an famous venue allows upcoming talent to play in one of LA's most historic, beautiful and high-energy clubs. It really shows their dedication to the fans and the music.
Behind Exchange LA's massive success is also their promotions team. Exchange LA promoters are quite possibly the nicest, most approachable promoters that we've encountered. We're not exaggerating here. They make purchasing tickets and learning about new shows a friendly interaction. Again, not so typical of a lot of clubs. Typically the "promoter" name comes with a negative cache, but the Exchange LA promoter team is friendly and knowledgeable about the events, and are not just attempting to "pack the club." The promoters are fans of the music and really embrace the culture which translates to a great club experience.
Lastly, the prices. Exchange LA has brought  several big names to the venue (and we hear has many big names coming in 2014) and it's not impossible to get a decently-priced presale ticket to a show with a big DJ. Tickets are often available way in advance, and you can purchase through their promoters or through Flavorus. Many times if you buy early, you can get a ticket for as low as $20. That's just awesome. The purchasing process is simple and easy and if you arrive early, you're inside by no time.
Exchange LA certainly encompasses Insomniac's "all about the experience" mantra, however, you'll still get Hollywoood-priced drinks (so we do recommend taking advantage of some of the drink specials right next door for a great pregame), and the lines might sometimes be long depending on the night. You have to arrive early to avoid long wait times. After all, this is still LA — the entertainment capital of the world.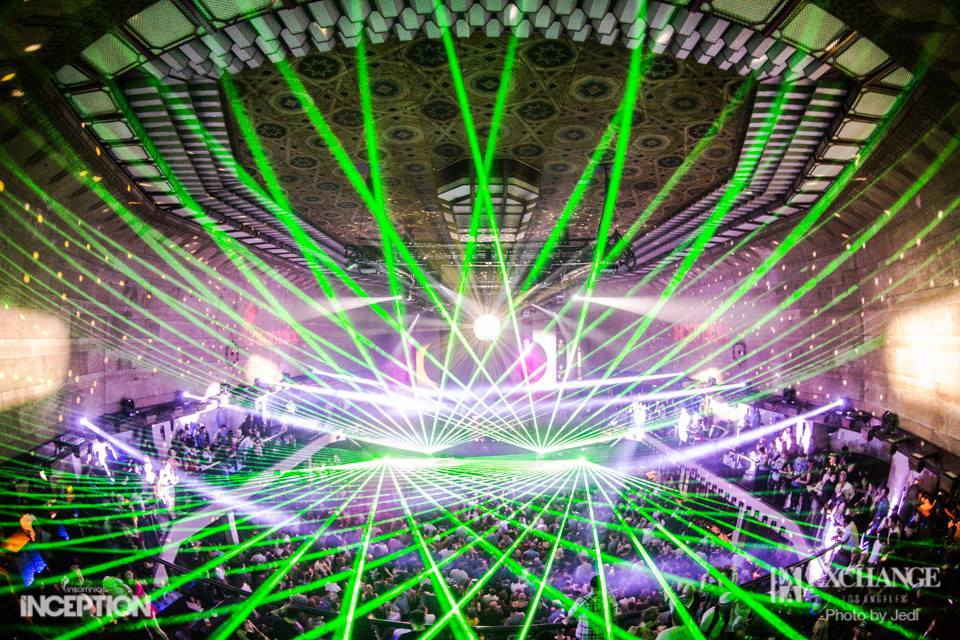 A night at Exchange LA
If you're ever Downtown be sure to check out Exchange LA. It's a hop, skip and jump from Hollywood and you'll often get to experience more than you expect. We're glad to call Exchange LA one of our partners, and we can't wait to see what they bring next year.
Exchange LA | www.exchangela.com  |  (213) 627-8070 | Facebook