Ferry Corsten is a multi-faceted producer from Rotterdam that has been a pioneer for trance music and within the electronic music scene for decades. Since the 1990s, he has produced a variety of tracks under various aliases including Ferry Corsten, Gouryella, System F, Moonman, and Victim Pulp. Today, Corsten announced major news with the debut of his "What the F" Tour set to commence this April. The tour aims to showcase all of his work from a variety of projects produced under each alias and merging together his eclectic style in one set.
Corsten continues to be a staple on the electronic music circuit as a headliner at major festivals across the globe including Electronic Daisy Carnival (EDC) and Tomorrowland. Throughout the years as a producer, Corsten's style has progressed to include a wider range of genres including trance, house, and progressive house which has earned him a variety of awards including Best Producer, Best Global DJ, and Best European DJ amongst many others by the International Dance Music Awards hosted each year at the Winter Music Conference.
The tour announcement comes as exciting news to electronic fans across the board as Corsten combines his work over the last few decades into a blending of his music simultaneously with a crossover of genres. According to Corsten, "For a long time, I've had a vision of bringing all of these projects to the stage, all in one night, all in one massive show. And now It's finally happening. To be able to play a proper open to close set with just your own music is like a dream come true. The classics, the new music, and the songs you never knew I made. A true full audio-visual experience."
The tour will begin this March in London at the renowned Ministry of Sound before making his way over to the United States. The United States portion of the tour kicks off in Atlanta and will have stops in Houston, Chicago, Washington D.C. at the world-famous Echostage, Brooklyn, San Francisco, Los Angeles, and ending with a finale in Denver. Head here for ticket information and more for this incredible tour!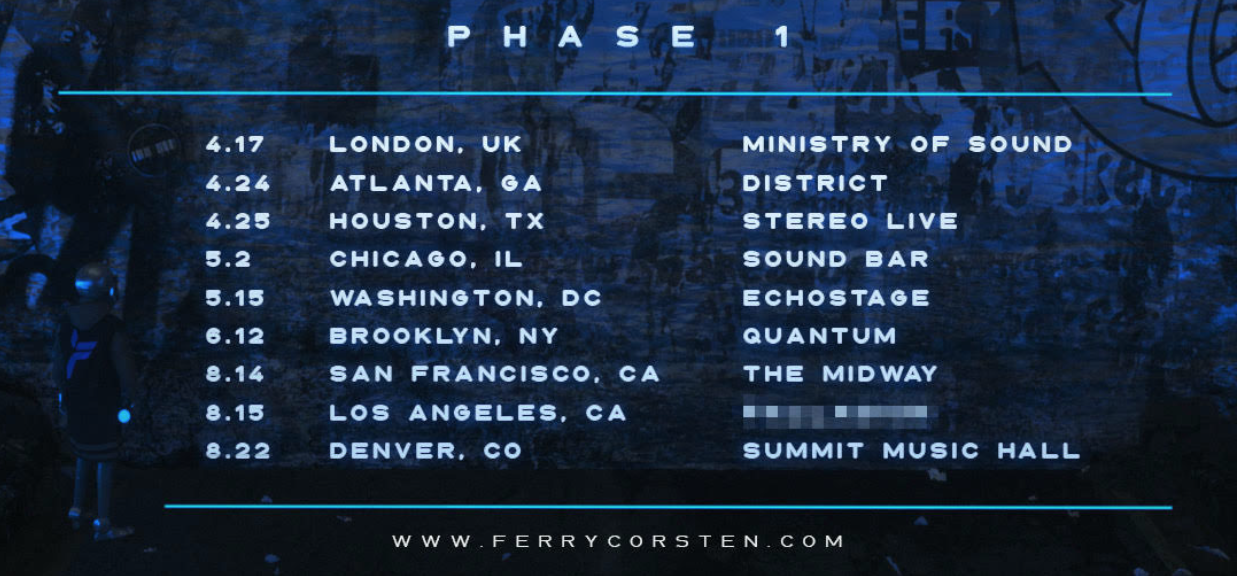 *Images via Ferry Corsten, Twitter, club glow.com