In my nature, I am a chronic over-packer. "But what if it rains?" "What if it's cold at night?" "What if a bear comes and eats all my clothes?" I literally pack for every unforeseen circumstance. So when I looked at the weather report for Electric Forest before I went last year, I knew I was screwed. It was supposed to be chilly at night, hot during the day, rain and be sunny… and I packed everything plus the kitchen sink. I did the same thing at Lost Lands.
Keep in mind I was driving to and camping at these two festivals. So two festivals down and I feel like I got a little wiser about what I should pack, what I didn't need and the things I did bring that were actually a good idea. Here are my suggestions:
Five things I'm glad I did pack: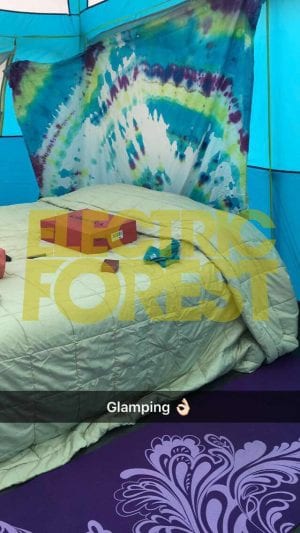 Double tier air mattress:

Festivals are tiring and a good night of sleep is super important. It's hard to do that when you wind up on the floor the next morning because your air mattress deflated. I got this sick double tier, queen size air mattress and I always get a good night of sleep with it!

Camp Shower:

Seriously my savior. Nothing beats not having to wait in long ass lines and pay for a shower. Plus I got to shower off all the grime and glitter when I got back to camp at 3 a.m. when the public showers were closed. Clutch

Fruit:

Yes, healthy food you don't need to refrigerate. I like to pack apples, peaches and oranges. Such a refreshing treat for breakfast.

Earplugs:

I hate wearing earplugs but god if you ever wanna get any kind of rest while camping at a festival, they are a MUST!

The preventative wook flu potion:

After my first festival I got super sick with some mutant bronchial infection that wrecked my shit for a whole week. I discovered a protective remedy: Gatorade with Emergen-C mixed in. Worked like a charm.
Four things I didn't need to pack:
A shit ton of food:

My friend and I bought so much food and pretty much only ate pop tarts, fruit and granola bars.

Too many clothes:

Ok so I know they tell you to pack extra clothes for these kinds of things but I literally take it too far. Like I bring home an entire duffle bag of clothes I didn't wear. Why am I like this?

Aerosol hair products:

Some festival prohibit aerosol bottles which I guess I missed when reading the what to bring and what not to list. My dry shampoo, hairspray and glitter spray all got taken, boo.

Things to do in our 'spare time':

So my festie bestie brought a book to read and I brought colored pencils and coloring books to EF so we would have stuff to do when we weren't in the venue. Spoiler alert: you're not gonna have a lot of time to kill at a festival.
Five things I wish I would have brought:
Solar Lights:

Would have been a lot more helpful to navigate our campsite.

Tent fan/light:

They make a combo fan/light that hangs from the middle of your tent. This would have been great to cool the tent off during daytime naps and light up my tent when I get back at night.

Camelback:

I thought that I would be good with a water bottle but the number of times I had to go refill was so annoying. Camelbacks are totally worth it.

Blanket to sit on in the venue:

Sometimes my squad and I just wanted to chill to watch a set but we wound up getting grass and dirt all over our outfits. Totally wish we had something to sit on that we could have kept in a locker. That being said…

A locker:

I wanna bring so much shit into the venue but I don't wanna carry it. Lockers may seem expensive but are totally worth it, to keep that blanket or a hoodie in.
So what were your most valuable festival possessions? Tweet at me at let me know! Also, stay tuned for more festival camping tips, tricks and hacks.
Featured image courtesy of Electric Forest