Let's face it: music festival camping can be a struggle and just downright uncomfortable at times. Sure it's fun to be so close to the venue and make new friends in the campgrounds, but that doesn't change the fact that it's hard to get any kind of good rest.
But what if I told you that you didn't have to sacrifice comfort and personal hygiene to go camping at a music festival? That you could be squeaky clean, snug as a bug in a rug and get a good night of sleep too?
I went camping for the first time about five years ago. It was amazing being out in nature with my friends but I paid the price when it came to comfort. Every morning I woke up on the ground because my air mattress deflated. I was freezing at night and sweating by sunrise. I couldn't stand a cold shower so I just wouldn't and be grimy for days. Changing my clothes was a goddamn nightmare in a four-foot-tall tent. My final straw was two years ago. I had a tiny four-person tent and an air mattress that took up the whole thing, meaning I couldn't see the ground. I kept waking up with gnarley bug bites all over my body, thinking mosquitos just got me bad. But when I went to go take down my tent I found out FOUR giant fucking spiders had been living in my tent all weekend. NOOOOO THANK YOUUU. That was it for me, I vowed to myself that from that point forward I was camping differently.
SO I discovered Festival Glamping and I am never looking back. I actually enjoy camping trips in their entirety now and camping at my first festival was a breeze. So I thought I would share my tips and tricks with all of you!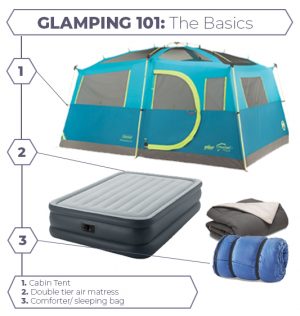 The Basics:
1. Cabin Tent
After the spider mishap of 2016, I got myself an 8 person cabin tent. Shit can get pricey but I can guarantee you that it is worth EVERY penny. It's my palace and I love it. I have no issues changing clothes because I can completely stand up in it. It's durable; made it through four thunderstorms without a drop of rain getting in. Mine even has a front door and closet because I'm kinda boujee lol. A good tent is the KEY to Glamping.
2. Double tier air mattress
I also invested in a double tier queen air mattress for my camping trips. The thing makes me feel like I'm sleeping at home, it's so comfortable. The best part about it is that it barely deflates and if it does even a little bit, I never wind up on the group because of the double tier. If you really wanna get fancy you can even get a mattress pad cover for the air mattress.
3. Comforter and good pillows
Staying warm at night is important to get some good rest after a long day at a festival. Bring a couple comforters, sleeping bag and/or extra blankets to sleep with at night. I say a couple because of how the temperature fluctuates. If you go to bed all cozy under a bunch of blankets, it's way easier to shed blankets when the sun comes up rather than to shed clothes.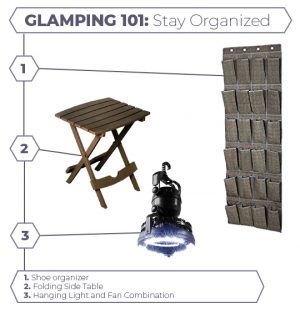 Staying Organized:
1. A hanging shoe organizer
Ever have the issue where you seriously can't find shit in your tent and you just wind up ripping half of it apart trying to find your hairbrush or baby wipes? Get yourself one of those shoe organizers you'd usually hang from the back of a door for the tent. Put the items you'll need most in here for easy access: sunscreen, toothpaste, contact solution, etc. The trick is to actually put the stuff back in there when you're done using it lol
2. Side table
The pockets on the sides of tents are great for holding belongings but can sometimes be a total pain. I put a small folding table next to my air mattress in my tent to act as a nightstand. It's great to keep my phone, glasses, and a bottle of water on for the next morning.
3. Fan light combo
It's such a pain to try to hold a flashlight while looking for stuff or get ready for bed in the dark. Or you ever try to take a lil nap during the day in your tent? Good luck doing that without sweating your ass off. The solution to both issues can be found in one device! They make light/fan combo that you can hang from the middle of your tent for light and night and cooler air during the day!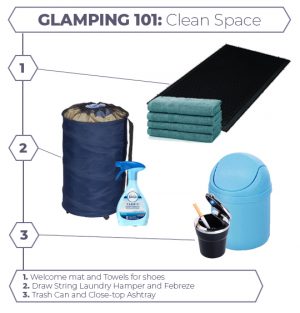 Keep your space clean:
1. Welcome mat outside, towels inside
I know this sounds crazy at first but who wants to track mud, dust and dirt into the tent? Having a mat outside the tent door will allow you to wipe your shoes off then take them off before entering the tent. Place a towel inside the tent right at the door to keep dirty shoes on.
2. Drawstring laundry hamper
Let's be real, dirty laundry can stink up the whole tent if not taken care of properly. Snag yourself a drawstring laundry hamper to keep dirty clothes and their scent in. This makes post-festival laundry easy too when you get back home. If your clothes are notorious for smelling super bad, bringing along a bottle a Febreze isn't a bad idea either.
3. Garbage pail and ashtray
Having a small garbage bin in your tent will make a whole world of a difference. Last year I was amazed at how much shit accumulated in my tent: food wrappers, used medical tape, clothing tags, used baby wipes and makeup remover wipes. Gross! I also brought a close top ashtray when I was a smoker to keep butts and their smell locked away.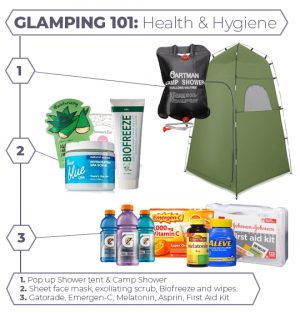 Keep yourself clean and healthy!
1. Shower bag and tent
Ok so I'm aware most festivals offer showers but I've never really been interested in that. You have to share it, it costs money and they're only open during certain hours? Lame. Invest in a shower bag and privacy tent and you can shower at any hour of the day! Seriously, nothing is better than getting back to camp after a long day and washing all the grime away. If you fill up the shower bag and leave it in the sun during the day, you'll even have a nice WARM shower to come back to.
2. Pamper yourself
I like to bring a bunch of feel-good products to help me unwind. Sheet face masks are great, plus they can be pitched real easily after (Hint: Find one with Aloe in it, it will feel amazing especially if you got some sun that day.) Biofreeze is a savior for sore feet and muscles. Exfoliating scrub or soap is amazing to have for a shower. Ladies, check out Summer's Eve's line of feminine hygiene products, you'll thank me later. Just because you're living outside for a couple days doesn't mean you have to sacrifice pampering yourself!
3. Items for your health
Glamping isn't all about the outward appearance of your tent but it's also an inside job! It's important to take care of yourself and your health to reap the full benefits of glamping. For me, that means having Gatorade and Emergen-C on deck to prevent me from getting sick, melatonin and earplugs to fall asleep at night, Aleve to keep the soreness at bay and a first aid kit for everything else!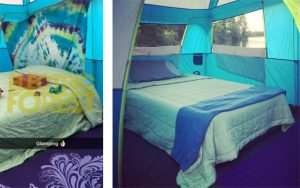 Time to decorate!
It'll be your home for the next few days, why not make yourself comfortable! Here are a few ways I create a relaxed ambiance in my tent:
I hang a tapestry by my air mattress like I have by my bed at home. Note: Use safety pins to hook the tapestry to the loops inside of the tent.

I like to bring my incense coffin to keep my tent smelling nice.

I use my yoga mat like a rug next to my air mattress.

I bring my crystals along for a meditation before bed or in the morning.

I brought a small, battery-powered star projecting night light.

This year I think I want to bring along some solar powered string lights to line the inside of the tent with.
I can't explain to you all how much I love camping now that I know all of these tricks! Hopefully, you all give glamping a try and enjoy it at your next festival as much as I do! If you have any questions about anything, want to know more or have tips of your own you'd like to share with me please message me on Insta or Twitter!
Hope everyone has a safe and comfortable festival camping experience this summer 🙂