Hooping, Space whips, levitation wand, poi, fire. The flow props that electrify and mystify wide-eyed ravers and festival lovers are as varied and unique as the artists that bring them to life.
"Flow" is as much a commonplace term in the world of EDM today as shuffling and PLUR, and listening to flow artists' stories offers a direct glimpse into how the art form has become synonymous with the culture.
While the aesthetic value of flow arts is easy to see, it can also benefit people socially, mentally, physically and spiritually.
It's these invisible benefits this art form brings to the table that make it not just a nice feature of the festival community but a valuable and reformative one.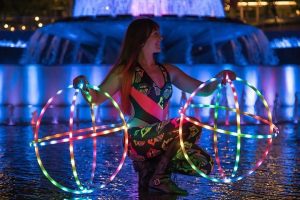 Into The Flow State
It all starts with the flow state. Flow is not just an activity, but a state of mind. Career flow artist and FlowFests.com founder Casandra Tanenbaum describes it as "an exhilarating transcendent way of being in which effortless control and peak skill seem to erase a sense of time."
When paired with getting lost in your favorite song, performing flow arts is perfect for accessing the flow headspace, and it's not just your ability to connect to the music that benefits.
People also find that flow can help them feel more connected to themselves, to others, or even to the ethereal- the feeling of being part of something greater than oneself; and it can even benefit life skills like learning capacity.
Ocoee Huss, a Michigan-based flow arts content creator otherwise known by her Instagram handle @whippenwitch picked up hooping as a hobby during the pandemic, but what started as a hobby ended up changing her life.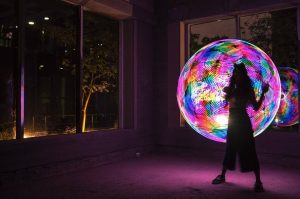 Connection To The Self
For Huss, it all came down to finding a deeper connection with herself through the flow experience:
"I would say I've seen a lot of mental and physical benefits from flow. There's no other time where I feel completely present than when I'm flowing, there's no thinking too far ahead or thinking about other problems and situations. You really have to just be in the moment, and that's something I've taken from flow into my everyday life."
When she picks up her hoop, Huss steps out of the part of her brain that nags about daily worries. She finds peace of mind. What's more, learning a new skill—and accepting the challenges that come with that process gave her a lesson in self-acceptance:
"I just picked up my roommate's hoop one day and started watching tutorials, and I had to allow myself to be really bad at first. It became an outlet for me to practice and feel good about myself. I built up skills and now flow just feels natural. But you have to be okay with being bad at something before you can be good. It's a great reminder that life isn't that serious."
The self-acceptance and peace of mind Huss found through picking up that hoop over and over again gave her a sense of liberation and authenticity.
When she's hooping or spinning her whip on the dancefloor, imperfections and insecurities fall out of sight, enabling her to connect with the music and with her body in a positive way. It empowers her to connect to others more authentically, and she's become a part of a worldwide community of flow artists.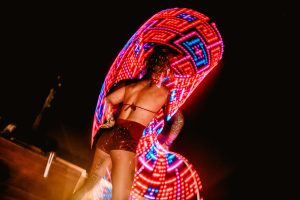 Community Connection
Like Huss, Australian Fire performer and LED flow artist Madi Mcivor discovered countless social connections through flow arts. Mcivor also began her journey as a flow artist during the pandemic, and in the two years since, she started performing as an insured fire performer at festivals and backwoods renegades known as bush doofs across Australia.
She credits her success in part to making friends and finding industry connections in the flow arts community's vast network.
"The flow community in Australia is gorgeous, most of my friends are in the flow community. It's really nice having a common interest that you share to bring you together" she explains.
Shared passions are often a powerful tool in connecting people. The added social benefit of doing flow in a festival setting is that it's a space where people already flock over a shared love for music, and flow is another "meeting point" through which people can bond.
This spills over into the digital world, too: Mcivor began sharing her flow sessions on Instagram for fun, and she ended up building a community as she drew in followers from the flow arts world.
"It's hard to remember where it all even started, I've made so many friends and connections both online and in person, but I've definitely gained a lot from it" she explains.
These connections not only led her to make new friendships, but also led her to professional opportunities:
"I've had festivals reach out to me from all over, even places like Berlin to come perform."
Mcivor shares tutorials and performances on her Instagram pages: Madi Flowarts and August Blaze.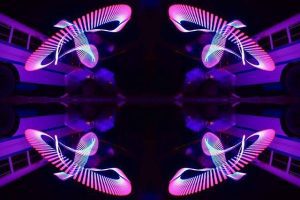 Creating New Pathways, Inside And Out
The flow arts community is full of hidden opportunities that lead people down novel directions. For Casandra Tanenbaum, that looks like dedicating entrepreneurship to understanding and spreading the power of flow.
Tanenbaum discovered her passion for flow arts over 20 years ago in college. She then became active in flow arts communities around the US before returning to her South Florida home where she launched her non-profit organization Flow Fest in 2011. Today, the organization hosts yearly free-admission flow arts festivals around the US.
It came down to a desire to share the flow state's life-changing powers:
"I created Florida Flow Fest because I wanted to give people there a sense of the collective field of consciousness that is created at flow festivals and those types of settings, as well as around studying flow arts, around studying movement and being playful as adults."
If the collective field of consciousness to which Tanenbaum is referring elicits mysticism, that's no coincidence.  One other common experience all three artists say that flow arts generates is a sense of connection to something greater than themselves— whether that be a shared moment of being lost in a song or feeling connected to the universe itself.
It goes deeper than anecdotal accounts too. In addition to hosting festivals, Tanenbaum dedicated a portion of her studies to flow. While obtaining her Master's in contemplative education from Naropa University, she examined the applications of mindfulness practices, including flow state, to teaching.
In her thesis, she explores the deep-rooted tie between dance, hooping, the flow state, and spirituality, which she traces to principles rooted in ancient Buddhism.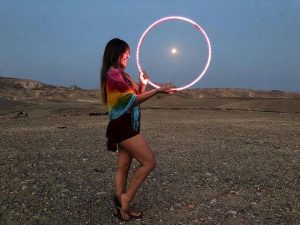 As her degree suggests, Tanenbaum's thesis more extensively explores how flow can benefit education. As an educator herself, Tanenbaum holds that dance, play, and the flow state can boost everyday skills like learning comprehension.
She's far from alone here. Today, a plethora of podcasts, publications, and books like  Steven Kolter and Jamie Wheal's book Stealing Fire are exploring how scholars, government organizations, and businesses alike take interest in harnessing the flow state's ability-boosting powers.
Tanenbaum explains that it comes down to the flow state's ability to create new pathways in the brain:
"When you're in a flow state, the brain floods with the kinds of chemicals that create building blocks between neurons that enable learning. You can create a healthier brain. Learning flow arts helps our brains become more flexible and plastic. It helps bring back the brain plasticity we lose as we age."
Whether it's building up those brain muscles, building confidence, making friends, or losing all worry to the pulse of the music, flow can help people to accomplish goals and make new ones.
The spark of curiosity that led Huss, Mcivor and Tanenbaum to pick up their first hoop led them to a life-changing journey, and that's nothing short of magic.
It's this magic that makes flow artists—along with their dazzling light shows—a beautiful and inspiring part of the festival and rave community, and anyone with a spark of curiosity can discover it.
Images by Mod Hoops