If you're a fan of Ganja White Night  (Benjamin "Bamby" Bayeul and Charlie "Erwan" Dodson), you've also been eagerly awaiting their new release "The Origins LP," scheduled to drop on February 5. After releasing an album annually for several years, the wait for this particular one has felt like it's taken forever (even though it's only been a year and a half.)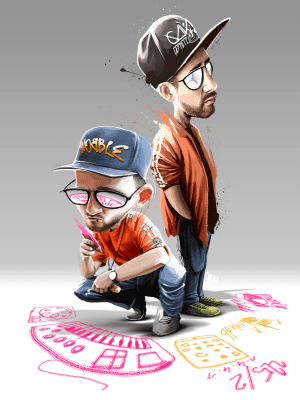 This duo is one of my favorites in the dubstep community because their sound is so truly unique. "We have some inspirations that never change," Ben and Charlie said. "We've always been fans of ethnic sounds and voices, long intros." This statement holds true as the duo continues to mix dubstep with drum and bass and then throw in influences from all over the world including the Middle East, Asia, Africa, and Latin America.
This twelve track LP tells the story of Mr. Wobble, a superhero who creates music and the world he inhabits. Each track seems to tell a different story along his journey. The album title also refers its similarity to their debut; the album is grounded in the roots of GWN but also welcomes new sounds and new collaborations to create the masterpiece that is "The Origins."
"We didn't care about making 'easy to mix' tracks," they explained. "We did that again for this album. We thought some tracks need a universe. If it takes a two-minute intro to make the drop worth it, that's what we do."
OMG you guys am I in love. Every song, every drop, every lingering intro is just perfect. Let me break it down for you…
The Origins- Ganja White Night
The title track really brings the hype and sets the tone for the entire album. This first song really places emphasis on their roots combining styles used on 'Mystic Herbalist' and 'Mr. Wobble.'  Listening to this track I feel like I'm part of some enlightening tribal ritual with the vocals and percussion patterns. It's a strong start to the amazing journey this album is about to take you on.
Unique- Ganja White Night X Caspa
The vocals on this track begin by speaking, "Don't try to imitate that. Find your own way, find your own voice, find your own feelings. And that will give you a unique opportunity." I couldn't think of a better way to describe the sound and style of GWN. I haven't heard much from Caspa in a couple years so I was super stoked to see him on this album and tour. This track is heavy, eerie, even daunting at some points but powerful all the way through.
Sacred Pipe- Ganja White Night
A deep male voice characterizes the inception of this song; I felt like I was listening to an old tale from a wise, tribe leader. This track is primitive and progressive at the same time, mixing the mystery of sacred pipe with heavy basslines and choppy wubs. There's a build-up in the middle of the track that's drop is just, indescribable. You'll have to listen for yourself.
Blood Shower- Ganja White Night
This track is intimidating AF. It starts off hard, maintaining its strength through the buildup into it's quick, rough fall. Siren sounding noises join those layers before it breaks itself into a nasty drop toward the end of the track. I feel like I'm being prepared to march into a battle throughout the song.
Wobble Buds- Ganja White Night
Following my feelings that I had just been through some sort of tribal battle, this song makes me feel like I'm going through a cleansing ritual after. It's heavy bass lines are dominant through the variations of the track. I hear a whole hell of a lot of GWN's 'origins' from several years ago throughout the song.
No Escape- Ganja White Night X Dirt Monkey
This track possesses this disorienting siren sound during the breakdown that morphs into the ominous vocals of, "There's no place to run, there's no place to hide" before it drops. I heard some Arabic influences in the beginning of this track before the SubCarbon powerhouse gets the wonky drop in their grip. It blows my mind how in collabs, GWN is able to switch up their sound without losing their identity.
Ferity- Ganja White Night
Ferity means, "the state of being wild or untamed; savage." Nailed it. This track literally says "switch" as it tauters between gritty percussions and stupid hard bass lines, until GWN give a whole new meaning to heavy around 4:30. Check it guys, I'm not playin'.
Chak Chel- Ganja White Night
This song is beautiful and powerful at the same time. Chak Chel was the ancient Mayan goddess of creation, destruction and healing which are all evident themes throughout this theatrical track. GWN showcases their interest in Latin American history as they really capture the essence of divinity here.
Tengri- Ganja White Night
Probably one of my favorite track on the album, 'Tengri' has this breathtaking, hypnotic sound. It begins with this light, piano sounding intro which breaks into the drop. If feeling like you're flying had a sound, this would be it. This song is quiet and consistent but also impactful as it sinks into the outro.
Leave or stay- Ganja White Night feat. Simona Brezanova
It's not often you hear the Ganja Boys feature such strong female harmonies on a track but they sure as shit did it well here. It's kind of pop-y but definitely doesn't lose its intensity.
Reminisce- Ganja White Night X Boogie T
The reggae beats, filthy riddim, a little guitar and sensational vocals are signature characteristics of another Boogie T collab. The styles of these SubCarbon artists work so well together as we all saw in "Flava" and I'm super excited that they're further exploring possibilities here.
Samurai
This track is the perfect ending to the exciting journey 'The Origins' takes you on. It begins slow with a calm piano intro as it quickly progresses into an aggressive build-up and extremely heavy drop. According to GWN this collab almost didn't happen because it was too close to deadline. But I bet I'm not the only one saying that thank god they worked it out.
This album is accompanied by a narrative video series by renowned graffiti artist Ebo, who is crazy talented. If you've seen GWN live before you've probably seen his work.
I was already super stoked to go to the Detroit stop of "The Origins Tour" but now I'm counting down the days. Ganja White Night's performances are not just a DJ set. Although each show of the tour will open with a B2B DJ set from the SubCarbon roster (yes, that means GWN X Dirty Monkey X Subtronics *drooling*), Ben and Charlie's performance will feature live instrumentation, editing, remixing and improvisation. So more like a band playing only original material.
Stay tuned for my first-hand experience of their tour next week! It's gonna be mind-blowing y'all.
Feature photo courtesy of Ganja White Night