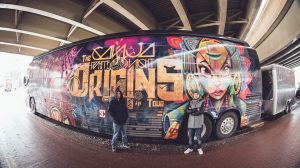 The timing couldn't have been better for me last weekend when I road tripped it up to Royal Oak (Detroit), Michigan for the third night of Ganja White Night's Origins Tour. I was still super hyped from their album dropping the previous Monday and was ready to see what they had in store for this tour.
One of my favorite parts about the EDM scene is that I can like a specific sub-genre and never see or even hear the same shit twice. Each show has its own vibe, its own visuals and of course its own unique talent. The Origins Tour was definitely no exception. The entire production was this awe-inspiring, multi-sensory experience that left me in this indescribable daze as I walked out of the venue at the end of the night. Here are four ways this tour is different, also reasons why you need to see it for yourself:
1. The Subcarbon Records crew came ready to throw down.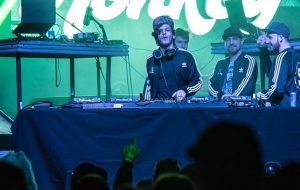 Ganja White Night brings along two Subcarbon Records powerhouses, Subtronics and Dirt Monkey, on this tour and the result was electrifying. The night began with a pretty dope Subcarbon B2B with all four DJs taking the reins on stage. They were all rocking Subcarbon track jackets lookin' like they all just won a gold medal in the bass Olympics. The set seemed super intimate to me; it was the first of the night, the venue was still filling up, the stage production was minimalistic, it was just the guys and their music. It was unlike any B2B I'd seen. It was chill, like the calm before the storm.
That storm began with Subtronics who I have been tryin' to see for a minute now. Dude grabbed my attention a while back with Now That's What I call Riddim Volume I and II and Cyclops EP. Recently I've been bumpin' around to Depth Perception and eagerly waiting for his newest EP Thermal Expansion, scheduled to drop on Feb. 23. Bottom line is if you haven't listened to any of Jesse's shit then what are you doing with your life?!
Subtronics definitely didn't disappoint. He just radiates this infectious, exuberant vibe that can get the whole crowd going. His set was this mind-boggling collection of the dopest tracks from his previous EPs, nasty riddim remixes to a couple classics and lil' teasers to the new shit he's got comin' for us including new collabs with Boogie T, Space Jesus and Trollphace. **excited screeching** He also brought Dirt Monkey up for Warp Drive.  
Speaking of Dirt Monkey, he followed Subtronics with the third set of the night. I found myself a spot on the rail at this point and boy am I glad I did. I had heard some of Patrick's stuff before and was interested but not enthralled yanno? But after seeing him live that's all changed. Dude threw DOWN. I promptly went wild on the rail with everyone around me and then listened to his SoundCloud all the way back to Cleveland the next day.

2. The gang of special guests is stacked.
The Ganja boys are bringing along some great talent with them on this tour. Too bad all three weren't on every stop, but then again that probably would make my head explode.
Opiuo is who I got to see on this stop of the tour which I was pretty excited about because I missed him last year at Electric Forest. He is a great entertainer and played this super awesome high energy set right before GWN came out. His music is just so fun and happy. I had a great time jammin' out to some stuff I usually don't listen to too much.
I've seen Downlink live before and can personally attest to the fact that dude's bass is gonna blow your damn face off. Don't believe me? Check out his Lost Lands set or even better, get yourself tickets to this tour and see for yourself.
And then there's Caspa. If you claim to like dubstep and don't know who Caspa is do you really know dubstep? Dude is a fuckin G, one of the OGs to be exact. His music was what got me into the whole scene almost ten years ago so I could only imagine he'd be dope to see live.
3. There are visuals, then there are Ebo's illustrations and animations…
I can't even classify this dude's work in the same category as any other visuals. My "real world"  job is a graphic designer so I have this deep appreciation for his art. Hailing from Belgium (just like GWN), he has this amazingly unique talent as an illustrator, graphic designer and graffiti artist. His work for this specific tour though is what makes The Origins really come alive. There were points during the show where I was completely mesmerized by the story he told through his craft. I just stood there and watched the legend of Mr. Wobble unfold right before my very eyes. He states his philosophy on his website: "An artist must be willing to dedicate his life to give birth to a time, a line, an interpretation to touch the public's soul and crystallize the moment in the heart of another." Spot on yo. That's exactly what's going to happen when you see this show.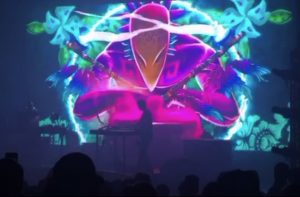 4. Bamby and Erwan are going to take you on a trip you'll never forget.
The (almost) 2-hour long set is more than just a show, it's a wild escapade into the very origins of the Ganja White Night sound. It all began with Ebo animations that gave me chills when I first saw them on Facebook; except seeing them live rattled my whole existence. Coupled with the live music, kinetic lighting, pounding bass and feisty crowd around me, I was blown away in the first five minutes.
GWN's performance features live instrumentation, editing, remixing and improvisation more like a band playing only original material. The dubstep duo doesn't just DJ, they play the whole thing in real time which personally I think is dope as fuck and gives shows so much more depth. The passion that these two exhibit when they are on stage just hits me right in the feels.
The stage production is a high point to be noted too. I already raved about Ebo's animations but their other visuals and lighting were a hypnotic trip all of their own.
This tour will take you on an enlightening journey through their most recent album, The Origins, but not in the same order. A different sequence, with some of their most infamous tracks from previous albums, creates a remarkable story you won't want to miss a second of. Especially the finale… it's a breathtaking experience that may or may not overwhelm you with tears of joy. Yeah, I cried a little bit ok?? Shit was just so damn beautiful lol
If you miss this tour (which I hope you don't) you can catch Ganja White Night during festival season at Buku, Global Dance and probably more festivals to be announced.
I'm not giving away any big details, y'all are gonna have to find all of that out on your own. This is their biggest tour to date, history guys. Get yourself some tickets to the next stop of The Origins Tour for an experience you'll never forget.
All hail the Wobble Brothers!