GenZ Outdoor Just Dropped a Clear Hydration backpack with an Anti-theft Design to comply with new festival guidelines
Unsure of what a clear hydration backpack is and why they are becoming a requirement in the live event space? In this article, we will give you our top clear hydro pack choice and the reasoning behind why festivals are beginning to require clear bags. 
What's with these new bag policies?
Many of us spent our spring and early summer carefully crafting our festival lineups for the season. Checking in on flight prices and available hotels, along with the festival lineups and what venues had to offer. There is a lot of research that goes into planning a festival weekend.
Most proactive planners will also read over the events' prohibited items list. For the most part, these lists have remained stagnant over the past several years, but this year was different. If you were one of the proactive festival attendees, you may have seen festivals require to bring a clear hydration pack over other options. 
This decision spurred festival-goers to become upset since their hydration pack was, more likely than not, prohibited. If you were one of those who was thrown off by these new guidelines, no worries as you are not alone. We have the best clear camelback backpack pack option that just hit the market.
GenZ Outdoor's Anti-Theft Clear Hydration Backpack 
GenZ Outdoor has just dropped a clear hydration backpack to comply with these new guidelines and it is everything that a festival-goer needs packed into one backpack. It is almost a carbon copy of their original RaveRunner anti-theft festival backpack that sold out earlier this summer.
If you haven't gotten your hands on one of their festival water bags, we'll fill you in on what it offers. While the bag is see-through, it possesses an anti-theft design which seems contradictory. The zippers lay on your back rather than facing out. This means you cannot get into the bag unless you take it off your shoulders. It's a simple design that makes you think, "why hasn't this been made before?"
Inspired by features from ultra-running hydration packs, their design team added chest pockets to the straps that go over your shoulders, this allows you to put your phone and other items in an easily accessible place. 
Additionally, they have a ton of electronic and light-up features that you can add to your RaveRunner if you desire. They allow you to loop string lights, add their patent-pending underglow, and even a solar-powered phone charger to it. It is truly the ultimate rave hydration pack.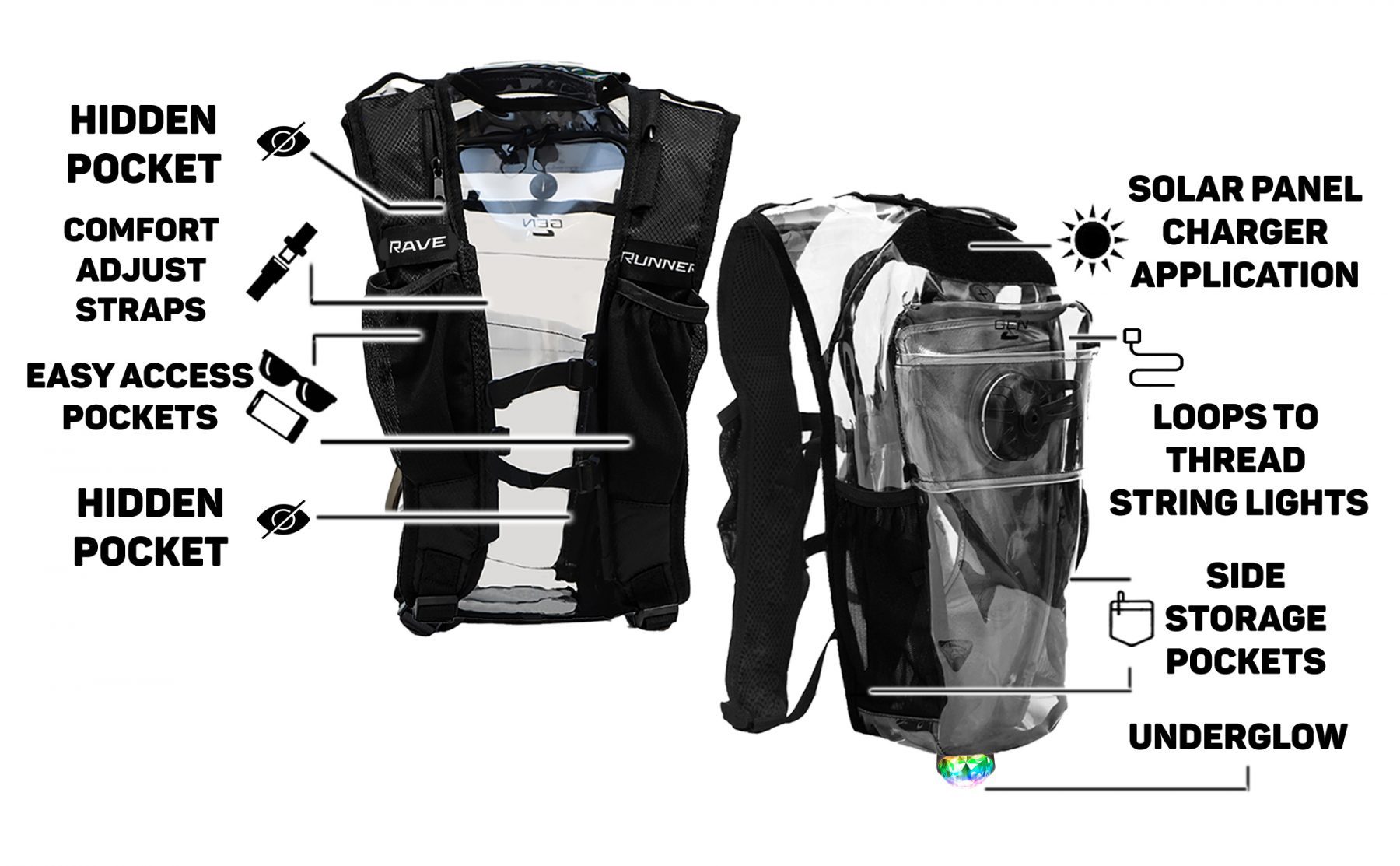 Why are Festivals requiring clear packs?
Now that we have given you all you need to know about what seems to be the only clear hydration pack on the market, let's fill you in as to why festivals are beginning to require clear hydration packs.
Rolling Loud Music Festival was the first to prescribe the clear bag policy for all attendees. Relentless Beats tried to enforce this rule earlier this year, but they were met with a seriously angry crowd who had clear reasons as to why they cannot lay this new rule down without months of advanced planning. First, it reached 120 degrees Fahrenheit earlier the week of the event. Additionally, clear hydration packs were almost impossible to come by in any retail store or online. Because of this, Relentless Beats withdrew its policy just days before the event.
At this point, many of you reading may ask, "why are festivals requiring clear bags?" Well, the answer has many different factors.
1. Sneaking in a prohibited or dangerous item becomes nearly impossible
The NFL began requiring clear bags a few years ago because there were a few instances of attendees attempting to bring in weapons. For anyone going to see a game on any given Sunday, this is a scary thing to hear. The NFL had to make a change to ensure their events were safe. Their answer was to require all bags brought into the venue over a certain size to be clear. Obviously, this has worked out very well for them and there have been no problems with weapons being brought into any game in the recent past.
Like the festival world, many attendees were very upset with these restrictions. Many fans were turned away at the door and sent to put their non-clear bag back in their car. The NFL put in serious marketing efforts to make this rule unanimously known. Most attendees are happy about the escalated safety measures as it makes them more comfortable in a crowd.
2. Security lines become faster and bag check is a breeze
This is very understandable. Imagine being a security guard at a festival. You have hundreds, if not, thousands of bags to check. Reviewing every bag can become exhausting. By the ump-thousandth backpack, you are certainly not checking as thoroughly as you may have your first 100 bags. A transparent hydration pack or clear bag makes it much easier for all security guards to see all contents inside the bag without digging as deep. Prohibited items can be spotted and disposed of much easier. 
Everyone dreads having to get in line at security. Since each hydration pack is clear, it makes the entire security checkpoint move faster. This will then speed up the security lines and make attendees much happier about their experience. In return, attendees will be more likely to enjoy the experience and buy tickets the preceding year.
3. Spotting a thief at an event
As many music festival-goers may know, pickpockets run RAMPANT at large events. It is almost guaranteed that someone has personally experienced theft at a music festival. It is horrific, but it is near impossible to stop evil energy from committing acts of crime. We must find ways to prevent it.
If a pickpocket steals 20 phones at an event, where do you think they will put them? In their backpack or hydration bag. Now, what do you think would happen if that hydration pack was clear? People would be able to see right into their bag and notice that they are the thief holding all the phones.  
Requiring all attendees to wear clear hydration packs is a surefire way to solve the problem of theft. This will minimize police reports, unhappy festival-goers, and insurance claims.
Now that we have given you a clear hydration pack solution and reasoning as to why festivals are requiring clear hydro packs, we hope we have mellowed your anger about the topic. As you can see, they are all for very good reasons. Festival producers just want to enhance the safety of their events.