September is a big month for Red Rocks Amphitheater in Morrison, CO with big name artists playing 27 out of 30 days this month. There are many shows and mini-festivals that I have been looking forward to including Above and Beyond with special guest Seven Lions (sold out), Gorillaz (sold out), 2 nights of GRiZ (sold out), Lotus, Muse, Mad Decent Block Party, 3 days of STS9, and Big Gigantic's mini-festival Rowdytown. The first night of GRiZ on September 1st has been the one that I have been waiting for the most, and let me tell you right now that GRiZ kicked off the month of September right for Red Rocks.
A while back ago Grant Kwiecinski (a.k.a. GRiZ) announced that he was going to perform with a full live band for the first time ever on stage at Red Rocks on September 1st followed by a DJ set the following night. It sold out almost instantly after the announcement. While the Colorado based musician is well-known for his funky beats and beautiful saxophone performances, all of the background music is synthesized on a computer. For years it has been Grant's dream to perform with a full live band on stage at Red Rocks. After years of hard work, he finally got to see his dream come true, and Friday night I got to see the all the musical talent GRiZ has to offer with one of the best performances I have ever seen.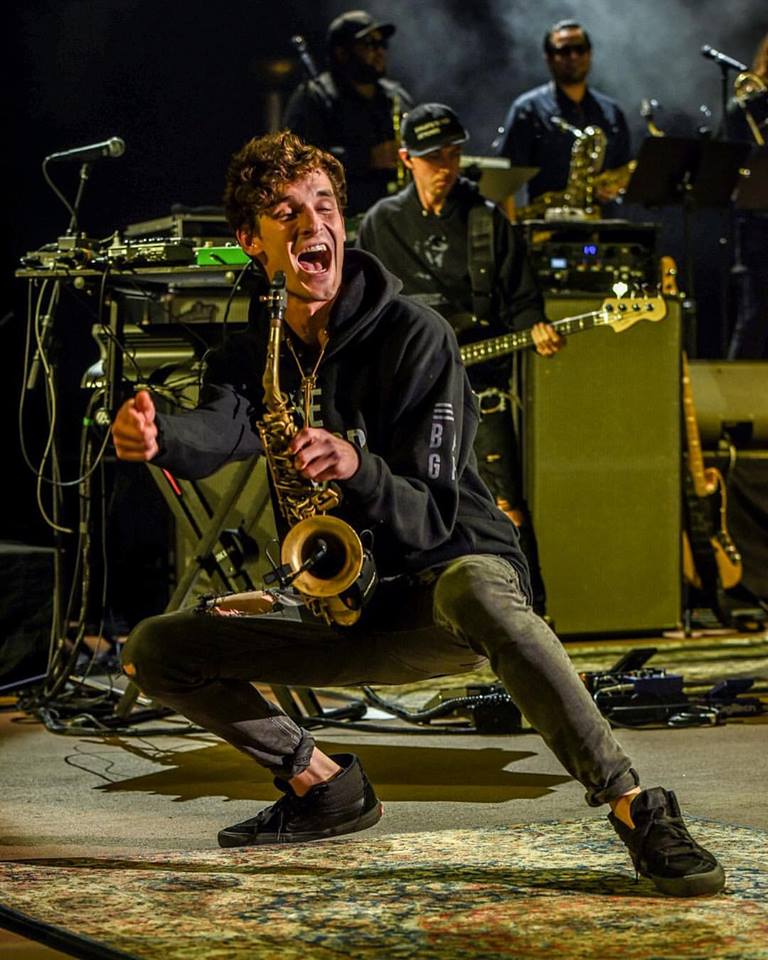 While I was expecting a more jammy set with fewer drops, that was not the case at all. I was very surprised by the fact that they were able to recreate his amazing drops and unique sounds flawlessly without a single computer! They really hit me in the feels when they started playing some of his older music. I looked around the crowd and see that everyone around me is just as astonished as I am. Everywhere you look there were people in their feels crying tears of joy at the beauty before them. Many people were taking off their hats and bowing to the stage while chanting, "We are not worthy."
I have been to many shows at Red Rocks, but the lights on Friday night were some of the best I have ever seen at the amphitheater. It was an impressive scene with the Denver city lights in the background and GRiZ's spectacular light show right in front of you. All around you, there were people in absolute amazement at the magnificence of the stage before them. The jaw-dropping scene combined with the mind-blowing performance made it one of my all time favorite shows.
At one point Grant got on the microphone and thanked everyone for coming out. He told all of us that they have been practicing together for this show for two years. While there are not any other live shows currently scheduled, this author is inclined to believe that they will be announcing more shows in the near future.
Grant introduces the rest of the band with this statement on Facebook:
"LAST NIGHT WAS A DREAM COME TRUE!!! Ok so I wanna properly intro the band. We got Stu on bass. He is our musical director. You might know him from dub trio or from touring w Matisyahu. He and I worked relentlessly on the setlist and bringing the griz songs to life. Dan you know very well on guitar aka muzzy bearr aka my best friend ever aka did you hear him play those fkn solos last night!!? Owen on guitar as well. He's done gigs me before and absolutely crushes it. Nikki on drums. Living legend right there. Yuki on keys. Another legend. That chasing galaxies intro he played. Woah. Joe on percussion. Keeping things fully seasoned. Dale on vox. Ps gfy church moment intro holy shit. He's from this killer band called soul scratch. Check em.out for real! Jelly on vox w the damn attitude! Kayla on vox too man. Those girls are the singers from a lot of griz tunes including good times roll, take it high, feeling fine, etc etc. They from Nola and as they would say are killing. Alicia as well on vox. So beautiful. A force to be reckoned with. Chris, Smoota, and Chemea on horns. From the daptones. Absolutely some of the best horns in the game. So yeah. That's the lovely cast of souls I'm more than fortunate to have been able to work with these past few months to bring this idea to life. I'm still in shock that that finally happened."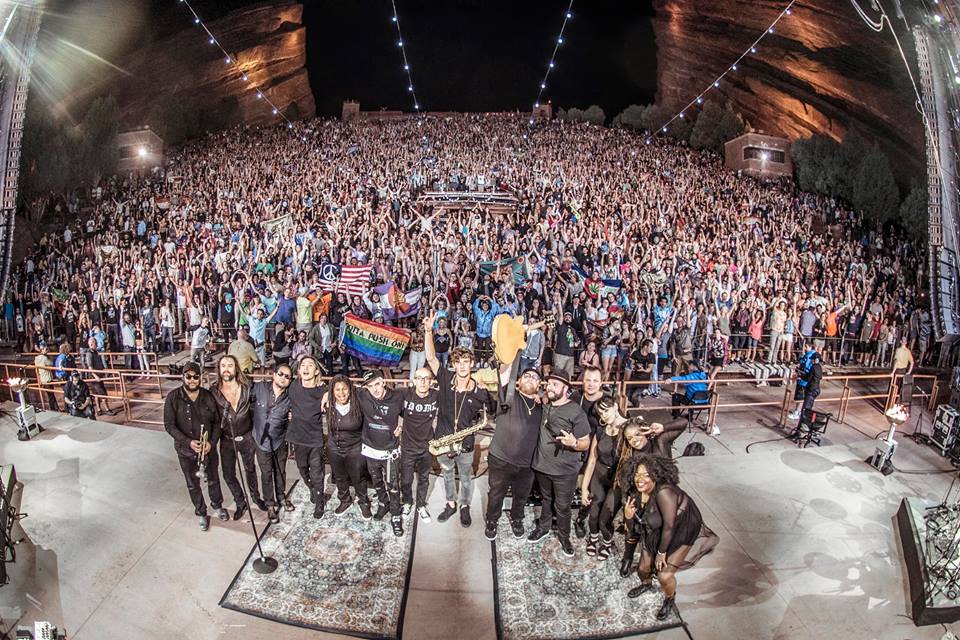 Check out GRiZ's full tour HERE!
And make to check out Red Rocks full schedule out HERE