It's that time of year again as we prepare to set sail on Groove Cruise Miami. This January 19-23, 2023 Groove Cruise Fam from across the world will board one of the largest festival ships to date.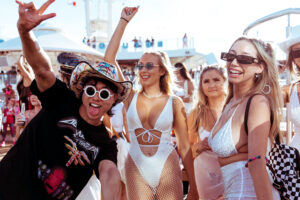 While a festival in the middle of the ocean is already so special, Groove Cruise has tons of activities to make the experience so unique. Check out our top 10 things you shouldn't miss while grooving and cruising this January.

1. Participate In Themes
Over four days of Groove Cruise, there are a total of eight different themes, one each day and night. Join in on the fun and participate in the madness by dressing up in your best costumes. Click here to see the full list of this year's themes.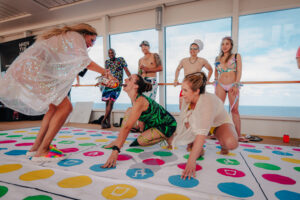 2. Artist Activities
One of the most unique parts of Groove Cruise is being on the same ship as your favorite artists. Throughout the weekend there are tons of ways to join them in fun activities such as basketball with Nostalgix, a scavenger hunt with DEEPFAKE, and giant Jenga with Gene Farris. View and register for artist activities here.
3. Drag Shows
Check out the on-deck Drag Shows: The Drag DJ Set, Over the Rainbow Drag brunch, and Cruise Queens drag show!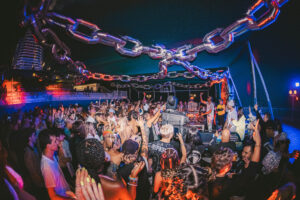 4. Foodie Heaven
This year's cruise ship has more than 15 restaurants and cafes for you to enjoy during your stay. And the best part- it's all-inclusive! That means all the food is included in the price of your cabin. Just sit down and order whatever you'd like.
5. Relax In The Spa
Unwind after a night of dancing by checking out the spa! They have all sorts of packages fit for everybody. Our personal fav includes the hot tub and sauna.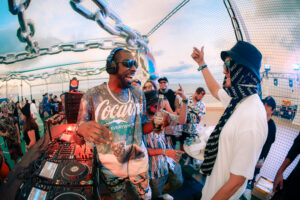 6. Hit A Workout
Not trying to completely forget about your fitness and new years resolutions? The ship has a gym where you can sneak in a leg day while looking out at the beautiful ocean views.
7. Sports Court
Get active during some outdoor activities while playing games on the sports court such as tennis!
8. Attend A Workshop
Besides just listening to music, there are plenty of workshops you can attend while on board. Check out the healing mental health workshops to connect with others in the Groove Cruise fam.
9. Celebrate This Life
Enjoy your time, meet friends, and party at the celebration of life ceremony!
10. Dance, Dance, Dance
And finally, the best part of Groove Cruise Miami is that the music simply never ends. Spend these four days non-stop dancing and making memories with 2023's Groove Cruise Fam! And make sure to make it to at least one sunset set, the views are incredible!