HARD Fest's newest production made a strong entrance in the Pacific Northwest with a talent-packed lineup, enthusiastic crowds, and hours of dancing for a night brimming with energy and good vibes. The two stages featured a variety of acts including bass music and bass house bangers, groovy house, trap, and techno, and we saw artists big and small bring out their all.   We also saw some room for improvement here and there, but we are overall excited to see what the future may bring for this event.
Vibes
PNW festivals are known for putting out great vibes. The EDM scene in the Great Northwest draws in many open-hearted, friendly, and eclectic people, and the crowd at HARD PNW proved to be no exception. That being said,  some attendees did express concern about pick-pocketing and certain overly intoxicated festival-goers who weren't being as PLUR as the rest of the crowd.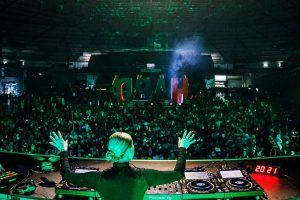 Production
We saw colorful light production + stage design, seamless sound, and ample space for nonstop dancing at HARD PNW. The HARD stage setup delivered a great visual experience with a large diamond-shaped projector screen, lasers, dazzling spotlights, and even some pyrotechnics. The smaller PNW stage setup was pretty basic and was a little tough to find at first, but walking between stages was a breeze once inside.
The event didn't feature some of the more theatrical elements seen elsewhere in the Insomniac universe, and there were some minor setup design hiccups (such as the the HARD sign partially blocking some views of the main stage). Nonetheless, the production team did a great job covering all the bases needed to generate a fun experience.
Music
The diverse lineup for this festival was a huge hit attracting bass heads, shufflers, + others from all different areas of the west coast, and we saw amazing acts from headliners as well as supporting artists.
Kayzo, Joyryde  RL Grime and Wax Motif delivered saucy sets that fired up the crowd and supporting acts from Graymatter,  Capozzi+ other artists kept the crowds vibing with groovy house, techno + tech-house sets. This variety-rich event made a name for itself amidst the bass + dubstep-heavy lineups the PNW is used to seeing.
Venue
As indoor venues go, the Tacoma Dome delivers a great viewing experience — with ample space, easily accessible bleacher seating, and a 360° floor design, there's virtually no bad seats in the house… but things got a little bumpy when it came to logistics.
Security enforcement appeared inconsistent as some attendees reported having trouble getting essential personal items in, yet other prohibited items were clearly visible in the crowd. Transportation also proved a challenge for those who didn't drive their own vehicles, especially at the end of the night as ridesharing apps were overburdened with demand.
That said, we understand that access to ridesharing services like Uber and Lyft is outside of the promoter's control. we recommend arranging rides ahead of time.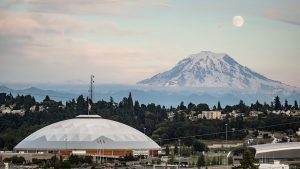 Overall
HARD PNW made a solid debut in the Pacific North-West this year. The event attracted ravers of all different backgrounds and music tastes, delivered killer sets, and energy in the crowd stayed high throughout the night.
While production leaned on the more simplistic side, we saw fantastic stage performances from the artists as they kept the crowd dancing all night long. The venue logistics could use some improvement, but we were happy with the experience, and we look forward to seeing this event grow in the future.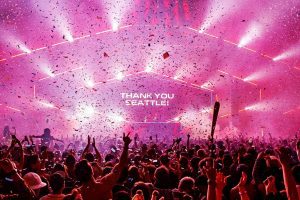 Photos courtesy of HARD fest and the Tacoma Dome