HARD just announced their 2018 Red Rocks lineup that already has us packing our bags to head to one of the most beautiful venues in the world. On August 2nd, HARD and Red Rocks welcomes DJ Snake, Virtual Self, Mija, GG Magree, and Heckler to the stage for an electronically laced dance party under the stars. The stunning scenery and other worldly noises are enough to have ravers from all over joining in on the fun.
What would dance music be without DJ Snake's extravagant anthems and stage presence? Everyone knows when they see his name that they're going to have a wild time. Virtual Self, Porter Robinson's alter ego brings his virtual high-energy trance existence to the stage for what's sure to be an unforgettable experience. Anyone who's ever been to one of Mija' sets knows that you never know what to expect from her. This element combined with her mystical vibe and outrageous talent conjure up such a unique feeling.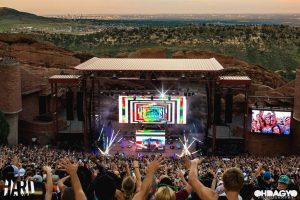 Capture this feeling on August 2nd, along with many others, at one of the most anticipated events of the year, HARD Red Rocks 2018. Get your tickets here on April 13that 9am PT.