For those of us who frequent the festival scene, we've all had our less-than-favorable experiences. Whether it be the weather conditions cramping your style, or an event not meeting your expectations, it's never fun feeling like you didn't get the most out of it. This past weekend, I attended HARD Summer Music Festival 2016 at the Auto Club Speedway in Fontana, for what I was hoping would be an awesome SoCal summer weekend.
With such an enticing lineup, offering a diverse array of both electronic and hip-hop music, it's understandable why so many in the SoCal area remain loyal to the annual event. However, with constant changes in venue and little attention to attendee experience, the HARD Summer reputation has continuously been tarnished. In addition, the event has been a focus in the many recent efforts against rave culture in the Southern California region. Just days before the gates opened this year, the family of a young lady who lost her life at last year's HSMF 2015 filed a lawsuit against Live Nation and LA County Fair Association. San Bernardino County has also been struggling to determine whether or not these types of events are worth the hassle and the backlash from locals. And now, with 3 lives lost this past weekend and apparently 325 arrests, the outlook can't be good for HARD Summer…
From my observation, general disorganization seemed to be the biggest issue this year. Below, I've highlighted 5 issues of HSMF 2016 that I believe need to be considered for future music festivals and events:
GETTING IN THE GATES
The entry process was absurd. While admission and security are always a lengthy process at any event, HSMF16's was unbearable. There was minimal relief from the heat while waiting in line, and the staff seemed to be incapable of crowd control, as well as unrealistic in their expectations. When people are standing in line for 2 hours in temperatures pushing triple digits, the heat creates a very hostile environment as attendees grow more and more impatient. Asking people to get in a "single file line" by threatening their entry to the event should probably be your last priority while people are passing out in the sun. Get them in the gates, where they can actually get food and water and shade.
THE ATMOSPHERE
Bare minimum in experience. In comparison to other music festivals, HSMF doesn't offer much of an immersive music environment. There's zero creativity, very basic design elements and the stages are nothing special at all. The sound quality is subpar, and the atmosphere is stark and uninviting. If you're looking for an imaginative "escape from reality" experience, or any attention to art or general aesthetics, save your money. You won't find that at HSMF.
THE MAP
The layout was poorly planned, if at all. Keeping in mind that this was the first year HSMF was hosted at the Auto Club Speedway in Fontana, there is some margin for error. However, this is HARD Summer's 9th year hosting the event. The way the stages were positioned didn't offer a smooth flow for foot traffic, which made each walk between stages a ridiculous effort. And to add to the confusion, no where were maps made easily available to guests. Not one person handing them out, unless you were at a merchandise tent of course. The HSMF app was pretty much pointless, and I couldn't locate any of the free phone charging stations I'd been told about anywhere in the festival. Perhaps they should take notes from another festival on how to optimize the utility of a speedway venue…
THE TIME
A significant problem I see was the schedule. First off, this is an event that takes place in Southern California during the peak of the summer season. Opening the gates at 12 noon is almost asking for an issue with dehydration. There's just too many hours in the sun, and it leaves many feeling drained by the time night falls when headlining acts are scheduled. Aside from that, the absurdity that the event ended immediately at 11PM only further infuriated attendees. Starting the event later in the day would not only decrease the chances of heat-related safety issues, but also offer a more appealing schedule for adult attendees.
THE PARKING
We all know the cluster-fuck that is exiting any music festival. One of the advertised benefits of the Auto Club Speedway venue was supposed to be the large parking lot that was made free to attendees. The first night, the congestion caused delays of 2-3 hours for guests trying to get out of the lot. Apparently traffic was so backed up, first responders had a difficult time getting to those who were in need of medical attention. And, many fellow festival-goers complained of surged rates for ride-sharing services, leaving them the only option of walking miles back to their accommodations in the middle of the night.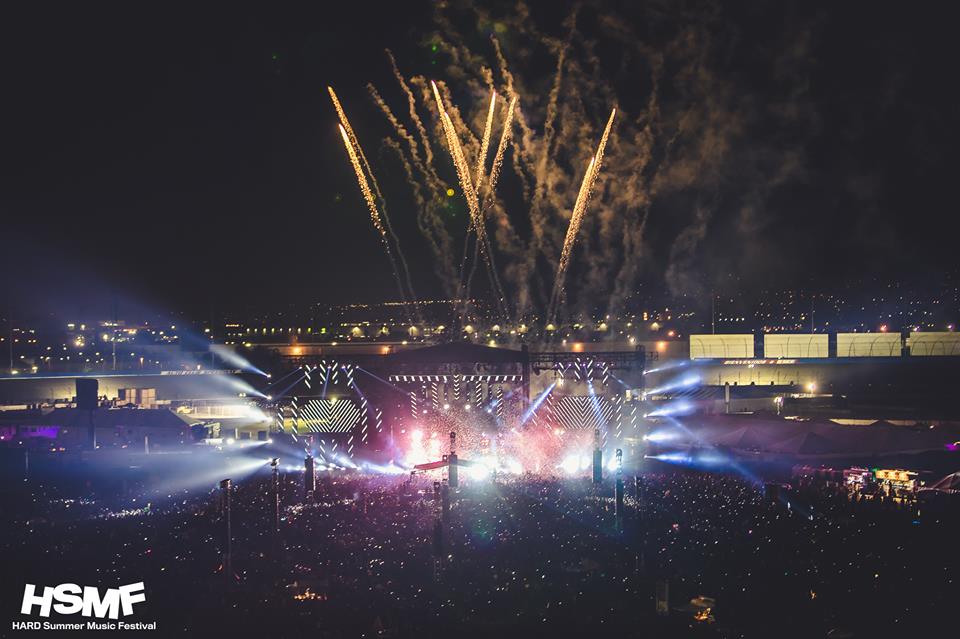 Ironically, there was very little disappointment as a music lover. Many of the artists delivered superb performances, and managed to keep the sweat-drenched crowd on a good vibe. Of this weekend, my personal favorites included Fat Joe who offered an awesome set of throwbacks, Claude VonStroke in the somewhat-hidden Pink Tent, Ghastly who always slays, Dillon Francis with an appearance by his friend Gerald, Kill the Noise who spoke out against Donald Trump a few times, Flosstradamus, Zeds Dead, Porter Robinson and a comforting closing by Major Lazer.
While it is to be foreseen what the future holds for HARD Summer Music Festival, one thing is ALWAYS certain: RAVE RESPONSIBLY. We can not depend on others to keep us safe, and only we can prevent unnecessary risks. So, as the summer goes on, please take consideration when choosing to indulge. Stay hydrated, be aware of your surroundings, and don't overdo it!