The National Orange Show Event Center for many years has been home to a variety of Insomniac events from some of the Electric Daisy Carnivals to plenty of Wonderlands, alongside a festivals-worth of memories. A few weeks ago we ventured back with Insomniac to the acclaimed grounds to bring one of the inaugural partnership event 'Hard with Style' to the grounds in a smaller, more intimate setting. For the few that attended the event one thing that was noticeable right when you entered was the return of the historic lake that can be referenced back to countless pictures all over the internet; reflecting a mysterious world from its waters often full of music enthusiasts showered in their decorative forms.
Hard with Style introduced another world to many revelers who came together for a couple hours to enjoy the "harder" styles of electronic music, which has gained a huge following in North America over the past few years alone. Curated by Headhunterz in 2013, 'Hard with Style' follows under the "no agenda, no nonsense, no bullsh*t, just music" format which supports up and coming hardstyle artists and more. It's an ideal partnership to add to the Basscon roster which Insomniac has recently brilliantly formatted.
Housing its guests inside the Citrus bunker of the NOS Events Center on a fairly warm summer evening, the soundtrack for the night consisted of some of the most sought out hardstyle artists that can be traced from different parts of the world. It was no surprise how a dedicated crowd also joined from across, bringing people from different parts together for the multitude of this event.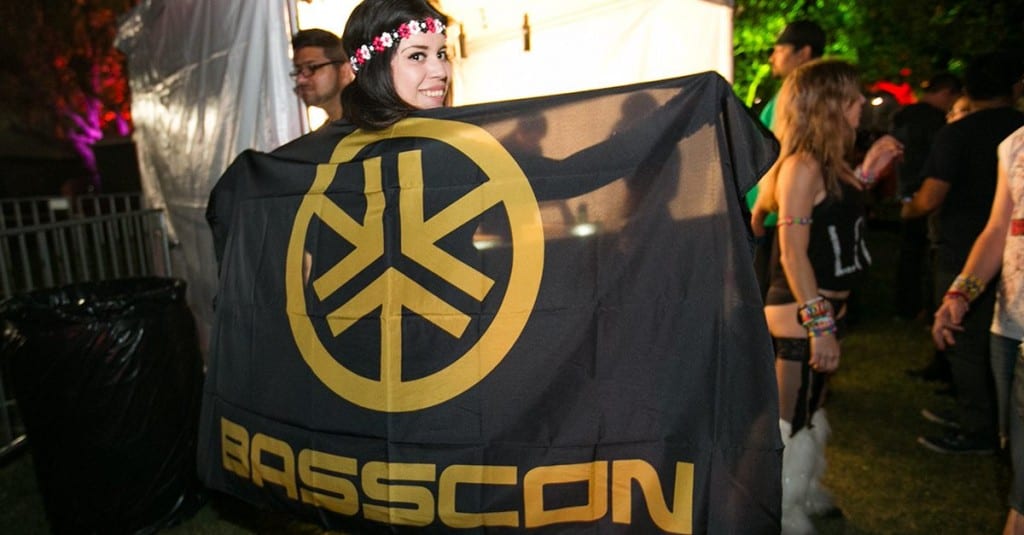 Walking into the Citrus bunker, a decent sized stage lifted the artists above the crowd, surrounded by an array of illuminated stage walls, C02 cannons, and lasers ready to capture event-goers at all moments. The bass traveling from the stage to the back of the bunker magnified with intensity that made it hard for anyone to stand still. As with any Insomniac event, there is never a lack of amazing, personable vibes. A sense of unity overpowered and brought us closer together as a community that never takes but instead gives more to one another. From dancing and shuffling with strangers in unison, to trading kandi with that one person you just bonded with; 'Hard with Style' brought all that plus more to an intimate crowd setting.
REBOURNE captivated us when he played his remix of the hit track "How you love me" by 3LAU and when that happened we all felt this amazing sense of euphoria and connectedness, one that we feel hardstyle really speaks to. His set was upbeat and exciting and it was a pleasure seeing him for the first time.
ADRENALIZE is easiest the next big name in hardstyle. He mixed some of our favorites and took us a quick adventure through some familiar and new sounds, and his ability to put them together so skillfully really represents his style and what we believe is going to make him stand out.
KAYZO was one of the biggest surprise of the night. He started his set off with the Zelda theme and that immediately enthralled us. Winner of Insomniac' Discovery Project, we can see how his talent allowed him to grab that spot on the stage with some of the biggest names in the hardstyle scene. His energy and diverse track selection led us to believe he's on a steady path into music stardom.  Kudsos to Insomniac for picking such good talent!
HEADHUNTERZ is someone we think has really brought hardstyle to the forefront and when he played Kaskade's "Room for happiness" we almost lost it. He knows what he's doing and really connects with the audience and that's something we think makes him super unique. At the end of his set he gave a shout-out for "World peace" and really reminded us why we were there in the first place.
WILDSTYLEZ needs no introduction. This guy has hit after hit and played all of the good ones including "Lose my mind" which is a must for any hardstyle event.  THE HARD WITH STYLE ALL STARS featured the most epic b2b2b2b2b set we have ever seen. Wildstylez dropped Technoboy & Activator  "Steam Train" and Kayzo dropped D.O.D 's – "Bananas" Kutski and Audiofreq Remix. Seeing all of these guys together was truly an amazing experience and something you just don't see often. They came down after the set and took pictures with fans in the front row and really just brought tons of positivity to the crowd. That's what it's about isn't it?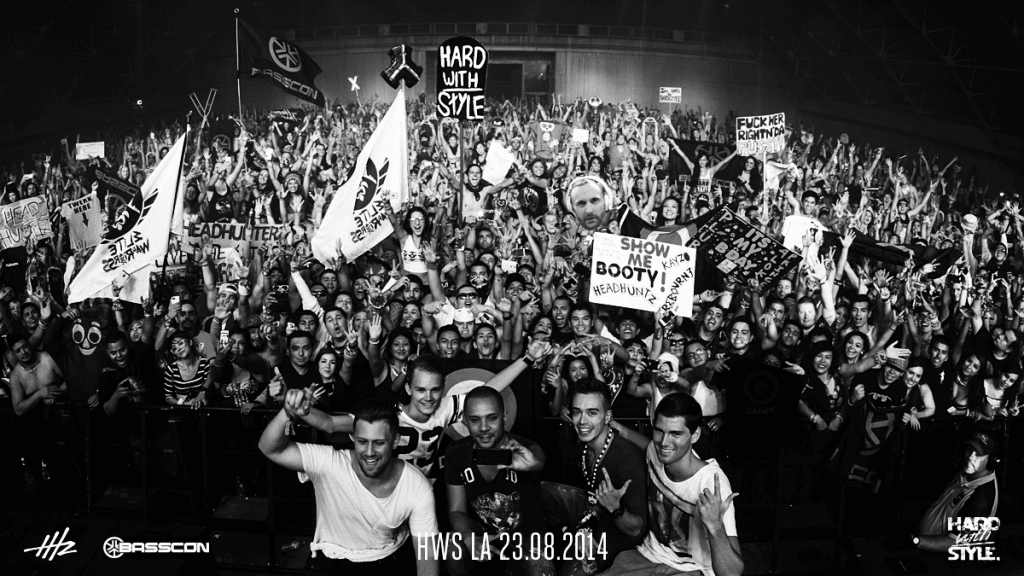 With a combination of such talent making their mark in Insomniac history, we must mention a few things that could benefit for future Basscon nights at the NOS center. For example: even though free water was provided, it was filtered warmer than usual water. As Insomniac often campaigns how water is a necessity at their events, unfortunately this time around the water seemed undrinkable at times from the temperature alone. The restroom lines were a bit longer than we're accustomed to as the amount of restrooms provided were inadequate for the people attending that night. The Citrus bunker that held the crowd that night also lacked a proper ventilation system especially during some of the more intense moments of some sets. Thankfully there were no incidents with the help of Ground Control looking out and catering water for anyone in need, a plus that not many event organizers are properly able to deliver.
As we returned to the National Orange Show Events Center it took us back to a wide set of memories we created that have stayed with us till this day. Insomniac's grand return to the grounds once again for the inaugural 'Hard with Style' was a pleasant surprise that we and countless more can agree especially towards a genre that has influenced countless artists across the electronic music spectrum with its expansion in the West. Over the past few years we've experienced some larger than life productions that have taken us away to mysterious worlds full of electrifying beats, colorful laser skies, and light visuals turning night to day; it was pleasant returning to one of those special nights where it truly was just about the music, people, and place.
We are thankful for the opportunity to witness the grand presence that these artists, artists team, Insomniac team, and most importantly the party people who truly make the events what they are. We look forward to see what Insomniac beholds for the future for the hardstlye genre… it's looking pretty good so far.