Since gracing our presence again with live events in Fall 2021, including Dancefestopia and EDC Las Vegas, we have just been in the mood for more of KLOUD's infectious sound.
Our artificially elusive friend has kept us company throughout the pandemic; playing digital events that brought in tens of thousands of viewers, and joining Insomniac's broadcasts in the Summer of 2020. And momentum is only increasing as monthly listeners on Spotify surpass a million, clinging to a nostalgiac dark techno/house sound for the times, paired with new age synthesizing that will make your heart race.
As we arise from hybernation and back into our regular scheduled events, we wanted to see what KLOUD's asperations would be this year after releasing two EP's in 2021, 1093 and INFECTED. Although we're only allowed to know so much, we can be sure that every move KLOUD makes will be next level, and that's what puts us in the mood.
EDM Maniac: Did you enjoy playing EDC Las Vegas 2021?
KLOUD: EDC Las Vegas is a transitional moment for an artist in the electronic space. It etches your artistry into the stone. It means a lot to myself and the project to have played on Circuit Grounds.
EDM Maniac: What was your favorite memory of the experience?
KLOUD: The memory of playing isn't what really calls me. It's the work and effort that it took to bring my show to that scale. Every visual is KLOUD, every song is KLOUD… it's a moment in the night that I felt resonated with all my fans and new fans. This project isn't a DJ act, it's a music act that takes more effort than anything I've done before; seeing the footage post-show confirmed that what I'm doing with this project is unique and different.
EDM Maniac: How did COVID impact your musical production?
KLOUD: Almost immediately during COVID, I tapped into a different side of my creativity. I created an EP called Synthesize, which was a slower, moodier style. "Metal Lung" in specific was directly inspired by what I imagined COVID was. I wanted to create a sound that felt like a robot's lungs, in a somber and depressing mood which reflected our society at that time. I also continued working hard throughout the pandemic, really elevating my skills and moving towards the production I'm creating today.
EDM Maniac: Did the pandemic influence or alter your current sound?
KLOUD: I've always liked techno. In the beginning of my career as KLOUD, I was creating slower/mid-tempo styled music. But as I started creating live streams for fans stuck at home, I started dabbling more with techno as this project. My album only had one higher BPM track, but I moved into a faster tempo at the tail-end of the pandemic.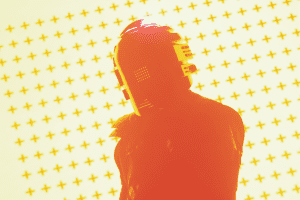 EDM Maniac: Where do you want to (or plan to) tour in 2022/2023?
KLOUD: At the moment, I'm very specific about where I'm playing and why. This project takes a lot of effort and capital to create the show I envision. I'm making sure that every show I play is taking the project to the next level. I cannot disclose much on what I'm working on right now, show wise, but there may be an activation during NYC NFT in June.
EDM Maniac: Can we anticipate one or more EP's coming out this year?
KLOUD: My sets include a lot of techno remixes of my past songs from my album. I am considering creating an EP that is all my remixes that I play live. Beyond that, I am envisioning my second album at the end of this year – if I can capture it.
EDM Maniac: I noticed a lot of coverage and sets for INFECTED. Do you plan on incorporating 1093 in your upcoming sets as well?
KLOUD: 1093 was a transitionary moment for this project. I play "Reconnect" and "Love Me (Remix)" in my sets, but I feel that was still an exploratory phase in the career for KLOUD.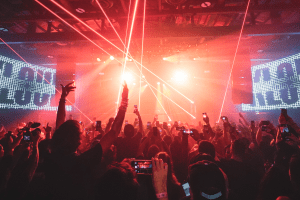 EDM Maniac: Is your brand and artistry a part of a larger message to your audience regarding humanity's technological advances, and if so, could you share that message with us?
KLOUD: My brand and artistry for KLOUD stemmed from being confined as an artist in previous alias'. It means a lot to me to create as I see fit, and to have my brand/image be the focus. The visual component is the stake in the ground, but my music can be dark and moody in any genre. I create techno, downtempo, mid-tempo, and anything I feel. My live sets though, are harder/darker KLOUD styled techno.
The story behind KLOUD is supposed to stem from everyone's data creating a singular A.I. Just like Google Cloud is a combination of infinite amounts of data from people all over the world, KLOUD is the combination of all that data in a musical form. My personal taste in music is a darker style, so that is just my personal taste.
EDM Maniac: Is your music a subconcious expression of your personal evolution?
KLOUD: Definitely. I've come from metal & rock, and my lyrics are typically stemming from personal experiences. I just write without an agenda and it comes out sounding the way it does.
EDM Maniac: "HUMANS" was my introductory track to your artistry. I've cried to this song a few times before. Are there any tracks of yours that you favor or hold the most emotion for? And why?
KLOUD: Thank you for the compliment.. I think "VIRUS" is one of my favorite records. I explained recently about the meaning through my socials, and I'll leave it here.
"Virus was written about toxic people and their negativity. There are people in this world who will dump their toxic thoughts onto you against your will. Empathetic people feel this the most. The words become a virus in your psyche and can consume you. It's important to have boundaries on what you allow into your thoughts.
'I can't carry all your data.. I've downloaded your sins. It's not fair, it wasn't my idea to let you in.'"
EDM Maniac: As an A.I. being, is your work translated simply from human observance and opinion, your personal experience among them, or both?
KLOUD: Both. Humans are interesting creatures, with many layers of emotions. I'll leave it at that.
Follow KLOUD's social: