Get ready for a night of pure underground Techno this Saturday night. 
The deep sounds of the underground are coming to your living room this Saturday night at 7pm PT for an incredible audio and visual Techno experience. "INCOGNITO: Live Stream" will be brought to you by some of LA's best underground ambassadors Incongito, 6AM Group, EDM Maniac and Artificial People all live from Social Sanctuary studios, who's production team has been hard at work with us putting this night together. The night will feature thrilling DJ sets and stunning visuals from a state of the art production facility.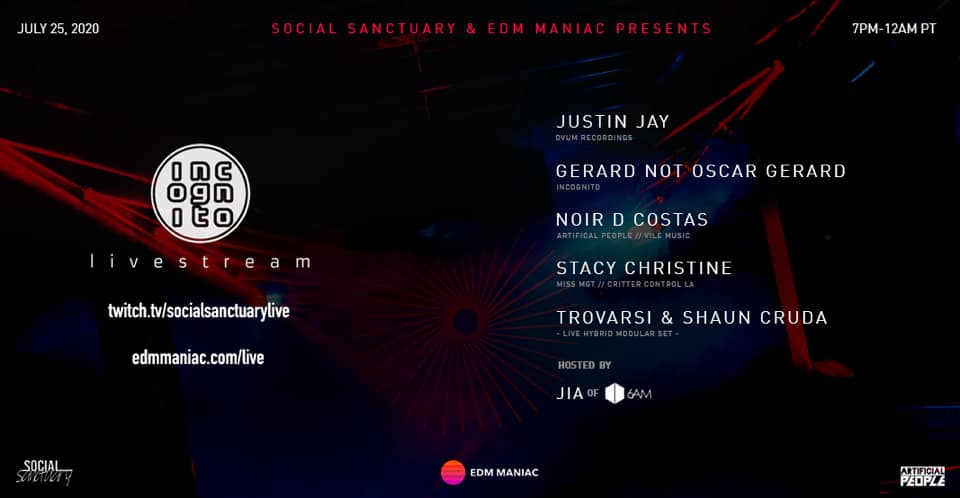 INCOGNITO: LIVE STREAM will feature exclusive sets from: 
Justin Jay
Gerard Not Oscar Gerard
Noir D Costas
Stacy Christine
Trovarsi & Shaun Cruda (Live Hybrid Modular Set)
The night will be hosted by Jia from 6AM Group, one of the collectives championing LA's underground scene, and will feature artist interviews and discussions about the current state of the community. When asked about his hosting duties for the night, Jia said "It's important for our entire community (the artists, organizers, and fans) to remain connected during this socially distanced period and to openly discuss important topics that matter most to our community."
Not physically being together during these times has been difficult for everyone and we feel every ounce of it. To make to this experience even better we have partnered with CREWTIFY, to host our virtual zoom party. We hope to make this America's largest techno zoom party! To join, simply visit edmmaniac.com/live and click on the JOIN PARTY button. You will instantly be added to the virtual party while you watch the live stream go down. Help us make this a night to remember while you party safely wherever you are.
Vairon Perez, one of the show's producers, had this to say about the event:
"Due to Coronavirus, the Los Angeles underground music scene was halted overnight, much like most other live events. And while lots of artists and event companies switched to live streams, the underground community, in my opinion, has struggled to keep up and have been underserved. So we got on the phone with some friends with the idea to bring the experience to them. Music has always been something that has held me together and being able to still provide that and be part of something during times like these."
The show starts at 7pm PT here, and we can't wait to party with you, virtually, and hear some incredible Techno.