For the global festival phenomenon that is Insomniac, the 2020 year is shaping up to be a huge one as the curators have teased several exciting changes to the festivals put on this year when it comes to updates, changes, and expansions to festival sites and layouts. Today, the Insomniac team has released the new festival layout for Beyond Wonderland Socal featuring an entirely new layout, an expansion of the festival grounds, an additional stage, and updated Wonderland-themed experiences. Beyond Wonderland is one of the largest festivals in Southern California which has traditionally been held at the NOS Events Center in sunny San Bernadino each spring. 

There are several festivals held at NOS Events Center annually in a partnership with Insomniac including Beyond Wonderland, Escape Halloween, Audiotistic, Countdown, and Dreamstate. Each year, these festivals continue to sell out and reach capacity to the extent that the festivals have outgrown the current location leaving fans hoping that Insomniac chooses to expand the location to create more space. Catering to the wishes of guests and to create a better atmosphere, Insomniac has answered with the expansion of their first NOS-based festival this year with Beyond Wonderland.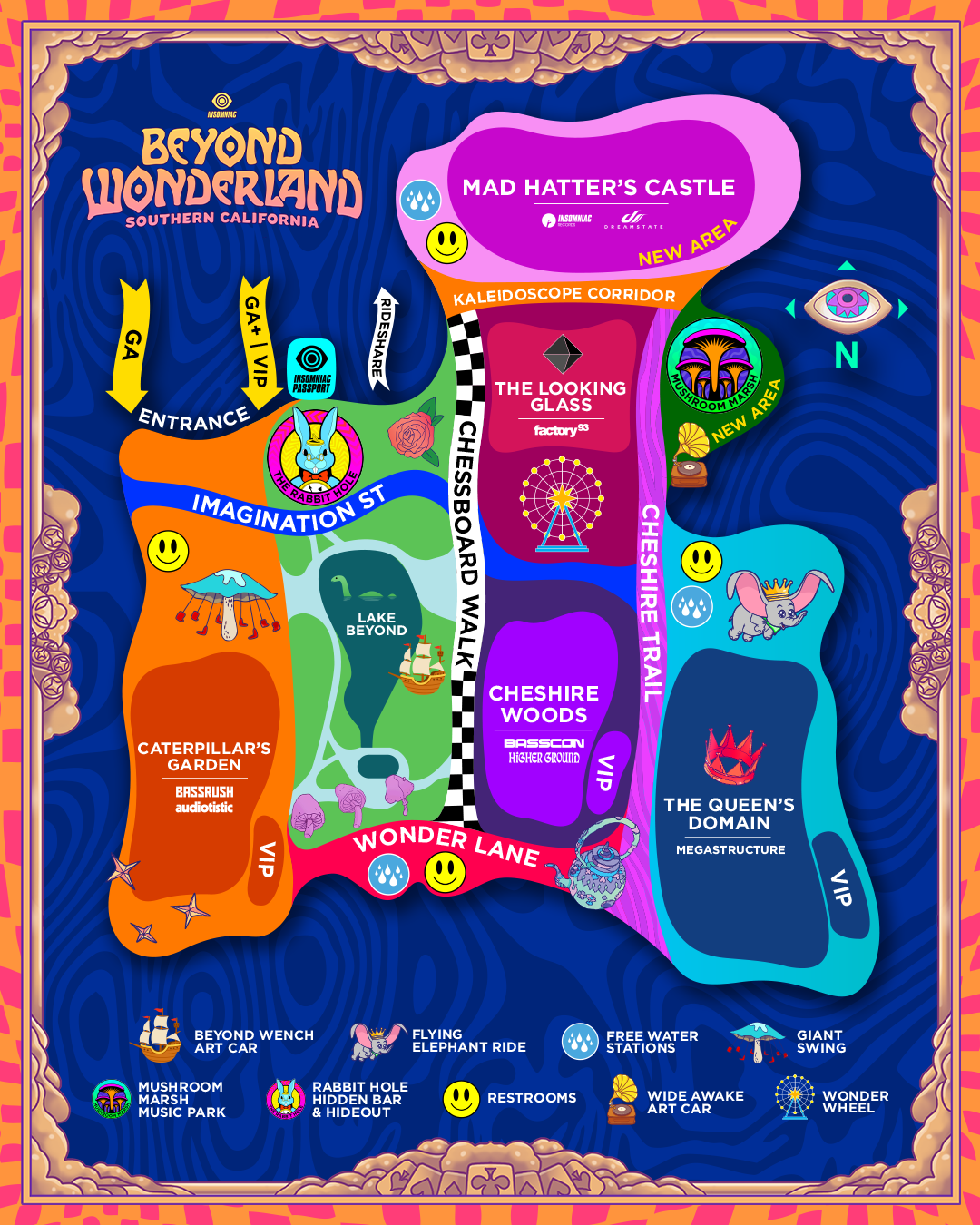 With exciting new changes, Beyond Wonderland is set to return to NOS Events Center for two days on March 20th to 21st, 2020. Previously, the festival played host to four stages which has expanded into five fully immersive Wonderland-themed stages including Queen's Domain, Caterpillar's Garden, Mad Hatter's Castle, CheshireWoods, and the new stage The Looking Glass. All stages will feature upgrades and enhanced production while staying with the Alice in Wonderland theme. The Queen's Domain will continue to feature the largest megastructure in the world while the Mad Hatter's Castle will expand into the Speedway area featuring an open-air design. This year will also feature the Wide Awake and Beyond Wrench Art Cars plus a plethora of carnival rides and experiences.

In addition to the expansion and extra stage, the festival has added four entirely new experience areas this year for guests to explore between sets. The Rabbit Hole will play host to a specialty bar, chill zone, and several unique exhibits. Wonder Wheel will feature the first-ever Beyond Wonderland Ferris Wheel that provides a view from over 100 feet above the crowd. Mad Hatter's Castle will feature an open-air stage and expansion. Lastly, Mushroom March Music Park will feature a playground lined by trees and grass with special guest performances.
Tickets are still available to purchase for Tier 2 through February 7th. Make sure to purchase your tickets by 11:59 PM PST before prices go up! For tickets and more, head here!
*Images via Insomniac and billboard.com