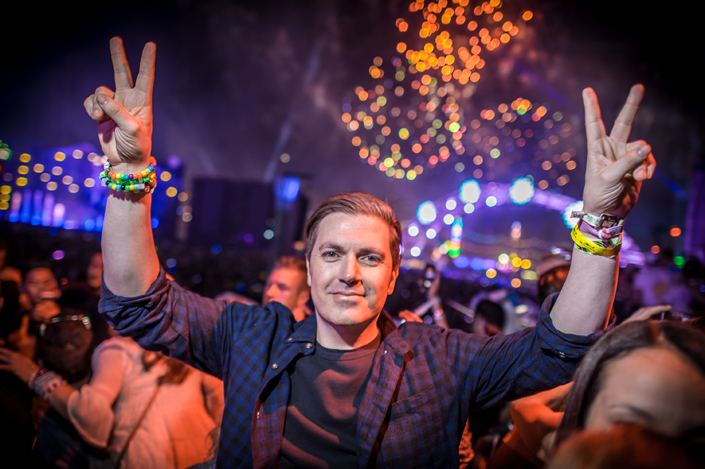 In the wake of Mad Decent Block Party's recent banning of kandi from their shows, one man in particular has been very vocal in his opinion: Pasquale Rotella. Taking to social media and recently interviewing with a few journalists, Pasquale has made it very clear he believes kandi has no direct relation to drugs at festivals, but is instead a part of each individual's freedom to self-expression and a way we connect amongst each other. Here's a quick rundown of what Insomniac's CEO had to say recently regarding kandi, the upcoming Escape – All Hallows' Eve, and about credit given to artists other than DJs.
When asked about HARD and Mad Decent banning Kandi:  "Why is it that organizations immediately turn to 'de-raving' their events in the name of "safety"?
Pasquale:  "I don't agree with the most recent kandi situation that's been brought up. This is what I understood happened: HARD was more doing it as a fashion thing. They were not down with that look, which is crazy, because dance music has been about expressing your individuality.  People do that by what they listen to, the way they dance, what they wear…"
"After the recent problems that Mad Decent had, they actually called the HARD guys asking for suggestions. I think they got a list, and on that list was kandi. That's my understanding. It started as a fashion thing and then was brought over to the Mad Decent show as thinking it was part of safety measures. They're not aligned, from what I understand, on the reasons. One team was doing it for fashion and being afraid of being not cool, which I think is stupid, and the other team had good intentions but just didn't know enough about the roots of it, the culture."
"Let people wear what they're gonna wear. It's crazy. Dance music events were the one place you could go and not be judged. You're supposed to feel comfortable. If people have a belief or have something that allows them to connect with others by trading beads, that's a positive thing. Don't kill that. I think there's some misunderstandings. I don't think they meant to target rave culture."
Insomniac Events makes an effort towards supporting all forms of art from stage construction to art installations as well the music.
When asked about artists other than DJs:  "As Insomniac is all about the experience as a whole, do you think that artists that contribute to the experience, like VJ's, installation creators, designers, get enough credit?"
Pasquale: "Not at all. Even if you see like, a pop festival, you never hear about the artists involved. Some of these people are even more talented than the singers! We try to support all different art forms. Music is one that we respect just as much as the other art forms, but we try to support everything. On our website, we'll cover who builds our stages or who curated our art installations on our website. It's really important to us. We'll include their names, most of the time, as part of the entertainment in our festival guides."
When asked about HARD Day of Dead and Escape overlapping:
Pasquale: "The HARD tests are actually part of the Insomniac family. We thought it would be okay. Halloween doesn't fall on the weekend every year. In the past, they've done one weekend and we've done the other. But there's enough people in Southern California to go around."
L.A Music Blog asked about the lack of Alice in Wonderland theme this Halloween:
Pasquale: "As much as the team loves our own twist on Lewis Carroll's Alice in Wonderland story, we felt like we were playing it out too much. So we're gonna limit it to Beyond and Nocturnal and change up Halloween so we can get more creative and keep those parties a little more special."
Source: THUMP