The Bay Area fosters a rich and diverse music culture that stands high and prominent, and now FOOLiE is a part of that legacy. He's embodied the Bay's niche for going against the norm by doing things in his own artistic way.
A once-known trap, hip-hop, and dubstep producer, FOOLiE, also known as Juan, has now found his home in house music. But don't mistake that as a leave of absence from the former. Juan still enjoys producing trap and lo-fi beats in his free time.
From his versatile music production to the sought-out event series "FOOLiE & Friends," his dedication to dance music has gained him recognition from some of the hottest local clubs in the Bay like Audio, Halcyon, and Monarch SF.
He's also gathered a collection of releases through This Aint Bristol, Dirtybird, Trippy Ass Technologies, Psycho Disco, and a plethora of other labels.
It's no surprise that his new three-track EP 'The Reason,' filled with bouncy and low-frequency elements, is fully supported by a label that goes against the tide: Walker and Royce's Rules Don't Apply.
"I'm really happy that this got picked up by RDA. I've been doing this for a while, but it always blows my mind when people I've looked up to for a long time tell me they really dig the stuff I send them," says FOOLiE. 
FOOLiE sat down with EDM Maniac to talk about what fans can expect in his new EP and his upcoming set at the infamous DayTrip party in Los Angeles.
EDM Maniac: You started out producing trap, hip-hop, and dubstep, so tell me what about house music made you stay?
FOOLiE: I started off with hardcore trap, and whenever I don't feel like making house music, I mess around with it on the side, and I produce lo-fi, too. But, house music just has that rhythm, you know? The rhythm, the hype. It just stuck with me since I started producing it in 2017.
It's not only enjoyable for me to make it, but to listen to it–which adds to the experience. The whole culture behind it, too.
EDM Maniac: As a Latinx DJ and producer, how do you feel about this growth Latin tech house is currently undergoing? 
FOOLiE: I think it's great! It's finally hitting its highrise.
I was never really producing Latin Tech House until me and a friend of mine, 96 Vibe, got together and thought "You know what? It would be dope if we produced a Latin tech house track."
We recently played B2B and dropped Latin tech house throughout the whole set. It was probably one of the best sets I've done with him.
From the start, the venue was mad packed and the energy was great. People were jumping up and down, doing the fan clacks, and it was just overall a good show.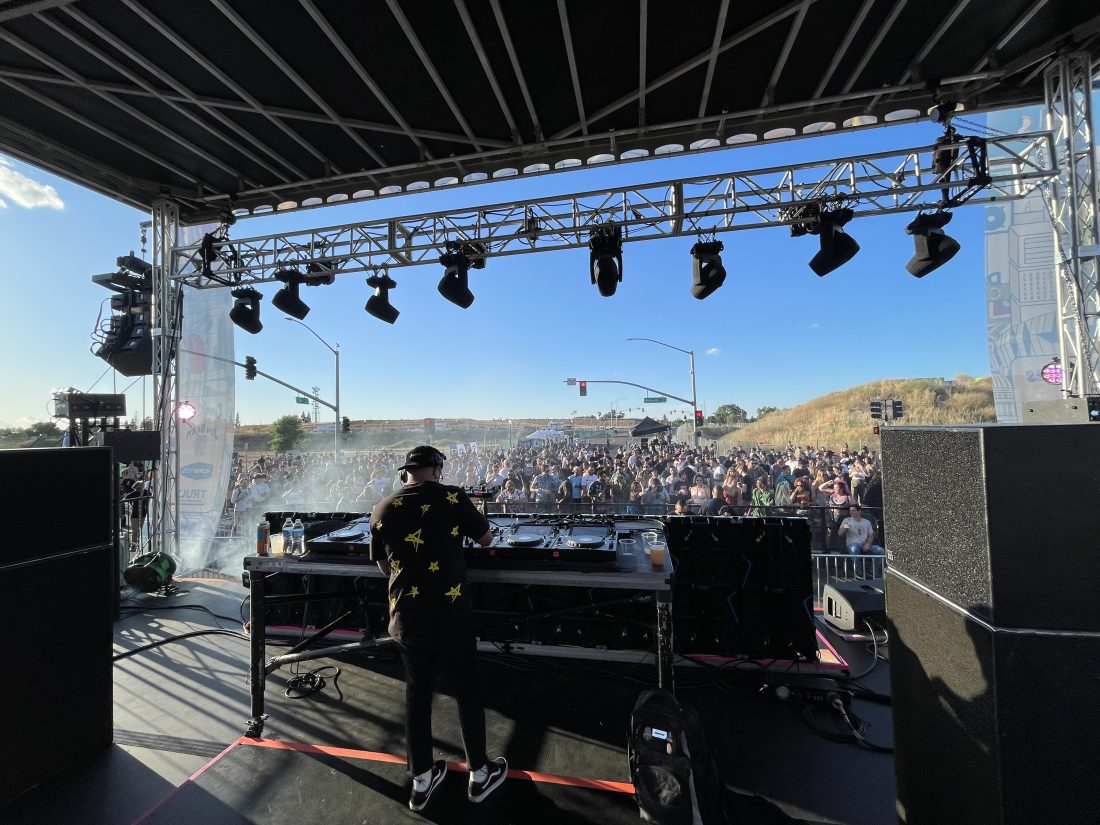 EDM Maniac: You have your first upcoming DayTrip set on September 4, just two days after dropping your new EP. How are you feeling about that?
FOOLiE: I'm super excited about it. I'm excited to see what it looks like and to feel the vibe. I really want to try one of those fish bowls.
I'm going B2B with one of my friends, Teklo. We're going to set the vibe right with some Latin house, unreleased, and newly released stuff.
EDM Maniac: You have a new EP coming out via Walker and Royce's Rules Don't Apply record label. What sounds and elements can fans expect?
FOOLiE: A lot of weird sounds, a lot of high energy. I can't really categorize the type of house music I make. It's a mix between tech house and bass house.
In the EP, there's a track "Divas At Work," where we ran into some clearance issues, but we plan to release that song with the entire EP to fans who pre-saved the project. They'll be getting a bonus track from me.
I actually had to rebuild a whole track I accidentally deleted after sending over the unfinished Soundcloud preview to Astronomar to see if we could have it on the release.
The track is titled "The Reason," just like the EP. So, what I essentially did was rebuild the whole entire track from scratch off pure memory and a Soundcloud preview.
Overall, I think the energy of the EP is great. It sounds good to me, so I'm hoping it sounds good to everybody else.
EDM Maniac: What are three key things you'd share with aspiring DJs and producers trying to make it in the industry?
FOOLiE: Don't get discouraged, don't give up, and if your heart is really in it, you'll end up where you want to be.
Check out 'The Reason' down below.